Open Access This article is
freely available
re-usable
Article
Screening NOx Storage Performance—Demonstrating a High Throughput Approach for Evaluating Emission Control Catalysts under Transient Conditions
hte GmbH, Kurpfalzring 104, 69123 Heidelberg, Germany
*
Author to whom correspondence should be addressed.
Received: 28 August 2019 / Accepted: 12 September 2019 / Published: 16 September 2019
Abstract
:
At hte the high throughput (HT) approach is applied in the field of environmental catalysis on a routine basis. Research programs for automotive applications require validated screening protocols for conditions relevant to engine exhaust as well as experimental measures to ensure quality control using statistical design of experiment. To illustrate the HT approach for a test protocol with dynamic feed switches in a 48-fold reactor, 15 model catalysts for lean NOx traps (LNT) were prepared and screened fresh and after 800 °C hydrothermal aging. In the fresh state, highest NOx efficiency was found at 350–450 °C. A ranking of BaO > SrO > CaO was found as the most active NOx storage components when used as dopants on alumina. 800 °C aging results in a severe performance loss. Using XRD and BET analysis, Pt sintering is identified as most likely cause. These findings agree well with results from conventional tests reported in the literature.
Keywords:
high throughput screening; automotive catalysis; simulated exhaust; automated data processing; lean NO
x
trap
1. Introduction
To meet current and future emission targets, rather complex after-treatment systems consisting of several catalysts and filters are applied [
1
]. Each component has specific functionalities and depending on the field of application (e.g., light-duty vs. heavy duty or off-road equipment) it must be able to survive under application-specific aging conditions. When combining these varying technical requirements with overall cost constraints, there is an obvious need for advanced test technologies to support rapid improvement and optimization of existing commercial emission control catalysts. Increased screening capacity is also required for long-term R&D projects searching for future technologies. Using high-throughput (HT) approaches allows preparation as well as evaluation of large sample libraries. A typical scenario is the optimization of washcoat formulations by systematic variation of different parameters (e.g., catalyst support, PGM type, PGM loading, promoter type and quantity, preparation route, calcination temperature, binder, slurry pH, aging condition, etc.) based on statistical design of experiment methods [
2
,
3
]. During the last decades high-throughput methods have become an established tool for evaluation of heterogeneous catalysts for different chemical processes [
4
,
5
,
6
,
7
,
8
,
9
,
10
,
11
,
12
,
13
,
14
,
15
,
16
,
17
,
18
,
19
,
20
,
21
,
22
,
23
]. hte's approach to HT testing is based on a patent filed on March 3, 1998 which relates to parallel reactor systems for testing the activity measurement of solid catalysts simultaneously exposed to gaseous feed streams [
24
,
25
].
In the field of automotive catalysis, however, a relatively low number of studies report on the use of HT screening technologies and the conclusions based on these test results [
26
,
27
,
28
,
29
,
30
,
31
,
32
,
33
,
34
,
35
].
In addition to the reactor system, which includes a flexible process automation software at the core of the HT screening unit, several other challenges need to be addressed specifically in the field of automotive applications:
(1)

Time resolved on-line analytics of all reactants and products, when using small catalyst amounts, i.e., limited gas flow and the increased impact of wall effects.

(2)

Data acquisition, especially for test protocols involving fast feed switches in an automated mode of operation.

(3)

Software solutions for robust data processing and a data reduction infra-structure.

(4)

Besides the testing infrastructure, for a full assessment, new materials have to be evaluated after implementation in relevant washcoat formulations which are close to production and therefore usually proprietary. This requires development of a small-scale slurry processing workflow as well as aging procedures (high temperature aging, catalyst poisoning e.g., with sulfur).
Since 2000 hte has developed laboratory workflows to apply HT technology in the field of catalytic automotive exhaust after-treatment. The power of the rapid testing paradigm has been successfully demonstrated in several R&D programs exploring large formulation matrices. Results of some examples have been described in previous publications [
26
,
27
].
This work describes hte's HT screening approach with focus on test protocols involving transient conditions implemented by dynamic feed switches. Lean NO
x
Trap (LNT) catalysts are an important emission control technology, especially for light passenger cars with small displacement Diesel engines having comparatively low exhaust temperatures. Since there is no known catalyst for direct NO
x
decomposition (into N
2
and O
2
) under lean conditions, LNTs must use a different strategy. NO
x
is stored during an extended phase of lean operation (several minutes). Before the storage capacity is exhausted, a short rich pulse (3–10 s) is applied [
1
]. In this period, the amount of available reductants (CO, H
2
, unburned HC) exceeds the residual oxygen and NO
x
is reduced to N
2
—clearing out the NO
x
storage capacity for another lean cycle. LNT catalysts consist of a NO
x
storage component as well as precious metal components (responsible NO
2
formation in the lean phase and for the rapid NO
x
reduction during rich pulses). Both components/functionalities are closely linked since storage and release kinetics of one component need to match the activity of the other. Thus, screening NO
x
storage and PGM functionality independently have limited prospect for success. Consequently, a test protocol with rapid feed switches has to be implemented in the HT screening equipment for rapid differentiation of NO
x
storage material/PGM combinations under realistic conditions. In addition to a general description of the experimental setup used at hte for routine screening, some results from LNT testing are provided to exemplify the process automation, data acquisition and data reduction workflow.
3. Discussion
hte has been running parallel reactors for 19 years. During this time a large amount of operating experience has been acquired. In the field of environmental catalyst screening, the most important lesson learned is that realistic test conditions are required to generate relevant data. Oversimplified test conditions and sample preparation methodologies must be avoided. Typical examples are neglecting well-known inhibiting effects of steam and sulfur in the exhaust. This will then postpone the detection of problems to a later, more expensive screening stage. HT units are used for the fast primary screening of new materials under conditions close to the actual application. Even for screening large sample libraries in the initial stage, in most cases such studies take hydrothermal and S-aging into account to avoid costly false positives.
Another important aspect is close interaction with scale-up and engine testing. There is a constant pressure to simplify experiments to save time and/or costs, however, accepting any simplification requires frequent re-evaluation of the underlying assumptions. With every new finding, it has to be verified that an observed effect is real for the application. Environmental catalysis is a rather mature field and performance of state of the art catalysts is at a high level. Every new development needs to be benchmarked against relevant references under the same reaction conditions. Therefore, HT technology is often used for incremental improvements. Existing catalyst technologies are modified by small changes rather than a fully combinatorial screening using application detached, simplified conditions. If necessary, HT units need to be modified to be able run more relevant test conditions. This is facilitated by close integration of HT powder testing with scale-up experiments.
The sample throughput in environmental catalyst screening is still orders of magnitude smaller than what is considered "high throughput" in pharmaceutical or biochemical fields. Neverthless, HT workflows can significantly increase the screening capacity of an environmental catalyst development lab using conventional testing. By applying proper statistical tools like DoE much larger parameter spaces can be screened in a more reliable way.
For efficient utilization of HT screening capacity, designed experiments, automated data processing and statistical methods for catalyst optimization are of high importance. In addition for fully automated test unit operation, also software for data reduction and data management are crucial to handle the large amount of data and drive a rational approach to catalyst development. Under this aspect, HT experimentation has matured beyond the level of pure primary material screening and has become a valuable enhancement to automotive catalyst development.
hte's technology platform enables fast material screening while providing for variation of catalyst properties such as preparation methodology and aging parameters. Analysis of HT data allows for differentiation of intrinsic differences between catalyst formulations and can be reliably used for the development of advanced emission control systems to meet ever stricter emission regulations.
4. Materials and Methods
For illustration of HT screening approach, a sample matrix consisting of 15 model catalysts was prepared and tested fresh and after hydrothermal aging using an LNT protocol.
Design of sample matrix: The LNT model catalysts contained alumina as support material. This is loaded with a NO

x

storage component (NSC) and Pt for NO oxidation. The variation parameter in the sample matrix for this case study was the NSC composition (cf.

Table 1

). Different alkaline earth oxides and ZnO as individual components as well as of BaO/MO combinations (M = Mg, Ca, Sr, Zn) with a gradual replacement of BaO by another oxide on a molar basis (BaO (2/3) + MO (1/3) and BaO (1/3) + MO (2/3)) were used as NSC. In addition to the NSC variation, a baseline sample w/o NSC, i.e., 1% Pt on alumina (sample 001) was prepared. This takes into account that also the alumina support has some NO

x

storage capability. The references (sample 002 and 015 as repeat) contain 20 wt% BaO on alumina as NSC since Ba is typically used in state-of-the-art LNT formations. In all other samples the amount of NSC is normalized to 20 wt% on carrier BaO, other elements (Sr, Ca, Mg and Zn) replace Ba on a molar basis to get—at least in theory—an equivalent amount of active storage sites.

Sample preparation: For sample preparation Puralox SCFa140 (Sasol, Brunsbüttel, Germany) was used as support. For each catalyst, 5 g alumina were impregnated with a solution of the corresponding alkaline earth metal nitrate using the incipient wetness technique. After careful mixing samples were dried at 100 °C and calcined for 2 h at 500 °C in air. The resulting powders were then impregnated with a solution of Pt(NH3)4(NO3)2 (CAS: 20634-12-2) using incipient wetness impregnation, dried and calcined for 1 h, 400 °C in air. As the alkaline earth metal content in each sample was normalized on a molar basis, the Pt content was set to 1 wt% based on the weight of the alumina carrier. For shaping, the calcined powders were set to slurry with D.I. water (~30 wt% solid content) and milled for 5 min at 500 rpm in a ball mill (using ZrO2 beakers and milling balls). For pure alumina this procedure was verified to result in a particle size distribution with D50 < 15 µm. The slurry was then dried under stirring and calcined for 2 h at 500 °C in air. Afterwards the resulting cake was crushed and sieved to a particle size fraction of 250–500 µm used for testing. A fraction of these shaped particles was aged for 12 h at 800 °C in a muffle oven flowed through with a stream of 10% H2O in air. Additional aliquots of selected catalysts were aged and submitted to XRD and BET analysis.

Test procedure: For the catalytic test, sample amounts were adjusted to have the same amount of Pt in each reactor. This also ensures that, with exception of the baseline sample w/o NSC, the molar amount of the storage component is constant for the whole sample library. For the pure alumina reference, this corresponded to 200 mg diluted with corundum to simulate 1 mL coated catalyst with a washcoat loading of 3.3 g/in3. To control time on stream effects and to achieve better statistical robustness, each catalyst was tested in 3 loads, filling one plate of fresh and one plate of aged catalysts in the 48 fold parallel screening unit. Splitting the samples in this way into two plates aims at achieving maximum resolution of the NSC effect among fresh and aged samples. In the experiment, each catalyst was tested for 5 lean/rich cycles at temperatures T = 550, 450, 350, 250, 200 °C. The total flow in the measured reactor is set to meet a GHSV of 60,000 h−1 based on 1 mL bed volume. A simulated Diesel exhaust gas was mixed using mass flow controllers. During the lean phase (2 min) the feed consisted of: 200 ppm NO, 1500 pm CO, 10% O2, 6% H2O, 6% CO2, balance N2. Using fast switching magnetic valves this feed is replaced by a rich gas for 10s with minimal perturbation of the flow. In the rich phase the O2 concentration is reduced to 1% and λ is adjusted to λ = 0.95 by adding CO/H2 in a ratio of 1:3 while the concentration of other gases remains at their lean level. The gap between lean and rich flow rate is compensated by additional balance N2 added to the rich stream.

Data processing: Throughout each experiment, the process values from all sensors (temperature, flow, pressure, gas analysers) are recorded with a frequency of 1 Hz and automatically linked by the control software to the corresponding set-points for that condition, and most importantly to the reactor position that is being tested. An example of the typical LNT raw data output at one temperature for each position is shown in

Figure 5

. For the whole experiment on the complete LNT matrix in the current study, taking about 4 days on the test unit close to 300,000 data points are collected for each individual sensor. Obviously, raw data are not suitable for direct catalyst comparison and data reduction is required. This data reduction process is developed when a new test protocol is implemented and automated in the control software, which e.g., averages the concentration readings for several lean/rich cycles or over a predefined time interval within a lean rich cycle. Some examples on possible sampling time intervals in LNT tests are shown in

Figure 6

. For efficient screening, different evaluations should be easy to configure in the data management system. In the current study, the average NO

x

efficiency in the lean phase of the last cycles has been used as performance indicator. The reduced data sets are then stored in a relational database system ("myhte" data warehouse) from which they can be retrieved for further processing (e.g., R, a language and environment for statistical computing was used for analysis in the current case) [

39

]. For results stored in the database it is possible to relate individual measurements, such as using the inlet concentration measured for the by-pass line to calculate conversion.

For the LNT application, an important step is the calculation of the average NO

x

efficiencies and product distribution (e.g., NO

2

/NO

x

ratio) within different time windows or after a certain time of the lean phase. The overall process of calculating relevant parameters for the LNT application has been implemented as an automated data processing workflow. Even for an experiment on 48 different samples (see

Figure 9

and

Figure 10

) evaluation is a routine task which requires only little human interaction. In hte's lab, similar workflows have been established for other test protocols, some of them, such as automated extraction of light-off temperatures have been described elsewhere [

33

,

34

].

DoE evaluation: In most cases, experiments in HT screening involve catalyst libraries that are designed based on principles of statistical design of experiments (DoE) [

2

,

3

], rather than a collection of unrelated catalysts. The goal of a DoE is it identify cause-effect relationships between the parameters controlled in the experiment (such as composition, thermal activation, or other treatments like milling or binders) and the observed catalyst performance. If possible, samples of a library are prepared and aged together with a reference of known performance to avoid aliasing of effects by uncontrolled factors and errors. If libraries cannot be fit into a single plate, some care has to be taken to control statistical error by introducing proper blocking factors e.g., using split plot designs. Depending on the amount of prior knowledge, either DoEs for factor screening in an early stage (such as fractional factorial designs) or response surface design methodologies can be applied. In the current case a factor screening (impact of different elements as NSC) was attempted. By screening the concentration at three levels also secondary effects can be resolved by the DoE. As the capacity of the 48-fold parallel reactor naturally limits the number of samples, in the current case the variable "Aging" was used as a splitting factor because we were mainly interested in the effect of composition before and after aging. In less obvious cases, computer-generated optimal designs such as D-optimal designs are required to ensure that split-block design constraints do not introduce uncontrolled statistical bias. However, in the current case the hydrothermal aging had such a dramatic effect that this was not critical. As additional QC measure protect against creeping loss of precision, it is advisable to include at least one standard sample into every experimental plate to control effects caused by sensor aging or contamination of the equipment. Specifically, for parallel reactors it is critical to avoid that factors of the experimental design are aliased with respect to either reactor position or time on stream. If time on stream effects can be expected as in the current case of storage catalysts, testing multiple loads of at least some samples helps to make experiments more robust.
Author Contributions
M.K., O.G. and A.S. wrote the paper. The authors conceived and designed the experiments, collected and analyzed the data and wrote the paper. A.S. did all work related to the numerical data processing.
Funding
This research received no external funding.
Conflicts of Interest
The authors are all employees of hte.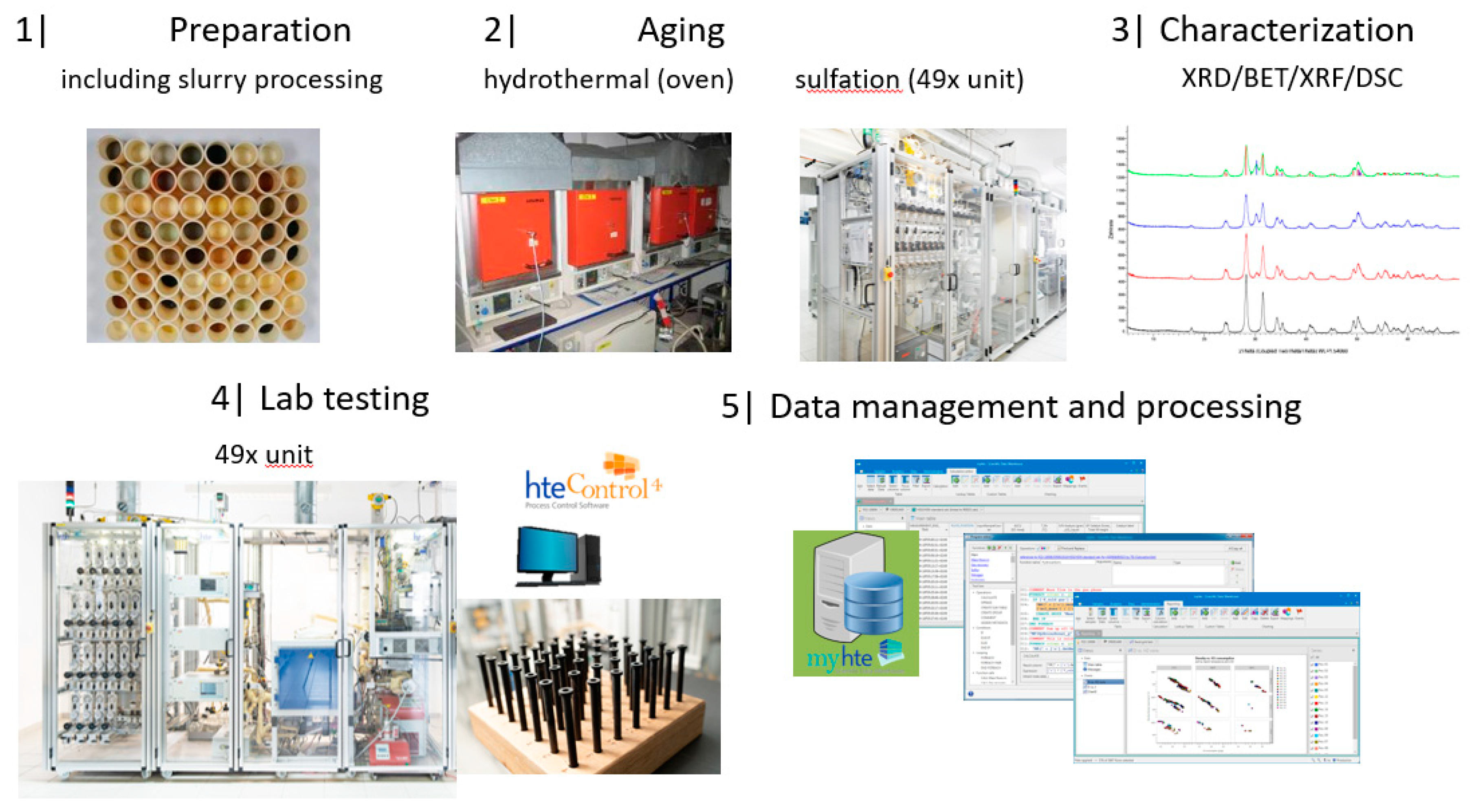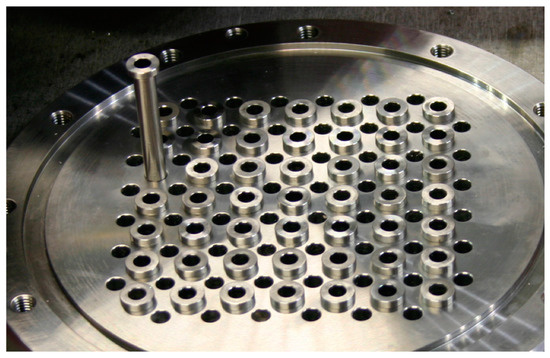 Figure 2. HT reactor block layout with 48 reaction and 1 by-pass positions, one reactor is lifted, others are completely inserted as in an experiment.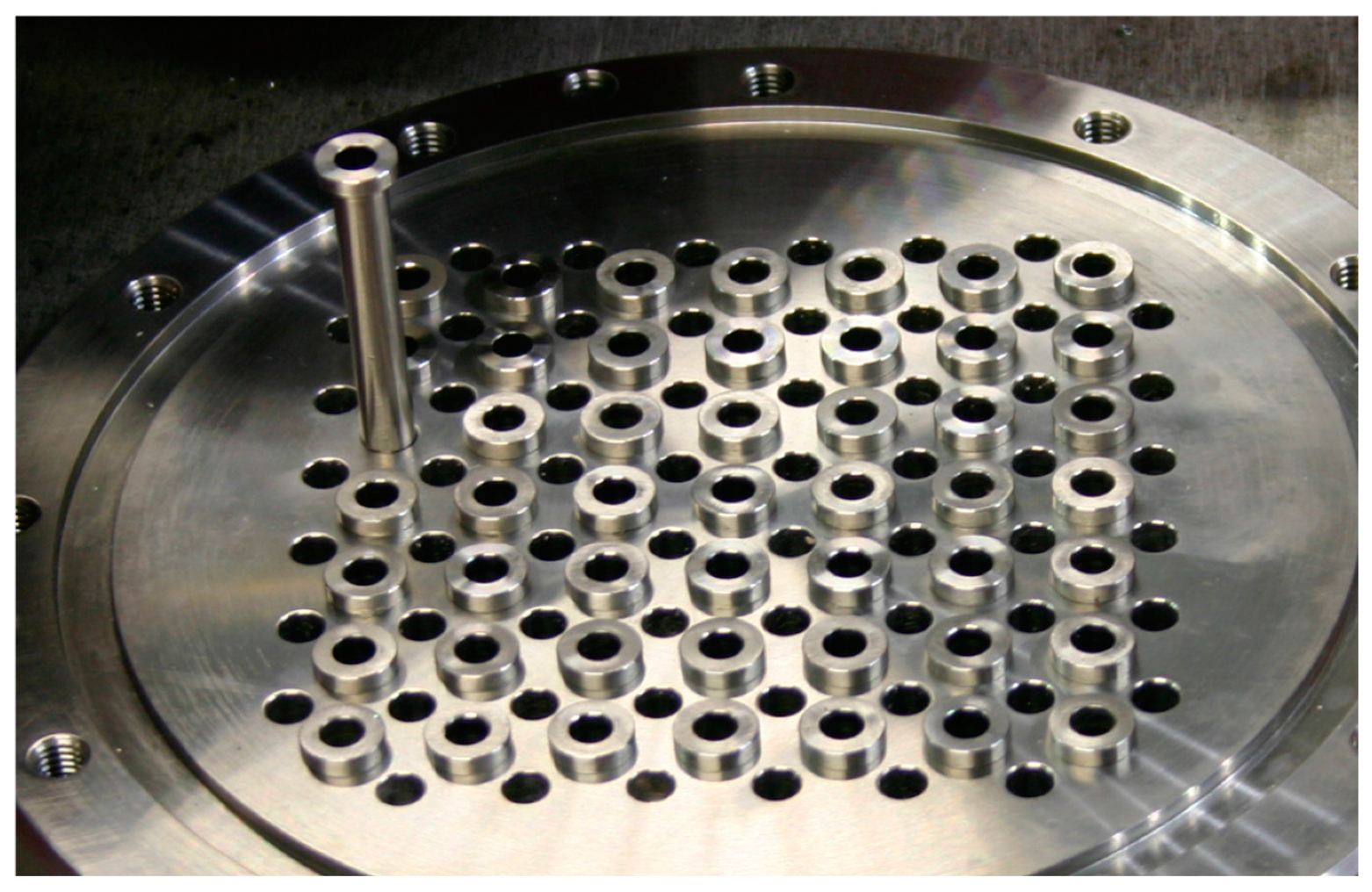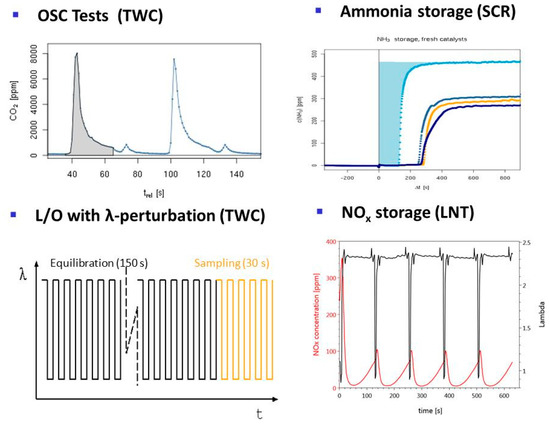 Figure 3.
Examples for dynamic test protocols implemented on a 48-fold reactor system.
Top left:
OSC test, cycling O
2
and CO containing feed and monitoring CO
2
release in the absence of O
2
in the gas phase as a measure for the oxygen storage capacity at a given temperature.
Top right:
NH
3
storage test by cycling NH
3
and monitoring the NH
3
breakthrough under SCR reaction conditions (i.e., in the presence of NO, O
2
, H
2
O, optionally CO
2
and/or HC).
Bottom right:
LNT test with repeated rich regeneration cycles with defined λ. The NO
x
concentration is monitored and analyzed.
Bottom left:
TWC testing in a feed with rapid λ oscillations with defined amplitude. After an equilibration time of 150–180 s, the traces from relevant gas analyzers are averaged for 30s.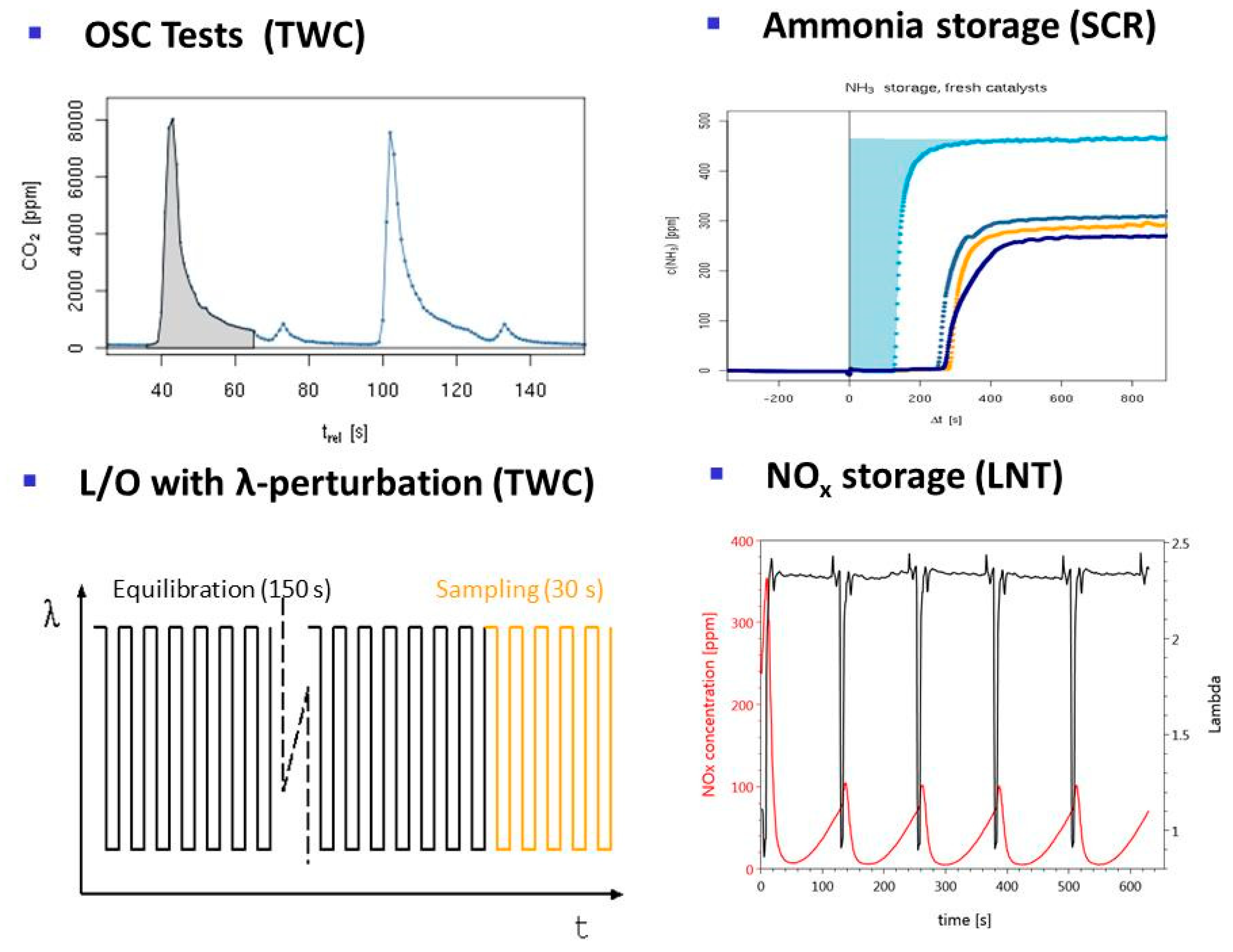 Figure 4. Examples for typical DoE layouts used for catalyst libraries. Simplex lattice designs are used for mixtures (the constraint that all components add to 100% must be met), response surface designs like Box-Behnken can be more suitable to optimize the content of dopants that make up only a small fraction of the catalyst.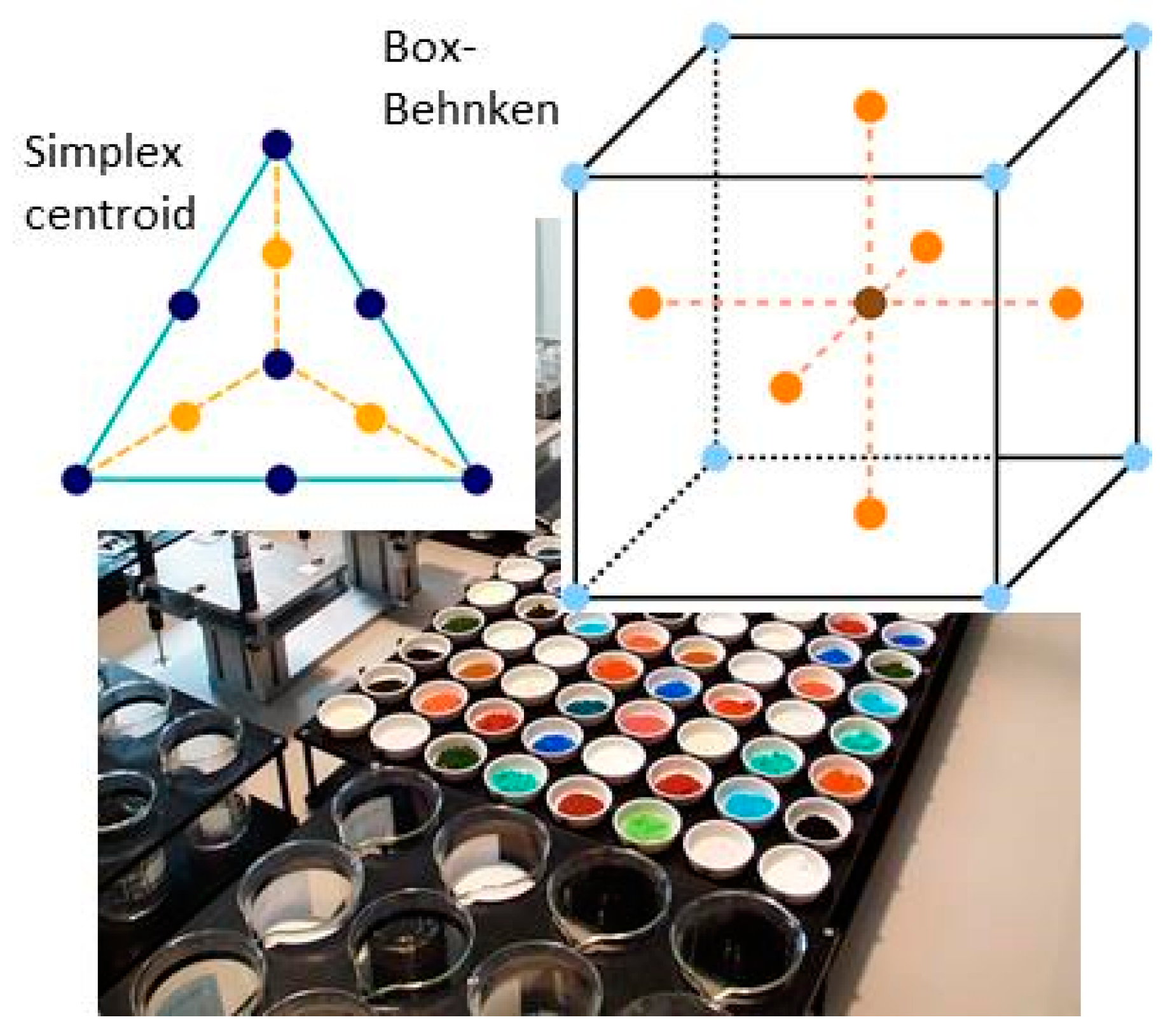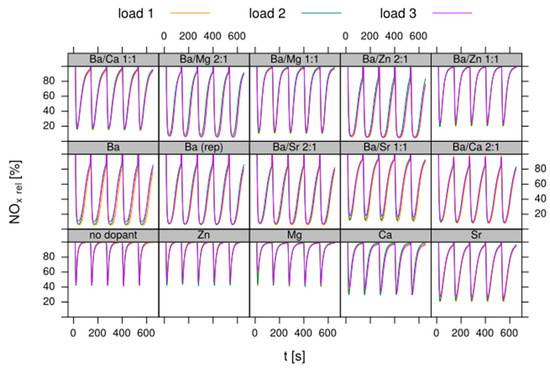 Figure 5.
Time dependencies of NO
x
efficiencies at 450 °C for three loads of each fresh catalyst (cf.
Table 1
for composition details).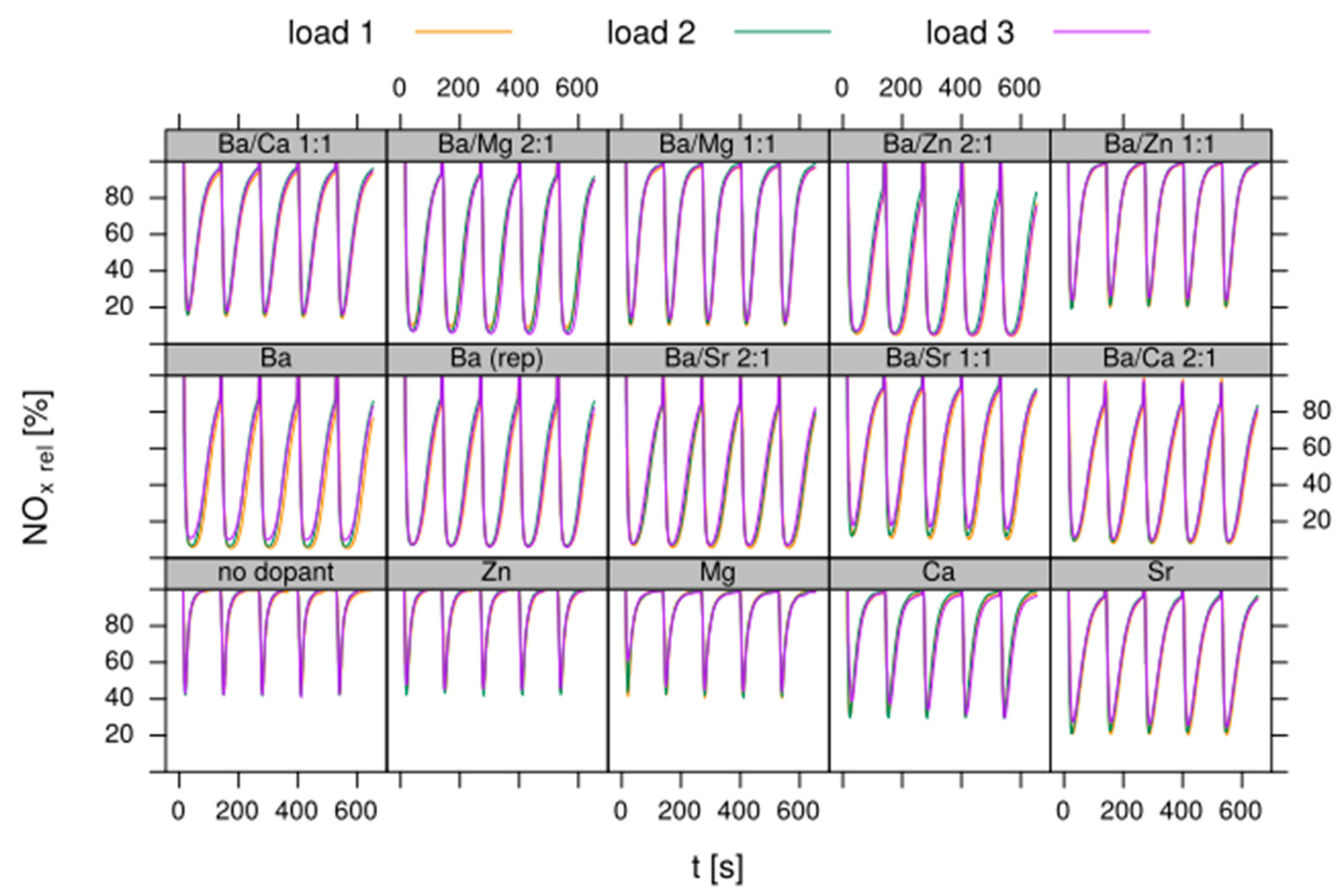 Figure 6. Development of NOx species during five rich/lean cycles at different temperatures for (a) 1%Pt/Al2O3 (sample 001) and (b) 1%Pt/20%BaO- Al2O3 (sample 002).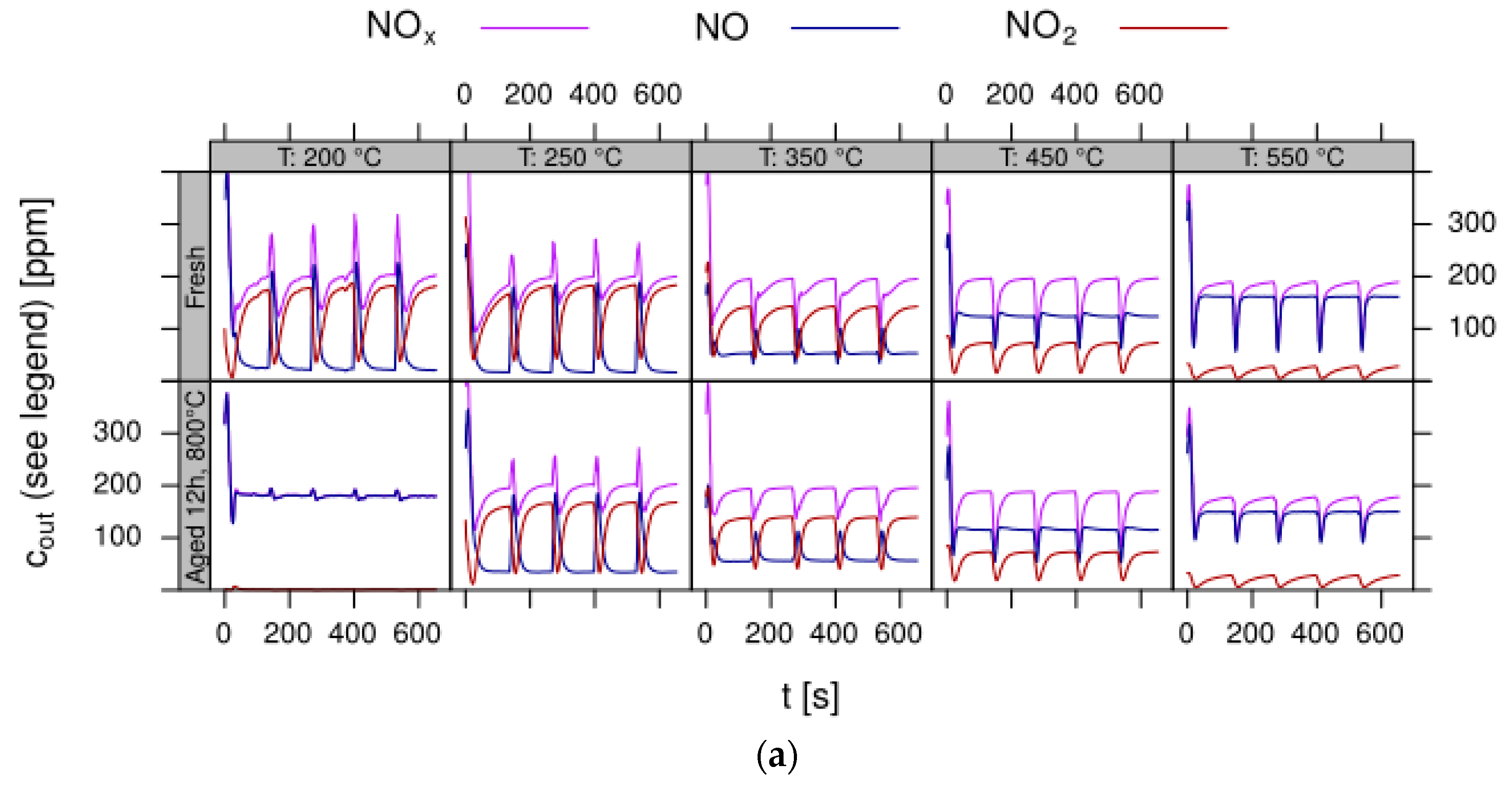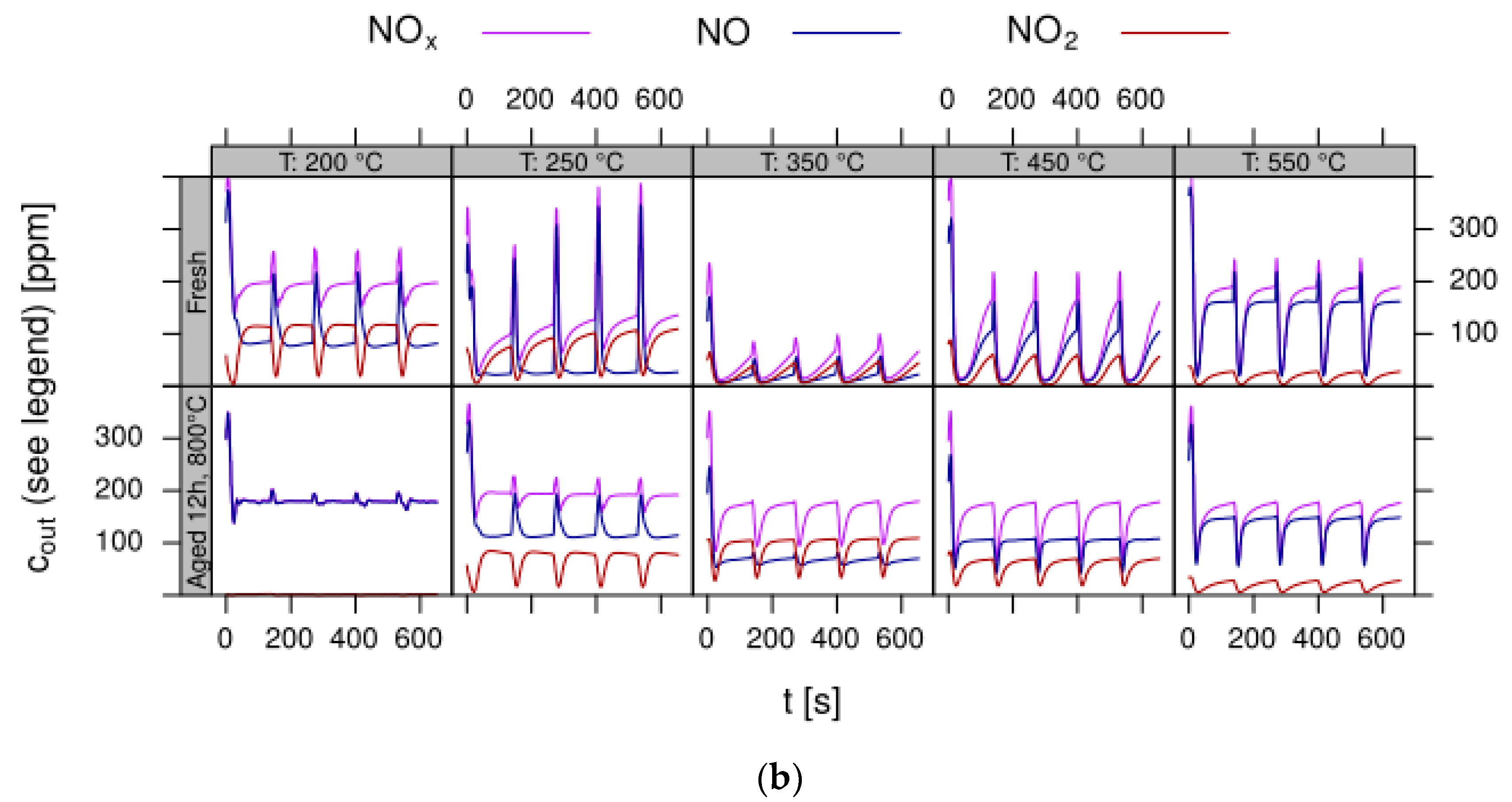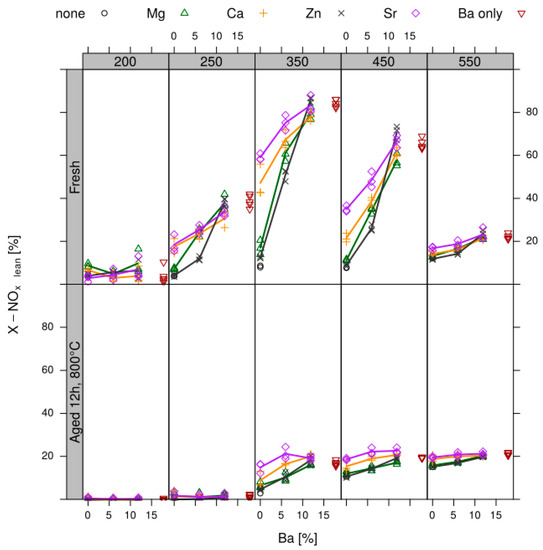 Figure 7.
Correlation of NO
x
efficiencies at different temperatures with Ba content, grouped by co-dopants (three loads of each composition are shown as separate points, lines are drawn through the averages of three loads with the intention to highlight trends), data points are calculated from the area highlighted in
Figure 5
. Detailed numerical values are given in
Table 2
.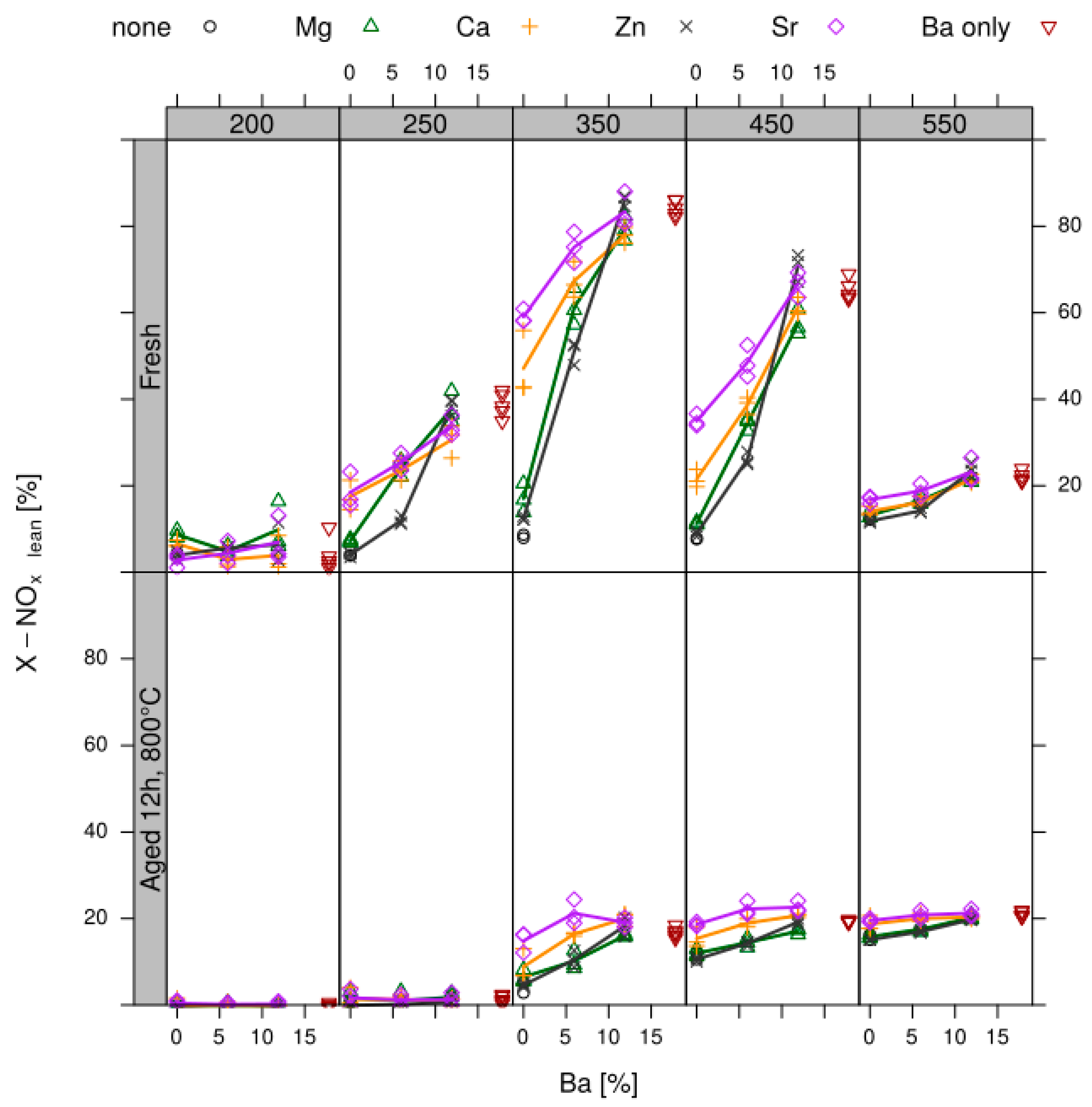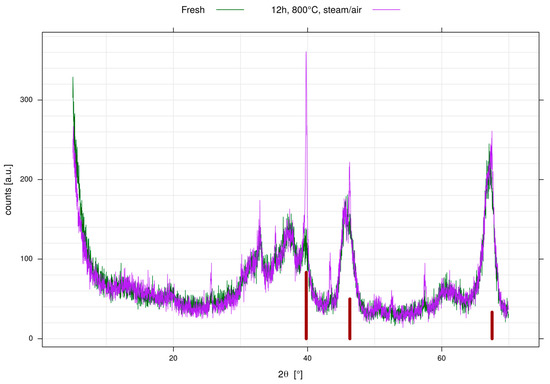 Figure 8. XRD pattern of fresh and aged 1%Pt/20%BaO-Al2O3 catalyst, red bars: powder diffraction pattern for cubic Pt (space group Fm-3m (225)), PDF 00-004-0802.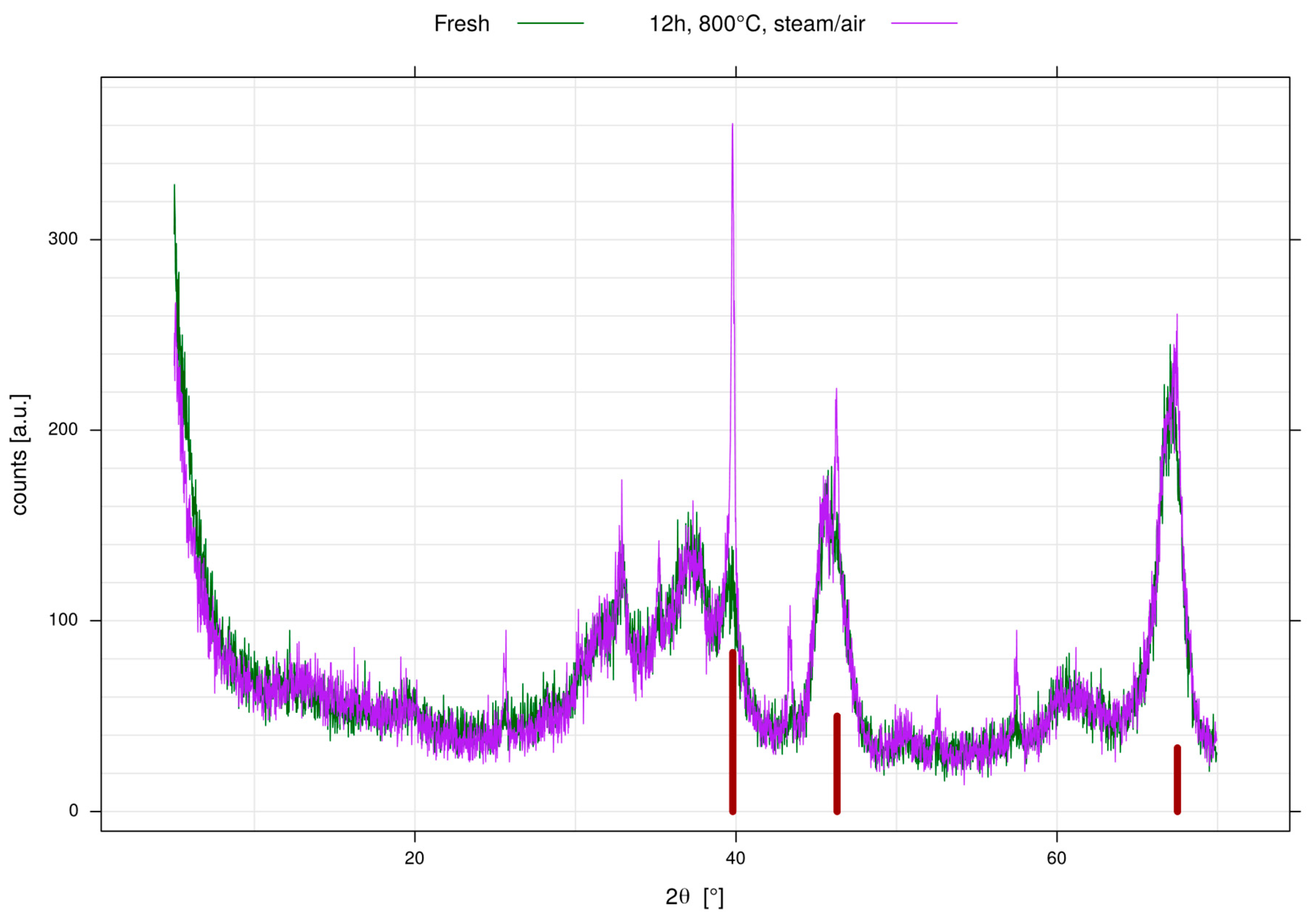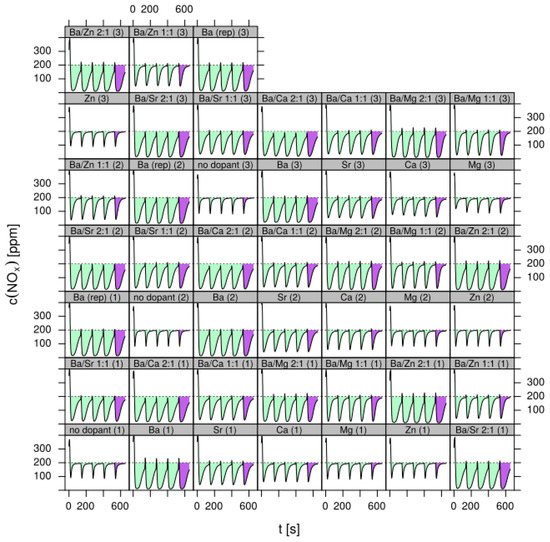 Figure 9. Overview of time resolved sensor readings for all test positions at one temperature from a typical LNT test including with rich/lean excursions. The positions are already labelled with the NSC component and the load number. The shaded area corresponds to the total NOx efficiency, the part of data aggregated and used for sample ranking in this study is highlighted in purple.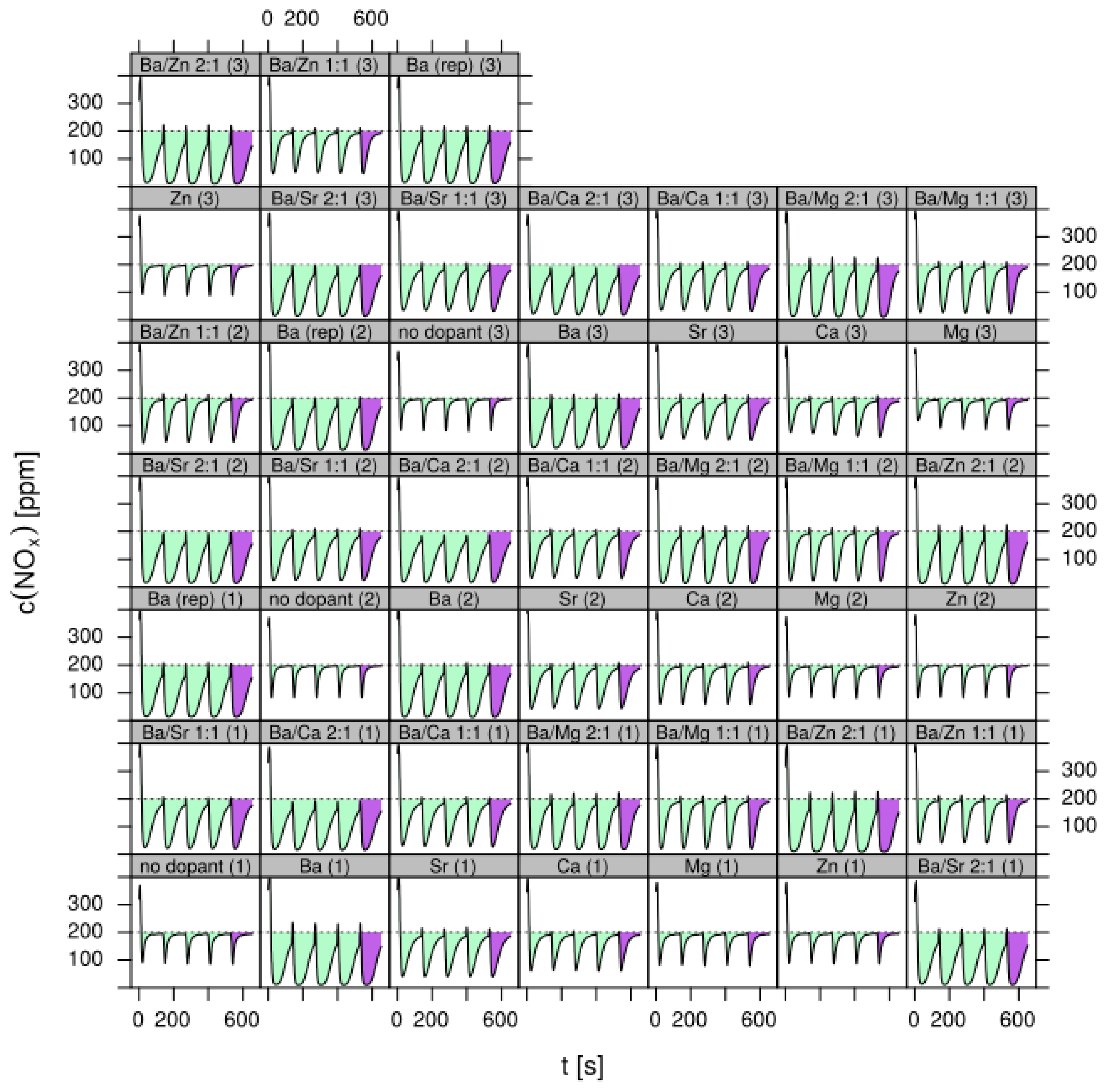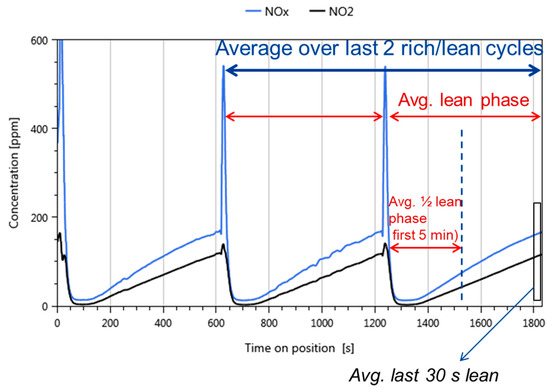 Figure 10. Examples of automated data reduction procedures. These performance indicators allow to do a direct catalyst ranking needed for DoE evaluation.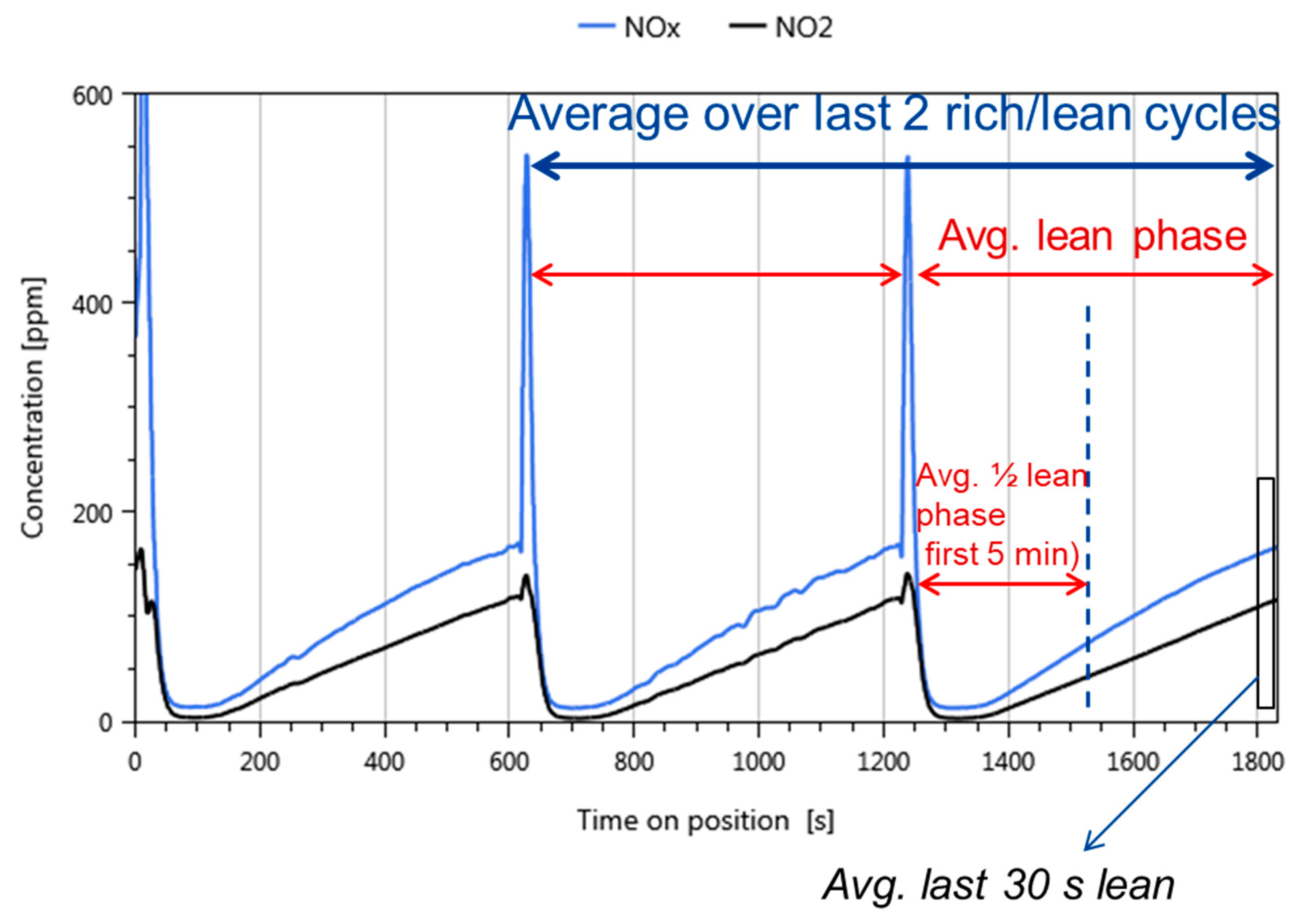 Table 1. Variation of the NOx storage component (NSC) in the case study matrix. The NSC amount is normalized to 20 wt% BaO, other elements partially or completely replace Ba on a molar basis. The DoE (a mixture design in each of the dopants) allows to resolve main effects of different alkaline earth elements as replacement for Ba as well as secondary effects such as concentration effects and Ba:M interaction effects. Cf. Materials and Methods section for a description of sample preparation.
Sample No.
BaO
SrO
CaO
MgO
ZnO
Comment
001
0
0
0
0
0
Base line
002
1
0
0
0
0
Main effect Ba
003
0
1
0
0
0
Main effect Sr
004
0
0
1
0
0
Main effect Ca
005
0
0
0
1
0
Main effect Mg
006
0
0
0
0
1
Main effect Zn
007
2/3
1/3
0
0
0
Interaction Ba:Sr + Sr concentration
008
1/3
2/3
0
0
0
009
2/3
0
1/3
0
0
Interaction Ba:Ca + Ca concentration
010
1/3
0
2/3
0
0
011
2/3
0
0
1/3
0
Interaction Ba:Mg + Mg concentration
012
1/3
0
0
2/3
0
013
2/3
0
0
0
1/3
Interaction Ba:Zn + Zn concentration
014
1/3
0
0
0
2/3
015
1
0
0
0
0
Repeat of 002

Table 2. BET surface areas for selected fresh and aged samples. All samples show a loss of surface area upon aging that is comparable to the alumina support without alkaline earth element doping.
| Sample No. | Description | BET Fresh [m2/g] | BET Aged [m2/g] |
| --- | --- | --- | --- |
| 001 | SCFa140 | 136.7 | 114.2 |
| 002 | BaO/SCFa140 | 115.5 | 96.9 |
| 003 | SrO/SCFa140 | 129.2 | 98.4 |
| 004 | CaO/SCFa140 | 123.1 | 110.5 |
| 005 | MgO/SCFa140 | 132.9 | 115.4 |
| 006 | ZnO/SCFa140 | 124.5 | 106.3 |

Table 3. Storage capacities for the last lean cycle in µmol(NOx)/g sample at each tested temperature. For all samples, aging almost entirely suppresses low temperature storage. Assuming that the alkaline earth metal is fully utilized to form M(NO3)2 upon storage, and neglecting the capacity of the alumina support, a theoretical limit of ~2170 µmol(NOx)/g catalyst can be expected.
Dopant
200 °C
250 °C
350 °C
450 °C
550 °C
Fresh

Aged

Fresh

Aged

Fresh

Aged

Fresh

Aged

Fresh

Aged

Ba
117

5

591

47

1528

292

1193

346

421

381

Ba/Ca 2:1
76

0

436

31

1452

344

1144

380

399

377

Ba/Ca 1:1
56

6

316

39

1310

297

758

365

312

387

Ca
101

12

290

36

940

169

436

310

279

377

Ba/Mg 2:1
161

2

631

44

1498

292

1081

317

406

378

Ba/Mg 1:1
75

6

371

25

1203

194

678

281

325

340

Mg
172

5

137

20

347

132

228

245

265

324

Ba/Sr 2:1
125

8

464

43

1537

323

1219

405

425

387

Ba/Sr 1:1
77

6

302

39

1399

359

909

413

344

387

Sr
53

12

260

47

1116

265

669

352

318

370

Ba/Zn 2:1
106

2

592

28

1590

312

1307

346

430

361

Ba/Zn 1:1
82

0

168

6

957

193

495

270

267

319

Zn
70

0

74

0

246

91

176

206

228

296

no dopant
88

0

82

3

211

91

174

242

254

324

© 2019 by the authors. Licensee MDPI, Basel, Switzerland. This article is an open access article distributed under the terms and conditions of the Creative Commons Attribution (CC BY) license (http://creativecommons.org/licenses/by/4.0/).