Effect of Metal Loading in Unpromoted and Promoted CoMo/Al2O3–TiO2 Catalysts for the Hydrodeoxygenation of Phenol
1
Departamento de Ingeniería de Procesos e Hidráulica, Universidad Autónoma Metropolitana-Iztapalapa, Av. San Rafael Atlixco No. 86, Col. Leyes de Reforma 1ª Secc., Iztapalapa, C.P. 09310 Ciudad de México, Mexico
2
Cátedras CONACyT-Área Académica de Química, Universidad Autónoma del Estado de 5 Hidalgo, Carr. Pachuca-Tulancingo Km. 4.5, C.P. 42184 Pachuca, Hidalgo, Mexico
3
Departamento de Biociencias e Ingeniería, Centro Interdisciplinario de Investigaciones y Estudios sobre Medio Ambiente y Desarrollo, Instituto Politécnico Nacional, C.P. 07340 Ciudad de Mexico, Mexico
*
Authors to whom correspondence should be addressed.
Received: 29 May 2019 / Revised: 7 June 2019 / Accepted: 14 June 2019 / Published: 19 June 2019
Abstract
This paper reports the effects of changes in the supported active phase concentration over titania containing mixed oxides catalysts for hydrodeoxygenation (HDO). Mo and CoMo supported on sol–gel Al
2
O
3
–TiO
2
(Al/Ti = 2) were synthetized and tested for the HDO of phenol in a batch reactor at 5.5 MPa, 593 K, and 100 ppm S. Characterization results showed that the increase in Mo loading led to an increase in the amount of oxide Mo species with octahedral coordination (Mo
Oh
), which produced more active sites and augmented the catalytic activity. The study of the change of Co concentration allowed prototypes of the oxide species and their relationship with the CoMo/AT2 activity to be described. Catalysts were tested at four different Co/(Co + Mo) ratios. The results presented a correlation between the available fraction of Co
Oh
and the catalytic performance. At low Co
Oh
fractions (Co/(Co + Mo) = 0.1), Co could not promote all MoS
2
slabs and metallic sites from this latter phase performed the reaction. Also, at high Co/(Co + Mo) ratios (0.3 and 0.4), there was a loss of Co species. The Co/(Co + Mo) = 0.2 ratio presented an optimum amount of available Co
Oh
and catalytic activity since the XPS results indicated a higher concentration of the CoMoS phase than at a higher ratio.
View Full-Text
►

▼

Figures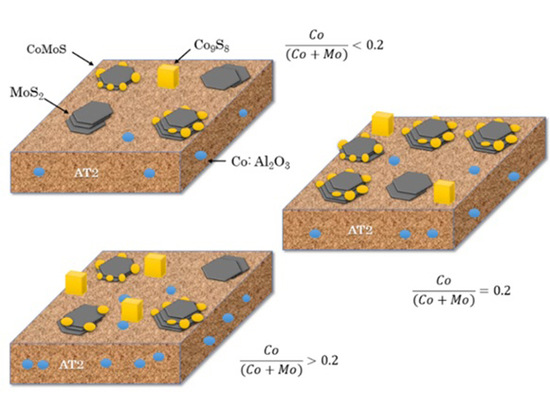 Graphical abstract
This is an open access article distributed under the
Creative Commons Attribution License
which permits unrestricted use, distribution, and reproduction in any medium, provided the original work is properly cited (CC BY 4.0).

Share & Cite This Article
MDPI and ACS Style
Tavizón-Pozos, J.A.; Santolalla-Vargas, C.E.; Valdés-Martínez, O.U.; de los Reyes Heredia, J.A. Effect of Metal Loading in Unpromoted and Promoted CoMo/Al2O3–TiO2 Catalysts for the Hydrodeoxygenation of Phenol. Catalysts 2019, 9, 550.
Note that from the first issue of 2016, MDPI journals use article numbers instead of page numbers. See further details here.
Related Articles
Comments
[Return to top]