Effect of Dilute Acid and Alkali Pretreatments on the Catalytic Performance of Bamboo-Derived Carbonaceous Magnetic Solid Acid
1
State Key Laboratory for Conservation and Utilization of Subtropical Agro-bioresources, South China Agricultural University, Guangzhou 510642, China
2
Guangdong Key Laboratory for Innovative Development and Utilization of Forest Plant Germplasm, South China Agricultural University, Guangzhou 510642, China
3
College of Natural Resources and Environment, South China Agricultural University, Guangzhou 510642, China
*
Authors to whom correspondence should be addressed.
Received: 26 January 2019 / Revised: 28 February 2019 / Accepted: 1 March 2019 / Published: 7 March 2019
Abstract
Lignocellulose is a widely used renewable energy source on the Earth that is rich in carbon skeletons. The catalytic hydrolysis of lignocellulose over magnetic solid acid is an efficient pathway for the conversion of biomass into fuels and chemicals. In this study, a bamboo-derived carbonaceous magnetic solid acid catalyst was synthesized by FeCl
3
impregnation, followed by carbonization and –SO
3
H group functionalization. The prepared catalyst was further subjected as the solid acid catalyst for the catalytic conversion of corncob polysaccharides into reducing sugars. The results showed that the as-prepared magnetic solid acid contained –SO
3
H, –COOH, and polycyclic aromatic, and presented good catalytic performance for the hydrolysis of corncob in the aqueous phase. The concentration of H
+
was in the range of 0.6487 to 2.3204 mmol/g. Dilute acid and alkali pretreatments of raw material can greatly improve the catalytic activity of bamboo-derived carbonaceous magnetic solid acid. Using the catalyst prepared by 0.25% H
2
SO
4
-pretreated bamboo, 6417.5 mg/L of reducing sugars corresponding to 37.17% carbohydrates conversion could be obtained under the reaction conditions of 120 °C for 30 min.
View Full-Text
►

▼

Figures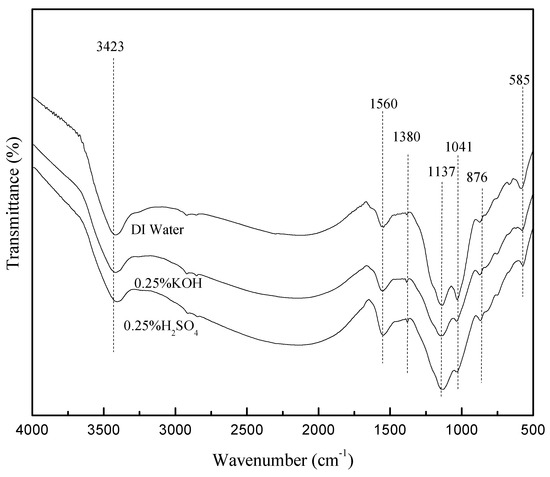 Figure 1
This is an open access article distributed under the
Creative Commons Attribution License
which permits unrestricted use, distribution, and reproduction in any medium, provided the original work is properly cited (CC BY 4.0).

Share & Cite This Article
MDPI and ACS Style
Zhu, Y.; Huang, J.; Sun, S.; Wu, A.; Li, H. Effect of Dilute Acid and Alkali Pretreatments on the Catalytic Performance of Bamboo-Derived Carbonaceous Magnetic Solid Acid. Catalysts 2019, 9, 245.
Note that from the first issue of 2016, MDPI journals use article numbers instead of page numbers. See further details here.
Related Articles
Comments
[Return to top]