Open Access This article is
freely available
re-usable
Article
Immobilization of Chitosanases onto Magnetic Nanoparticles to Enhance Enzyme Performance
1
College of Food Science and Engineering, Ocean University of China, Qingdao 266003, China
2
Laboratory for Marine Drugs and Bioproducts of Qingdao National Laboratory for Marine Science and Technology, Qingdao 266237, China
*
Authors to whom correspondence should be addressed.
Received: 7 September 2018 / Accepted: 17 September 2018 / Published: 18 September 2018
Abstract
:
In this study, chitosanase cloning from
Streptomyces albolongus
was fermented and purified by a Ni-NTA column. Fe
3
O
4
-SiO
2
magnetite nanoparticles (MNPs) were synthesized by the co-precipitation method coating with silica via a sol-gel reaction and were then amino functioned by treating with 3-aminopropyltriethoxysilane. Chitosanases were immobilized onto the surface of MNPs by covalent bonding (
[email protected]
). Transmission electron microscopy (TEM), Fourier transform infrared spectrometer (FT–IR), and magnetic measurements were used to illustrate the MNPs and immobilized chitosanase. The optimal conditions of immobilization were studied. The thermal, pH, and stabilities of immobilized chitosanase were tested and the results showed that the stabilities were significantly enhanced compared with free chitosanase. After being recycled 10 times, the residual activity of the immobilized chitosanase was 43.7% of the initial activity.
Keywords:
chitosanase; enzyme immobilization; magnetic nanoparticles; covalent bonding
Author Contributions
W.W. and N.G. performed the experiment; X.M. and Z.Z. analysed the data; and W.W. and W.H. wrote the paper.
Funding
This work was supported by the China Agriculture Research System (CARS-48), the Major Special Science and Technology Projects in Shandong Province (2016YYSP016), and the Shandong Natural Science Foundation (no. ZR2015CQ021).
Conflicts of Interest
The authors declare no conflict of interest.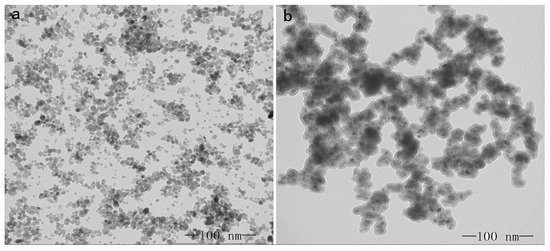 Figure 1. Transmission electron microscopy (TEM) images of Fe3O4 (a) and Fe3O4-SiO2 (b) nanoparticles.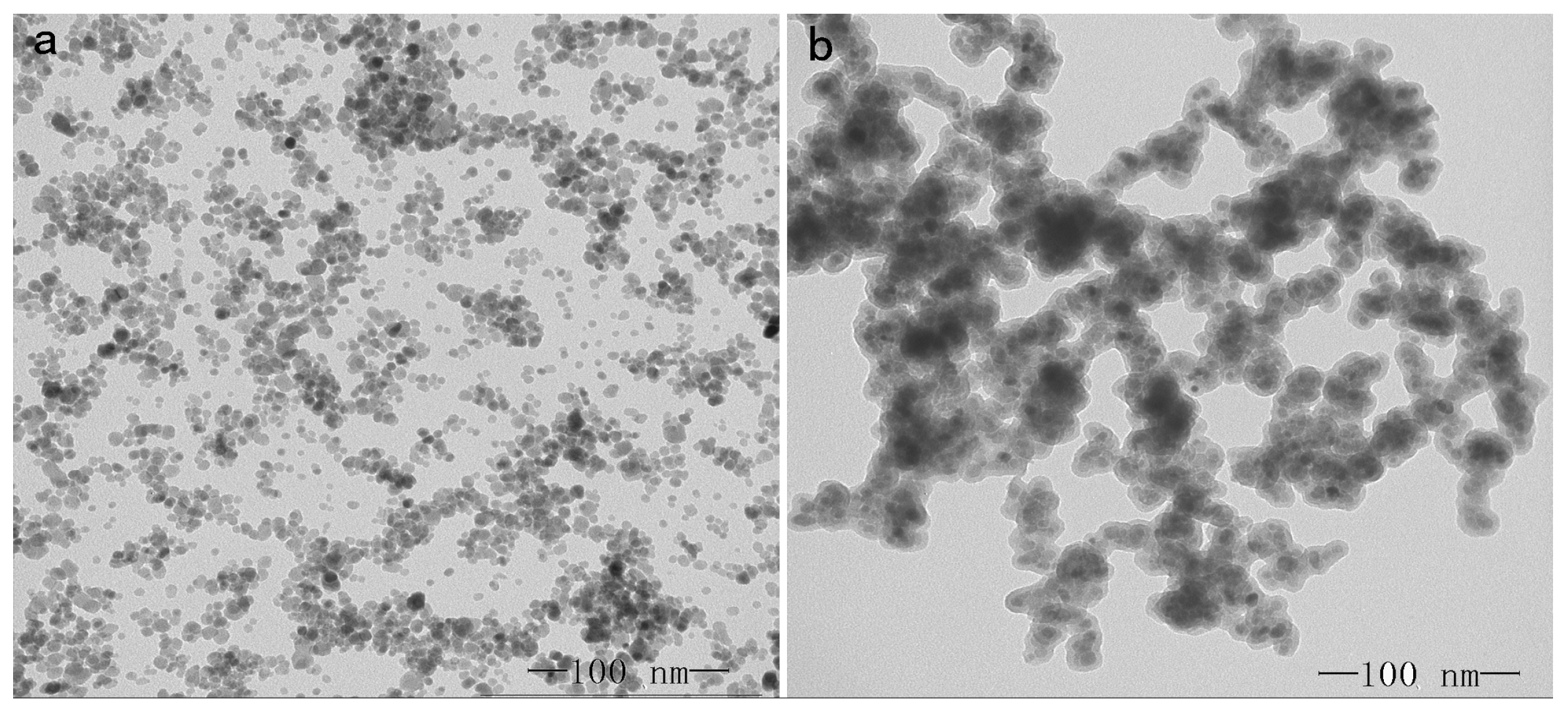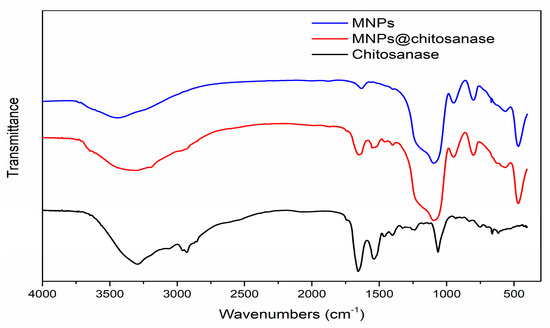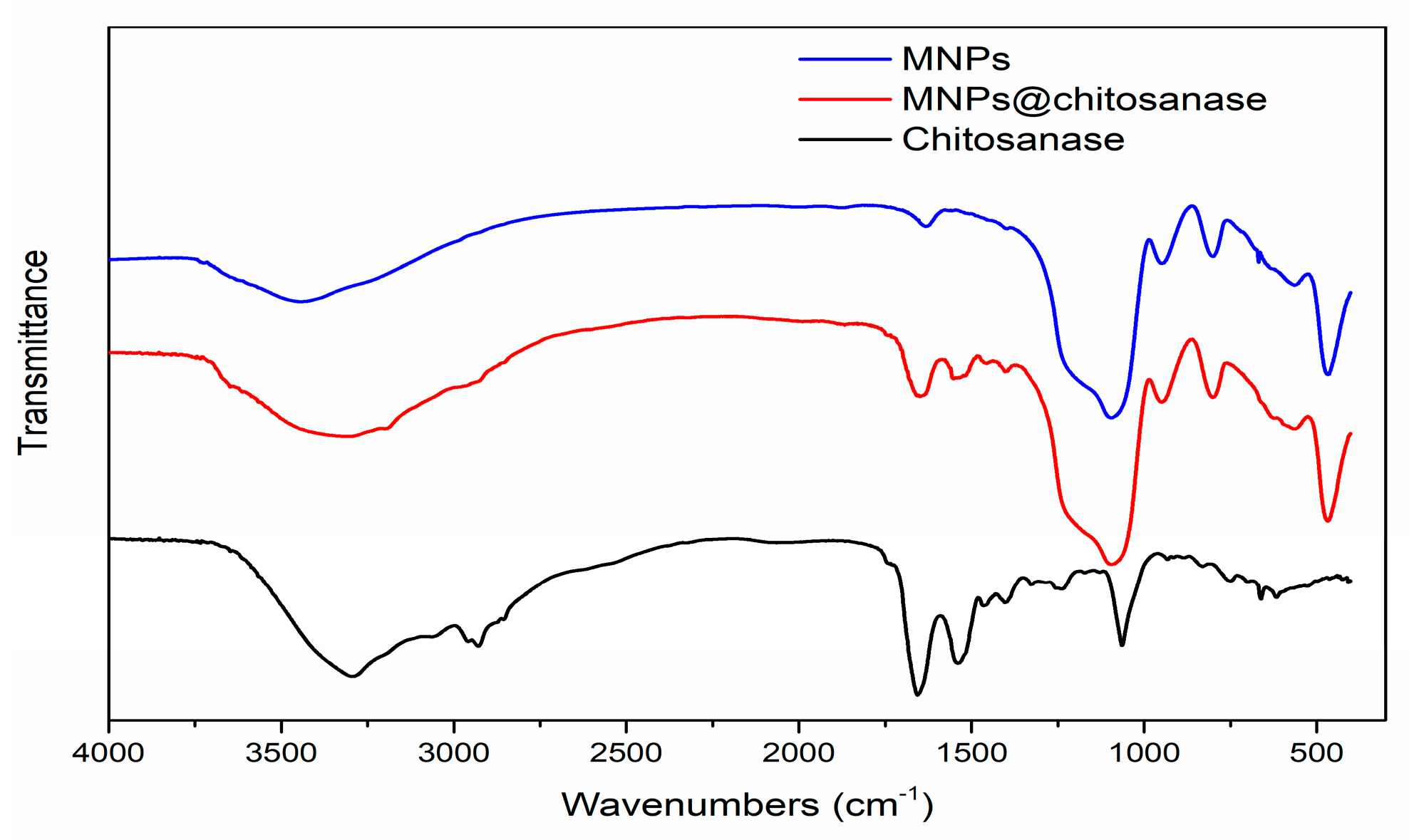 Figure 3. (a) Hysteresis loops of Fe3O4, MNPs and chitosanases immobilized on MNPs. Photographs of (b) the MNPs dispersed in aqueous solution and (c) the MNPs attracted by an external magnetic field for 15 s.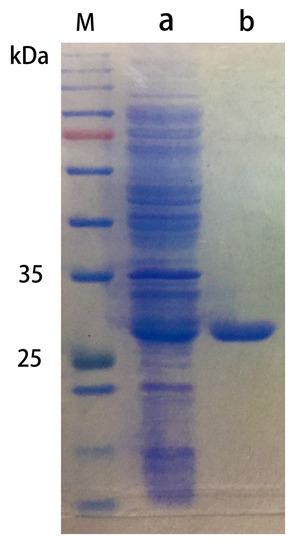 Figure 4. SDS-PAGE analysis of purified chitosanase. Lane M, protein markers; Lane a, crude extract before purification; Lane b, purified chitosanase.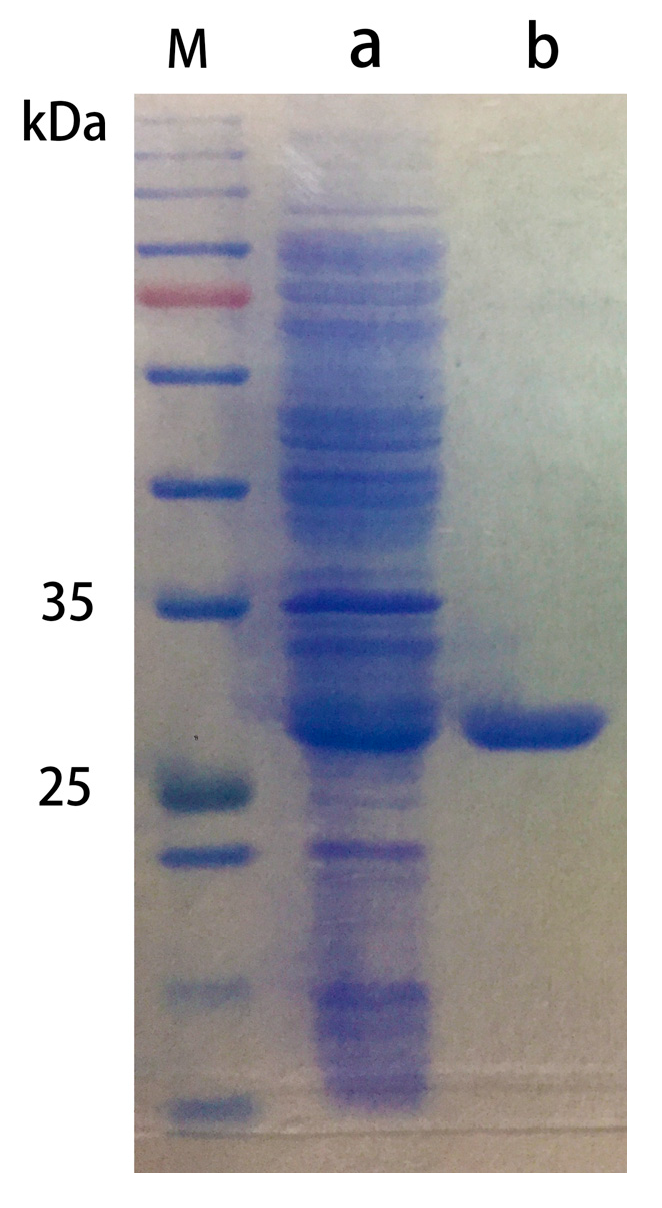 Figure 6. Effect of reaction times (a) and amount of enzyme (b) on enzyme loading and relative activity. The reaction was from the condition of 20 °C and Tris-HCl buffer (50 mM, pH 8.0); the reaction time was 2 h.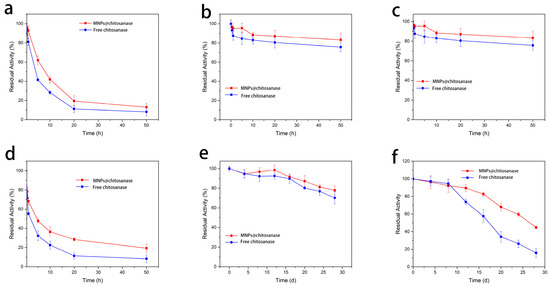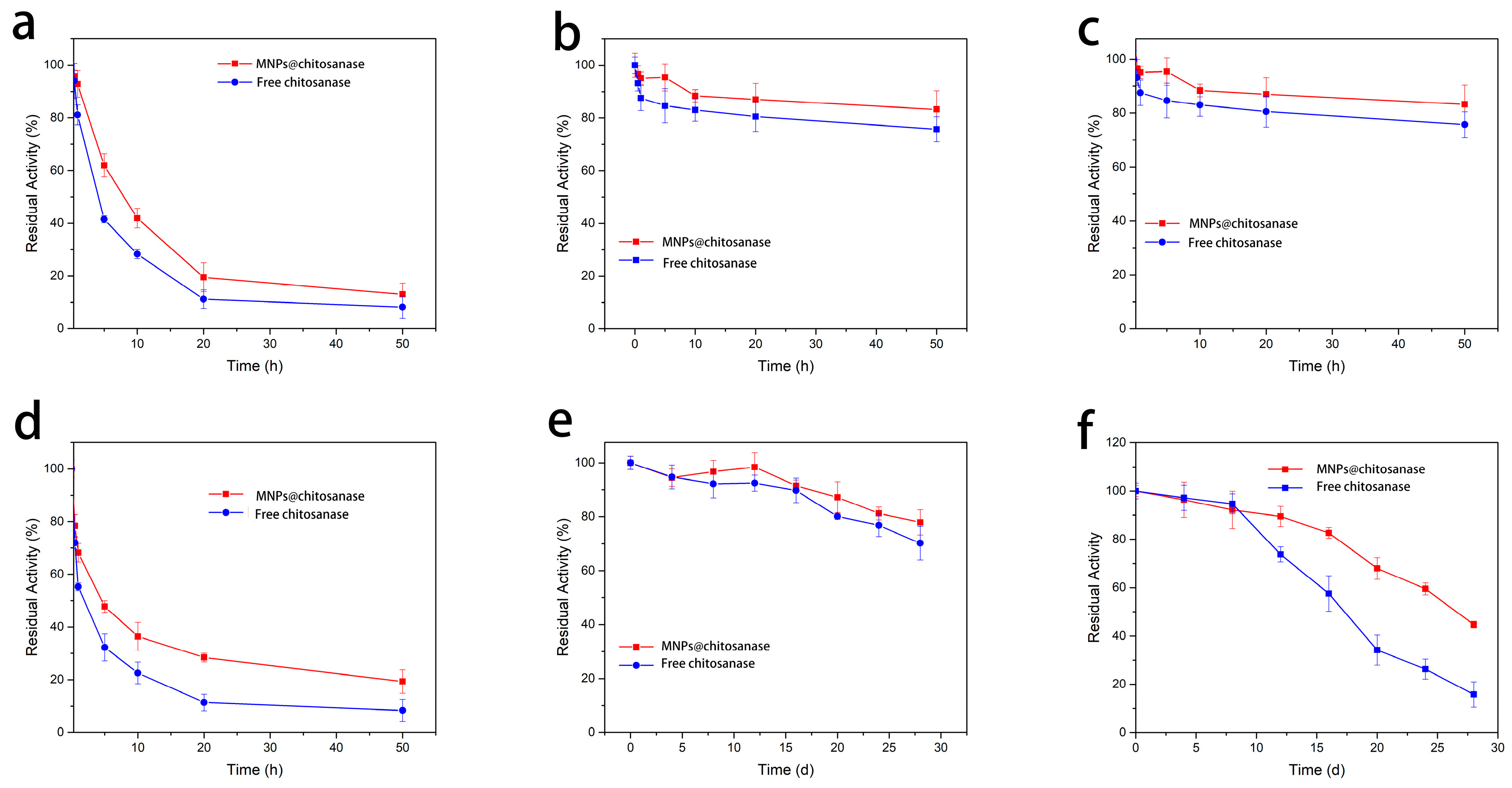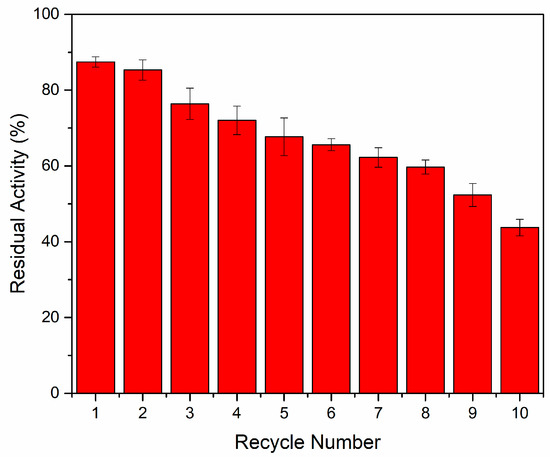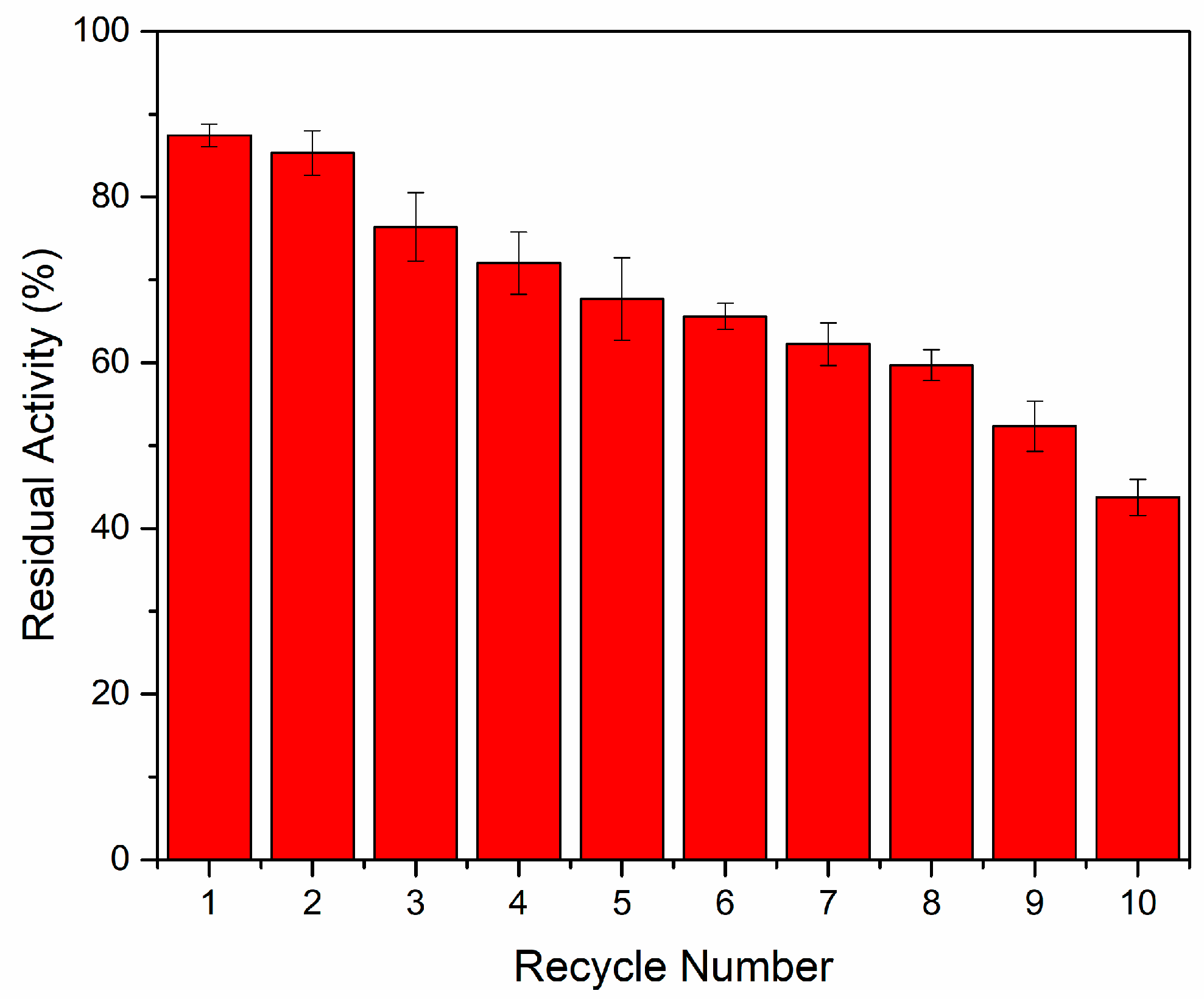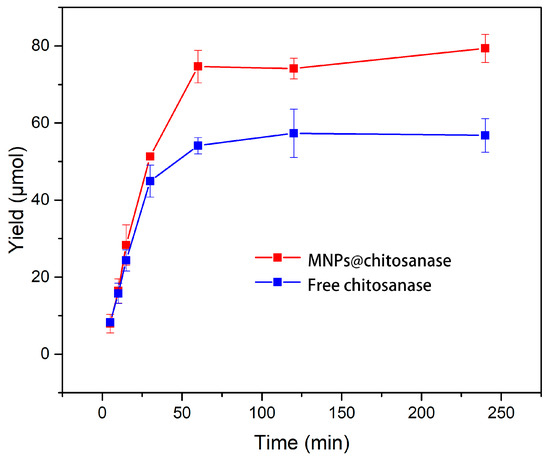 Figure 9.
Time courses of the hydrolysis of chitosan using the free and
[email protected]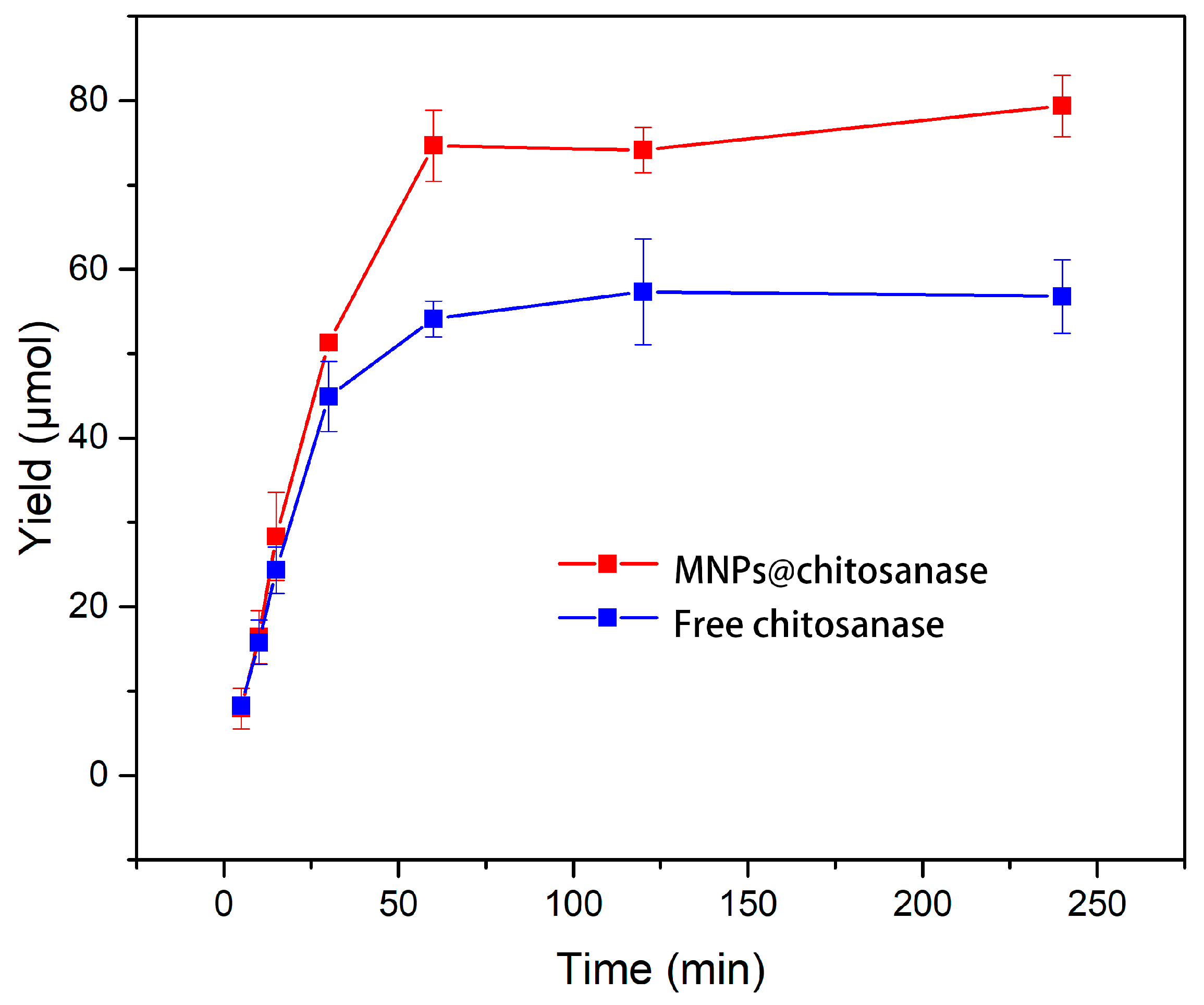 © 2018 by the authors. Licensee MDPI, Basel, Switzerland. This article is an open access article distributed under the terms and conditions of the Creative Commons Attribution (CC BY) license (http://creativecommons.org/licenses/by/4.0/).