Two Complementary Synthetic Approaches to the Enantiomeric Forms of the Chiral Building Block (2,6,6-Trimethyltetrahydro-2
H

-pyran-2-yl)methanol: Application to the Stereospecific Preparation of the Natural Flavor Linaloyl Oxide

Consiglio Nazionale delle Ricerche (C.N.R.) Istituto di Chimica del Riconoscimento Molecolare, Via Mancinelli 7, 20131 Milano, Italy

*

Author to whom correspondence should be addressed.

Received: 12 August 2018 / Revised: 24 August 2018 / Accepted: 26 August 2018 / Published: 28 August 2018
Abstract
The enantiomeric forms of the alcohol (2,6,6-trimethyltetrahydro-2
H
-pyran-2-yl)methanol are potential chiral building blocks for the stereoselective synthesis of different natural terpenes. Here, we describe their preparation by means of two different synthetic approaches. The first is based on the stereospecific (+)-10-camphorsulfonic acid (CSA)-catalyzed cyclization of (
R
)- and (
S
)-2-methyl-5-(2-methyloxiran-2-yl)pentan-2-ol, which were in turn synthesized from (
R
)- and (
S
)-linalool, respectively. The latter monoterpenes are easily available from the chiral pool, with different optical purity. As our synthesis makes use of the intermediate 2,6-dimethyloct-7-ene-2,6-diol, whose enantiopurity can be improved through fractional crystallization, we obtained (2,6,6-trimethyltetrahydro-2
H
-pyran-2-yl)methanol enantiomers in an almost enantiopure form. The second synthetic approach is based on the lipase-mediated resolution of the aforementioned tetrahydropyranyl alcohol, which was prepared in racemic form starting from the industrial intermediate, dehydrolinalool. In this work, we report a large-scale resolution procedure that exploits the opposite enantioselectivity of Novozym
®
435 lipase and lipase AK in the acetylation reaction of (2,6,6-trimethyltetrahydro-2
H
-pyran-2-yl)methanol. The two enantiomeric forms of the latter alcohol were employed for the first stereoselective synthesis of both enantiomers of the flavor, linaloyl oxide (2,2,6-trimethyl-6-vinyltetrahydro-2
H
-pyran).
View Full-Text
►

▼

Figures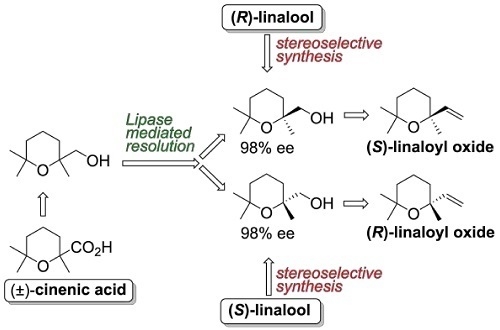 Graphical abstract
This is an open access article distributed under the
Creative Commons Attribution License
which permits unrestricted use, distribution, and reproduction in any medium, provided the original work is properly cited (CC BY 4.0).

Share & Cite This Article
MDPI and ACS Style
Serra, S.; De Simeis, D. Two Complementary Synthetic Approaches to the Enantiomeric Forms of the Chiral Building Block (2,6,6-Trimethyltetrahydro-2H-pyran-2-yl)methanol: Application to the Stereospecific Preparation of the Natural Flavor Linaloyl Oxide. Catalysts 2018, 8, 362.
Note that from the first issue of 2016, MDPI journals use article numbers instead of page numbers. See further details here.
Related Articles
Comments
[Return to top]