Selective Hydrogenation of Benzene to Cyclohexene over Ru-Zn Catalysts: Mechanism Investigation on NaOH as a Reaction Additive
1
Institute of Environmental and Catalytic Engineering, College of Chemistry and Chemical Engineering, Zhengzhou Normal University, Zhengzhou 450044, China
2
Zhengzhou Tobacco Research Institute of CNTC, Zhengzhou 450001, China
3
College of Chemistry and Molecular Engineering, Zhengzhou University, Zhengzhou 450001, China
*
Authors to whom correspondence should be addressed.
Received: 16 January 2018 / Revised: 23 February 2018 / Accepted: 28 February 2018 / Published: 2 March 2018
Abstract
Ru-Zn catalysts were synthesized via a precipitation method, and the mechanism of NaOH modifying Ru-Zn catalysts on the selective hydrogenation of benzene to cyclohexene was thoroughly investigated. Fresh as well as used catalysts were characterized via X-ray diffraction (XRD), X-ray Fluorescence (XRF), transmission electron microscope (TEM), scanning electron microscope (SEM), Auger electron spectroscopy (AES), X-ray photoelectron spectroscopy (XPS), and density functional theory (DFT), respectively. Before catalytic experiments, metallic Ru and rodlike ZnO were detected from fresh Ru-Zn catalysts. Notably, with the increasing concentration of NaOH added into the reaction medium (e.g., from 0 to 0.6 mol·L
−1
), the dispersion of ZnO on the Ru surface significantly improved, resulting in the enhancement Ru
δ+
species of electron deficiency. The catalytic activity towards benzene conversion was therefore retarded and the selectivity towards cyclohexene was improved. When the added NaOH concentration reached 0.6 mol·L
−1
, the atomic ratio of Zn/Ru decreased from 0.27 (when no NaOH was added) to 0.16, benzene conversion of 45.3%, and cyclohexene selectivity of 89.3% was achieved using a batch reactor after 25 min of reaction time. However, with continually increasing the NaOH concentration, i.e., to 1.2 mol·L
−1
, parts of ZnO could react with the over-added NaOH, leading to the unfavorable consumption of uniformly dispersed ZnO. This causes the increasing of catalytic activity towards benzene conversion, as well as the decreasing of the selectivity towards cyclohexene. Moreover, no loss of catalytic activity and selectivity towards cyclohexene formation from selective hydrogenation of benzene was observed after 10 times of catalytic experiments without any regeneration.
View Full-Text
►

▼

Figures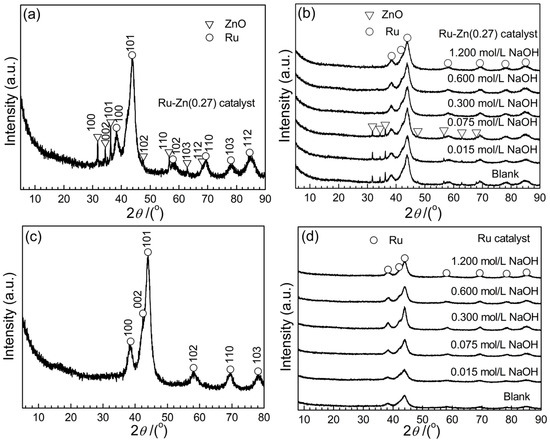 Figure 1
This is an open access article distributed under the
Creative Commons Attribution License
which permits unrestricted use, distribution, and reproduction in any medium, provided the original work is properly cited (CC BY 4.0).

Share & Cite This Article
MDPI and ACS Style
Sun, H.; Chen, Z.; Li, C.; Chen, L.; Peng, Z.; Liu, Z.; Liu, S. Selective Hydrogenation of Benzene to Cyclohexene over Ru-Zn Catalysts: Mechanism Investigation on NaOH as a Reaction Additive. Catalysts 2018, 8, 104.
Note that from the first issue of 2016, MDPI journals use article numbers instead of page numbers. See further details here.
Related Articles
Comments
[Return to top]