The Catalytic Hydrogenation of Maleic Anhydride on CeO2−δ-Supported Transition Metal Catalysts
1
Engineering Research Center of Ministry of Education for Fine Chemicals, School of Chemistry and Chemical Engineering, Shanxi University, Taiyuan 030006, China
2
Faculty of Engineering and the Environment, University of Southampton, Highfield, Southampton SO17 1BJ, UK
*
Authors to whom correspondence should be addressed.
Academic Editor: Leonarda F. Liotta
Received: 11 August 2017 / Revised: 3 September 2017 / Accepted: 8 September 2017 / Published: 14 September 2017
Abstract
The proper selection of transition metals and support is pivotal to the design of active and selective catalysts for maleic anhydride hydrogenation (MAH). Herein, the M/CeO
2−δ
(M = Co, Ni, Cu, respectively) catalysts with pre-optimised metal loading of 10 wt % were prepared via a wet impregnation method and well characterized to corroborate their MAH performance with the properties of metal, support and the M/CeO
2−δ
catalysts. The results revealed that the metal dispersion on the catalyst declines in the order of Ni/CeO
2−δ
> Co/CeO
2−δ
> Cu/CeO
2−δ
, similar to the apparent activity for maleic anhydride (MA) transformation to succinic anhydride (SA). The hydrogenolysis of SA to γ-butyrolactone (GBL) occurs on Ni/CeO
2−δ
and Co/CeO
2−δ
only when the MA → SA transformation completing. The Ni/CeO
2−δ
displays superior activity and selectivity to Co/CeO
2−δ
in both MA → SA and SA → GBL reactions, while the Cu/CeO
2−δ
and CeO
2−δ
are both inert for SA → GBL hydrogenolysis. The MA hydrogenation to SA follows the first order kinetic law on the Ni/CeO
2−δ
and Co/CeO
2−δ
catalysts yet a more complex kinetic characteristics observed on the Cu/CeO
2−δ
. The distinct catalytic hydrogenation behaviours of the M/CeO
2−δ
catalysts are assigned to the synergism of dispersion and electronic configuration of the transition metals and oxygen vacancies.
View Full-Text
►

▼

Figures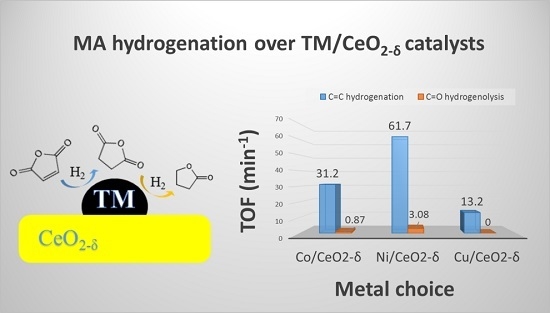 Graphical abstract
This is an open access article distributed under the
Creative Commons Attribution License
which permits unrestricted use, distribution, and reproduction in any medium, provided the original work is properly cited (CC BY 4.0).

Share & Cite This Article
MDPI and ACS Style
Liao, X.; Zhang, Y.; Guo, J.; Zhao, L.; Hill, M.; Jiang, Z.; Zhao, Y. The Catalytic Hydrogenation of Maleic Anhydride on CeO2−δ-Supported Transition Metal Catalysts. Catalysts 2017, 7, 272.
Note that from the first issue of 2016, MDPI journals use article numbers instead of page numbers. See further details here.
Related Articles
Comments
[Return to top]