A Study of Low-Temperature CO Oxidation over Mesoporous CuO-TiO2 Nanotube Catalysts
1
Department of Chemistry and Earth Sciences, College of Arts and Sciences, Qatar University, Doha 2713, Qatar
2
Energy Materials Laboratory (EML), School of Sciences and Engineering, the American University in Cairo, New Cairo 11835, Egypt
*
Author to whom correspondence should be addressed.
†
Permanent address: National Institute of Laser Enhanced Science, Cairo University, Giza 12613, Egypt.
Academic Editors: Shaobin Wang and Xiaoguang Duan
Received: 5 April 2017 / Revised: 20 April 2017 / Accepted: 21 April 2017 / Published: 28 April 2017
Abstract
Supported copper oxide nanoparticles have attracted considerable attention as active and non-precious catalysts for many catalytic oxidation reactions. Herein, mesoporous xCuO-TiO
2
nanotube catalysts were fabricated, and their activity and kinetics toward CO oxidation were studied. The morphology and structure of the prepared catalysts were systematically studied using SEM, TEM, EDS, EDX, XRD, TGA, BET, XPS, H
2
-TPR, and Raman techniques. The BET surface area study revealed the effect of the large surface area of the mesoporous TiO
2
nanotubes on promoting the catalytic activity of prepared catalysts. The results also revealed the existence of strong metal-support interactions in the CuO-TiO
2
nanotube catalyst, as indicated by the up-shift of the E
2g
vibrational mode of TiO
2
from 144 cm
−1
to 145 cm
−1
and the down-shift of the binding energy (BE) of Ti 2p
3/2
from 458.3 eV to 458.1 eV. The active phase of the catalyst consists of fine CuO nanoparticles dispersed on a mesoporous anatase TiO
2
nanotube support. The 50-CuO-TiO
2
nanotube catalyst demonstrated the highest catalytic activity with 100% CO conversion at T
100
= 155 °C and a reaction rate of 36 µmole s
−1
g
−1
. Furthermore, the catalyst demonstrated excellent long-term stability with complete CO conversion that was stable for 60 h under a continuous stream. The enhanced catalytic activity is attributed to the interplay at the interface between the active CuO phase and the TiO
2
nanotubes support.
View Full-Text
►

▼

Figures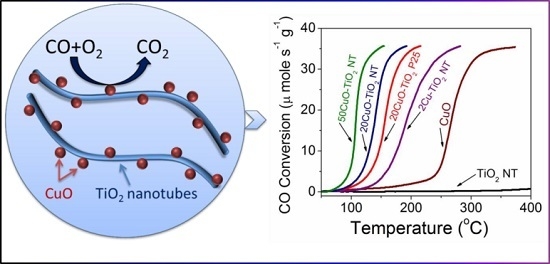 Graphical abstract
This is an open access article distributed under the
Creative Commons Attribution License
which permits unrestricted use, distribution, and reproduction in any medium, provided the original work is properly cited (CC BY 4.0).

Share & Cite This Article
MDPI and ACS Style
Zedan, A.F.; Allam, N.K.; AlQaradawi, S.Y. A Study of Low-Temperature CO Oxidation over Mesoporous CuO-TiO2 Nanotube Catalysts. Catalysts 2017, 7, 129.
Note that from the first issue of 2016, MDPI journals use article numbers instead of page numbers. See further details here.
Related Articles
Comments
[Return to top]