Understanding the Heteroatom Effect on the Ullmann Copper-Catalyzed Cross-Coupling of
X

-Arylation (

X

= NH, O, S) Mechanism

1

Krupp-Chair of General and Inorganic Chemistry, University of Saarland, Campus C4.1, 66123 Saarbruecken, Germany

2

Fachbereich Chemie, University of Marburg, Hans-Meerweinstrasse 4, 35032 Marburg, Germany

3

INFIQC, Departamento de Química Orgánica, Facultad de Ciencias Químicas, University of Córdoba, Ciudad Universitaria, Córdoba X5000HUA, Argentina

*

Author to whom correspondence should be addressed.

Received: 14 November 2017 / Revised: 7 December 2017 / Accepted: 11 December 2017 / Published: 13 December 2017
Abstract
Density Functional Theory (DFT) calculations have been carried out in order to unravel the governing reaction mechanism in copper-catalyzed cross-coupling Ullmann type reactions between iodobenzene (
1
, PhI) and aniline (
2-NH
, PhNH
2
), phenol (
2-O
, PhOH) and thiophenol (
2-S
, PhSH) with phenanthroline (phen) as the ancillary ligand. Four different pathways for the mechanism were considered namely Oxidative Addition–Reductive Elimination (OA-RE), σ-bond Metathesis (MET), Single Electron Transfer (SET), and Halogen Atom Transfer (HAT). Our results suggest that the OA-RE route, involving Cu
III
intermediates, is the energetically most favorable pathway for all the systems considered. Interestingly, the rate-determining step is the oxidative addition of the phenyl iodide to the metal center regardless of the nature of the heteroatom. The computed energy barriers in OA increase in the order O < S < NH. Using the Activation Strain Model (ASM) of chemical reactivity, it was found that the strain energy associated with the bending of the copper(I) complex controls the observed reactivity.
View Full-Text
►

▼

Figures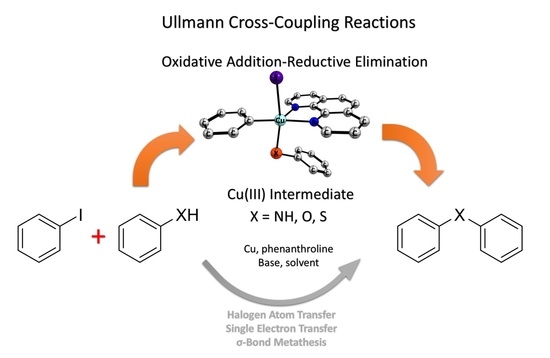 Graphical abstract
This is an open access article distributed under the
Creative Commons Attribution License
which permits unrestricted use, distribution, and reproduction in any medium, provided the original work is properly cited (CC BY 4.0).

Share & Cite This Article
MDPI and ACS Style
Andrada, D.M.; Soria-Castro, S.M.; Caminos, D.A.; Argüello, J.E.; Peñéñory, A.B. Understanding the Heteroatom Effect on the Ullmann Copper-Catalyzed Cross-Coupling of X-Arylation (X = NH, O, S) Mechanism. Catalysts 2017, 7, 388.
Note that from the first issue of 2016, MDPI journals use article numbers instead of page numbers. See further details here.
Related Articles
Comments
[Return to top]