Effect of an Sb-Doped SnO2 Support on the CO-Tolerance of Pt2Ru3 Nanocatalysts for Residential Fuel Cells
1
Special Doctoral Program for Green Energy Conversion Science and Technology, Interdisciplinary, Graduate School of Medicine and Engineering, University of Yamanashi, 4 Takeda, Kofu 400-8510, Japan
2
Fuel Cell Nanomaterials Center, University of Yamanashi, 4 Takeda, Kofu 400-8510, Japan
3
Clean Energy Research Center, University of Yamanashi, 4 Takeda, Kofu 400-8510, Japan
*
Author to whom correspondence should be addressed.
Academic Editor: Minhua Shao
Received: 8 August 2016 / Revised: 3 September 2016 / Accepted: 7 September 2016 / Published: 10 September 2016
Abstract
We prepared monodisperse Pt
2
Ru
3
nanoparticles supported on carbon black and Sb-doped SnO
2
(denoted as Pt
2
Ru
3
/CB and Pt
2
Ru
3
/Sb-SnO
2
) with identical alloy composition and particle size distribution by the nanocapsule method. The activities for the hydrogen oxidation reaction (HOR) of these anode catalysts were examined in H
2
-saturated 0.1 M HClO
4
solution in both the presence and absence of carbon monoxide by use of a channel flow electrode at 70 °C. It was found that the CO-tolerant HOR mass activity at 0.02 V versus a reversible hydrogen electrode (RHE) on the Pt
2
Ru
3
/Sb-SnO
2
electrode was higher than that at the Pt
2
Ru
3
/CB electrode in 0.1 M HClO
4
solution saturated with 1000 ppm CO (H
2
-balance). The CO tolerance mechanism of these catalysts was investigated by in situ attenuated total reflection Fourier transform infrared reflection-adsorption spectroscopy (ATR-FTIRAS) in 1% CO/H
2
-saturated 0.1 M HClO
4
solution at 60 °C. It was found, for the Pt
2
Ru
3
/Sb-SnO
2
catalyst, that the band intensity of CO linearly adsorbed (CO
L
) at step/edge sites was suppressed, together with a blueshift of the CO
L
peak at terrace sites. On this surface, the HOR active sites were concluded to be more available than those on the CB-supported catalyst surface. The observed changes in the adsorption states of CO can be ascribed to an electronic modification effect by the Sb-SnO
2
support.
View Full-Text
►

▼

Figures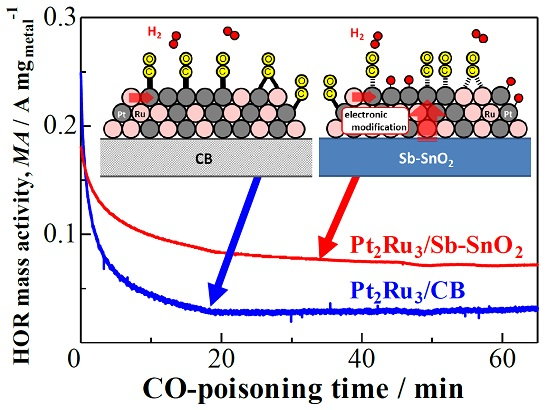 Graphical abstract
This is an open access article distributed under the
Creative Commons Attribution License
which permits unrestricted use, distribution, and reproduction in any medium, provided the original work is properly cited (CC BY 4.0).

Share & Cite This Article
MDPI and ACS Style
Ogihara, Y.; Yano, H.; Watanabe, M.; Iiyama, A.; Uchida, H. Effect of an Sb-Doped SnO2 Support on the CO-Tolerance of Pt2Ru3 Nanocatalysts for Residential Fuel Cells. Catalysts 2016, 6, 139.
Note that from the first issue of 2016, MDPI journals use article numbers instead of page numbers. See further details here.
Related Articles
Comments
[Return to top]