Open Access This article is
freely available
re-usable
Article
The Preparation of Cu-g-C3N4/AC Catalyst for Acetylene Hydrochlorination
1
School of Chemistry and Chemical Engineering of Shihezi University, Shihezi 832000, Xinjiang, China
2
Key Laboratory for Green Processing of Chemical Engineering of Xinjiang Bingtuan, Shihezi 832000, Xinjiang, China
*
Authors to whom correspondence should be addressed.
Academic Editors: Shaobin Wang and Xiaoguang Duan
Received: 29 September 2016 / Accepted: 29 November 2016 / Published: 5 December 2016
Abstract
:
A novel catalyst based on g-C3N4/activated carbon was prepared by adding CuCl2. The catalytic performance of the as-prepared catalyst was investigated in the acetylene hydrochlorination reaction. X-ray photoelectron spectroscopy, temperature programmed desorption, low temperature N2 adsorption/desorption (Brunauer–Emmett–Teller), and thermal gravity analysis showed that Cu-g-C3N4/AC significantly enhanced the catalytic performance of the original catalyst by increasing the relative pyrrolic N content. Cu-g-C3N4/AC also affected the adsorption of hydrogen chloride and acetylene, as well as inhibited the coke deposition during acetylene hydrochlorination.
Keywords:
acetylene hydrochlorination; non-mercury catalyst; copper
1. Introduction
The use of plastic products is increasing to date. Polyvinyl chloride (PVC) has become the second most frequently used general plastic worldwide. Vinyl chloride monomer (VCM) is used for PVC synthesis. In China, use of acetylene as a raw material to produce VCM still dominates local practices [
1
]. Mercuric chloride (HgCl
2
) supported on activated carbon (AC) is used as the catalyst in the current industrial production process. This approach holds major shortcomings: the catalyst loses volatile active components during the reaction, while its high toxicity is harmful to human health and seriously pollutes the environment. On the other hand, the catalyst cannot generally be reactivated after deactivation. To achieve the efficient and clean production of VCM, the development of new non-mercury catalyst must be urgently addressed [
2
].
Numerous attempts have been made to develop a non-mercury catalyst, and precious metal catalysts have attracted the attention of researchers, especially the gold-containing catalyst. Hutchings et al. [
3
] studied the catalytic mechanism of the Au catalyst and found that the activity of acetylene hydrochlorination was improved by adding adsorbed hydrogen chloride (HCl). The authors also noted that the increase in acetylene (C
2
H
2
) adsorption can deactivate the catalyst. Specifically, HCl adsorption is the reaction rate control step. Li et al. [
4
] discovered that the enhanced catalytic performance could be attributed to the introduction of polypyrrole (PPy) into multiwall carbon nanotubes (MWCNTs), which increased the adsorption of HCl. Consequently, AuCl
3
/PPy–MWCNT demonstrated excellent catalytic performance compared with AuCl
3
/MWCNT during acetylene hydrochlorination. However, the price and stability of the Au-based catalyst limit the widespread use of this catalyst [
5
].
Carbon nitride material has recently attracted attention because of its excellent chemical stability and unique semiconductor band structure. Thus, carbon nitride material has been widely used for photolysis of aquatic hydrogen, which produces oxygen; light-catalyzed organic synthesis and the photocatalytic degradation of organic pollutants [
6
,
7
]. Dai et al. [
8
] searched for a graphitic carbon nitride catalyst (g-C
3
N
4
/AC), their study revealed that the nitrogen atom of the g-C
3
N
4
/AC catalyst is the active site for the HCl; thus, the prepared g-C
3
N
4
/AC catalyst displayed considerable catalytic performance. However, this catalyst rapidly deactivates given its poor stability. This catalyst entails further study.
To solve the high cost and rapid deactivation of catalyst, we introduced the non-precious metal CuCl2 to the g-C3N4/AC catalyst by a simple preparation method. The properties of this new catalyst were explored by acetylene hydrochlorination. Characterization confirmed the success of material preparation; the test results showed that the catalyst possessed good catalytic activity, thereby promoting further research on experimental and theoretical references.
2. Results and Discussion
3. Materials and Methods
3.1. Materials
The following materials were used: AC (neutral, coconut carbon, 40–60 mesh), copper(II) chloride dihydrate (CuCl2·2H2O, 99.8%, Aldrich, Shanghai, China), cyanamide (C2H4N4, 99%, Aldrich), HCl (gas, 99%), and C2H2 (gas, 98%).
3.2. Catalyst Preparation
The catalysts were prepared as reported previously [
12
]. First, at 80 °C, dicyandiamide was mixed with deionized water, stirred for 30 min. AC was added to the above solution. Remove water by heating. The sample was calcined at 500 °C for 4 h under a flowing nitrogen atmosphere. The sample was denoted as g-C
3
N
4
/AC. The preparation of Cu-g-C
3
N
4
/AC was similar to that of g-C
3
N
4
/AC, but CuCl
2
·2H
2
O was added after dicyandiamide was mixed with deionized water.
3.3. Characterization of Physical Parameters
Low-temperature N2 adsorption/desorption experiments on surface area and porosity were performed with a Micromeritics ASAP 2020C instrument (Micromeritics Instrument Ltd., Norcross, GA, USA). The samples were first degassed at 150 °C and analyzed at −196 °C. Raman spectrum analyses were conducted using a Raman spectrometer (Fei Tecai G2F20, FEI, Hillsboro, OR, USA) with a 633 nm Ar laser. XRD patterns were collected with a Bruker D8 advanced X-ray diffractometer (Bruker Biosciences Corporation, Billerica, MA, USA) at wide (10°–90° in 2θ) angles. TEM was used to examine the sample morphologies with a JEM2010 electron microscope (FEI, Hillsboro, OR, USA). XPS analysis was conducted using a Kratos AXIS Ultra DLD spectrometer (Kratos, Manchester, UK). TPD was performed with a Micromeritic chemisorb 2720 (Micromeritic ASAP 2720, Micromeritics Instrument Ltd, Norcross, GA, USA). The temperature was increased from 50 to 500 °C. TG analysis of the samples was conducted with a TG DSC simultaneous thermal analyzer (NETZSCH STA 449F3 Jupiter1, Netzsch, Selb, Germany) in air. The temperature was increased from 50 to 850 °C at a heating rate of 10 °C·min−1.
3.4. Catalytic Performance Evaluation
The catalytic activity tests were performed in a fixed-bed micro-reactor (internal diameter, 10 mm). Prior to the reaction, the system was purged with nitrogen gas to remove water and air for approximately 30 min. Subsequently, the catalyst was activated by passing HCl gas through the reactor. After the temperature was heated to 180 °C, C2H2 (2.1 mL·min−1) and HCl (2.4 mL·min−1) were fed into the heated reactor, which contained 2 mL of catalyst, with a GHSV of 72 h−1. Gas chromatography (GC-2014C, Shimadzu, Kyoto, Japan) was used for the reaction products.
4. Conclusions
In this paper, a Cu-g-C3N4/AC catalyst was prepared with a simple method for an acetylene hydrochlorination reaction. The evaluation of catalytic performance showed that the Cu-g-C3N4/AC catalyst's catalytic performance was superior to the g-C3N4/AC catalyst. The introduction of CuCl2 to the g-C3N4/AC catalyst increased the relative pyrrolic N content, and enhanced the adsorption capacity of HCl. Moreover, CuCl2 inhibited coke deposition on the catalyst.
Acknowledgments
This work was supported by the National Natural Science Funds of China (NSFC, U1403294, 21666033), and the young scientific and technological innovation leader of Bingtuan (2015BC001).
Author Contributions
Mingyuan Zhu and Bin Dai designed and conceived the experiments; Wenli Zhao performed the experiments; Mingyuan Zhu analyzed the data; Bin Dai contributed reagents/materials/analysis tools; Wenli Zhao wrote the paper with direction from Mingyuan Zhu and Bin Dai; all authors participated in the analysis, interpretation, and review of the results and provided input in the writing process of the paper.
Conflicts of Interest
The authors declare no conflict of interest.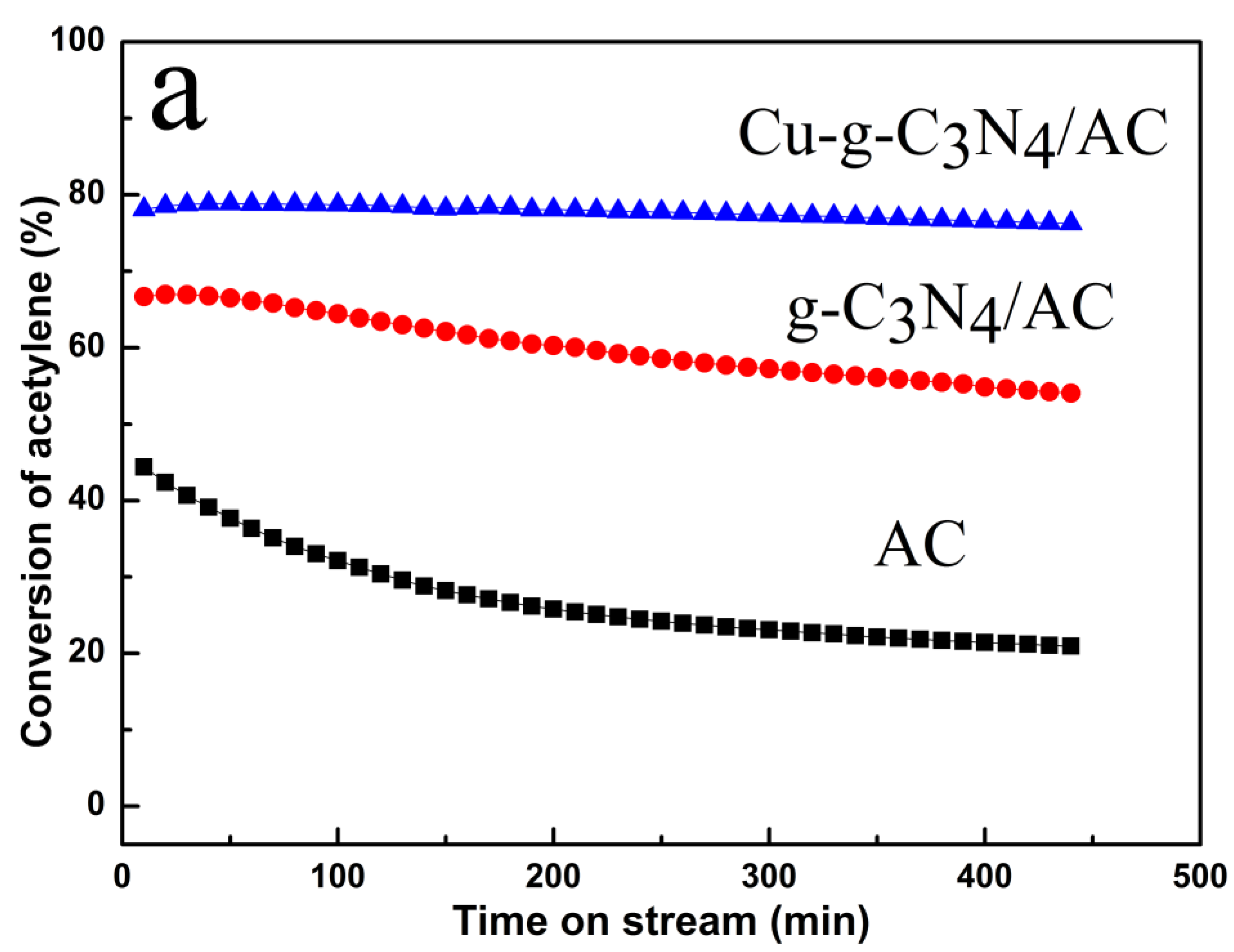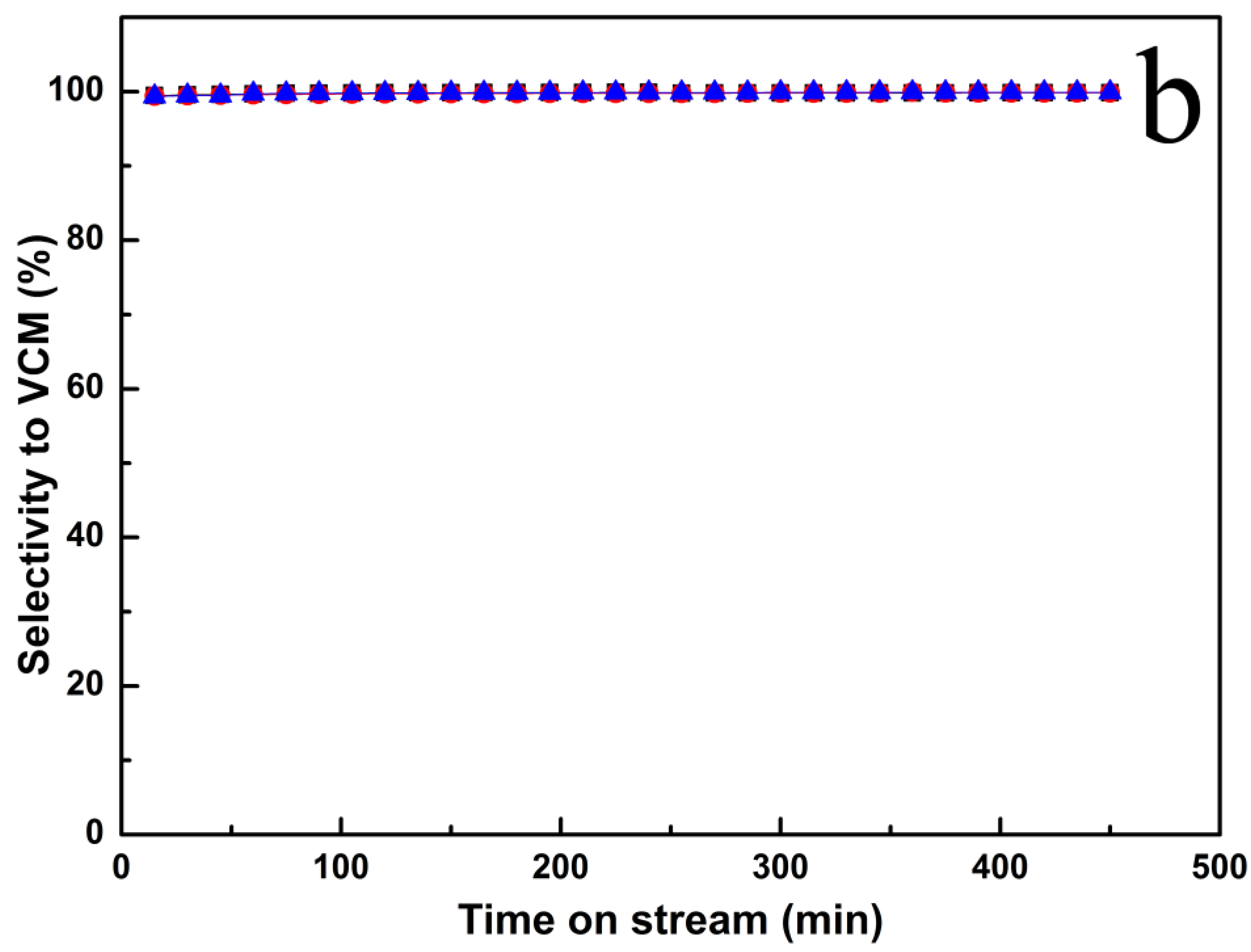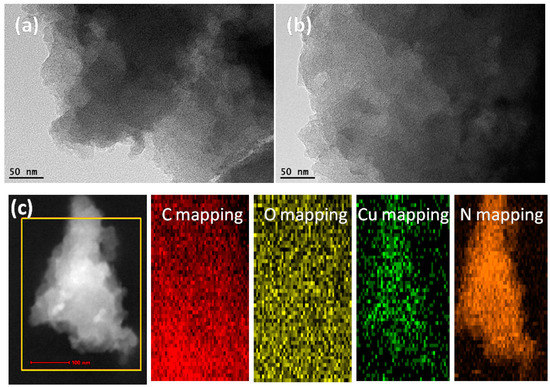 Figure 2. Transmission Electron Microscopy (TEM) micrograph of (a) g-C3N4/AC; (b) Cu-g-C3N4/AC; and (c) the TEM elemental mapping images of Cu-g-C3N4/AC.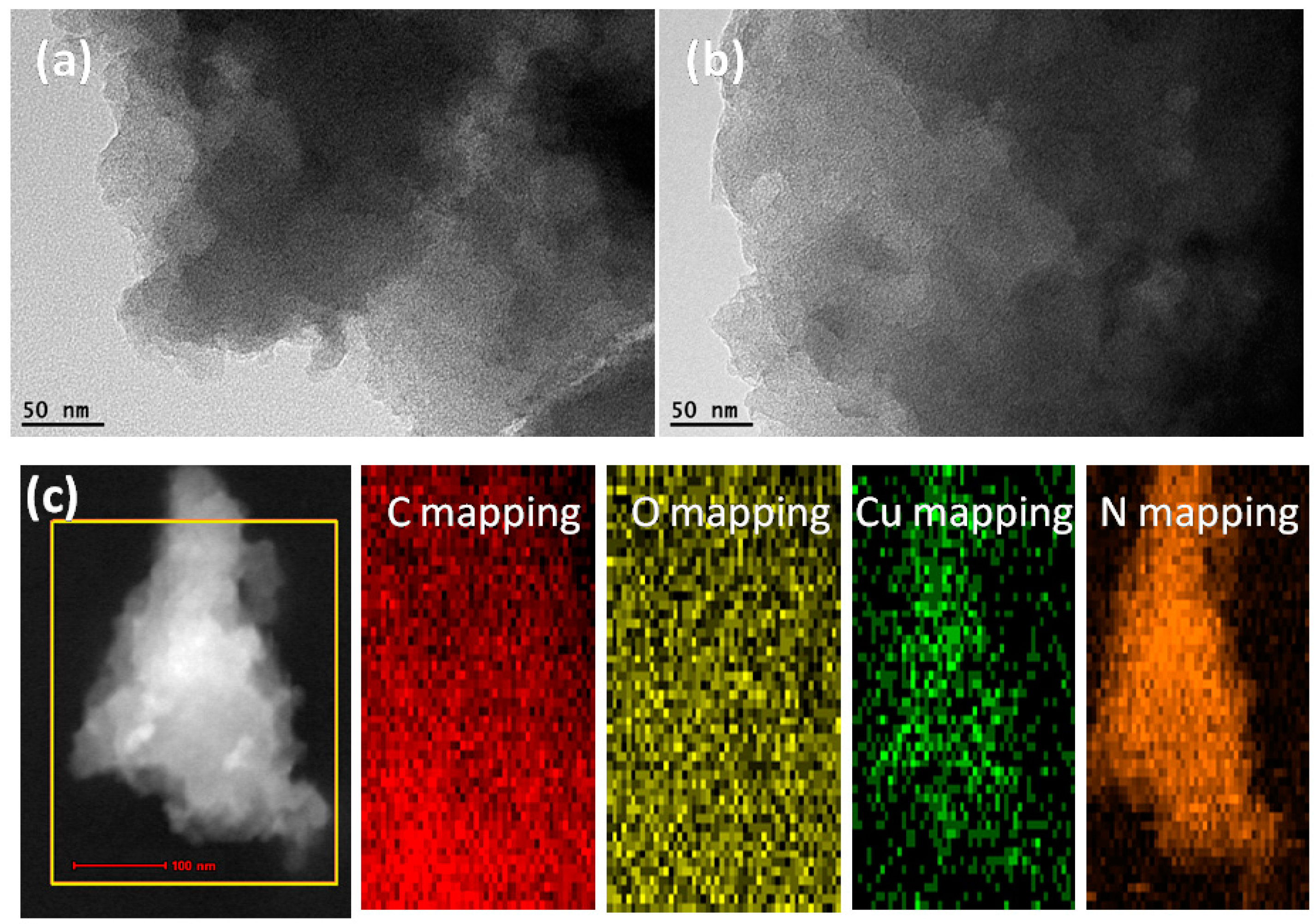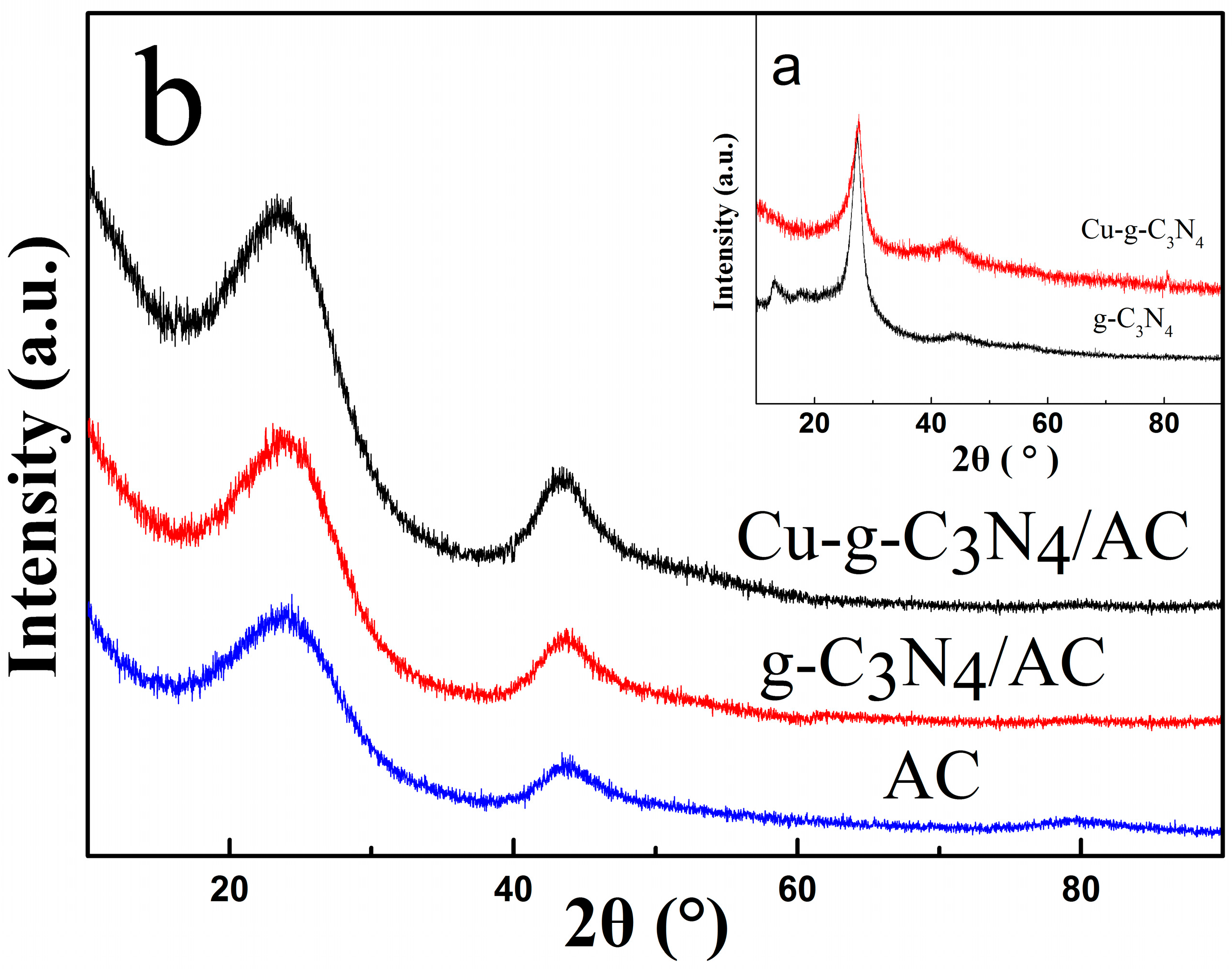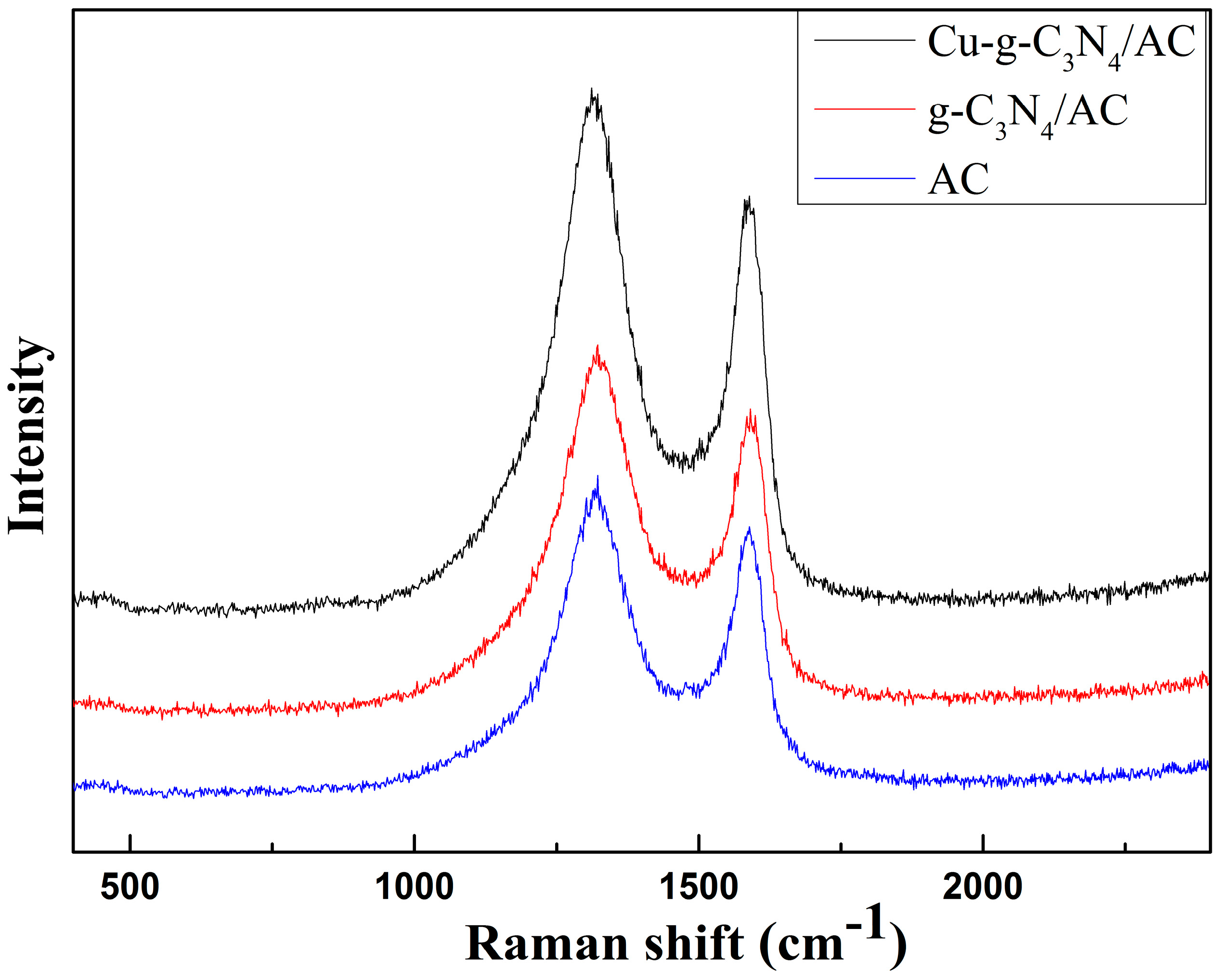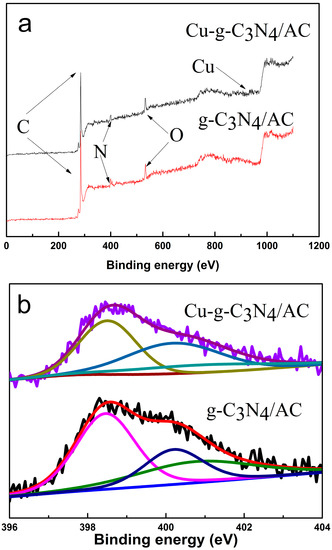 Figure 5. X-ray Photoelectron Spectroscopy (XPS) spectra of Cu-g-C3N4/AC and g-C3N4/AC: (a) Wide XPS spectrum; (b) XPS deconvolution of N1s. Violet and Black: original data line; Red and Purple: fitting curve; Dark Yellow and Magenta: the characteristic peak of the pyridinic-N; Navy and Royal: the characteristic peak of the pyrrolic-N; Olive and Dark Cyan: the characteristic peak of the graphitic-N; Blue and Wine: original data.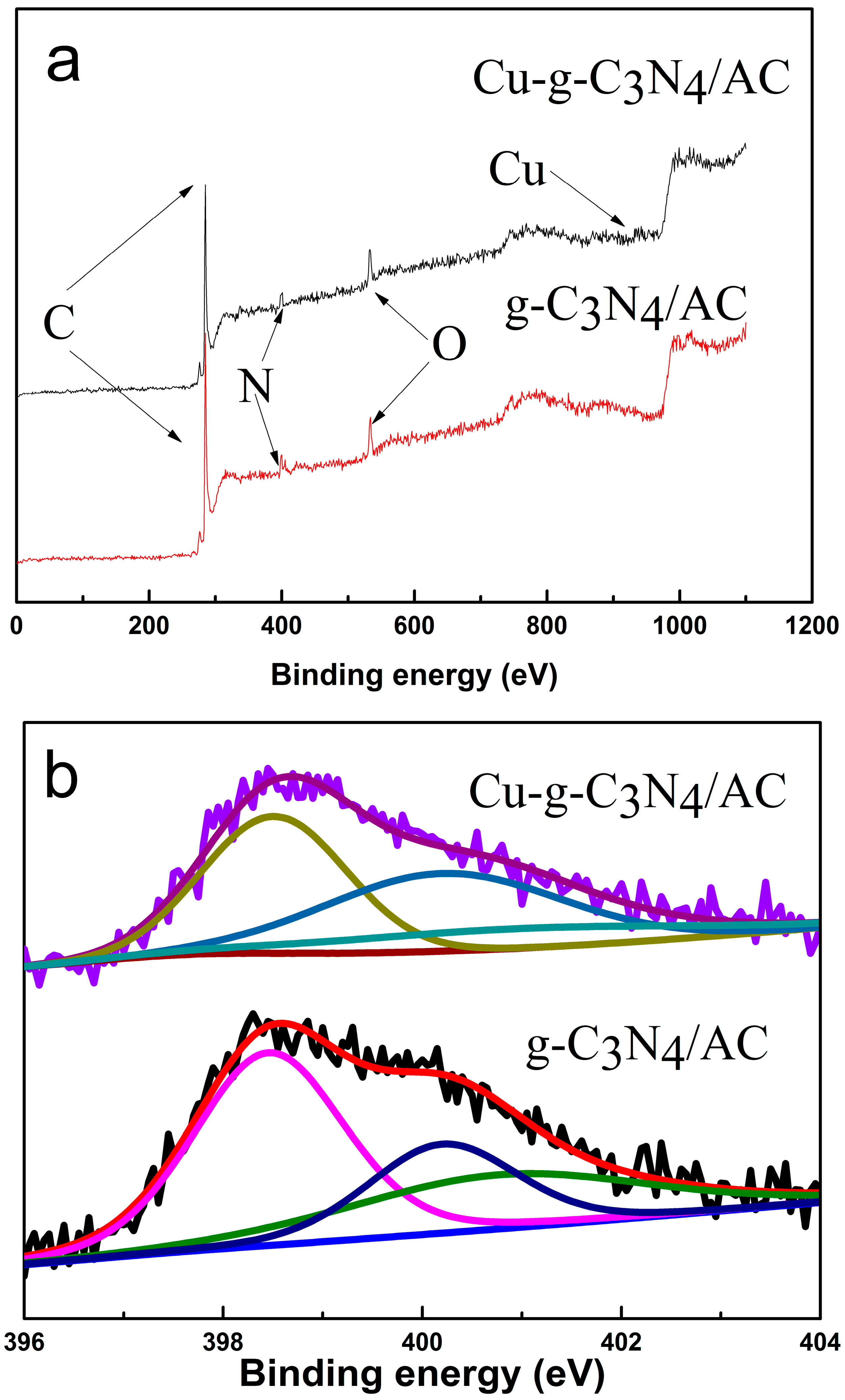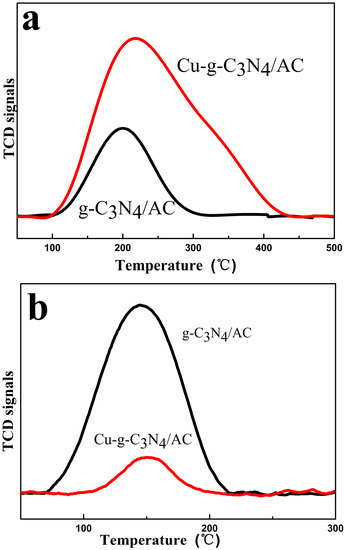 Figure 6. Temperature-programmed desorption (TPD) profiles of Cu-g-C3N4/AC and g-C3N4/AC: (a) HCl and (b) C2H2.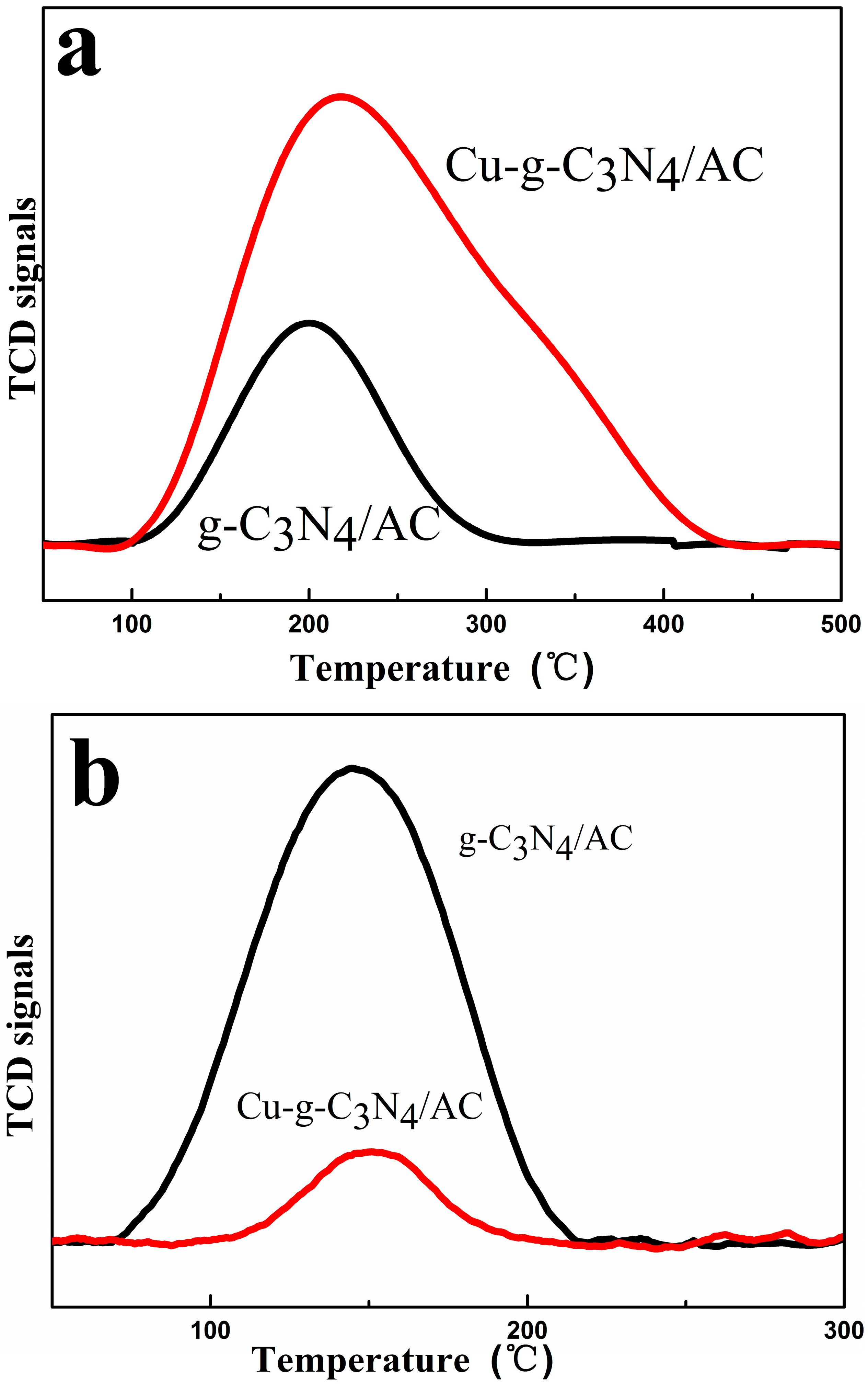 Table 1. Elemental analysis (%) for the catalysts (XPS).

| Catalyst | C | N | O | Cu |
| --- | --- | --- | --- | --- |
| AC | 88.47 | 0.40 | 11.13 | – |
| g-C3N4/AC | 82.15 | 7.30 | 10.55 | – |
| Cu-g-C3N4/AC | 78.71 | 7.28 | 9.86 | 4.15 |
Table 2. Relative contents and binding energies of nitrogen species of the catalysts.
Sample
Percentage of Nitrogen Type
Pyridinic-N
Pyrrolic-N
Graphitic-N
g-C3N4/AC
49.21
22.56
28.22
Cu-g-C3N4/AC
43.54
40.63
15.83
Table 3. Texture parameters of the catalysts.
Sample

S

BET (m2·g−1)

V

(cm3·g−1)

D

(nm)
g-C3N4/AC-Fresh
857.68
0.47
2.19
g-C3N4/AC-Used
521.26
0.29
2.23
Cu-g-C3N4/AC-Fresh
799.16
0.42
2.11
Cu-g-C3N4/AC-Used
475.71
0.26
2.12
Table 4. Mass loss of the catalysts before and after reaction.

| Sample | Mass Loss of Fresh Catalyst (%) | Mass Loss of Used Catalyst (%) | Amount of Carbon Deposition (%) |
| --- | --- | --- | --- |
| AC | 0.34 | 0.94 | 0.60 |
| g-C3N4/AC | 2.23 | 4.27 | 2.04 |
| Cu-g-C3N4/AC | 3.64 | 4.17 | 0.53 |
© 2016 by the authors; licensee MDPI, Basel, Switzerland. This article is an open access article distributed under the terms and conditions of the Creative Commons Attribution (CC-BY) license (http://creativecommons.org/licenses/by/4.0/).