Binary Oxides with Defined Hierarchy of Pores in the Esterification of Glycerol
1
Departamento de Química Analítica e Físico-Química-DAFQ, Campus do Pici-Bloco 940, Universidade Federal do Ceará, Fortaleza 60.000-000, Ceará, Brazil
2
Departamento de Física-DF, Campus do Pici-Bloco 922, Universidade Federal do Ceará, Fortaleza 60.000-000, Ceará, Brazil
3
Centro de Tecnologias Estrategicas do Nordeste-CETENE, Av. Prof. Luiz Freire, Cidade Universitária, Recife 50740-540, Pernambuco, Brazil
*
Author to whom correspondence should be addressed.
Academic Editors: Jianguo Liu and Di-Jia Liu
Received: 4 August 2016 / Revised: 20 September 2016 / Accepted: 21 September 2016 / Published: 27 September 2016
Abstract
Various porous binary oxides with elevated textural properties were obtained in this work. The as-synthesized solids were calcined or modified by reflux and extraction processes. Characterizations through SEM, nitrogen physisorption and TEM techniques demonstrated the formation of porous metal oxide networks over all solids. XRD, thermal analyses and FTIR measurements showed the existence of nanosized rutile TiO
2
, tetragonal ZrO
2
, SiO
2
and γ-Al
2
O
3
phases on the solids. The structure and texture of the as-synthesized SiAl sol-gel derived solid resulted in the formation of well-dispersed nanoparticles on the support. The removal of the organic compounds by ethanol extraction or reflux from SiAl resulted in the presence of structures with defined hierarchy of pores. Among the solids studied, the catalytic results in the esterification of glycerol with acetic acid indicated that best performances were obtained over SiAl sample when submitted to extraction and reflux treatments. This was due to the creation of accessible pores, which facilitated the reaction occurrence at glycerol to acetic acid molar ratio = 1:3 and
T
= 80 °C for 20 h using 75 mg of catalyst. The solids can be reused three times without complete loss of their catalytic performance.
View Full-Text
►

▼

Figures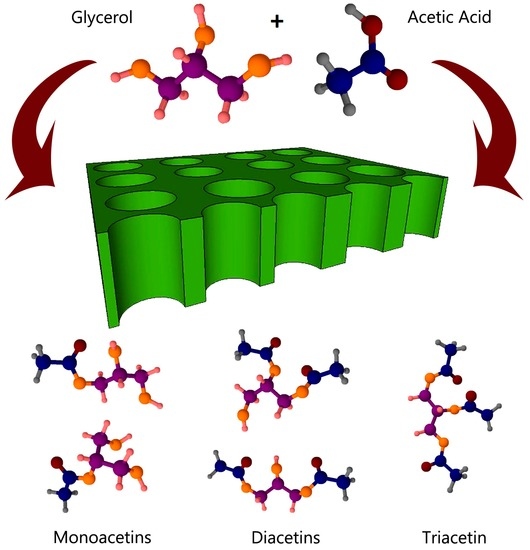 Figure 1
This is an open access article distributed under the
Creative Commons Attribution License
which permits unrestricted use, distribution, and reproduction in any medium, provided the original work is properly cited (CC BY 4.0).

Share & Cite This Article
MDPI and ACS Style
Alves, N.F.; Santiago Neto, A.D.B.; Bessa, B.D.S.; Oliveira, A.C.; Mendes Filho, J.; Campos, A.F.; Oliveira, A.C. Binary Oxides with Defined Hierarchy of Pores in the Esterification of Glycerol. Catalysts 2016, 6, 151.
Note that from the first issue of 2016, MDPI journals use article numbers instead of page numbers. See further details here.
Related Articles
Comments
[Return to top]