Open Access This article is
freely available
re-usable
Review
Brookite, the Least Known TiO2 Photocatalyst
"Schiavello-Grillone" Photocatalysis Group, Dipartimento di Energia, Ingegneria dell'Informazione, e modelli Matematici (DEIM), Università di Palermo, Viale delle Scienze, 90128 Palermo, Italy
*
Author to whom correspondence should be addressed.
Received: 12 November 2012; in revised form: 9 January 2013 / Accepted: 10 January 2013 / Published: 18 January 2013
Abstract
:
Brookite is the least studied TiO2 photocatalyst due to the difficulties usually encountered in order to obtain it as a pure phase. In this review, a comprehensive survey of the different methods available for preparing brookite powders and films is reported. Attention has been paid both to the most traditional methods, such as hydrothermal processes at high temperatures and pressures, and to environmentally benign syntheses using water soluble compounds and water as the solvent. Papers reporting the photocatalytic activity of pure and brookite-based samples have been reviewed.
Keywords:
TiO
2
; brookite; brookite nanostructures; brookite films; mixtures of TiO
2
phases; brookite-based photocatalysts
1. Introduction
Titanium dioxide (TiO2) has attracted considerable attention for various applications such as pigments, photocatalysis, dye-sensitized solar cells, sensor devices, cosmetics and protective coatings. In particular, TiO2 is the most studied photocatalyst because of its high efficiency, non-toxicity, chemical and biological stability, and low cost.
TiO2 exists mainly in three different crystalline habits: rutile (tetragonal), anatase (tetragonal) and brookite (orthorombic). Rutile is the stable form, whereas anatase and brookite are metastable and are readily transformed to rutile when heated. Anatase is the phase normally found in the sol-gel syntheses of TiO2 but brookite is often observed as a by-product when the precipitation is carried out in an acidic medium at low temperature. Pure brookite without rutile or anatase is rather difficult to be prepared so that, until recently, its photocatalytic properties have been not much studied.
In recent years, the interest in brookite has increased and pure brookite has demonstrated to be an interesting candidate in photocatalytic applications. As illustrated in
Figure 1
, the number of papers on the preparation and photocatalytic activity of pure brookite and brookite-based samples is undergoing an exponential increase and the rate of publication shows no declining signs. Most of the papers on brookite simply concern its preparation.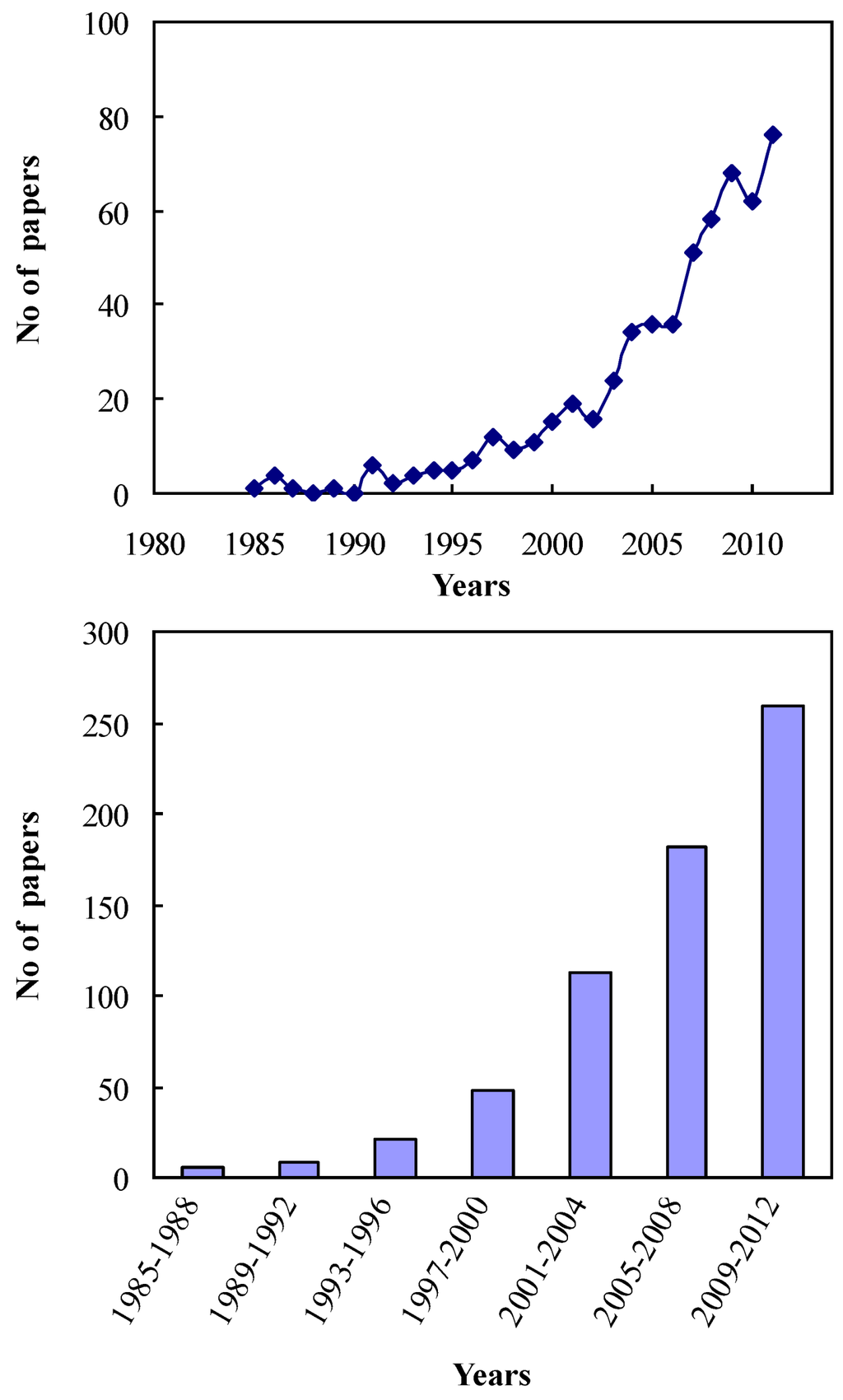 Figure 1. Published papers on the topic of brookite. Source: ISI Web of Knowledge database. Consulted: 4 October 2012.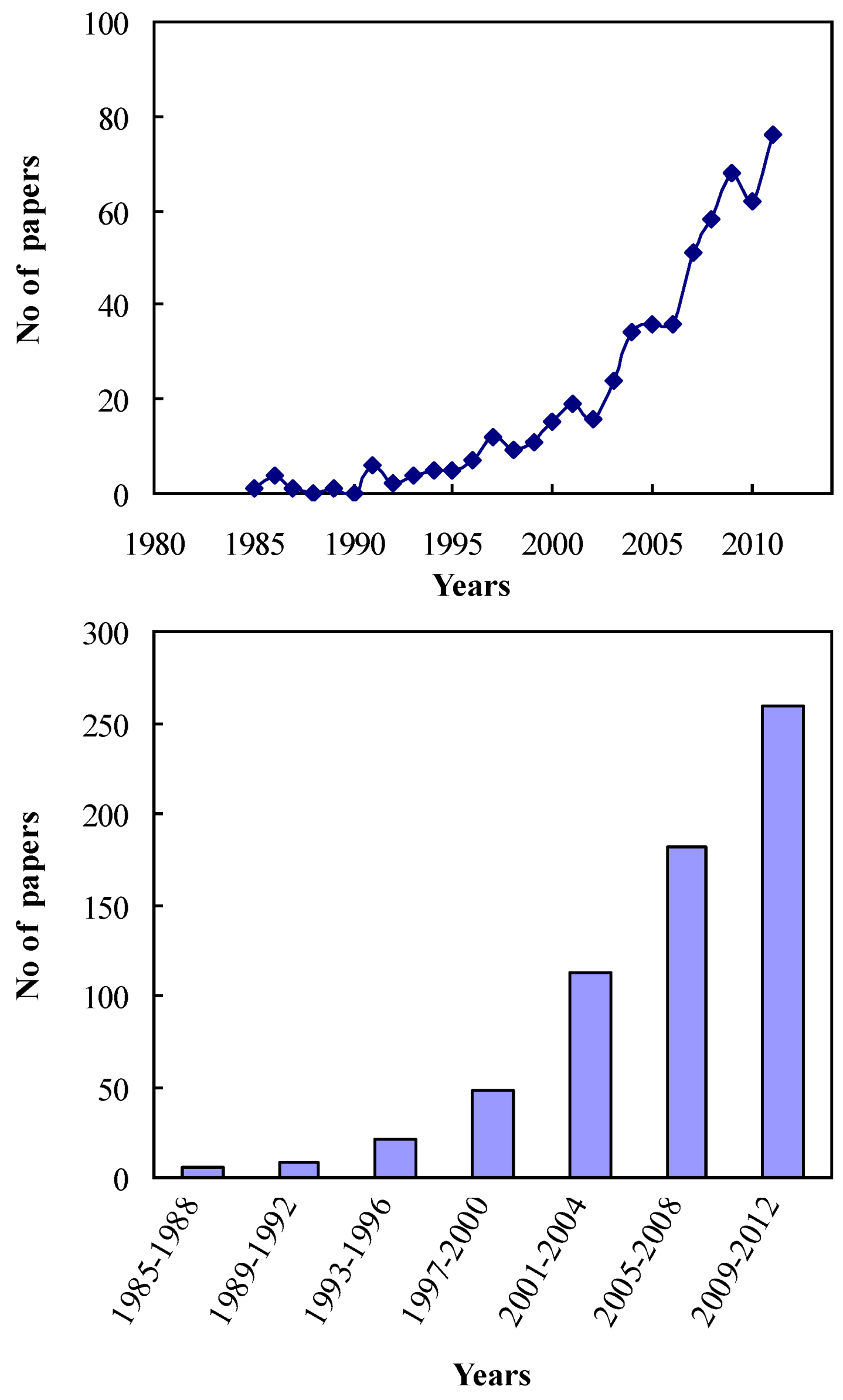 This review gives an overview, as complete and updated as possible, of the preparation and characterization of brookite and brookite-based photocatalysts that have been tested for environmental remediation, hydrogen formation, Li ion batteries and organic syntheses. A short section has been reserved to doped brookite materials that are increasingly studied as possible visible light-responsive photocatalysts.
2. Brookite
2.1. Characterization
Brookite has an orthorhombic crystalline structure with a unit cell described by the space group
Pbca
[
1
]. The structure is composed of octahedra, each with a titanium atom at its center and oxygen atoms at its corners (
Figure 2
). The octahedra share edges and corners with each other to such an extent as to give the crystal the correct chemical composition. The octahedra are distorted and present the oxygen atoms in two different positions [
2
]. The bond lengths between the titanium and oxygen atoms are all different.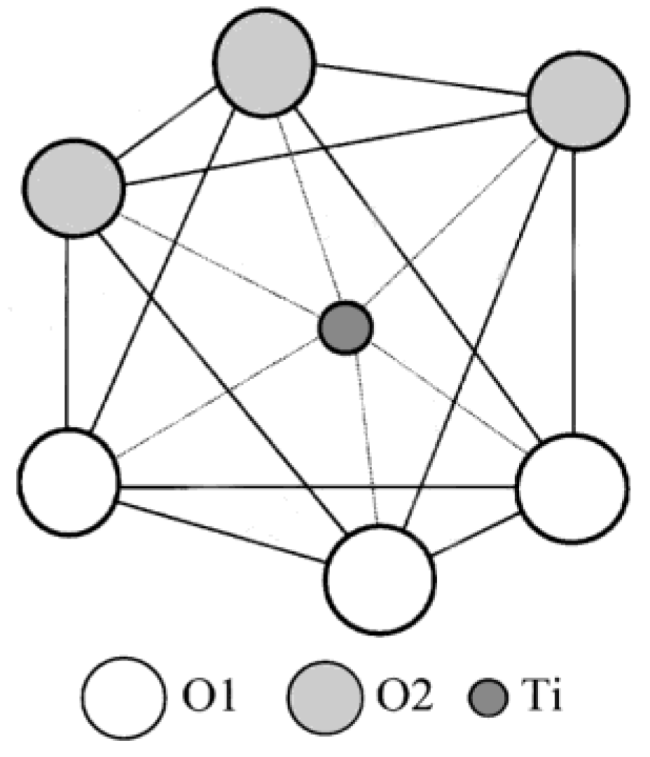 Figure 2.
Representative octahedron of the crystalline structure of brookite [
2
].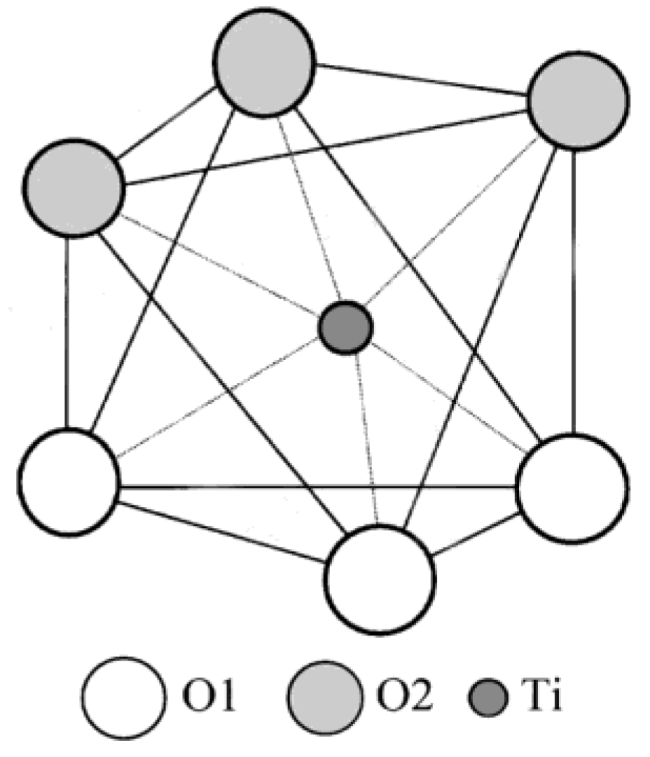 Oxygen atoms in the octahedron are distributed on the two faces nearly perpendicular to the (100) direction [
2
]. One face has oxygen atoms of type O1; the other one, oxygen atoms of type O2. Every octahedron shares three edges: one of them determines the crystal distribution along the (100) direction, and the other two determine it along the (001) direction (see
Figure 3
).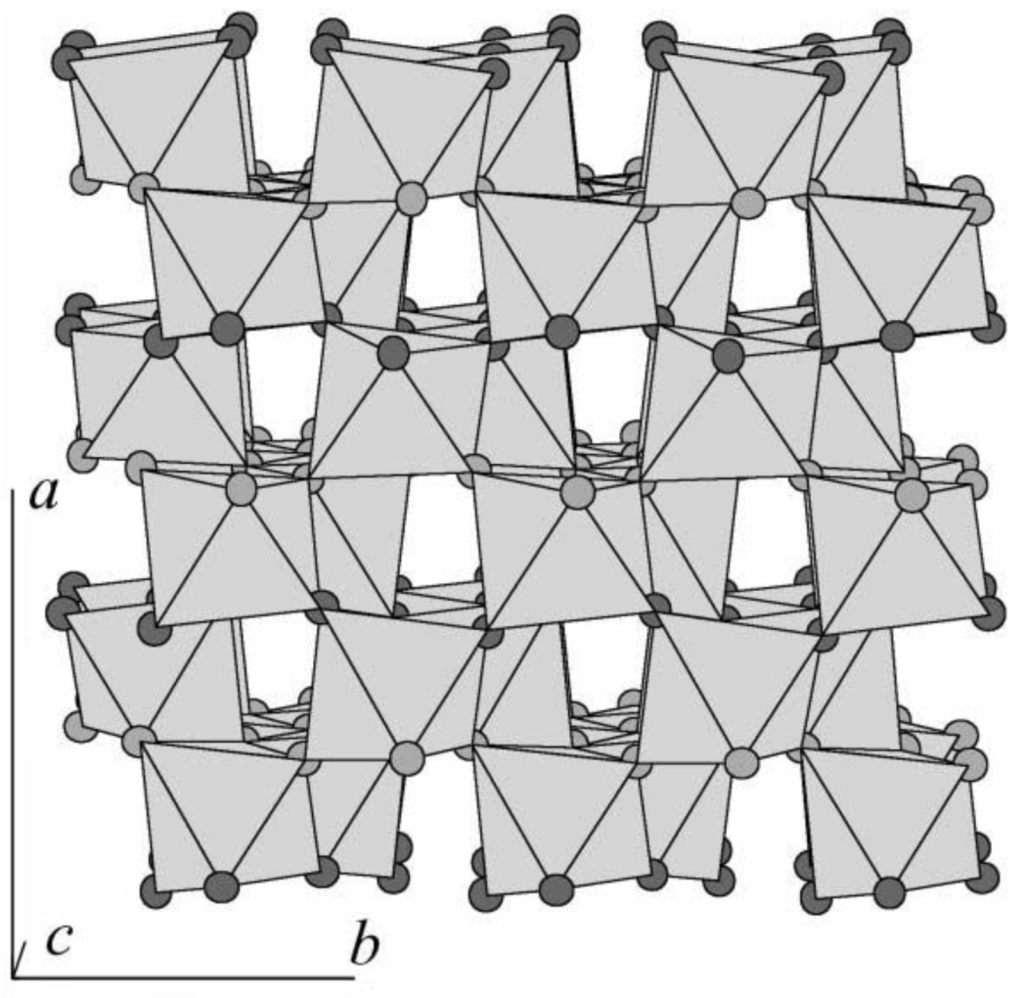 Figure 3.
Crystalline structure of brookite [
2
].
Octahedra arrangement produces a crystalline structure with tunnels along the c-axis, in which small cations like hydrogen or lithium can be incorporated.
X-ray diffraction (XRD) analysis is usually used to prove the presence of brookite in a sample. As shown in
Figure 4
, the existence of brookite in the XRD patterns is clearly evidenced from the presence of the (121) peak at 2θ = 30.81°. Anyway, for the interpretation of the diffractograms it is necessary to take into account that the main (101) diffraction peak of anatase at 2θ = 25.28° overlaps with the (120) and (111) peaks of brookite at 2θ = 25.34° and 25.69°, respectively, so that apparently pure brookite samples can be a mixture of anatase and brookite.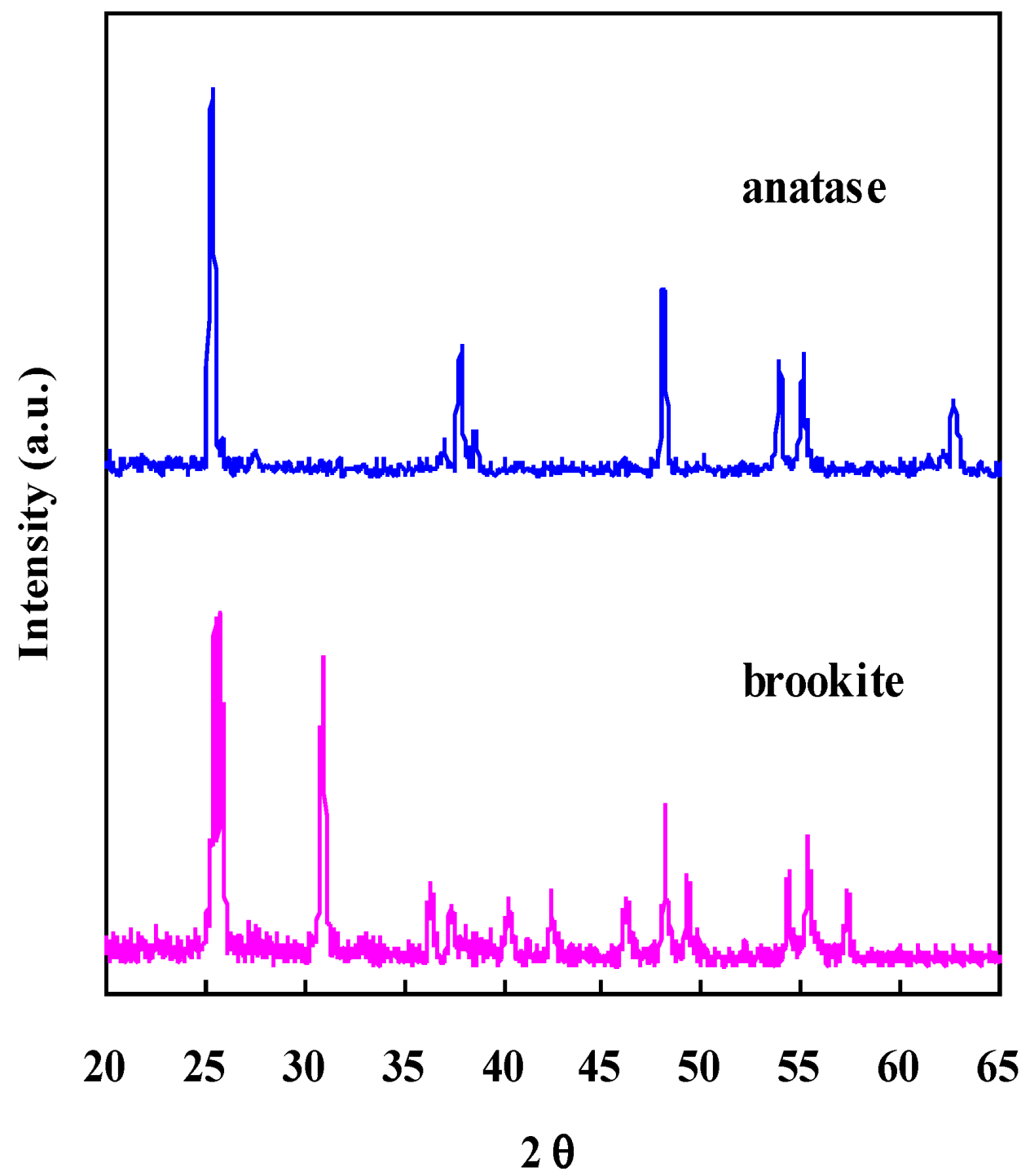 Ideal brookite has a
I
(121)
brookite
/
I
(120)
brookite
ratio of ~0.9 (JCPDS No. 29-1360) but many of the claimed pure brookite powders reported in literature show
I
(121)
brookite
/
I
(120)
brookite
ratios significantly lower than this value [
3
]. This does not imply necessarily the presence of anatase since samples synthesized at low temperatures are often scarcely crystalline and the corrected ratio could be easily reached by calcination at relatively high temperatures. On the other hand, an unusual single (121) peak was found for a film containing neither anatase nor rutile obtained by a modified sol–gel method [
4
]. Hu
et al.
[
5
] used one characteristic peak of anatase at 2θ = 62.57°, which does not overlap with any diffraction peak of brookite, to ascertain the existence of anatase.
According to Bokhimi and Pedraza [
6
] the only way to prove that the samples are single brookite phase is to run their XRD patterns with a good statistic to refine the crystalline structure of brookite in order to demonstrate that the modeling of only this phase is enough to reproduce the experimental diffraction pattern. The Rietveld refinement method has been often applied considering the whole pattern and not only the single peaks [
7
].
Raman spectroscopy is a very sensitive tool to confirm the existence of only brookite in a sample since brookite is characterized by a relatively complex vibrational spectrum when compared with the other TiO
2
polymorphs [
8
]. As shown in
Figure 5
, the overall spectral profile of brookite is characterized by a very strong band at 153 cm
−1
and a grouping of weaker, higher wavenumber bands. In comparison, the vibrational spectrum of anatase is relatively simple in accord with its greater crystal symmetry. The absence of the characteristic peak at 516 cm
−1
allows for exclusion of the presence of anatase in the samples.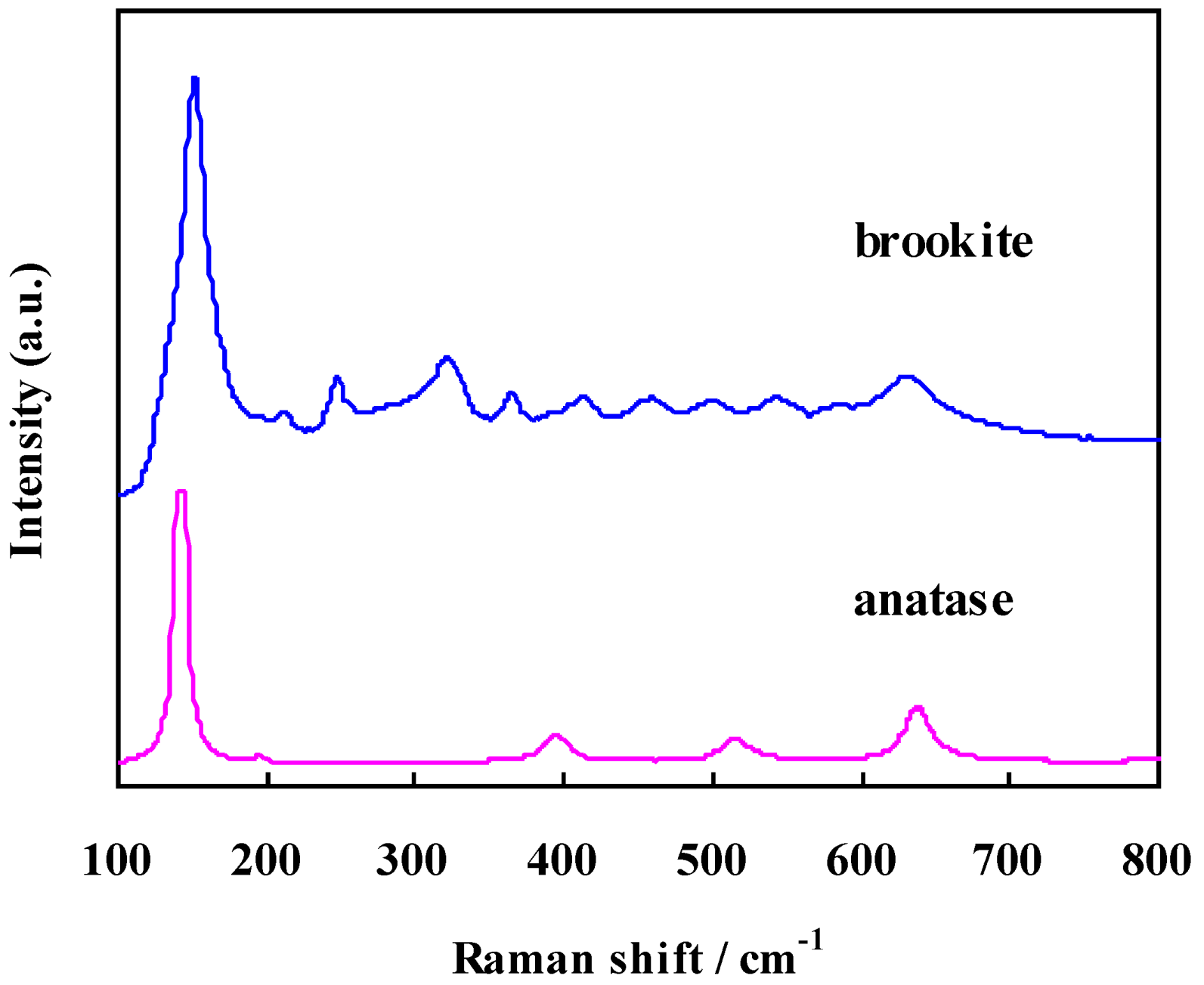 By calcination at high temperatures, brookite is transformed to rutile. The transformation occurs directly or via anatase depending on several factors including crystallite size, size distribution and contact area of the crystallites in the powder. Zhang and Banfield [
9
] found a correlation among the surface enthalpies of the three polymorphs and their particle size. The energies of anatase, brookite and rutile are sufficiently close that they can be reversed by small differences in surface energies. Brookite is more stable than anatase for crystal sizes greater than 11 nm while rutile is the most stable phase at sizes greater than 35 nm. Zhu
et al.
[
10
] developed an empirical expression on a critical grain size of brookite,
D
c
, which dominates the transition sequence between anatase and brookite. When the size of brookite D
b
is larger than D
c
, brookite directly transforms to rutile whereas, when
D
b
is smaller than
D
c
, brookite transforms to anatase and then anatase to rutile.
2.2. Electronic Properties
The knowledge of the electronic band structure of the TiO
2
polymorphs is useful to understand the photocatalytic behaviour of the pure phases and of their mixtures. Theoretical and experimental works report band gap values for brookite both smaller and larger than that of anatase. In 1985, Grätzel and Rotzinger [
11
] were the first to estimate the band gap value,
E
g
, of brookite as 3.14 eV by extended Hückel molecular orbital calculations. The
E
g
, was intermediate between those of anatase (3.23 eV) and rutile (3.02 eV). Mo and Ching [
12
] used the self-consistent orthogonalized linear combination of atomic orbitals method to study the electronic structure and the optical properties of anatase, brookite and rutile. According to their calculations, brookite had a direct band gap of 2.20 eV, which is larger than that of anatase and rutile (1.78 eV for rutile and 2.04 eV for anatase, respectively). These results, as reported by the same authors, were an underestimation of the effective band gap values. Park
et al.
[
13
] calculated an
E
g
value of 2.1 eV for brookite using the Kohn-Sham method, which underestimates systematically the band gap often by more than 50%. Recently, standard density functional theory calculations [
14
] showed that brookite and rutile had a direct band gaps of 1.86 eV and 1.88 eV, respectively, whereas an indirect band gap of 1.94 eV was observed for anatase. Using a more modern approximation, the band gap underestimation was corrected and the E
g
values of brookite, rutile and anatase were increased to 3.30 eV, 3.39 eV and 3.60 eV [
14
].
Experimental band gap energies ranging from 3.1 to 3.4 eV have been reported for brookite, but there is disagreement on whether the optical response is attributable to direct or indirect transitions. The band gap was usually determined by diffuse reflectance measurements, from the tangent lines to the plots of the modified Kubelka-Munk function, [F(R'
∞
)hν]
1/2
,
versus
the energy of the exciting light [
15
] considering brookite as an indirect semiconductor [
16
,
17
,
18
,
19
,
20
,
21
,
22
,
23
,
24
]. Direct band gap values have been also obtained [
3
,
5
,
16
,
17
,
25
].
The precise value of E
g
is currently unknown since the experimental results often refer to samples not well crystallized. Zallen and Moret [
26
] reported that natural crystals of brookite had an indirect band gap of about 1.9 eV. This low value is ascribable to the presence of impurities in the mineral that was pale brown in color. On the other hand, different band gap values were obtained by varying the duration of the hydrothermal treatment [
18
] or the kind of nanostructure (nanosheets, nanospindles, nanoflowers) [
27
]. Koelsch
et al.
[
21
] determined the band gap of brookite nanoparticles as 3.4 eV, measuring the optical transmission of brookite dispersions at different concentrations and by UV fluorescence measurements. Shibata
et al.
[
28
] photoelectrochemically determined a band gap value of 3.26 eV for films consisting mostly of brookite phase with some anatase. A value of 3.29 eV was obtained by crystallization at 450 °C of a sample of brookite prepared by thermohydrolysis of TiCl
4
at 100 °C [
24
]. This value compares well with the value of 3.31 eV found for brookite nanorods [
23
].
The flatband potential, (
E
FB
), of a semiconductor is a fundamental property for the thermodynamics of the interfacial electron transfer steps. For an n-type semiconductor as TiO
2
it can be assumed that the positions of the flatband potential and the quasi-Fermi level (*
E
f
) are the same and very close to the lower edge of the conduction band [
29
].
Grätzel and Rotzinger [
11
] firstly reported a rough estimate of
E
FB
= −0.03 V
vs
.
NHE for brookite based on a theoretical band gap value of 3.14 eV. Di Paola
et al.
[
30
] determined the flat band potentials of anatase, brookite, and rutile by a slurry method [
31
] measuring the photovoltage of the corresponding suspensions in the presence of methylviologen dichloride as a function of pH. As shown in
Figure 6
, the values obtained at pH 7 were −0.45 V for anatase, −0.46 V for brookite, and −0.37 V for rutile. It is worth noting that the experimental E
FB
value found for brookite is practically coincident with that calculated theoretically (−0.44 V at pH 7 [
11
]).
Kandiel
et al.
[
23
] calculated the flat-band potentials of anatase and brookite by impedance spectroscopy using electrodes obtained by spreading the corresponding suspensions on conductive fluorine-tin oxide glasses. The quasi-Fermi levels (*
E
f
) were, furthermore, obtained under UV illumination by the slurry method. The
E
FB
values estimated at pH 7
versus
NHE were −0.35 V for anatase and –0.54 V for brookite whereas the corresponding *
E
f
values were −0.68 V and −0.77 V. The differences between these values were attributed to the independent methods performed under dark and illuminated conditions. The conduction band edges of anatase and brookite were calculated as the mean value of E
FB
and *
E
f
,
i.e.
, −0.51 V for anatase and −0.65 V for brookite.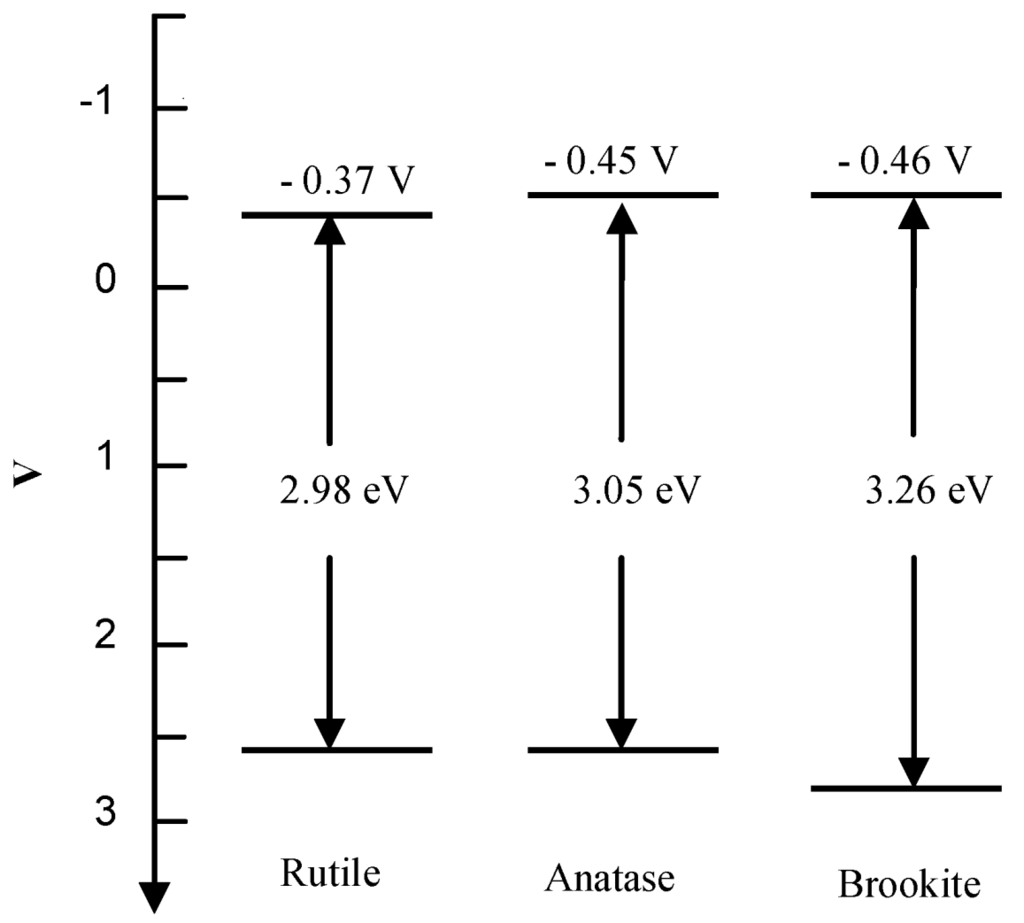 Figure 6.
Electrochemical potentials of the band edges of anatase, brookite, and rutile at pH = 7 [
30
].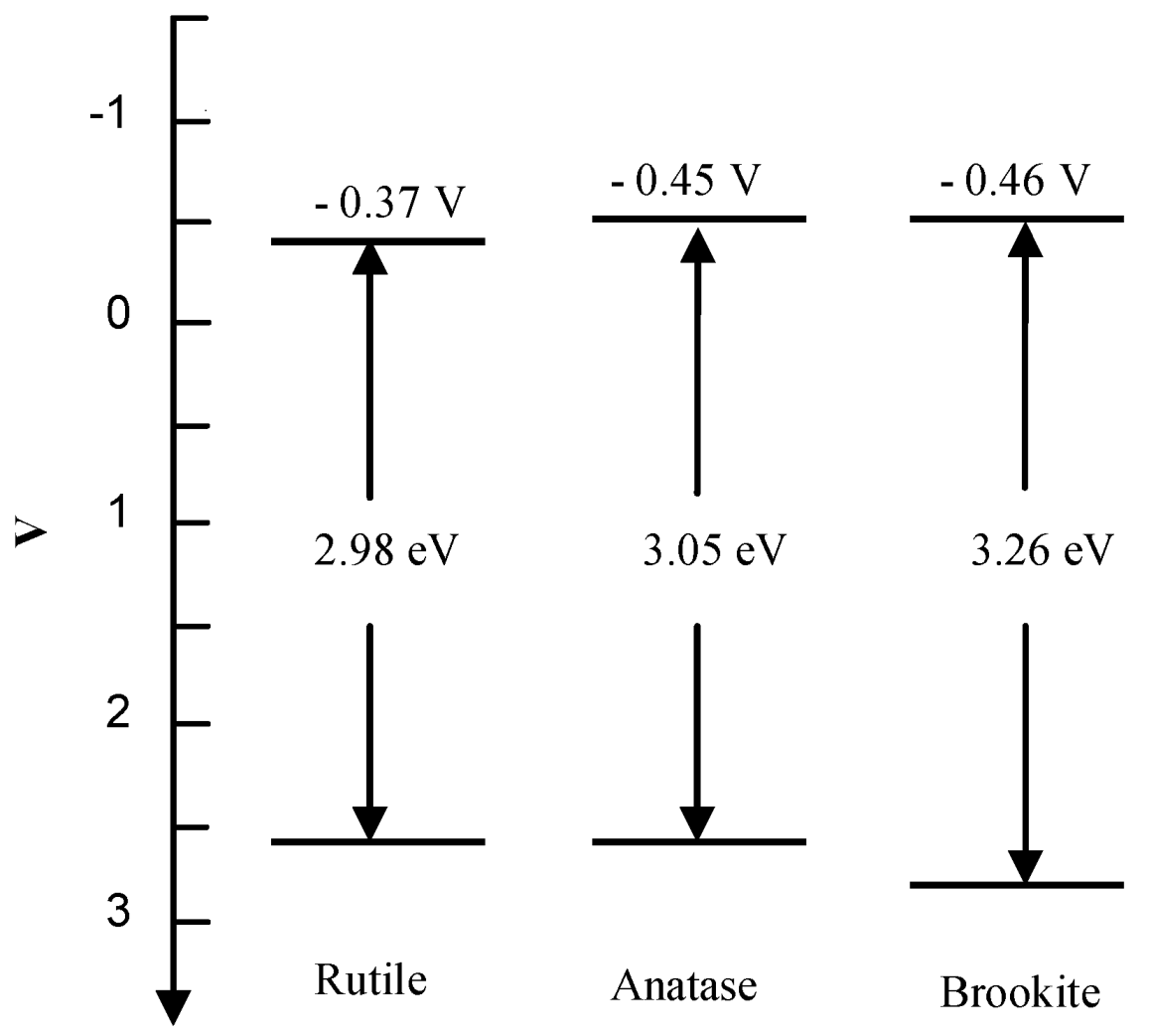 Recently, Truong
et al.
[
32
] reported values of −0.91 V and −0.96 V
vs
.
NHE at pH 7 for the conduction band edges of anatase and brookite, respectively, without citing the methods used to determine them.
The few experimental values of flat band potential of brookite reported in literature and the uncertainty on its band gap do not allow to exactly locate the position of the conduction and valence band edges of the three oxides of titanium. Anyway, the most probable hypothesis is that the flat band of brookite is shifted negatively with respect to that of anatase.
3. Brookite Preparation
3.1. Pure Brookite Powders
3.2. Brookite Nanomaterials
Nanomaterials with special structures and morphologies, such as nanotubes, nanorods, nanospheres or nanoflowers have attracted growing interest because of their unique structures and properties. A summary of methods used to prepare brookite nanomaterials is reported in
Table 1
.
Nanometric particles of pure brookite TiO
2
were synthesized by modified thermolysis of reactant solutions containing titania powder, HCl, urea and PEG 10000 [
66
]. Unique flower-like brookite agglomerates with an average diameter of ~400–450 nm composed of single brookite nanocrystals of ~ 4–5 nm were obtained at 105 °C.
Deng
et al.
synthesized pure brookite nanotubes with a ~5 nm inner diameter and a ~0.78 nm interlayer space [
71
] or nanorods with a bipyramidal shape [
72
] using as precursors titanate nanotubes or nanosheets prepared by dispersing anatase TiO
2
powder in a 10 M NaOH solution at 120 °C or 90 °C, respectively. The corresponding brookite nanostructures were obtained by hydrothermal treatment at 200 °C.
Buonsanti
et al.
[
57
] developed a surfactant-assisted non aqueous strategy to prepare anisotropic brookite nanocrystals with tunable geometric features. The syntheses relayed on the high temperature aminolysis of titanium carboxylate complexes obtained by heating mixtures of TiCl
4
, oleic acid and oleyl amine in 1-octadecene at 290 °C for 30 min under air-free conditions.
Well-facetted brookite crystals with the growth direction along the (001) axis were sinthesized by a low-temperature process using [Ti
8
O
12
(H
2
O)
24
]Cl
8
·HCl 7H
2
O prepared by hydrolysis of a commercial TiOCl
2
solution and tetramethylammonium hydroxide with a molar ratio
R
= Ti/TMAOH = 0.6 [
70
].
Table 1. Preparation of brookite nanomaterials.

| Morphology | Precursor | Synthesis route | Reference |
| --- | --- | --- | --- |
| nanocrystals | titania powder | hydrothermal treatment | [66] |
| nanotubes | titanate nanotubes | hydrothermal treatment | [71] |
| nanorods with bipyramidal shape | titanate nanosheets | hydrothermal treatment | [72] |
| nanorods | titanium oleate complex | high-temperature aminolysis | [57] |
| nanoplatelets | titanium oxychloridehydrate | solvothermal treatment | [70] |
| nanosheets | titanium lactate | hydrothermal treatment | [27] |
| nanoflowers | titanium oxysulfate | hydrothermal treatment | [5] |
| nanoflowers | titanium butoxide | hydrothermal treatment | [79] |
| humming-top-like nanostructures | titanium isopropoxide | hydrothermal treatment | [25] |
| macroporous spherical nanoparticles | brookite nanoparticles | spray drying with colloidal templating | [96] |
| hollow nanospheres | titanium-peroxo-glycolate complex | deposition on spherical polystyrene and hydrothermal treatment | [97] |
| pseudo-cube shaped nanocrystals | titanium-peroxo complex | oleate-modified hydrothermal treatment | [95] |
Lin
et al.
[
27
] synthesized brookite nanosheets with a regularly truncated tetragonal shape through a low-basicity hydrothermal process utilizing TiCl
4
as titanium source, urea as
in situ
OH
−
source, and sodium lactate as complexant and surfactant. After 12 h of reaction at 200 °C, the [Ti(C
3
H
4
O
3
)
3
]
2−
complex transformed into single-crystalline nanosheets with specific facets exposed.
High quality brookite flowers were obtained by Hu
et al.
[
5
] by hydrothermal treatment at 220 °C for 48 h of a suspension containing TiOSO
4
and NaOH at pH 12.5. Time-resolved experiments revealed that layered titanate transformed into spindle-like brookite nanoparticles that aggregated together to yield the flower morphology. The presence of Na
+
ions was a key factor for the formation of brookite since the replacement of NaOH with LiOH or KOH favoured the formation of mixtures of anatase and rutile.
Brookite nanoflowers consisting of single crystalline nanorods were prepared by hydrothermal treatment of a solution containing titanium butoxide, NaCl and aqueous ammonia [
78
,
79
,
80
]. Pure brookite was obtained with a NaCl concentration of about 0.25 M at 180 °C and 0.50–0.75 M at 200 °C [
79
]. At the initial stage of the reaction, layered titanate formed by condensation of TiO
6
octahedra. After several hours of heating, the layered structure collapsed resulting in the formation of brookite.
Nguyen-Phan
et al.
[
25
] prepared hierarchical brookite with a humming-top-like morphology by heating a solution containing 0.1 M NaOH, titanium isopropoxide and 2-propanol at 200 °C for 72 h. The gradual transformation from layered titanate to brookite phase was well consistent with the hypothesized formation mechanism of the hierarchical superstructure.
Macroporous spherical brookite particles with sub-micrometer diameters were prepared by spray drying and evaporation of an aqueous suspension obtained by mixing a commercial suspension of brookite nanoparticles and spherical monodispersed polystyrene latex particles, which were used for colloidal templating [
96
]. Katagiri
et al.
[
97
] prepared hollow brookite spheres by alternate deposition of titanium-peroxo-glycolate complex and a positively charged polyelectrolyte on spherical polystyrene templates, by utilizing the electrostatic interactions for the shell formation. The hollow capsules obtained by removing the polystyrene cores by tetrahydrofuran were hydrothermally treated at pH 10 and 200 °C for 24 h to induce the crystallization of brookite.
Pseudo-cube shaped brookite nanocrystals with the four corners truncated were synthesized by hydrothermal treatment of a solution of titanium-peroxo-glycolate complex in the presence of sodium oleate at 200 °C for 6 h [
95
]. The particular morphology of the particles (
Figure 9
) was attained by selective absorption of oleate molecules onto specific crystal faces of brookite that reduced their specific surface energies and induced the formation of the cubic shape.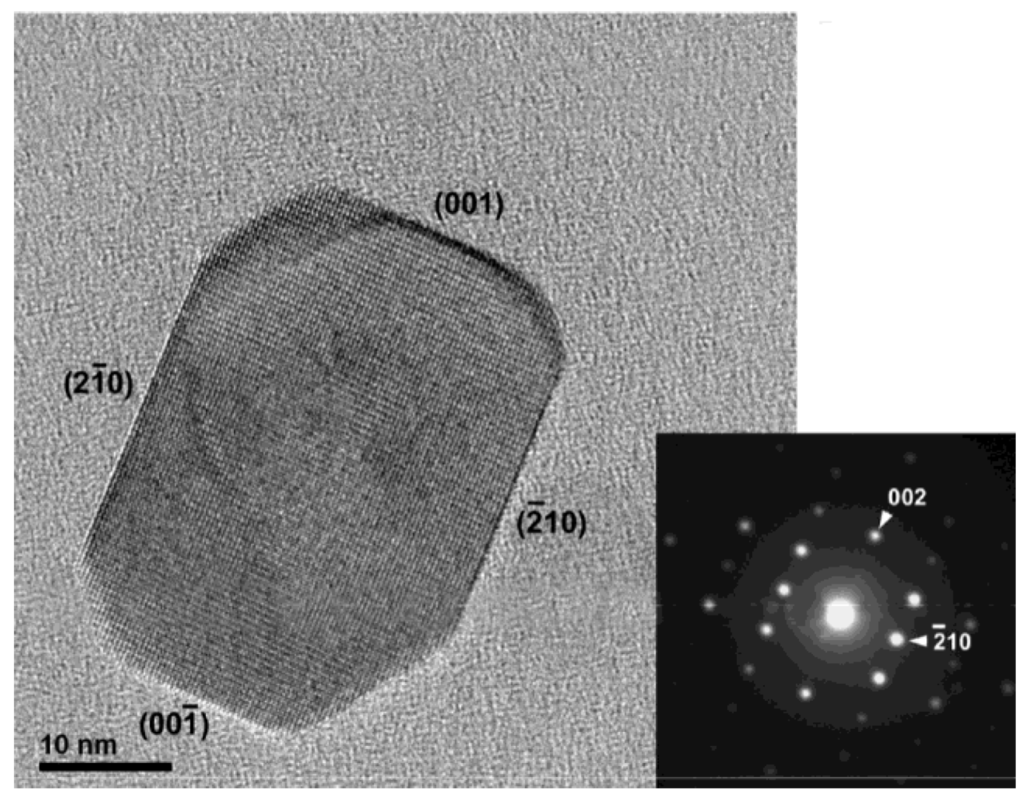 Figure 9.
HRTEM image and diffraction pattern of a pseudo-cube shaped brookite particle [
95
].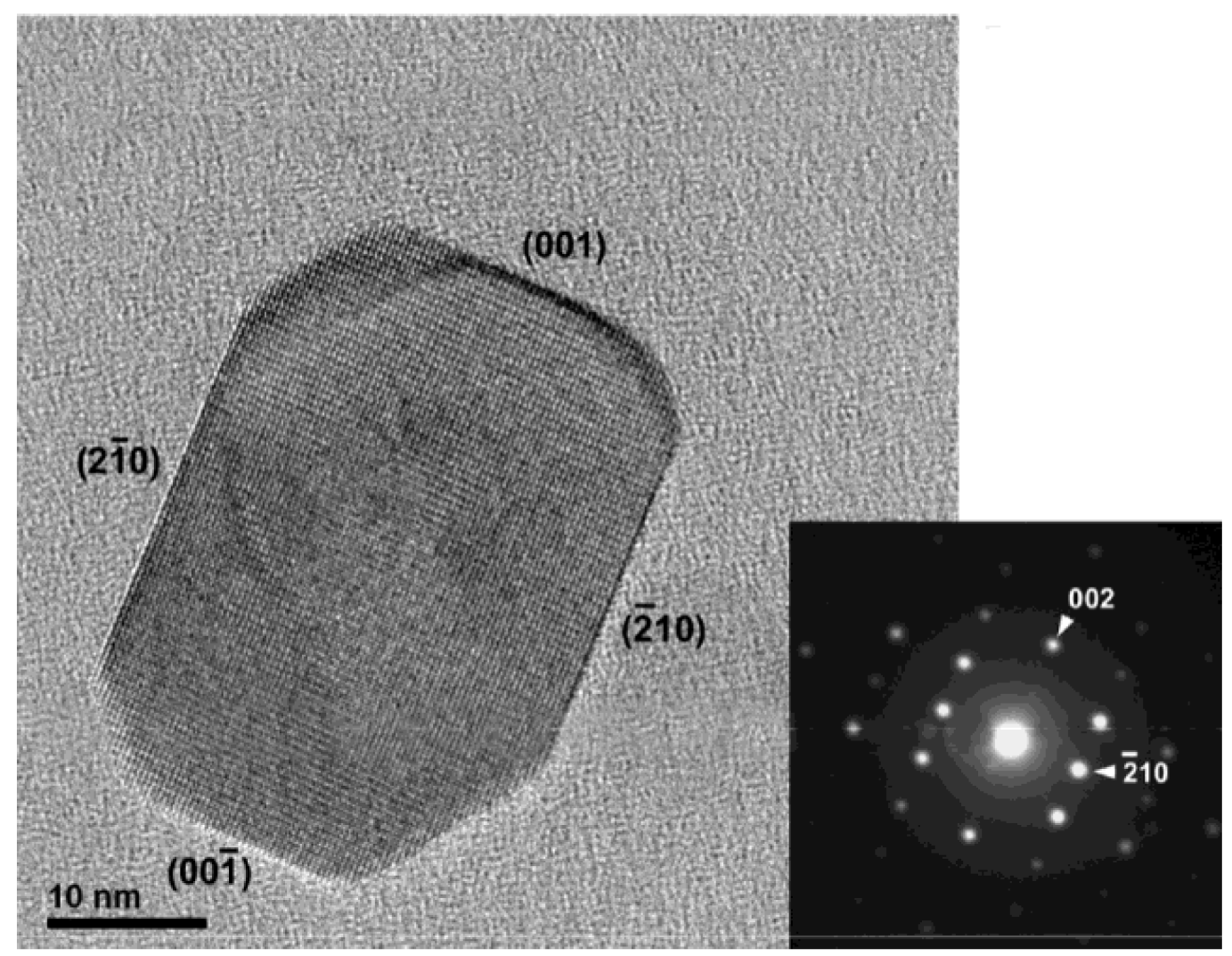 4. Photoactivity
4.2. Doped and Loaded Brookite
4.3. Mixtures of Brookite with Anatase and/or Rutile
4.4. Doped and Loaded Mixtures of Brookite with Anatase and/or Rutile
5. Conclusions
This review summarizes most of the papers concerning the synthesis and the photocatalytic characterization of brookite and brookite-based materials. Examples and details of the preparative methods as well as selected applications have been provided. Obtaining brookite is not as difficult as was believed until recently, but particular attention must be paid to avoid contaminations with other TiO2 phases. Basic solutions are often necessary to obtain pure brookite but an accurate pH control is indispensable since lower pH values of the initial solution usually favour the formation of anatase. A reliable route is the easy separation of single phase brookite by peptization of dispersions of rutile-brookite mixtures obtained by thermohydrolysis of TiCl4 in acidic solutions. Interesting "green chemistry" syntheses utilized water-soluble titanium complexes and water as the solvent.
Although some papers reported that brookite has sometimes higher photocatalytic activity than anatase and rutile, the use of pure brookite is not justifiable in heterogeneous photocatalysis either for photodegradation or photosyntetic reactions, due to the more laborious preparation methods. At variance, mixtures of brookite with anatase and rutile or with both anatase and rutile appear to be highly photoactive, particularly for photoxidation reactions both in solid-liquid and gas-solid systems, because of the presence of junctions among different polymorphic TiO2 phases that enhance the separation of the photogenerated electron-hole pairs, hindering their recombination.
© 2013 by the authors; licensee MDPI, Basel, Switzerland. This article is an open-access article distributed under the terms and conditions of the Creative Commons Attribution license (http://creativecommons.org/licenses/by/3.0/).