Phosphine-Thiophenolate Half-Titanocene Chlorides: Synthesis, Structure, and Their Application in Ethylene (Co-)Polymerization
1
State Key Laboratory of Polymer Physics and Chemistry, Changchun Institute of Applied Chemistry, Chinese Academy of Sciences, Changchun 130022, China
2
University of the Chinese Academy of Sciences, Changchun Branch, Changchun 130022, China
*
Author to whom correspondence should be addressed.
Received: 28 December 2012 / Revised: 8 February 2013 / Accepted: 17 February 2013 / Published: 6 March 2013
Abstract
A series of novel half-titanocene complexes CpTiCl
2
[S-2-R-6-(PPh
2
)C
6
H
3
] (Cp = C
5
H
5
,
2a
, R = H;
2b
, R = Ph;
2c
, R = SiMe
3
) have been synthesized by treating CpTiCl
3
with the sodium of the ligands, 2-R-6-(PPh
2
)C
6
H
3
SNa, which were prepared by the corresponding ligands and NaH. These complexes have been characterized by
1
H,
13
C and
31
P NMR as well as elemental analyses. Structures for
2a–b
were further confirmed by X-ray crystallography. Complexes
2a–b
adopt five-coordinate, distorted square-pyramid geometry around the titanium center, in which the equatorial positions are occupied by sulfur and phosphorus atoms of the chelating phosphine-thiophenolate and two chlorine atoms, and the cyclopentadienyl ring is coordinated on the axial position. The complexes
2a–c
were investigated as the catalysts for ethylene polymerization and copolymerization of ethylene with norbornene in the presence of MMAO or Ph
3
CB(C
6
F
5
)
4
/
i
Bu
3
Al as the cocatalyst. All complexes exhibited low to moderate activities towards homopolymerization of ethylene. However, they displayed moderate to high activities towards copolymerization of ethylene with norbornene.
View Full-Text
►

▼

Figures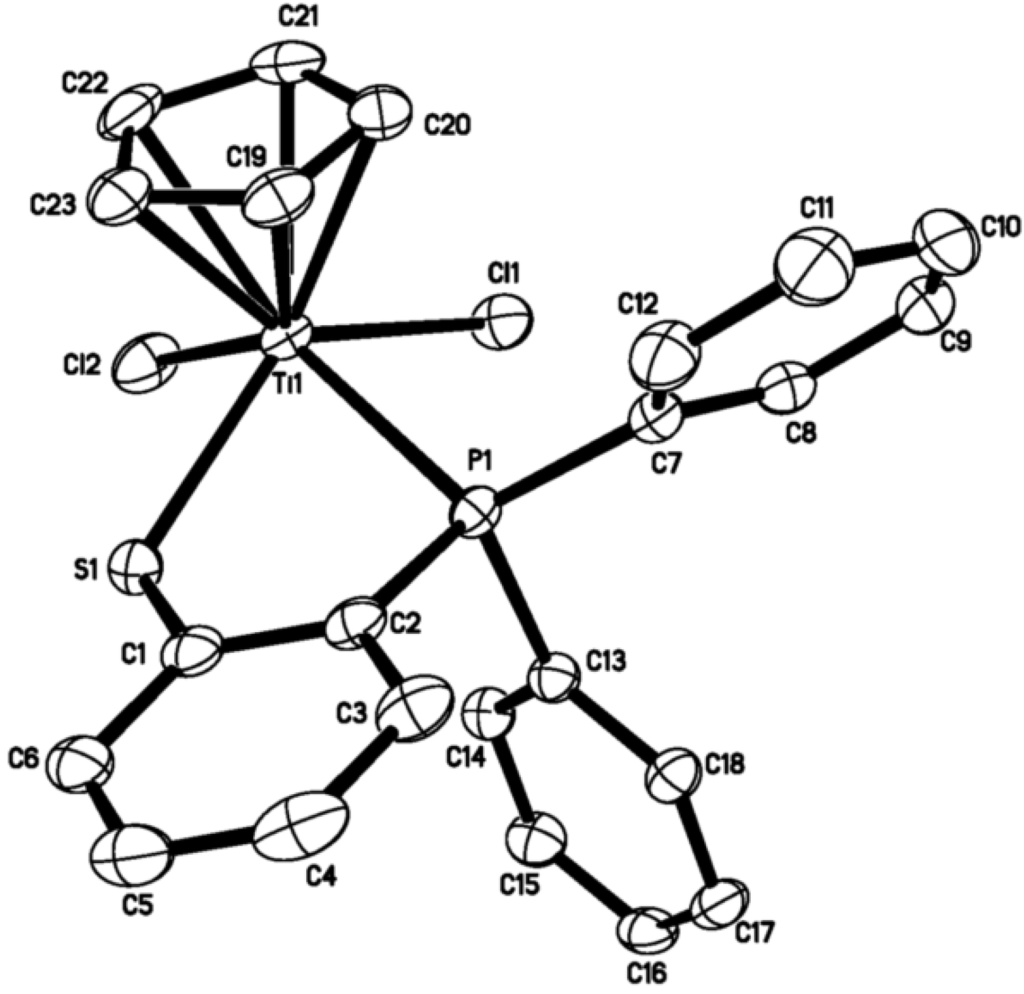 Figure 1

Share & Cite This Article
MDPI and ACS Style
Tang, X.-Y.; Liu, J.-Y.; Li, Y.-S. Phosphine-Thiophenolate Half-Titanocene Chlorides: Synthesis, Structure, and Their Application in Ethylene (Co-)Polymerization. Catalysts 2013, 3, 261-275.
Related Articles
Comments
[Return to top]