Oligomerization of Ethylene to Produce Linear α-Olefins Using Heterogeneous Catalyst Prepared by Immobilization of α-Diiminenickel(II) Complex into Fluorotetrasilicic Mica Interlayer
1
Graduate School of Science & Engineering, Saitama University, 255, Shimo-okubo, Sakura-ku, Saitama-shi, Saitama, 338-8570, Japan
2
Japan Polychem Corporation, 1 Toho-cho, Yokkaichi-shi, Mie, 510-0848, Japan
*
Author to whom correspondence should be addressed.
Received: 13 December 2012 / Revised: 29 January 2013 / Accepted: 29 January 2013 / Published: 6 February 2013
Abstract
Heterogeneous catalysts for production of linear α-olefins from ethylene were prepared by the direct reaction of the α-diimine ligand [
L
: R-N=C(R')-C(R')=N-R; R' = Me and R = 2,6-Me
2
Ph (
L5
), 2,5-Me
2
Ph (
L1
), 2-MePh (
L2
), or Ph (
L3
); R' = 1,8-naphth-diyl and R = Ph (
L4
)] and Ni
2+
ion-exchanged fluorotetrasilicic mica. Only high molecular weight polyethylene was obtained in the reaction using the
L5
/Ni
2+
-Mica procatalyst activated by AlEt
3
(TEA) as an activator, whereas the TEA-activated
L1-
and
L2
/Ni
2+
-Mica procatalysts afforded a mixture of a large amount of low-molecular weight polyethylene and a small amount of oligomers having 4-22 carbons. The procatalyst consisting of Ni
2+
-Mica and the
L3
ligand that possesses non-substituted phenyl groups on the iminonitrogen atoms effectively promoted the oligomerization of ethylene after its activation with TEA, resulting in the fact that the ethylene oligomers were produced with a moderate catalytic activity (101 g-ethylene g-cat
−1
h
−1
at 0.7 MPa-ethylene) in the presence of TEA. When the backbone was varied from the butane moiety (
L3
) to acenaphthene (
L4
), the solid product dramatically increased. The weight percentage of the oligomers in the total products increased with the increasing reaction temperature; however, an insignificant increase in the oligomers was observed when the ethylene pressure was decreased.
View Full-Text
►

▼

Figures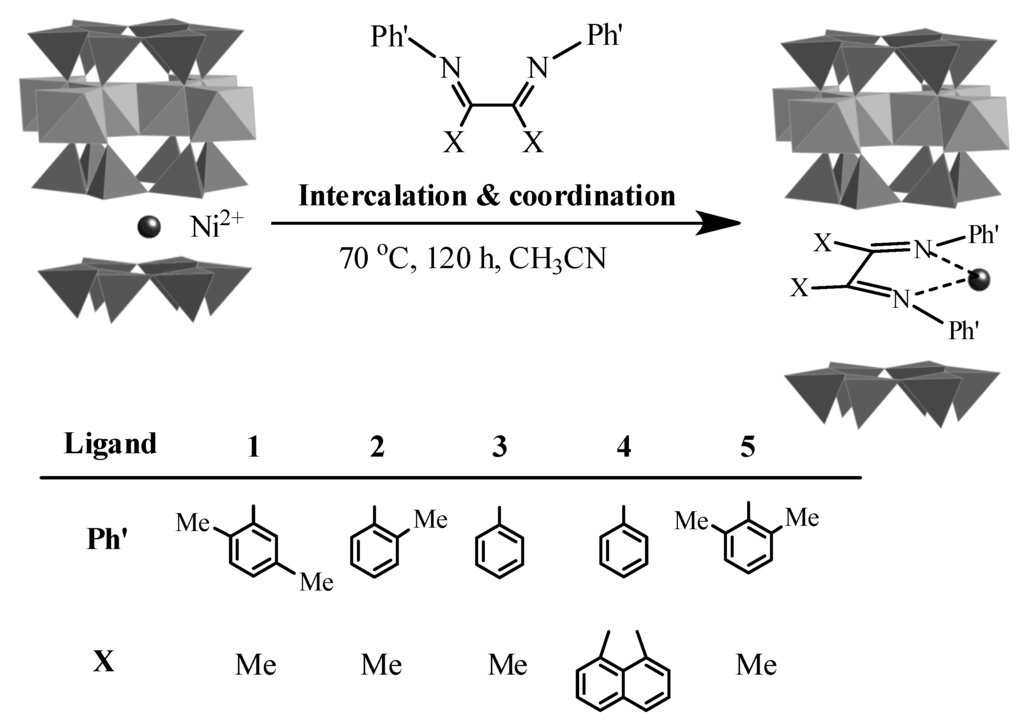 Figure 1

Share & Cite This Article
MDPI and ACS Style
Kurokawa, H.; Miura, K.; Yamamoto, K.; Sakuragi, T.; Sugiyama, T.; Ohshima, M.-A.; Miura, H. Oligomerization of Ethylene to Produce Linear α-Olefins Using Heterogeneous Catalyst Prepared by Immobilization of α-Diiminenickel(II) Complex into Fluorotetrasilicic Mica Interlayer. Catalysts 2013, 3, 125-136.
Related Articles
Comments
[Return to top]