Advantages of the Biomimetic Nanostructured Films as an Immobilization Method
vs.

the Carbon Paste Classical Method

1

Department of Chemistry, Physics and Environment, Faculty of Sciences and Environment, "Dunărea de Jos" University of Galaţi, 47 Domneasca Street, 800008 Galaţi, Romania

2

Department of Condensed Matter Physics, Faculty of Sciences, University of Valladolid, Prado de la Magdalena s/n, 47011 Valladolid, Spain

3

Infirmary School Palencia, University of Valladolid, 44 Avda. de Madrid, 34004, Palencia, Spain

4

Department of Physical Chemistry and Inorganic Chemistry, Industrial Engineering School, University of Valladolid, Paseo del Cauce 9, 47011 Valladolid, Spain

*

Author to whom correspondence should be addressed.

Received: 27 September 2012 / Revised: 26 October 2012 / Accepted: 1 November 2012 / Published: 9 November 2012
Abstract
Tyrosinase-based biosensors containing a phthalocyanine as electron mediator have been prepared by two different methods. In the first approach, the enzyme and the electron mediator have been immobilized in carbon paste electrodes. In the second method, they have been introduced in an arachidic acid Langmuir-Blodgett nanostructured film that provides a biomimetic environment. The sensing properties of non-nanostructured and nanostructured biosensors towards catechol, catechin and phenol have been analyzed and compared. The enzyme retains the biocatalytic properties in both matrixes. However, the nanostructured biomimetic films show higher values of maximum reaction rates and lowest apparent Michaelis-Menten constants. In both types of sensors, the sensitivity follows the decreasing order catechol > catechin > phenol. The detection limits observed are in the range of 1.8–5.4 μM for Langmuir-Blodgett biosensors and 8.19–8.57 μM for carbon paste biosensors. In summary, it has been demonstrated that the Langmuir-Blodgett films provide a biomimetic environment and nanostructured biosensors show better performances in terms of kinetic, detection limit and stability.
View Full-Text
►

▼

Figures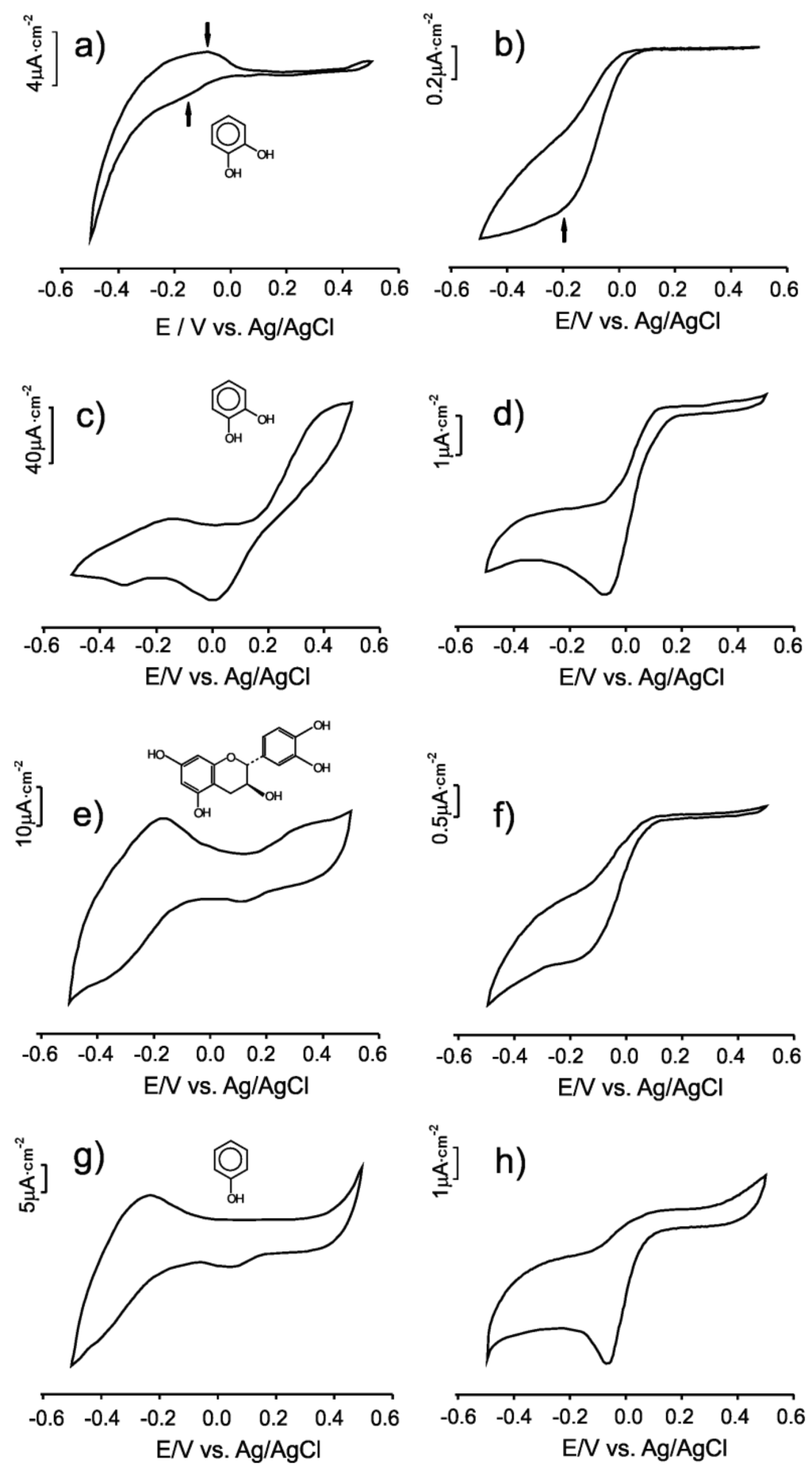 Figure 1

Share & Cite This Article
MDPI and ACS Style
Apetrei, C.; Saja, J.A.; Zurro, J.; Rodríguez-Méndez, M.L. Advantages of the Biomimetic Nanostructured Films as an Immobilization Method vs. the Carbon Paste Classical Method. Catalysts 2012, 2, 517-531.
Related Articles
Comments
[Return to top]