Alumina-Supported Manganese Catalysts for Soot Combustion Prepared by Thermal Decomposition of KMnO4
1
Department of Chemistry, Caldas University, Calle 65 N° 26-10, Manizales, Colombia
2
Laboratory of nanostructured and functional materials, National University of Universidad in Manizales, Carrera 27 N° 64-60, Manizales, Colombia
3
Department of electric, electronic and computation, Faculty of engineering, National University of Universidad in Manizales, Carrera 27 N° 64-60, Manizales, Colombia
4
Department of Physics and Chemistry, National University of Universidad in Manizales, Carrera 27 N° 64-60, Manizales, Colombia
5
Department of Inorganic Chemistry, University of Alicante, Carretera San Vicente del Raspeig s/n-03690, Alicante 03080, Spain
*
Author to whom correspondence should be addressed.
Received: 23 July 2012 / Revised: 13 August 2012 / Accepted: 16 August 2012 / Published: 11 September 2012
Abstract
Alumina-supported manganese catalysts with cryptomelane and/or birnessite structure have been prepared using a simple method based on the thermal decomposition of potassium permanganate. The samples have been characterized by XRD, FTIR, TGA, DSC, N
2
adsorption at −196 °C, SEM, H
2
-TPR and XPS, and their catalytic activity for soot combustion has been tested and compared to that of a reference Pt/alumina catalyst. The thermal decomposition of alumina-supported KMnO
4
yields a mixture of supported birnessite and potassium manganate which is the most effective, among those prepared, to lower the soot combustion temperature. However, this material is not useful for soot combustion because the accelerating effect is not based on a catalytic process but on the oxidation of soot by potassium manganate. A suitable soot combustion catalyst is obtained after potassium manganate is removed by water washing, yielding only the birnessite phase on the γ-Al
2
O
3
support. This birnessite phase can be transformed into cryptomelane by calcination at 600 °C. These two samples, γ-Al
2
O
3
-supported birnessite and cryptomelane are suitable catalysts for soot combustion in NO
x
/O
2
mixtures, as their catalytic activity is based on the NO
2
-assited mechanism, that is, both catalysts accelerate the oxidation of NO to NO
2
and NO
2
promotes soot oxidation. The soot combustion temperatures obtained with these birnessite/cryptomelane alumina-supported catalysts are similar to that obtained with the reference Pt/alumina catalyst.
View Full-Text
►

▼

Figures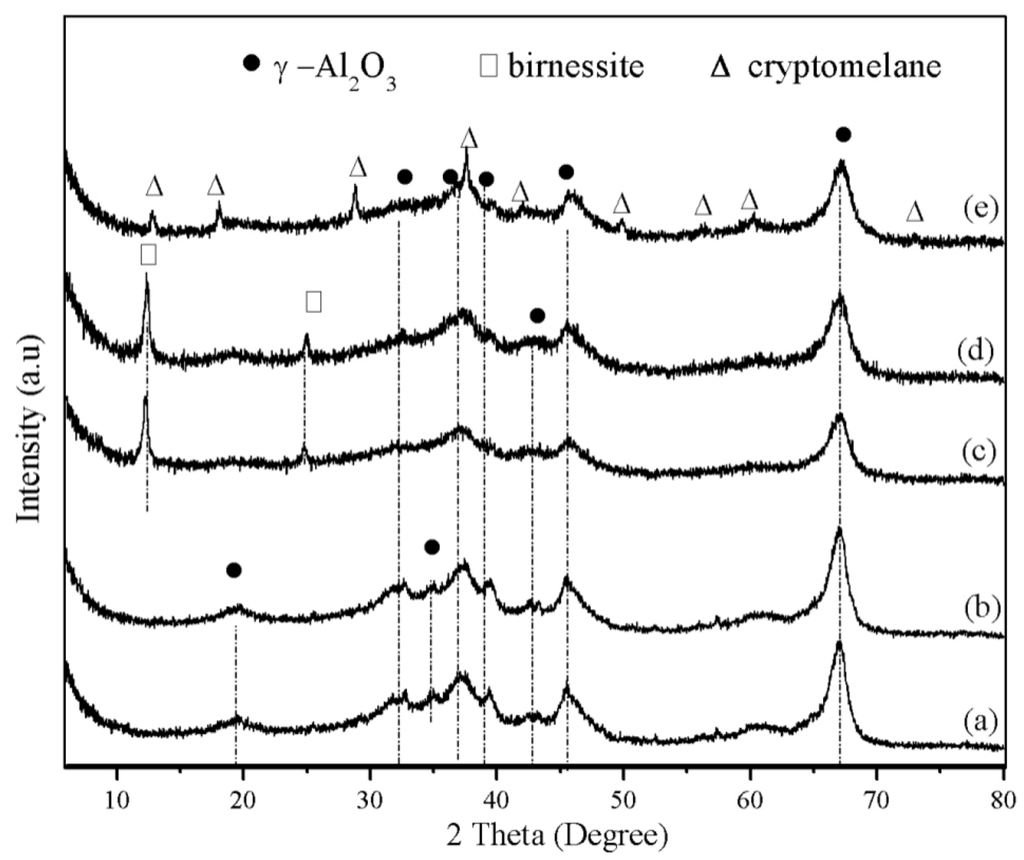 Figure 1

Share & Cite This Article
MDPI and ACS Style
Becerra, M.-E.; Arias, N.-P.; Giraldo, O.-H.; López-Suárez, F.-E.; Illán-Gómez, M.-J.; Bueno-López, A. Alumina-Supported Manganese Catalysts for Soot Combustion Prepared by Thermal Decomposition of KMnO4. Catalysts 2012, 2, 352-367.
Related Articles
Comments
[Return to top]