Application of Heterogeneous Catalysis in Small-Scale Biomass Combustion Systems
DBFZ Deutsches Biomasseforschungszentrum gemeinnützige GmbH, Torgauer Straße 116, Leipzig 04347, Germany
*
Author to whom correspondence should be addressed.
Received: 27 February 2012 / Revised: 14 March 2012 / Accepted: 23 March 2012 / Published: 12 April 2012
Abstract
Combustion of solid biomass fuels for heat generation is an important renewable energy resource. The major part among biomass combustion applications is being played by small-scale systems like wood log stoves and small wood pellet burners, which account for 75% of the overall biomass heat production. Despite an environmentally friendly use of renewable energies, incomplete combustion in small-scale systems can lead to the emission of environmental pollutants as well as substances which are hazardous to health. Besides particles of ash and soot, a wide variety of gaseous substances can also be emitted. Among those, polycyclic aromatic hydrocarbons (PAH) and several organic volatile and semi-volatile compounds (VOC) are present. Heterogeneous catalysis is applied for the reduction of various gaseous compounds as well as soot. Some research has been done to examine the application of catalytic converters in small-scale biomass combustion systems. In addition to catalyst selection with respect to complete oxidation of different organic compounds, parameters such as long-term stability and durability under flue gas conditions are considered for use in biomass combustion furnaces. Possible catalytic procedures have been identified for investigation by literature and market research. Experimental studies with two selected oxidation catalysts based on noble metals have been carried out on a wood log stove with a retrofit system. The measurements have been performed under defined conditions based on practical mode of operation. The measurements have shown that the catalytic flue gas treatment is a promising method to reduce carbon monoxide and volatile organic compounds. Even a reduction of particulate matter was observed, although no filtering effect could be detected. Therefore, the oxidation of soot or soot precursors can be assumed. The selected catalysts differed in their activity, depending on the compound to be oxidized. Examinations showed that the knitted wire catalyst showed better activity for the reduction of carbon monoxide, whereas the honeycomb induced a higher reduction of aromatic compounds. The properties of the two catalysts can be combined by integrating both together. The one drawback of the catalyst so far is the deactivation for the conversion of methane.
View Full-Text
►

▼

Figures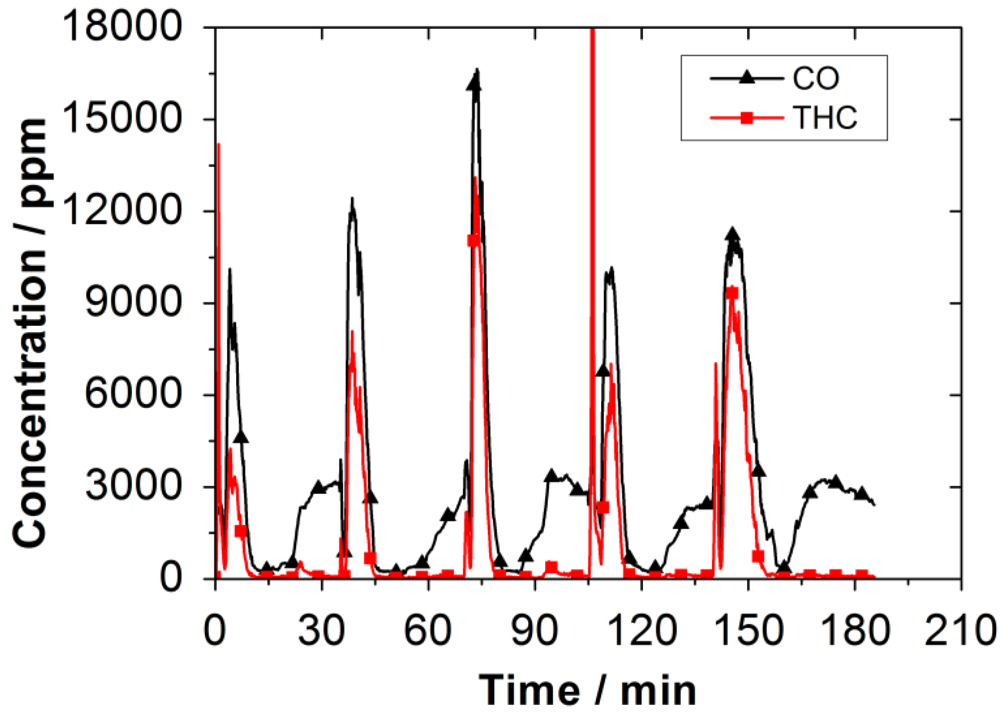 Figure 1

Share & Cite This Article
MDPI and ACS Style
Bindig, R.; Butt, S.; Hartmann, I.; Matthes, M.; Thiel, C. Application of Heterogeneous Catalysis in Small-Scale Biomass Combustion Systems. Catalysts 2012, 2, 223-243.
Related Articles
Comments
[Return to top]