Influence of Gold on Ce-Zr-Co Fluorite-Type Mixed Oxide Catalysts for Ethanol Steam Reforming
1
Departamento de Ingeniería Química y Ambiental, Universidad Nacional de Colombia, Ciudad Universitaria, Avenida Carrera 30 No. 45-03, Bogotá Edificio 453, Colombia
2
Instituto de Ciencia de Materiales de Sevilla, Centro Mixto Universidad de Sevilla—CSIC, Avenida Américo Vespucio, N° 49, Isla de la Cartuja, Sevilla 41092, Spain
3
Laboratoire Catalyse et Spectrochimie, ENSICAEN, Université de Caen, CNRS, 6 Boulevard Maréchal Juin, Caen Cedex 14050, France
4
Laboratoire des Matériaux, Surfaces et Procédés pour la Catalyse, ECPM, Université de Strasbourg, CNRS, 25 rue Becquerel, Strasbourg Cedex 2-67087, France
*
Author to whom correspondence should be addressed.
Received: 9 January 2012 / Revised: 18 January 2012 / Accepted: 27 January 2012 / Published: 3 February 2012
Abstract
The effect of gold presence on carbon monoxide oxidation and ethanol steam reforming catalytic behavior of two Ce-Zr-Co mixed oxides catalysts with a constant Co charge and different Ce/Zr ratios was investigated. The Ce-Zr-Co mixed oxides were obtained by the pseudo sol-gel like method, based on metallic propionates polymerization and thermal decomposition, whereas the gold-supported Ce-Zr-Co mixed oxides catalysts were prepared using the direct anionic exchange. The catalysts were characterized using XRD, TPR, and EDXS-TEM. The presence of Au in doped Ce-Zr-Co oxide catalyst decreases the temperature necessary to reduce the cobalt and the cerium loaded in the catalyst and favors a different reaction pathway, improving the acetaldehyde route by ethanol dehydrogenation, instead of the ethylene route by ethanol dehydration or methane re-adsorption, thus increasing the catalytic activity and selectivity into hydrogen.
View Full-Text
►

▼

Figures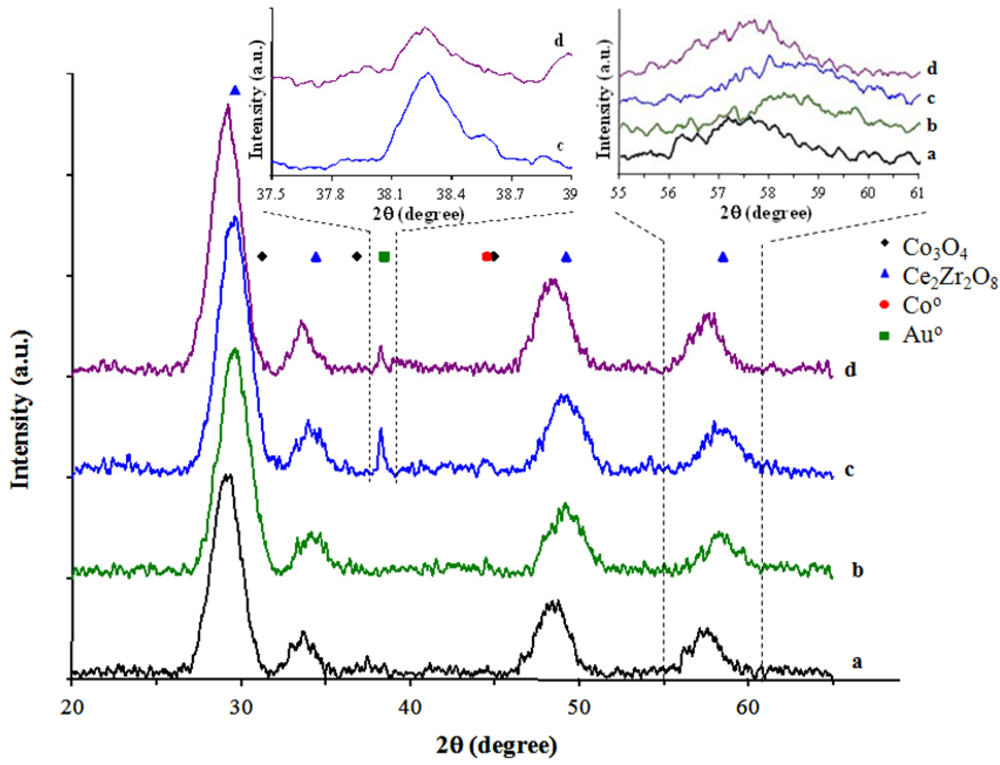 Figure 1

Share & Cite This Article
MDPI and ACS Style
Vargas, J.C.; Ivanova, S.; Thomas, S.; Roger, A.-C.; Pitchon, V. Influence of Gold on Ce-Zr-Co Fluorite-Type Mixed Oxide Catalysts for Ethanol Steam Reforming. Catalysts 2012, 2, 121-138.
Related Articles
Comments
[Return to top]