Open Access This article is
freely available
re-usable
Article
Moral Entitlements and Aspiration Formation in Asymmetric Bargaining: Experimental Evidence from Germany and China
1
Economics Department, Bonn University, 53113 Bonn, Germany; Institute of Health and Society, Department of Health Management and Health Economics, University of Oslo, 0450 Oslo, Norway
2
Department of Corporate Development and Business Ethics, University of Cologne, Albertus-Magnus-Platz, 50923 Cologne, Germany
*
Author to whom correspondence should be addressed.
Received: 31 July 2017 / Accepted: 28 September 2017 / Published: 17 October 2017
Abstract
:
Using a unique experimental data set, we investigate how asymmetric legal rights shape bargainers' aspiration levels through moral entitlements derived from equity norms and number prominence. Aspiration formation is typically hard to observe in real life. Our study involves 15 negotiations from Germany and China. Over the course of the negotiation, bargainers discuss the distribution of an amount of money by alternating offers until they consent or break off. Legal rights are randomly assigned by asymmetric outside options. We videotape and code the in-group discussions. In total, verbal data from 30 groups, 1100 pages of transcripts, and 65 h of discussions are content-analyzed. Our main finding is that strong groups derive and defend moral entitlements from equity concerns with regard to their outside options. They strive for equitable but unequal distributions (e.g., proportional split and split the difference). Moral entitlements materialize in the recorded aspiration levels and final payoffs, which exceed the equal split. By contrast, weak groups aim at equality. Over the course of the negotiation, equity tends to lose, while the prominence of round numbers gains importance. Similarities between the subject pools are found in that equity and prominence are both decisive for the formation of aspiration levels. Chinese negotiations are characterized by long periods of stagnation, only minimal concessions, and the communication of false goals. By contrast, Germans steadily reduce their goals and make concessions.
Keywords:
bargaining; asymmetry; moral entitlements; aspiration levels; equity principle; prominence; fairness; video experiment; cultural comparison
JEL-Classification:
C72; C78; C81; C92; D63; D74; F02; O53; O57; Z13
1. Introduction
To the best of our knowledge, our study is the first to show that moral entitlements, derived from outside options and based on the equity principle, strongly influence aspiration levels over the whole negotiation process. Our data reveal remarkable consistencies between our German and Chinese subjects in the formation of aspirations and in bargaining outcomes. In line with findings on one-shot interactions, aspiration formation is strongly influenced by equity-based moral entitlements. Strong negotiators feel entitled to strive for equitable but unequal distributions which exceed their outside option. By contrast, weak bargainers do not feel obliged to agree to the strong negotiators' proposals and pursue equality in distributions. However, equity loses significance during aspiration adaptation in the course of the bargaining process. Instead, prominence gains importance such that the bargainers in both countries show a preference for round-number outcomes. Fairness in general, as well as fairness-related aspiration levels, mainly corresponds to the equity principle, but are not made an issue in all groups. We also find strong subject-pool discrepancies with regard to the level of resistance against downward aspiration adaptation. German subjects show a tendency to reduce their goals steadily, whereas Chinese display long periods of stagnation or minimal concessions. Part of these Chinese delay strategies imply the signaling of false goals meant to convey false information about the true aspiration level. Yet, these strategies do not result in active break-offs—in contrast to the German negotiations. Our data suggest that direct negotiations between our German and Chinese participants are susceptible to conflict because of the different bargaining practices.
2. Experimental Methods
2.1. Experimental Design
Our experiment is based on Selten's [
6
] non-cooperative bargaining model with anonymous interaction and no between-group communication described above in
Section 1
. Two players bargain on the distribution of a given sum of money, the pie
P
, by alternating offers. No bargaining costs are involved. In each round, the players have four decision options. They can (i) make a proposal, (ii) shift the initiative to the opposite player, (iii) accept the proposal of the opposite player, (iv) break off the negotiation. If players settle on an allocation of the pie, they receive the amounts agreed upon. If they do not reach an agreement, they receive guaranteed payoffs, i.e., their outside options
s
and
w
with
s
>
w
, and
s
+
w
=
P
/2. For convenience, we will refer to the player guaranteed
s
(
w
) as the "strong" ("weak") player
s
(
w
). In our experiment,
P
= 320 points,
s
= 128 points, and
w
= 32 points, i.e.,
s
/
w
= 4/1.
The players are represented by a group of three participants. Within each group, a joint decision on the distribution of the pie has to be taken by face-to-face discussions, which are videotaped. As in Selten's [
6
] model, groups bargain anonymously with each other. After the group that has been randomly drawn to make the first proposal has reached a decision, the experimenter transmits this decision to the opposite group. This procedure applies until an agreement is reached or break-off is announced.
2.2. Procedure
Our experiment was run in the Laboratory for Experimental Economics at Bonn University, Germany, and at Sichuan University, Chengdu, China. About 10 days before the experiment started, subjects were invited via campus advertisements to participate in a decision experiment. They registered in Bonn and Chengdu at the locations mentioned in the respective announcements. In order to register, subjects appeared whenever it was convenient for them during the registration period and chose an available slot from a session that fitted their schedule. This procedure guaranteed the random allocation of students to sessions. They did not know beforehand that they would participate in a bargaining task.
In total, 30 groups, comprising 89 undergraduate students (Bonn: 35, 77% males; Chengdu: 54, 62% males) from different majors took part in the experiment. In Bonn, twelve groups participated in six sessions, including six groups as strong and six groups as weak players, respectively (treatment "GER"). In Chengdu, 18 groups participated in nine sessions, including nine groups as strong and nine groups as weak players (treatment "CHI"). Each group consisted of three players (see
Table 1
for an overview).
2
Subjects were paid for showing up to the experiment and received additional payment according to their performance in the experimental task.
We used the same organizational procedures in both countries. Upon arrival and before the experiment started, subjects were informed that they would be videotaped. They signed an agreement that the tapes were being used for scientific purposes. Participants from different groups were assigned to different rooms. This procedure guaranteed full anonymity between the interacting groups. Groups were randomly assigned the role of a strong (
S
) or a weak (
W
) player. Subjects were provided with a written description of the experiment and a separate bargaining protocol for the negotiation—both in their respective native languages German or Chinese.
3
The description was read aloud by the experimenter. Afterwards, participants were requested to read it again carefully and to ask questions which were then answered. After the introduction, the experimenter switched on the video camera and left the room for instructing the other group in exactly the same way. Then, the negotiation started. The experimenter was not present during the discussions. When a decision (i, ii, iii, or iv) had been made, the groups had to record it on the bargaining protocol. Each group member had to sign a statement to the effect that he or she agreed with this decision. Then, the experimenter was informed and she transmitted the decision to the other group. In case of acceptance, break-off, or reaching the time limit,
4
the other group was informed and the subjects were paid accordingly. Videotaping was stopped after the payment.
When running experiments in different cultures, issues like experimenter interactions, language, and stakes are very important (cf. [
46
,
47
,
48
]) as they can affect cross-cultural comparability. We took these effects into account by having different local experimenters in order to avoid an experimenter demand effect. The main experimenter
5
was present at both locations, but remained in the background in Chengdu. Preparing the instructions, we applied the back translation procedure [
49
]. Participants' payments were calculated based on the hourly wage in a typical student job, which generates about 10 Euro in Germany and 35–45 RMB (Chinese Yuan) in China. For each point retained by his or her group, each group member was paid an amount of 0.05 Euro in Germany and 0.3 Yuan in China. In case of break-offs, the low outside option would pay a meal at a student restaurant of the respective universities. On average, subjects earned 6.83 Euro in Germany and 42.67 RMB (5.42 Euro) in China.
6
2.3. Videotaping
Our research concerns the bargaining process with regard to proposals and aspiration formation based on moral entitlements and legal rights. As aspiration levels are typically not observable, a technology is required that allows one to obtain the desired information from the decision-making process, but does not direct participants to the research goal. To this end, we chose to observe the experimental subjects in a group setting during the negotiation. Groups consist of three participants who make a joint decision. The discussions of the group members are videotaped. Afterward, the discussions are transcribed word by word into text protocols by native graduate students especially trained for this task. The resulting transcripts of the group discussions are used for subsequent content analysis.
7
Observing the experimental subjects during decision-making has pros and cons.
8
The most important advantages are an authentic insight into the decision-making process, spontaneous argumentations and the revelation of motives of the experimental subjects. This important information is often not available or not noticeable by other methods [
51
]. Video experiments have potential shortcomings as well. First, subjects might behave differently because they know that they are observed and/or have to play in groups. In fact, evidence on the behavioral effect is mixed (see [
52
] for a discussion), but seems negligible in our experiment
9
. Second, the number of observations in group experiments is usually lower than in individual experiments. One reason stems from the necessity of paying more subjects (in our case, three times as many participants are needed). Another reason for confining the number of observations is that the ex-post analyzing of verbal protocols requires an extensive body of verbal data to be handled. In sum, we analyzed about 1100 pages of transcripts from 65 h of videotapes after the experiment stemming from 30 group discussions. Despite the potential drawbacks, the advantages of video experiments prevail in our opinion. The rich and unique verbal data set allows valuable insights that are difficult or impossible to obtain by other methods. Video experiments are well suited for cross-cultural research (see [
53
,
54
]).
2.4. Data Coding and Categories
Allocations consistent with the equity principle are: equal split (ES, equal distribution of the pie), split the difference (SD, equal distribution of the amount that is left when the outside options are subtracted from the pie), proportional split (PS, distribution according to the relation of the outside options), middle between split the difference and equal split (MSDES), middle between Proposals (MP), and middle between aspiration levels (MAL). All these allocations are mentioned as motives underlying aspiration levels.
Categories based on other characteristics of the discussions are the following: Some participants are willing to accept the opponent's proposal (AO, Accept Offer), and in many cases, subjects state an aspiration level without giving an underlying motive (NR, No reasoning).
For the coding of the text protocols, undergraduate native raters were extensively trained. First, two coders from each country independently screened the transcripts to check whether aspiration levels were discussed during the negotiation. This created the general pool of aspiration levels. Then, the coders independently classified the discussed aspiration level according to our classification system. For this task, the coders were provided with a detailed coding manual. Coding was made very restrictive in order to rule out the raters' own interpretations as far as possible. Only when the respective category characteristic defined in the coding manual was explicitly mentioned during a discussion was this text segment assigned to a category.
3. Results
We first set the stage and report descriptive statistics on negotiated outcomes, proposals, aspiration levels, and agreements. We then focus on the bargaining process: we analyze how equity- and prominence-based moral entitlements emerge and relate to aspiration levels. We also examine how aspirations evolve over time, i.e., how they are formulated and adapted throughout the negotiation. After that, we screen the transcripts for fairness-related arguments. Finally, we compare the two subject pools concerning the principles that guide aspiration formation, as well as regarding negotiation behavior in general.
At each step, we first formulate an observation, which summarizes our subsequent findings. Further, throughout the paper, we will adopt the convention of expressing all allocations and aspiration levels in the strong player's shares, i.e., the share of the total pie of 320 points that goes to the strong player (regardless of whether this proposed allocation was made by a strong or a weak player). Negotiations in Bonn (Chengdu) are denoted as treatment GER (CHI). We also abbreviate strong/weak groups in GER (CHI) as GS/GW, (CS/CW). All statistical tests are applied two-sided.
4. Discussion
We think that it is quite remarkable that bargaining behavior in both subject pools is guided by the same principles: moral entitlements and aspiration formation are tied to equity considerations and the prominence principle. This finding makes a strong case for the cross-cultural validity of these principles in negotiations, and it might help negotiators to better understand the common ground on which an agreement can be achieved. The difficulty, however, lies in the multiplicity of equity norms. Negotiators need to estimate realistically the norm the bargaining partner is aiming at and design appropriate strategies to cope with the most likely conflicting interests.
A potential shortcoming of our study is the limited number of independent observations in our experiment. For some of our statistical tests, we find only weakly significant results. The primary goal of our study was to investigate whether, and, if so, how aspiration levels are shaped by moral entitlements, and which norms guide this process. To reach this goal, we put an enormous effort into the collection of the data. We believe that our body of verbal data from 30 group discussions, comprising about 1100 pages of transcripts from 65 h of videotapes, is a very good basis for providing the insights that we were aiming at.
Acknowledgments
We are grateful to Ziyin Yan for valuable research assistance and for providing a first analysis of the aspiration levels within her diploma thesis. We thank Haiye Cao, Wei Deng, Yue Fu, Hong Geng, Ping Ni, Holger Schmidt, Heidi Schrader, and Yunhui Wan for transcribing the videos and Chaoliang Yang for translating the Chinese transcripts and providing valuable research assistance. We are grateful to Valentine Hunecke, Jan Meise, Ying Shen, and Ying Wang for their assistance in text analyzing the transcripts. We thank two anonymous reviewers for their helpful comments and suggestions. Financial support for Heike Hennig-Schmidt is gratefully acknowledged by Deutsche Forschungsgemeinschaft (Sonderforschungsbereich 303 and grants HE 2790/2, 446 CHV-111/1/00, CHV 113/174/0-1), and EU-TMR Research Network ENDEAR (FMRX-0238). Heike Hennig-Schmidt also appreciates a fellowship at Käte Hamburger Kolleg/Centre for Global Cooperation (Duisburg) and support by IRECOHEX (University of Oslo) while working on the paper.
Author Contributions
Conceived and designed the experiments: H.H.-S.; Performed the experiments: H.H.-S.; Analyzed the data: H.H.-S. and G.W.; Contributed materials and analysis tools: H.H.-S.; Wrote the paper: H.H.-S. and G.W.
Conflicts of Interest
The authors declare no conflict of interest.
Appendix A
English translation of the instructions
Introduction into the experiment
You participate in a bargaining experiment where two groups negotiate with each other. To evaluate the communication process within the groups the experiment is recorded on video. The goal of the game is to maximize your own profit while bargaining on a coalition value. The game ends if one group accepts the proposed division of the other group, or if one group breaks off the negotiation. If there is an agreement, each member of the group receives the payoff the group agreed upon. If there is a break-off of negotiations, each member of the group receives the guaranteed payoff for his/her group (the outside option). I will now explain the negotiation process from the bargaining protocol. The other group received an identical bargaining protocol. You have been randomly chosen to make the first (second) proposal. A money payoff, called the coalition value, amounts to 320 points. If there is a break-off of the negotiation, the guaranteed payoff for group 1 is 128 points and the guaranteed payoff for group 2 is 32 points. Please discuss which of the following four decision alternatives the group is going to choose, and please discuss also the reasons why the group is going to choose just this decision: (1) You make a proposal on the division of the coalition value to your opponent group. The proposal has to be non-negative and integer-valued. (2) You shift, i.e., the initiative to make a proposal passes to the other group without your making a proposal. (3) You accept the proposal of the other group. (4) You break off the negotiation.
Agree upon one of the four possibilities. Write down the result of your discussion into the column of the protocol that is provided for your group. Each member of the group has to confirm this entry by his/her signature. Your proposed allocation will then be transmitted to the other group. Following each bargaining round please fill in one copy of the questionnaire. It will be collected afterwards. After having finished the experiment, each member of the group will be paid either the accepted share of the coalition value or the guaranteed payoff for his/her group. The point to cash rate is 1/0.05 Euro [1/0.3 Yuan]. Try to maximize your own profit! There is no time constraint.
Are there any questions?
Bargaining Protocol
Date
Session No.
Starting time
Group No.
End
Page 1
Actual Proposal
Payoffs
Proposal
Group 1
Group 2
Signatures
Coalition
Alternative
No.
made by group no.
receives
receives
value
Group 1
Group 2
1
1
320
128
32
2
2
3
1
4
2
5
1
6
2
7
1
8
2
9
1
10
2
…
Appendix B
Definition of categories
NOTE: Final payoffs of the strong (weak) groups are denoted as
Payoff S
(
Payoff W
) and are calculated in points.
AL S
(
AL
) denotes an aspiration level of the strong (weak) group.
Appendix B1. Equity Principle
Equal Split (ES)
The pie
P
is divided into two absolutely equal amounts.
Payoff S
=
Payoff W
= 1/2 P = 320/2 = 160
Split the Difference (SD)
The difference between the pie
P
and the sum of outside options
s
and
w
is split equally, and is added to the outside options.
Proportional Split (PS)
The pie
P
is divided proportionally to the outside options.
Or, since in our experiment
Middle between Split the Difference and Equal Split (MSDES)
The pie
P
is divided according to the middle between Split the Difference and Equal Split.
and
Middle between proposals (MP) (except for MSDES)
The allocation of payoffs corresponds to the middle between the current proposals of both groups.
and
In case proposals correspond to Split the Difference and Equal Split, we do not code category MD, but MSDES.
Middle between aspiration levels (MAL) (except for MSDES)
The allocation of payoffs corresponds to the middle between the last own aspiration level and the estimated current aspiration level of the opponent group.
In case aspiration levels correspond to Split the Difference and Equal Split, we do not code category MAL, but MSDES.
Appendix B2. Prominence
Prominence (P)
Given the literature on prominence we assume subjects to perceive a number as round if it is divisible by 5 even if the terms prominence or round number are not mentioned.
44
The allocation is measured in points or in money units (Euro in GER and Yuan in CHI). An aspiration level is coded in this category only if it does not belong to any other categories except for "No reasoning".
Prominence in combination with other categories (PC)
If a division of the coalition value referring to another category is discussed and the goal is adapted to a round number near that allocation afterwards, this is regarded as a combination between prominence and the other principle. The adapted aspiration level is classified into category
PC
.
Appendix B3. Additional Categories
Time is money (T)
For Westerners, time is conceived as a commodity that has a cost and should be used with parsimony. In contrast, time is rather viewed as an unlimited resource in the East. Chinese may be insensitive to time, procedures, schedules and deadlines. If participants in our experiment refer to efficiency relative to time spent and formulate their goals with regard to the negotiation time, such discussions are coded here.
Alternative of the strong group (AS)
The power asymmetry between bargaining partners represented as different outside options in our experiment influences the bargaining decisions not only when applying the equity principle. Sometimes, aspiration levels are directly connected to the alternatives. This category describes the decision motive depending purely on the outside options. The aspiration level of the weak group corresponds to the alternative of the strong group, i.e., 128.
Payoff S
=
P
−
s
= 192 and
Payoff W = s
= 128.
Golden split (GS)
The pie
P
is divided according to the golden ratio
φ
= (√5 + 1)/2 ≈ 1.618, i.e.,
and
Accept offer of opponent group (AO)
A group member is willing to accept a proposal of the opponent. This demonstrates that his/her current aspiration level corresponds to the present proposal. An aspiration level is coded in this category only if this allocation was not formulated as an aspiration level before in the respective group.
Other (O)
If motives are found that do not correspond to any of the above categories they are classified in this category.
No reasoning (NR)
If an aspiration level is formulated without giving an underlying motive, it is coded in this category.
Appendix C
| Category | Kappa in GER | Kappa in CHI |
| --- | --- | --- |
| Equal Split (ES) | 1.000 | 1.000 |
| Split the Difference (SD) | 0.949 | 0.987 |
| Proportional Split (PS) | 1.000 | 1.000 |
| Middle between Proposals (MP) | 0.844 | 0.856 |
| Prominence (P) | 0.825 | 0.936 |
| Middle between Split the Difference and Equal Split (MSDES) | 1.000 | - |
| Middle between aspiration levels (MAL) | 1.000 | - |
| Prominence in combination with other categories (PC) | 0.930 | 0.894 |
| Accept proposal of opponent group (AP) | 1.000 | 0.961 |
| No reasoning (NR) | 0.854 | 1.000 |
Appendix D

Table A2. Percentages of groups that formulate an aspiration level according to the respective category at least once.
| Category/Group | GS | GW | CS | CW |
| --- | --- | --- | --- | --- |
| ES | 50.00 | | 33.33 | 33.33 |
| SD | 50.00 | 16.67 | 55.56 | 33.33 |
| PS | 16.67 | | 11.11 | 11.11 |
| MP | 33.33 | 50.00 | 22.22 | 33.33 |
| MSDES | 16.67 | | | |
| MAL | | 16.67 | | |
| P | 66.67 | 83.33 | 66.67 | 66.67 |
| PC(ES) | 16.67 | 50.00 | | 33.33 |
| PC(SD) | 50.00 | | 44.44 | 22.22 |
| PC(PS) | 16.67 | | | |
| PC(MAL) | | 16.67 | | |
Appendix E
Examples for bargaining processes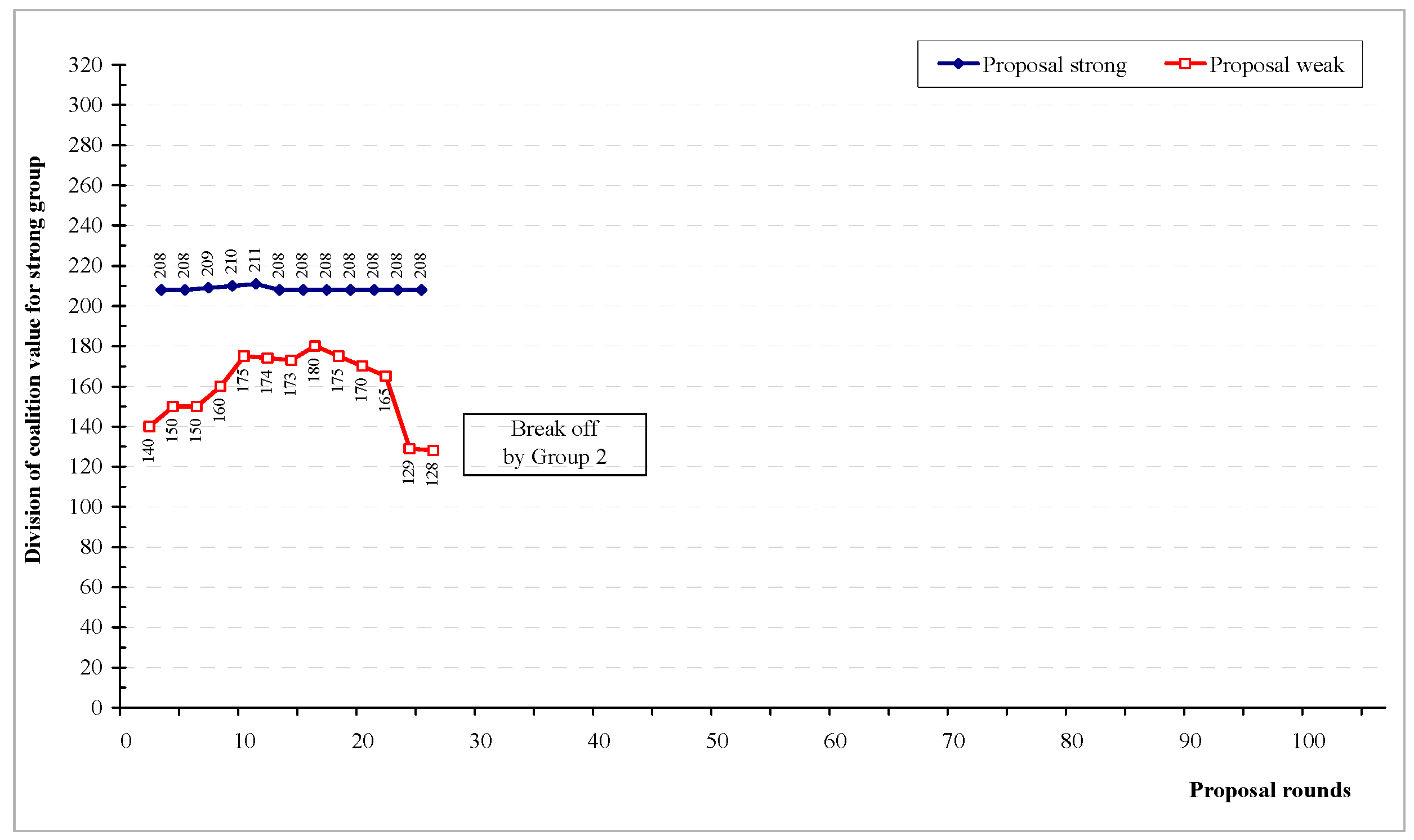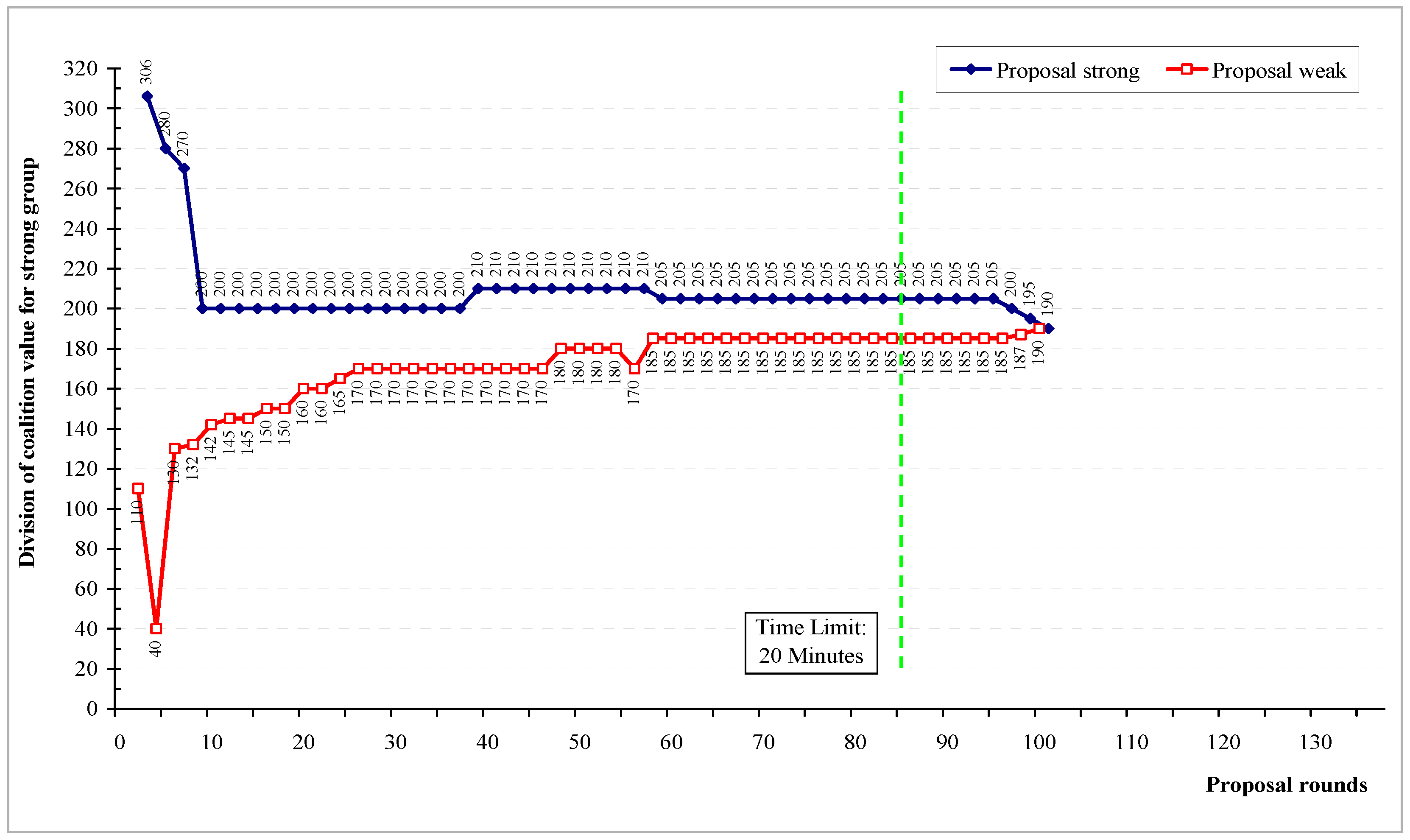 1

2

Due to a no-show, one German weak group consisted of only two participants.

3

4

Because of the extensive negotiations between the Chinese groups (the first session lasted for nearly four hours) and organizational requirements (some sessions had to be run in the evening and the buildings closed at 11 p.m.), the experiment in China had to be changed with regard to the time limit. After 2.5 h of bargaining—the longest time period of bargaining in the German experiment—the Chinese participants were informed that they would be paid the outside options if they did not come to an agreement within the next 20 min. Initially, no time limit was announced beforehand.

5

Hennig-Schmidt.

6

Average payoffs may be considered as low. Note, however, that the averages include the payoffs from four negotiations (i.e., eight groups) without agreement. In these cases, the subjects earned their outside option only.

7

For our analyses, Chinese transcripts were translated into German.

8

For an extensive discussion, see Hennig-Schmidt et al. [

50

].

9

Participants seem to feel relaxed and to forget the camera after several minutes. They talk about private matters, and sometimes they even comment negatively on their university teachers.

10

Sessions are divided into negotiation rounds. Each negotiation round comprises a discussion, a decision (i, ii, iii, iii, or iv) and a subsequent discussion until the next decision of the opponent is transmitted.

11

For a detailed description of the categories, see

Appendix B

.

12

Κ

is the ratio of the proportion of times the coders agree, P(A) (corrected for chance agreement P(E)), to the maximum proportion of times they could have agreed (corrected for chance agreement), thus

Κ

= [P(A) − P(E)]/[(1 − P(E)].

13

We exclude this case from the following analysis.

14

Recall that each player's outside option amounts to less than 50% of the pie.

15

Opening proposals: both

p

≤ 0.004; initial aspiration levels: both

p

≤ 0.013, Mann–Whitney U test, (denoted as MWU in the following).

16

Except for GS (

p

= 0.500), these differences are statistically significant (all

p

≤ 0.031, Wilcoxon matched pairs sign test, denoted as WM in the following).

17

18

19

20

21

Other, less relevant, categories are "Time is money" and "Golden split", which we subsume under the category "O: Other". See

Subsection 2.4

. for the procedure and

Appendix B

for the detailed definition and explanation of the categories.

22

GER:

p

= 0.061, CHI:

p

= 0.131, Fisher's Exact Test (in the following denoted as FET).

23

GER:

p

= 0.08, CHI:

p

= 0.05, FET.

24

25

26

Exact McNemar significance probability, all

p

≥ 0.45.

27

28

GS: MSDES, P and PC(SD): 16.67% each, Other—including AP and NR: 50.00%. GW: MP and PC(MAL): 16.67% each, Other— including AP and NR: 66.67%.

29

CS: ES, SD and P: 22.22% each, PC(SD): 11.11%, Other—including AP and NR:22.22%. CW: ES: 33.33% each, SD and MP: 11.11% each, P: 44.44%.

30

31

32

33

In German: (Un)Fairness, (un)fair, (Un)Gerechtigkeit, (un)gerecht.

34

35

This difference is weakly significant (

p

= 0.079, FET).

36

Other categories rarely mentioned are "Middle between proposals" and "Other".

37

All

p

≥ 0.340, MWU, strong and weak German groups vs. the respective Chinese groups. No significant differences in outcomes across countries have been found either, for instance, between Austria and Japan by [

63

] in Coalition Formation Ultimatum Games nor by [

64

] between the Netherlands, Spain, the US, and Japan in public-goods games.

38

p

= 0.052 for proposal rounds,

p

= 0.064 for minutes, MWU.

39

By this definition, we neglect threats negotiators sometimes make by reducing their current proposal relative to the previous one.

40

Strong groups:

p

= 0.026, weak groups:

p

= 0.285, both MWU.

41

Strong groups:

p

= 0.025; weak groups:

p

= 0.120, MWU.

42

See, e.g., Kuon and Uhlich [

59

], who arrive at quite different results even though their experimental study is based on the same game and the same parameters as ours. For instance, the authors have to infer initial aspiration levels from first offers, which—as we have seen—may include tactical reserves.

43

See also Falk et al. [

76

] for evidence on very similar behavioral patterns among students and non-students.

44

Note that 19 of the 34 different aspiration levels comprise allocations divisible by 5.
Treatment
GER
CHI
Strong/Weak Group
GS
GW
CS
CW
Total
Subjects
18
17
27
27
89
Groups
6
6
9
9
30
Sessions
6
6
9
9
15
Treatment
GER
CHI
Variable/Player Type
GS
GW
CS
CW
Negotiated outcome
159.17
107.5
171.56
112.89
Opening proposal
247.33
130.00
262.00
130.11
Final proposal
198.17
177.17
190.33
185.00
Concession
49.16
47.17
71.67
54.89
Initial aspiration level
228.00
165.00
221.56
174.22
Final aspiration level
189.67
184.50
191.11
182.56
Adaptation of aspiration level
38.33
19.50
30.44
8.33
Number (%) agreements
4 (66.67)
7 (77.78)
Note: The table shows averages for negotiated outcomes, opening and last proposals, concessions, initial and final aspiration levels, and the change in the aspiration level. The average negotiated outcome includes agreement and conflict payoffs. The average final proposal comprises the final proposal of each party before agreement or breakoff. The average concession depicts the average difference between the opening and the final proposal. Adaptation of aspiration level shows the average differences between the initial and the final aspiration level.
Country
Group
Opening Proposal
Initial AL
Aspiration Adaptation
Last Proposal
Final AL
Negotiated Outcome
Points
Points
Category &
Category &
Points
Points
Category &
Points

$

Final Decision *
Germany
G1S
256
256
PS
ES, P, SD, PC(SD), MP
168
167
AP
167
A
G2S
208
208
SD
ES
208
200
PC(SD)
128
B
G3S
280
280
P
PS, SD
250
240
P
128
B
G4S
264
208
SD
PC(SD), P, MP, O
200
172
AP
172
A
G5S
256
256
PS
ES, SD
188
184
MSDES
185
A
G6S
220
160
ES
P, PC(ES), O
175
175
NR
175
A
G1W
140
160
ES
P, PC(ES)
167
167
NR
153
A
G2W
140
160
ES
PC(ES), P
165
180
MP
32
B
G3W
130
160
ES
PC(ES), P
200
200
O
32
B
G4W
80
160
ES
MP
172
200
O
148
A
G5W
160
190
O
SD, P
185
185
AP
135
A
G6W
130
160
ES
O, P, MP, MAL
174
175
PC(MAL)
145
A
China
C1S
256
256
PS
PC(SD), NR, P
210
208
SD
208
A
C2S
280
256
PS
O, P(O), SD, MP
185
200
PC(SD)
185
A
C3S
300
200
P
P, SD, NR, PC(SD), MP
195
194
AP
195
A
C4S
208
208
SD
ES
160
160
ES
160
A
C5S
285
252
NR
P, PC(PS)
210
210
P
128
NT
C6S
306
256
PS
ES, P,
195
190
AP
190
AT
C7S
278
208
SD
P
208
208
SD
128
NT
C8S
285
198
O
SD, PS, PC(SD), NR
190
190
P
190
AT
C9S
160
160
ES
ES
160
160
ES
160
A
C1W
168
208
SD
P, PC(SD), NR
208
208
SD
112
A
C2W
160
160
ES
SD, O, PC(SD)
180
185
MP
135
A
C3W
70
160
ES
SD, O, PC(ES), MP
194
195
P
125
A
C4W
128
200
P
PS, AP, P, PC(ES)
150
160
ES
160
A
C5W
80
160
ES
P
200
195
P
32
NT
C6W
110
160
ES
P(ES), P, MP, O
190
190
P
130
AT
C7W
135
160
ES
ES
192
160
ES
32
NT
C8W
160
200
P
P
191
190
P
130
AT
C9W
160
160
ES
ES
160
160
ES
160
A
Notes: AL = aspiration level. &

Equity principle

ES: Equal Split; SD: Split the Difference; PS: Proportional Split; MP: Middle between proposals; MAL: Middle between aspiration levels; MSDES: Middle between SD and ES;

Prominence

P: Prominence; PC: Prominence in combination with other categories;

Additional Categories

AP: Accept proposal of negotiation partner; NR: No reasoning, O: Other;

$

Outcomes are shown in player S's (W's) respective payoffs; * A = agreement, B = break-off, AT = agreement within time limit, NT = no agreement within time limit.

© 2017 by the authors. Licensee MDPI, Basel, Switzerland. This article is an open access article distributed under the terms and conditions of the Creative Commons Attribution (CC BY) license (http://creativecommons.org/licenses/by/4.0/).