Open Access This article is
freely available
re-usable
Article
Instability of Mixed Nash Equilibria in Generalised Hawk-Dove Game: A Project Conflict Management Scenario
Complex Systems Research Group, Faculty of Engineering and IT, University of Sydney, NSW 2006, Australia
*
Author to whom correspondence should be addressed.
Received: 4 September 2017 / Accepted: 21 September 2017 / Published: 2 October 2017
Abstract
:
This paper generalises the Hawk-Dove evolutionary game by introducing cost sharing ratios for both players, and applies the generalised Hawk-Dove model to conflict management in projects through investigating the stability of Nash equilibria. A model with clashing interests between a project owner and a contractor is considered to derive their strategy adaptation given the cost sharing ratios. As expected, the pure Nash equilibria are shown to be dominantly stable while the mixed strategy equilibrium is observed to be unstable, across the range of considered cost sharing ratios. In addition, simulations are conducted on the strategy adaptation and stability of the equilibria under noisy and latent conditions. The obtained results can be used by project managers in optimising their strategy in practice.
Keywords:
evolutionary game theory; project conflict management; Nash equilibrium; Hawk-Dove game
Author Contributions
S.L.C and M.P conceived and designed the methodology; S.L.C performed the analytical and computational anlysis; S.L.C and M.P wrote the paper. These authors contributed equally to this work.
Conflicts of Interest
The authors declare no conflict of interest.
Appendix A
A Vensim model is constructed to reflect the strategy adaptation of both players.
Figure A1
shows the model, in which stock variables, shown in boxes, denote the expected probabilities, the historical accumulation of the number of hawks and doves for both players. The probabilities are computed as ratios of the corresponding numbers of hawk and dove players of each type, similar to the SDM model developed by [
31
]. All payment variables are set as constants, as well as the noise and delay (
delay in p
,
delay in q
, and
noise
) which feed into the flow rate variables (
change in p
and
change in q
), and ultimately into the expected probabilities.
The noise is simulated as a set of randomly generated numbers (
rand p
, and
rand q
) within defined boundaries (
noise
) and time steps. The simulation is carried out over 1000 days under Euler integration method with time step of 0.125 days.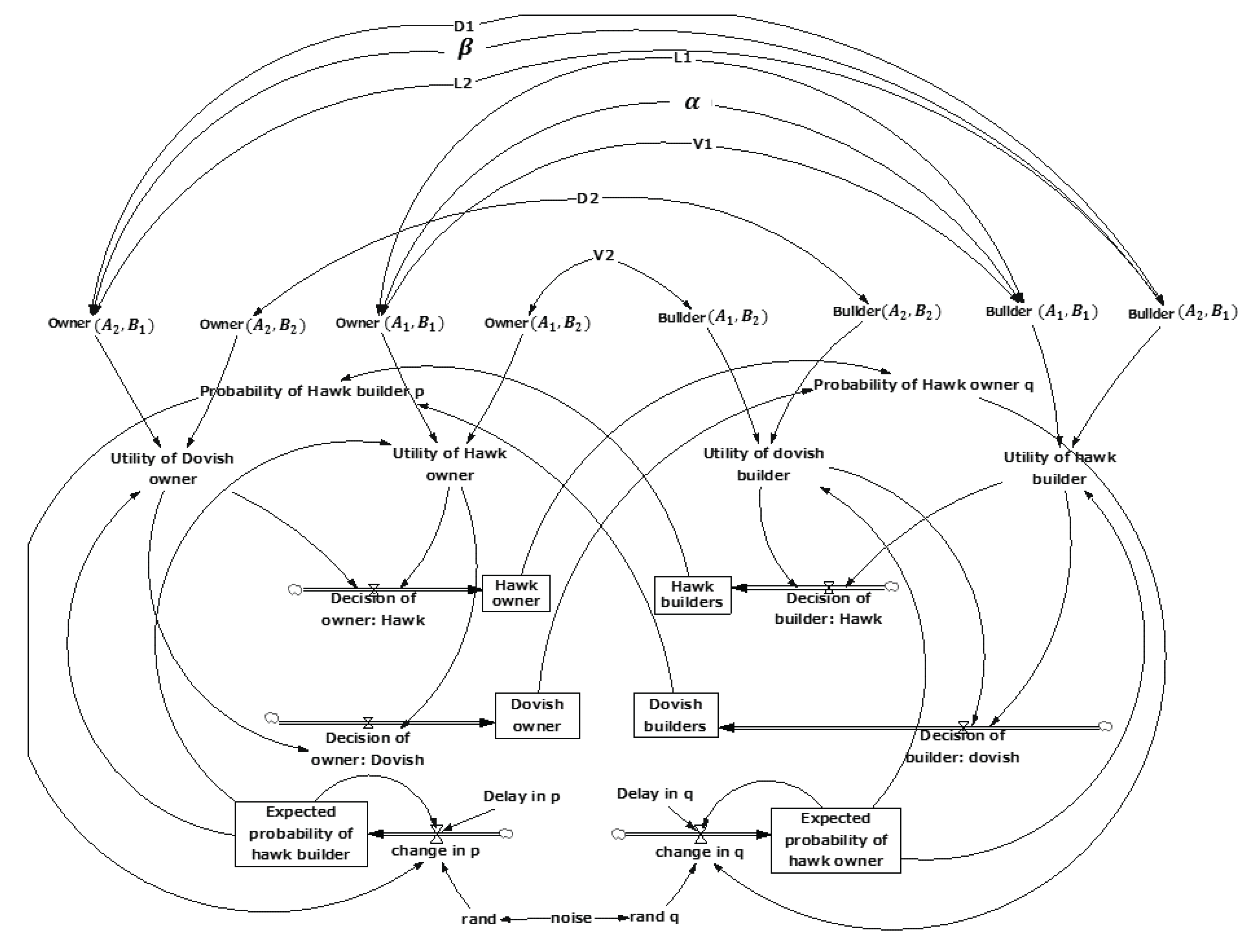 © 2017 by the authors. Licensee MDPI, Basel, Switzerland. This article is an open access article distributed under the terms and conditions of the Creative Commons Attribution (CC BY) license (http://creativecommons.org/licenses/by/4.0/).