Open Access This article is
freely available
re-usable
Article
The Positive Impact of Task Familiarity, Risk Propensity, and Need For Cognition on Observed Timing Decisions in a Security Game
1
Google Research, New York City, NY 10011, USA
2
Technical University of Munich, Department of Informatics, 85748 Garching, Germany
†
Data collected while at The Pennsylvania State University, University Park, PA 16802, USA.

Received: 28 February 2019 / Accepted: 18 November 2019 / Published: 16 December 2019
Abstract
:
This paper addresses the role of personality characteristics in decisions on the timing of an action, such as in the context of security and safety choices. Examples of such decisions include when to check log files for intruders and when to monitor financial accounts for fraud or errors. Two behavioral studies (
n
= 461) are conducted. Individual risk propensity and need for cognition are obtained via scales. The task is a game against an opaque computer opponent in which participants make decisions about the timing of actions in response to an unknown external risk factor. The task is not payoff-neutral w.r.t. risk. Difficulty is varied through the availability of explicitly given or decision-critical information, which is observable visually (Study 1) or in temporal memory (Study 2). Across this problem space, we find that risk propensity is not generally a hindrance in timing tasks. Participants of average risk propensity generally benefit from a high need for cognition, particularly when externalized memory is available, as in Study 1. In the more difficult temporal-estimation task, need for cognition was associated with increased payoffs from task experience. In both tasks, higher risk propensity in participants was associated with increased improvements in payoffs from task experience.
Keywords:
games of timing; behavioral experiment; decision-making under uncertainty; individual differences
2. Two Timing Studies: Methods
4. Discussion
The first set of analyses concerned risk-seeking and risk-avoiding participants, who nonetheless did well in the task. We saw that risk-seeking preferences are correlated with strategy choice at the beginner's level. Once individuals gain experience, risk seekers appear to shift their aggressive timing to be more rational, while risk avoiders start late. Thus, risk taking quite sensibly interacts with task experience.
The experimental task requires implicit, system-1 type decision-making. In particular, we believe that Study 2 requires an initially higher degree of system-1 type decision-making because individuals have to take intuitive actions to gather data under the more difficult regime with only temporal feedback and without visual access to the game history. Need for cognition (NFC) is a metric that allows us to assess whether subjects like to engage in system-2 reasoning. Thus, it makes sense that a high NFC is beneficial particularly in Study 1, with partial history availability, and less so (or later in the game) in Study 2. With this relationship, we show that the survey-based measure of NFC can be predictive of payoff performance.
Performance in the game is impacted by each participant's estimate of the timing of the actions of the opponent (i.e., primarily the observations about the computerized player's flip rate). According to the design of the task, there are two variables that should reduce the noise in this estimation task that induces risk: familiarity with the task, but also precision of the estimates of opponent's actions. Both of these commonly occur in security scenarios. However, to understand the cognitive process involved and to draw conclusions about policy, it is necessary to differentiate between these two influences. Participants consistently earn higher payoffs with task experience (round number). High need for cognition, as well as particularly high or low risk propensity intensify learning.
The stratified results we found suggest an approach to a cognitive psychology of decision-making that does not average over individual differences but rather embraces them. With a better theory of how individual predispositions interact with task familiarity and other meta-cognitive insights, we will be able to analyze biases that affect groups of subjects rather than everybody. Applications may lie in industrial and organizational psychology as well as in decision-making environments such as security and safety.
5. Conclusions
Differences in individuals' cognitive predispositions lead to significant and non-obvious biases during timing decisions.
Our experiments apply to a range of, but not all, behavioral timing decisions. We focus on rapid choices made by individual human decision-makers in real-time. Naturally, the risk/reward structure chosen may affect decision-makers, as well as the framing of the task. (Our design included no framing.) Provided the scope of these results are understood, they lend evidence to a model of metacognitive assessment of task difficulty or the reliability of available information, which influence a risk-seeking person's willingness to take risks.
The remarkable effect we observe is that risk-seeking individuals benefit more from familiarity with the task. Thus, risk propensity may be thought of as a behavior that facilitates or coincides with improved learning. A similar picture emerges for need for cognition in the more difficult task of Study 2, where figuring out the optimal strategy takes longer. There, participants with a high need for cognition perform better once they are experienced.
Individuals who prefer to make thoughtful, deliberate decisions generally fare better over the range of task experience we studied. Other individuals, i.e., those that prefer intuitive decision-making, seem to benefit from clear risk-avoidance or even risk-seeking. The experiments show that individuals of a range of risk propensities can make successful timing decisions in principle, even if the task comes with asymmetric risk–reward distributions, where risk-seeking or risk-avoiding is discouraged. As could be expected, tasks with enough information available to reason carefully are suited to deliberate thinking—but in particular if risk preferences are average. Tasks requiring more working memory and perhaps intuitive decision-making may not benefit from average risk preferences. Levels of risk propensity that maximize the outcome for some tasks can be thought of as those that are risk-neutral, maximizing utility in the security context. Interestingly, however, these "useful" amounts of risk taking happen to be near the population average.
Our results are compatible with a theoretical view that posits the following. Cognitive predispositions vary between individuals, but some of them interact in ways that suggest that there are more or less fortunate combinations when it comes to decision-making. This appears to be the case for risk propensity and need for cognition. We hypothesize that some combinations of traits can even increase predictability. The two traits we examine are fortuitous in that, as we propose on the basis of the data, they help individuals learn to manage external risks in a general way (a lifelong process) and they help them learn to understand a new task (within the experiment). Note that, as in any study involving personality traits, we can only observe correlations between such characteristics, task experiments, and game outcomes. Correlations obviously do not necessarily indicate causal effects. A second caveat is that the FlipIt game was chosen to mimic dynamic security and safety situations; it introduces variability that requires many participants to be sufficiently powered.
The attendant question from a cognitive science perspective—and one to explore next—is how the cognitive predispositions actually combine in people. That is, do they typically occur in advantageous ways? The second question we are exploring is whether we can develop cognitive models of decision-making in security that incorporate such preferences.
The results presented in this paper illustrate an important lesson for security system design and policy: individual differences bias decision-making in predictable ways. From a cyber-security perspective, we ask whether security managers can utilize data about cognitive predispositions and begin adapting policies to individual users or begin addressing the observed biases through intervention strategies. Finally, we call for follow-up studies with behavioral experiments—specifically in the timing context—to better understand the tremendous variety and complexity of practical security decision-making scenarios.
Author Contributions
D.R. and J.G. conceived of and executed research design and wrote this paper.
Funding
This research was funded by the College of Information Sciences and Technology, The Pennsylvania State University.
Acknowledgments
We thank the anonymous reviewers, specifically Reviewer 2, as well as Matthew A. Kelly, Moojan Ghafurian, Frank E. Ritter, and Mary R. Welch for comments, and Alan Nochenson for his work on implementing changes to the FlipIt code, which was originally conceived by Ethan Heilman (
https://github.com/EthanHeilman/flipIt
).
Conflicts of Interest
The authors declare no conflicts of interest.
Appendix A. Instructions for Experiment 1
The Appendix includes the instructions for Experiment 1 and the calculation of incentive payments.
Appendix A.1. Basic Rules
You will be playing multiple rounds of a two-player game called FlipIt. The objective of FlipIt is to gain and maintain possession of the game board. Until you take an action, the state of possession of the game board is hidden from your view. In this state, the board is shown in gray color.
The only action you have available is to "flip" the game board. When you flip the board, it will be shown to you who had possession of the game board until this very moment. This information will only be shown to you and not your opponent. At the same time, you also gain possession of the board, or maintain possession if you already owned the board.
The same rules apply to your opponent. That is, you cannot observe if and when the opponent flipped the board in the past until you take the action to flip the board yourself. Below, we break down the rules in more detail.
Appendix A.2. Detailed Rules
Appendix A.2.1. Points
You gain 100 points per second that you are in control.

You earn 0 points while your opponent is in control.

You pay 100 points when you play "flip".

You begin with 0 points. Scores are updated when you play a "flip" and at the end of the game.
Appendix A.2.2. Moves
Your only move is to play "flip". If you are in control and you play "flip", you remain in control. If you are not in control and you play "flip", you regain control. Only one player can be in control at a time.
Appendix A.2.3. The Board
The board displays the current known information about the game, including your points, the points of the red player, and the difference between your points and the points of the red player. Each "flip" played is marked with a dot. You can only see information that was revealed by your flips. Blue rectangles represent periods of time in which you, the blue player, had control. Red rectangles represent periods of time in which the red player was in control.
Appendix A.2.4. An Example Game
1st second

: The blue player starts in control.

2nd second

: The red player plays "flip" and gains control. The red player plays "flip" again less than a second later and remains in control.

3rd second

: The blue player plays "flip" and regains control. He maintains control for a little over 2 s.

5th second

: The red player plays "flip" and regains control. He keeps control for less than a second.

6th second

: The blue player plays "flip" and regains control. He keeps control for about 2 s.

7th second

: The red player plays "flip" and regains control. He keeps control for about 1 s.

9th second

: The blue player plays "flip" and regains control. He maintains control for 4 s.

12th second

: The red player plays "flip" and regains control. He maintains control for the rest of the game. He makes a number of flips in which he maintains control.

20th second

: The game ends.


The blue player was in control for 8.05 s, earning 805 points, and played "flip" 3 times, costing 300 points. This gives him a total score of 505 points.
The red player was in control for 11.95 s, earning 1195 points, and played "flip" 9 times, costing 900 points. This gives him a total score of 295 points.
The blue player has more points than the red player and thus wins.
Appendix A.2.5. Payment
You will be compensated according to your performance in this study. For completing the study, you are guaranteed the amount listed on the Mechanical Turk HIT that you have accepted, and you will be paid an additional sum based on your performance. You will participate in multiple rounds of the game. At first, you will participate in a practice round without a bonus payment to familiarize yourself with the interface. Then, you will participate in several additional rounds. You can receive a bonus payment for your performance in each of those rounds.
You can increase your bonus payment in a given round by performing well compared to the red player. If you lose by more than 1000 points, however, you will receive no bonus payment for that round.
The exchange rate for points into the bonus payment is 1 cent for 100 points. For example, you would earn a bonus payment of 10 cents by gaining exactly as many points as the red player. If you outperform your opponent by 500 points, you would earn 15 cents. If you underperform your opponent by 500 points, you would earn 5 cents.
[Participants could continue to the game by clicking a button with the following text: "I understand the rules."]
Appendix B. Participation Fee and Incentive Payments
Participants earned a show-up fee,
a
, for participating. They played experimental rounds numbered and a single practice round numbered 0. Participants were paid according to the point difference between the points awarded for their own performance and the points awarded to the computerized opponent for its performance. (Importantly, this means that both net payoffs could be negative and still give a positive outcome for the human or computerized participant.) Let the point difference in round
i
be known as . That is, if a player won by 200 points in round 1, then , and if he loses by 900 points in round 2, then . Let
e
be the exchange rate for points (i.e., the monetary value of a single point in dollars). Let the per-round endowment be . The purpose of the endowment was to allow participants to experience relative losses.
The payment function for a single participant is as follows:
In this experiment, we set the exchange rate at , which corresponds to 100 points =
$
0.01. The per-round endowment was set at = 1000 points . I.e., in a tied game, the participant would earn
$
0.10.
1.

Previous research has shown that varying the information about the type of opponent player (i.e., human or computerized) can impact the strategies and outcomes in a competitive game (see, in particular, [

29

]). We did not explicitly vary such information in our experiment. However, we did vary information about the strategy of the opponent (as described below).

2.

3.

Tick indicates the computerized opponent's flip spacing, and anchor is the time when the computerized opponent flips for the first time. The human participant had ownership of the board at the start of the game in all rounds. See

Section 2.3.1

.

4.

Note that we do not define risk-neutrality with respect to a rational task analysis. Instead, risk taking is measured within its sample distribution.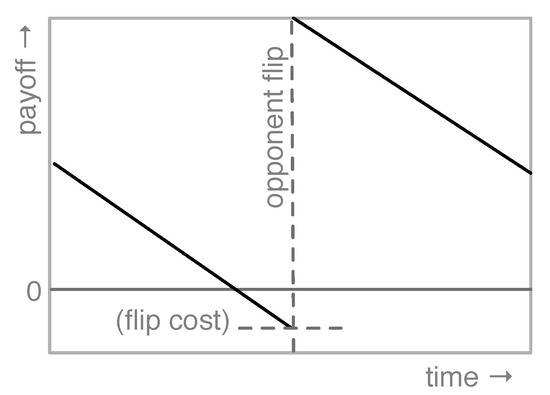 Figure 1. Player payoff in relation to the timing of the opponent's flip (at center), for any flip but the first one.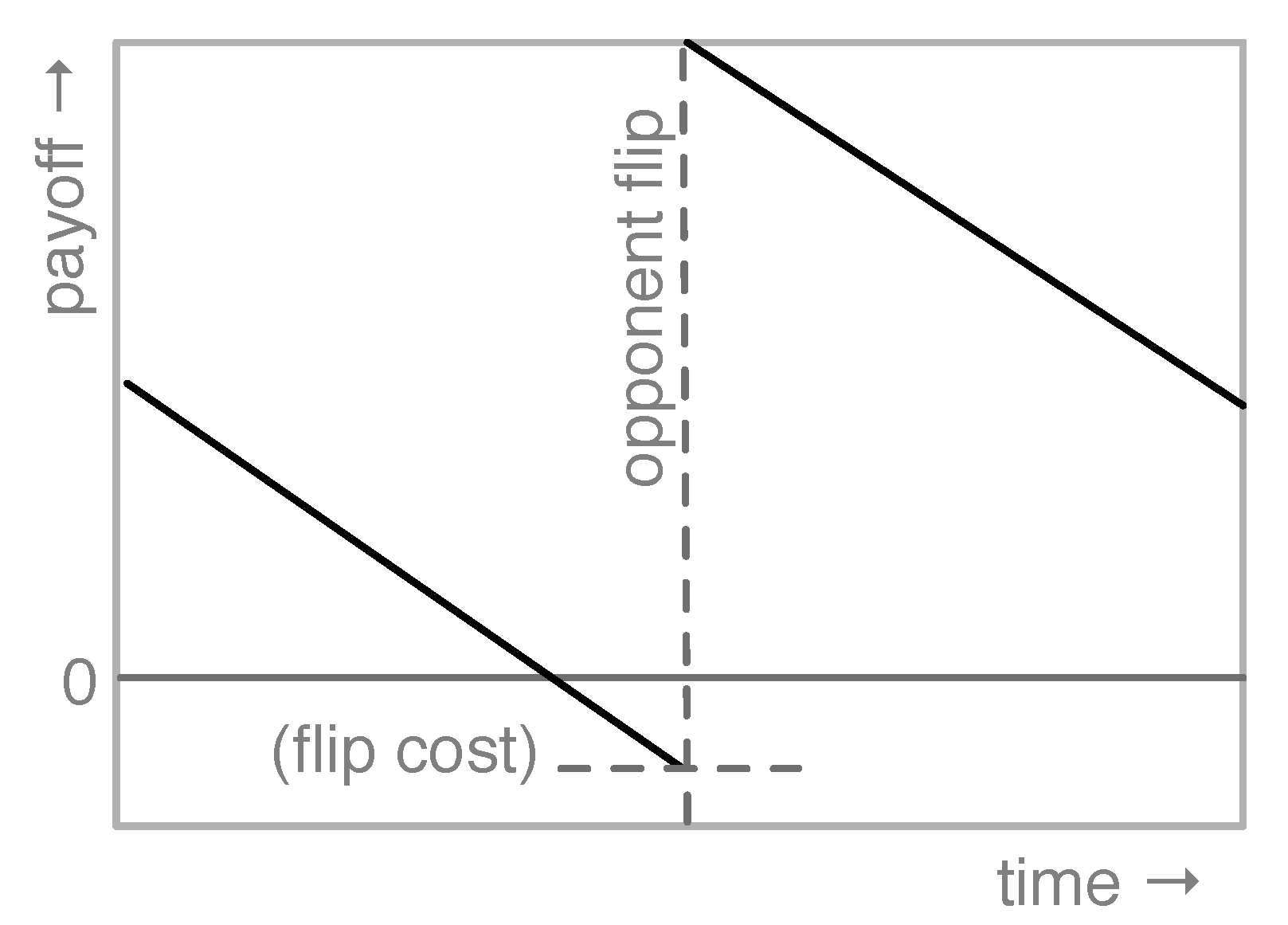 Figure 2. Feedback shown in the visual modality version (Study 1). This information was updated after each flip so that participants saw data to the left of their last flip. Also shown was a progressing gray bar to the right. Blue dots represent flips by the participant, red dots indicate opponent flips.


Figure 3. Feedback shown in the temporal modality version (Study 2). This feedback was shown after each "successful" flip that gave the player back control. The blue area is an area that was under control by the participant until the red player took control. Each red X indicates that the opponent made a superfluous flip (the position of each X carries no meaning).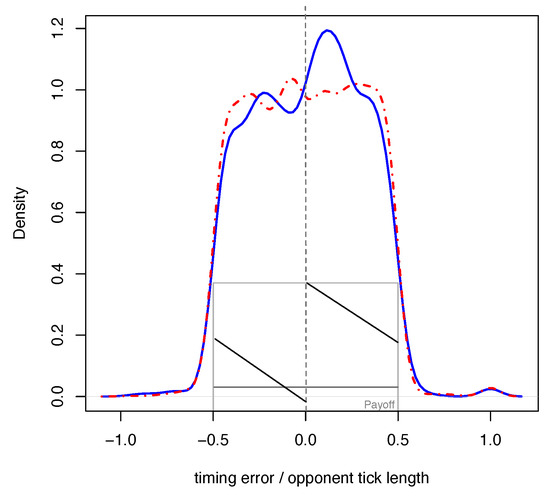 Figure 4. Distribution of timing bias in (empirical) studies 1 (dotted) and 2 (solid), for lower-than-mean risk propensity personalities. The (scale-free) subgraph shows the discontinuous distribution of payoffs over time and marks the theoretically optimal decision point.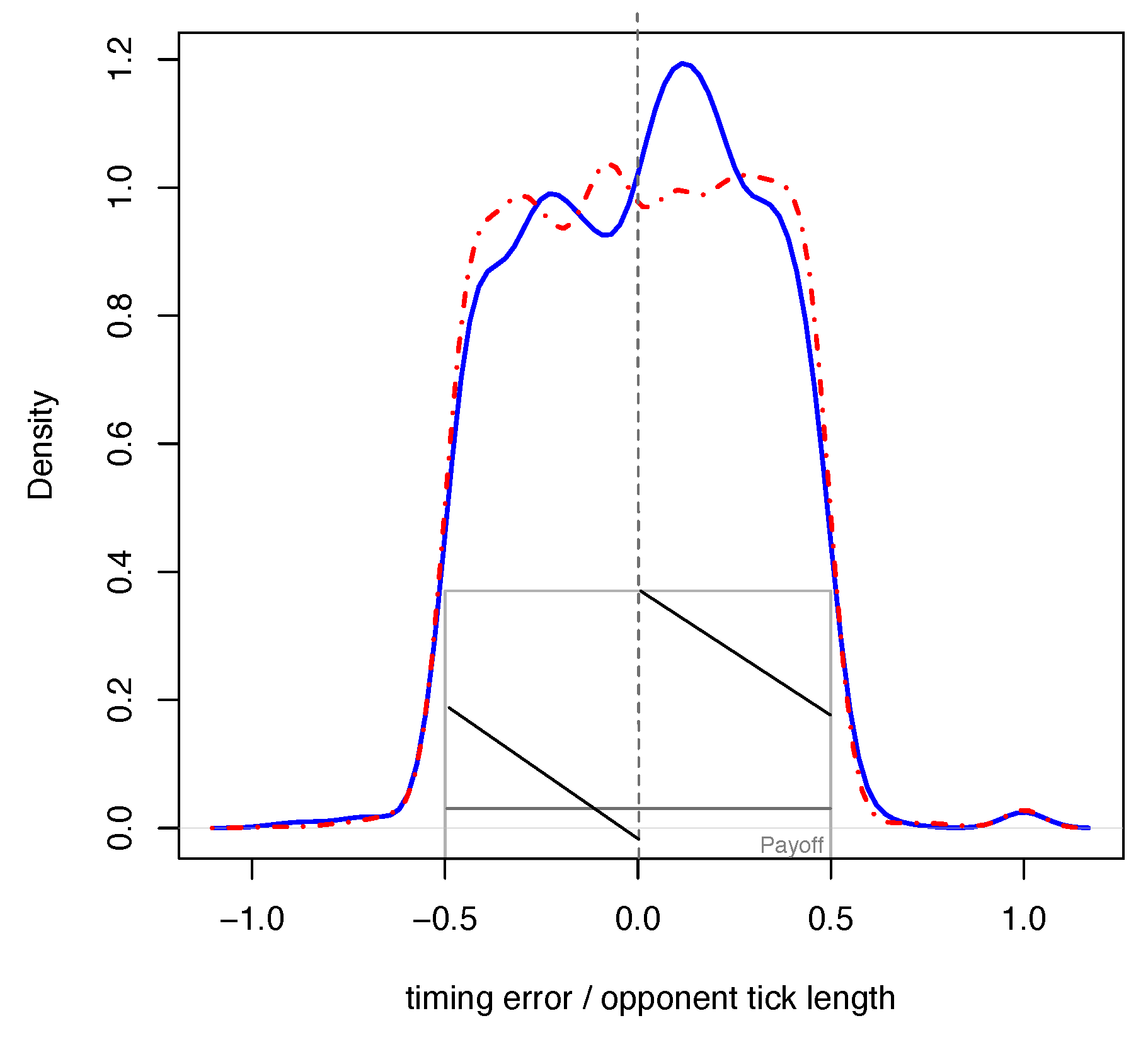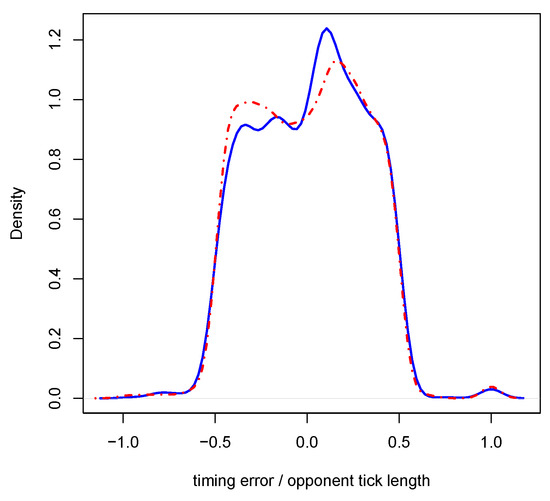 Figure 5.
Distribution of timing bias in (empirical) studies 1 (dotted) and 2 (solid), bias as in
Figure 4
, but for higher-than-mean risk propensity personalities.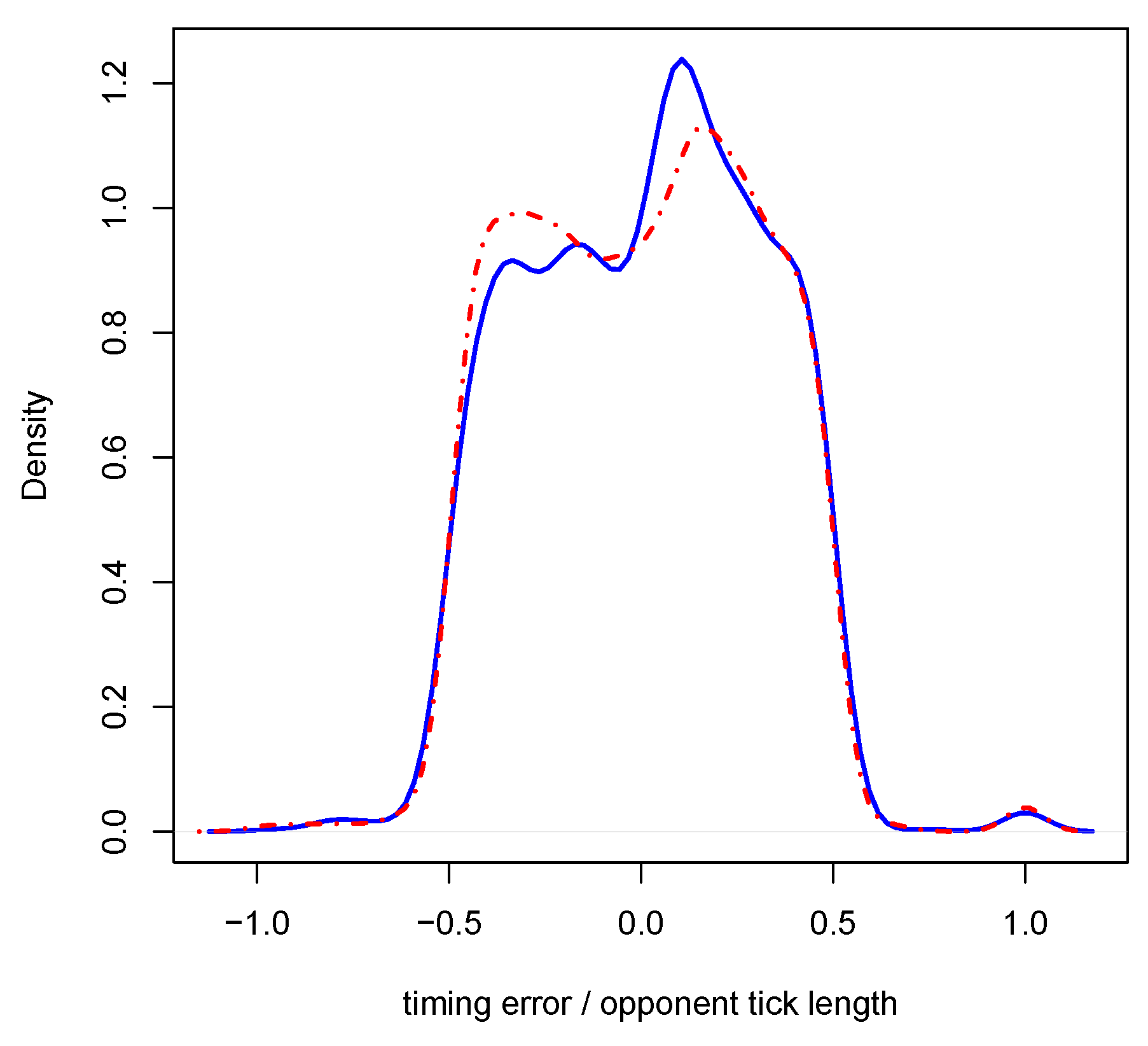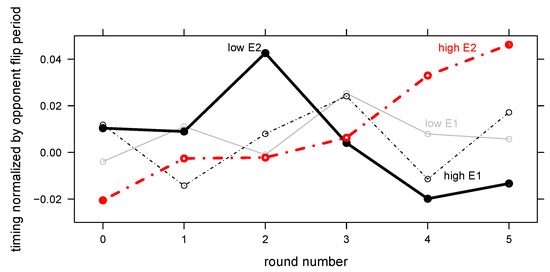 Figure 6. Timing for high vs. low risk propensity individuals in both studies at different levels of experience.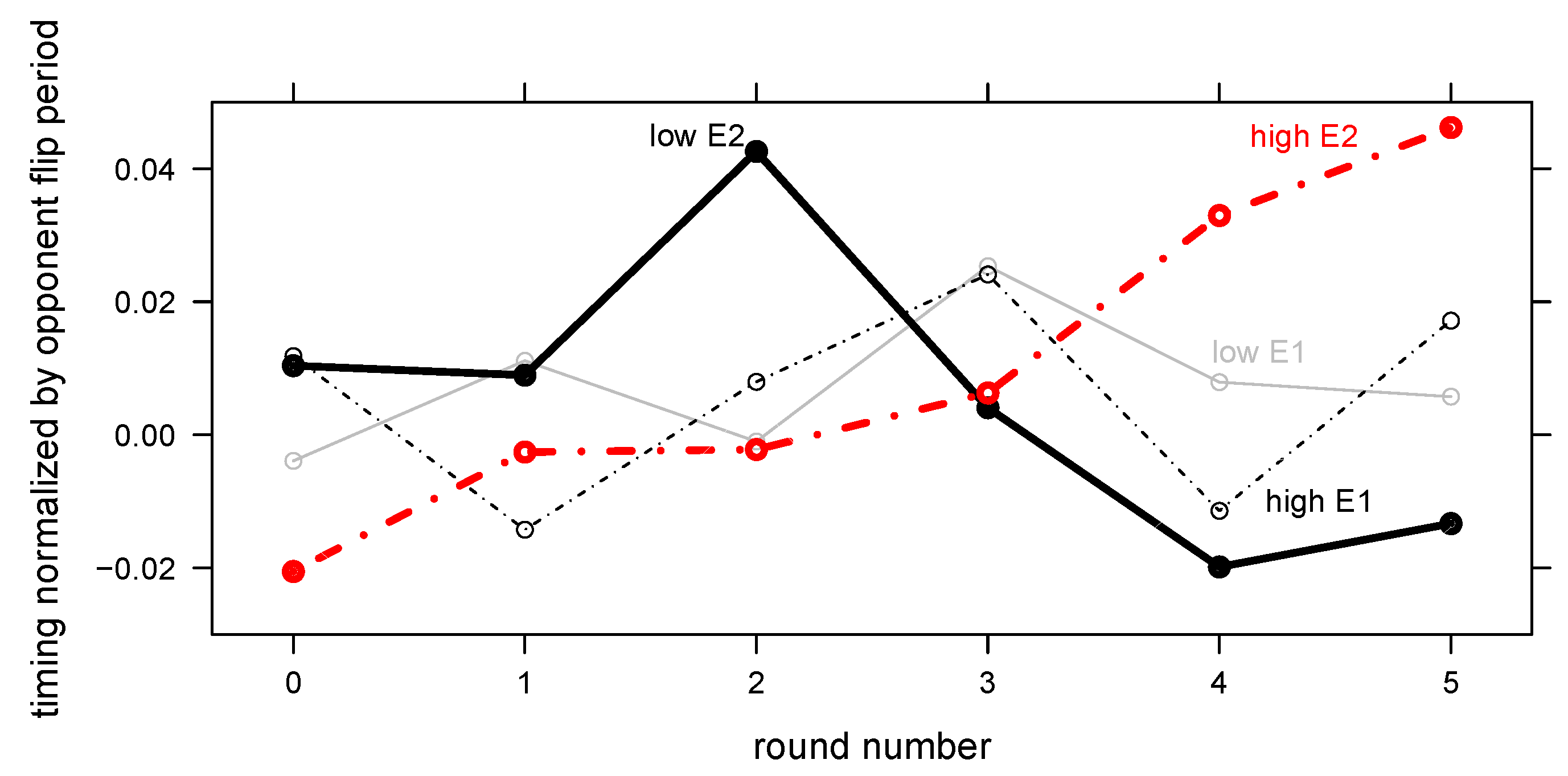 Figure 7.
Impact of task experience and need for cognition (NFC) on round payoff after regressing out the effects of ln age, tick, and anchor. NFC is divided into higher- and lower-than-median values. The unpaid practice round is coded as round 0. Residuals, smoothed via LOESS. Refer to
Table 1
to identify meaningful differences.


Figure 8. Impact of task experience and risk propensity (RP) after regressing out the effects of ln age, tick, and anchor. RP is divided into higher- and lower-than-median values. The unpaid practice round is coded as round 0. Residuals, smoothed via LOESS.


Figure 9. Impact of need for cognition and risk propensity. NFC is divided into higher- and lower-than-median values. Error bars indicate 95% confidence intervals obtained by bootstrapping (a conservative approach).


Table 1.
Three linear mixed effects regression models. Response variable: round payment in cents. Normalized predictors are shown in parentheses; they were centered around 0. Tick and anchor in sec/100, participant's age in years. One random intercept, grouped by subject. Significance levels obtained via t-test, but all levels were confirmed via bootstrapping (95% confidence intervals for ***, **, and *, and 90% C.I. for
+
, ). indicates variance explained (a substitute of for mixed-effects models, cf. [
34
]). All fits obtained using the R packages "lme4" 1.1-4, and "LMERConvenienceFunctions" 2.5.
| | Combined | Exp.1 | Exp.2 |
| --- | --- | --- | --- |
| Intercept | 10.380 *** | 11.515 *** | 5.312 *** |
| Experiment 2 | −1.866 * | | |
| ln Age | −1.005 * | −1.382 ** | |
| Tick | 0.011 *** | 0.012 *** | 0.010 *** |
| Anchor | 0.005 *** | 0.005 *** | 0.005 *** |
| (Round) | 1.986 *** | 1.891 ** | 2.193 * |
| (NFC) | 0.110 ** | 0.139 *** | |
| (NFC):ln(|(RP)|) | −0.038 * | −0.047 ** | |
| (Round):ln Age | −0.536 *** | −0.473 * | −0.622 * |
| (Round):(NFC) | | | 0.021 + |
| (Round):ln(|(RP)|) | 0.130 ** | 0.080 + | 0.156 * |
| | 0.36 | 0.37 | 0.30 |
| Log Likelihood | −8011 | −5355 | −2666 |
| Deviance | 16,022 | 10,710 | 5332 |
| Num. observations | 2736 | 1830 | 906 |
| Num. subjects | 456 | 305 | 151 |

© 2019 by the authors. Licensee MDPI, Basel, Switzerland. This article is an open access article distributed under the terms and conditions of the Creative Commons Attribution (CC BY) license (http://creativecommons.org/licenses/by/4.0/).