Open Access This article is
freely available
re-usable
Review
Phosphoinositide 3-Kinase-Dependent Signalling Pathways in Cutaneous Squamous Cell Carcinomas
Centre for Cell Biology and Cutaneous Research, Blizard Institute, Barts and The London School of Medicine and Dentistry, Queen Mary University of London, London E1 2AT, UK
*
Author to whom correspondence should be addressed.
Academic Editor: Marco Falasca
Received: 2 May 2017 / Accepted: 3 July 2017 / Published: 11 July 2017
Abstract
:
Cutaneous squamous cell carcinoma (cSCC) derives from keratinocytes in the epidermis and accounts for 15–20% of all cutaneous malignancies. Although it is usually curable by surgery, 5% of these tumours metastasise leading to poor prognosis mostly because of a lack of therapies and validated biomarkers. As the incidence rate is rising worldwide it has become increasingly important to better understand the mechanisms involved in cSCC development and progression in order to develop therapeutic strategies. Here we discuss some of the evidence indicating that activation of phosphoinositide 3-kinases (PI3Ks)-dependent signalling pathways (in particular the PI3Ks targets Akt and mTOR) has a key role in cSCC. We further discuss available data suggesting that inhibition of these pathways can be beneficial to counteract the disease. With the growing number of different inhibitors currently available, it would be important to further investigate the specific contribution of distinct components of the PI3Ks/Akt/mTOR pathways in order to identify the most promising molecular targets and the best strategy to inhibit cSCC.
Keywords:
Akt; cutaneous squamous cell carcinoma; mTOR; PI3K
1. Introduction
Keratinocyte carcinomas (KC), comprising basal cell carcinoma (BCC) and cutaneous squamous cell carcinoma (cSCC), are the main forms of non-melanoma skin cancers (NMSC). They represent one third of all malignancies [
1
,
2
] and are the most common malignancy in the UK [
3
]. In 2014, there were 131,772 cases of NMSC registered in the UK, although this is a significant underestimation as there are acknowledged problems of under-recording [
4
]. The crude incidence rate indicates 233 new NMSC cases for every 100,000 males and 176 for every 100,000 females [
5
]. A recent study reported that approximately 3.3 million people were treated for NMSC in USA in 2012 [
6
]. More worryingly, the incidence of NMSC has risen over the years and it is still rising worldwide [
7
,
8
,
9
,
10
,
11
,
12
]. For instance one study estimated that on average the incidence of NMSC has increased by 3–8% yearly among white populations in Australia, Canada, Europe, and the USA in the last 30 years [
12
]. Morbidity associated with NMSC is high and available treatments can be disfiguring and expensive. One study estimated that in 2008 the cost due to skin cancer was in the range of £106–112 million in England, with expected cost per case estimated at £889–1226 for NMSC (bottom-up and top-down approaches) [
13
].
Approximately 75–80% of KC are BCC and 18–20% are cSCC [
7
,
14
]. While BCC is usually a localised cancer, approximately 5% of cSCC are able to metastasise, usually to lymph nodes [
2
,
15
]. As a consequence of this, although 95% of cSCC are curable with surgical resection, it has been estimated that 20% of skin cancer deaths are attributable to cSCC [
16
]. Indeed the ability of cSCC to metastasise leads to a 3-year disease-free survival rate of 56% [
17
] and a five-year survival rate of 25% to 35% [
18
,
19
,
20
,
21
]. Such a poor prognosis is due to a lack of therapies for this subset of patients as currently there is no FDA-approved therapy with a specific indication for metastatic cSCC [
22
]. The development of therapies is further complicated by the fact that no molecular biomarkers that can predict disease behaviour or treatment response have been validated [
22
]. With the rising incidence of this disease, a better understanding of the biochemical pathways involved in cSCC development and progression is urgently needed in order to identify molecular targets and design drugs that can be beneficial to patients.
2. The Epidermis
The epidermis of the skin contains stratified layers of squamous epithelium (
Figure 1
), mostly consisting of keratinocytes [
23
]. Keratinocytes are specialised cells named after their ability to produce keratin, a protein essential in the formation of intermediate filaments and in maintaining the barrier function of the skin. Keratinocytes continuously divide in the basal layer of the epidermis, and then differentiate as they migrate upwards through the spinous and granular layers towards the surface of the skin to ultimately form a layer of anucleate cornified cells called the stratum corneum [
24
,
25
,
26
]. As the cells migrate upwards they become more flattened and synthesise a number of different proteins (including different keratins) and lipids from specialised organelles, such as lamellar bodies and keratohyalin granules [
27
]. Intercellular junctions, such as desmosomes, are crucial to maintain the barrier function and modulate cell signalling [
28
]. The different desmosomal components have specific expression patterns within the epidermis and this is important to control not only the structure, but also the specific function of each stratum [
29
]. By the time they reach the surface the keratinocytes have become denucleated and form the tough keratinised layer of the stratum corneum, allowing the skin to remain waterproof and resistant to external stresses [
23
].
Keratinocytes that have left the basal layer of skin are squamous in morphology therefore they are generally referred to as squamous cells and are the most abundant cell type within the epidermis. KC are classified as BCC or cSCC depending on their histopathological characteristics; BCC cells tend to resemble those from the basal layer of the epidermis whilst cSCC tend to resemble the squamous cells [
30
].
3. Overview of cSCC Carcinogenesis
Chronic exposure to UV radiation has been described as the most important environmental risk factor for cSCC development, with other factors, including exposure to ionising agents and chemical carcinogens, also identified [
31
]. Indeed the majority of cSCC occurs on sun-exposed areas of the body and has been strongly associated with chronic sun exposure [
32
]. Approximately 65% of cSCC arise from dysplastic regions in the epidermis known as actinic keratoses (AK), which occur as a result of increased UV exposure [
33
]. The factors responsible for this progression are, however, still largely unknown and indeed not all AK progress to cSCC [
34
,
35
]. Nevertheless, AK are an important clinical risk factor for cSCC [
36
]. Genetically, cSCC is a very heterogeneous disease. Chromosomal changes have been identified by genome-wide studies, and mainly comprise loss of heterozygosity due to allelic loss and uniparental disomy at 3p, 9p, 2q, 8p and 13, and allelic gain on 3q and 8q [
37
,
38
]. Mutations in the
Notch
gene family and many other key genes, including
TP53
, have also been reported [
39
]. In fact, because of the complex mutational patterns, it is very difficult to identify driver genes in cSCC and this has strongly limited the translation from genomics to the clinic [
39
]. Indeed while identification of mutations in BRAF for advanced melanoma and Hedgehog signalling for BCC has paved the road to clinical use of BRAF and smoothened inhibitors respectively, a similar direct translation has not occurred in cSCC [
39
]. Nevertheless accumulating evidence from clinical use of epidermal growth factor receptor inhibitors or immune modulatory drugs suggests that targeted therapies may be beneficial [
39
,
40
]. There is, therefore, an urgent need to define the critical molecular mechanisms and key signalling pathways involved in cSCC carcinogenesis in order to identify new molecular targets.
It is now well documented that alteration of specific signalling pathways occurs during cSCC carcinogenesis. For instance reverse phase protein microarray analysis revealed specific activation of the mitogen-activated protein kinase (MAPK) pathway in cSCC compared to AK and normal skin [
41
]. Similarly, a core set of 196 genes was found to be differentially expressed between AK and cSCC and gene set enrichment analysis indicated a key role for MAPK pathway in cSCC compared to AK [
42
]. Consistent with this, more recently it has been shown that inhibition of MEK causes senescence, but not apoptosis, in cSCC cell lines and reduces tumour growth in vivo [
43
]. Several lines of evidence also indicate that activation of the enzymes belonging to the phosphoinositide 3-kinase (PI3K) family is involved in cSCC carcinogenesis (as discussed in more detail below).
4. The PI3K Pathway in Epidermal Homeostasis
5. PI3Ks-Dependent Pathways upon UV Irradiation
UV radiation causes DNA damage, for instance through generation of cyclobutane pyrimidine dimers (CPD) [
80
,
81
]. CPD have been associated with initiation of UVB-induced skin carcinogenesis [
82
] and repair or reduction of CPD in UVB-exposed murine skin reduces the risk of tumour development [
83
]. The nucleotide excision repair (NER) pathway is one of the mechanisms involved in the repair of UV-induced DNA damage [
84
]. It has been demonstrated that PTEN is necessary for efficient NER through regulation of the xeroderma pigmentosum proteins [
85
] and, therefore, alteration of its expression levels and/or function (and consequent deregulation of PI3Ks-dependent pathways) can lead to impaired DNA repair upon UV exposure. Indeed mice lacking PTEN in their epidermis are predisposed to skin tumourigenesis upon exposure to low sub-erythemal UV radiation [
86
]. UV radiation can induce alteration of PTEN levels/function through genetic alteration of the gene [
87
] or possibly through inactivation of the enzyme by UV-induced reactive oxygen species [
88
]. Indeed, reduced expression levels of PTEN were detected in transformed human keratinocytes upon chronic exposure to UVA radiation [
89
]. Similarly, it was shown that UVB radiation reduced PTEN levels in primary human keratinocytes, HaCaT keratinocytes and in mouse skin and this was associated with increased survival [
90
]. These authors further showed that downregulation of PTEN occurred at the transcriptional level and it was mediated by UVB-dependent activation of ERK and Akt [
90
]. Alteration of the PI3K pathway can also occur as consequence of alteration in the microRNA profile upon exposure to UV as observed in a study on SKH-1 hairless mice [
91
]. Consistent with the detected alteration of PTEN, several lines of evidence indicate that the PI3Ks/Akt/mTOR pathway is activated upon exposure to UV radiation. Phosphorylation of Akt [
92
,
93
] and mTOR [
93
] was reported in HaCaT cells treated with low doses of UVB as well as in SKH-1 mice treated with an acute dose of solar-simulated light (SSL) [
94
]. Moreover activation of Akt and mTOR was detected in sun-protected human skin after acute doses of physiologically-relevant SSL exposure [
95
]. Interestingly, one study reported differential regulation of Akt phosphorylation by UV, with phosphorylation of Ser473 mainly mediated by UVB and phosphorylation of Thr308 mediated by UVA in normal human epidermal keratinocytes [
96
]. On the other hand, both UV types were able to activate mTOR, as assessed by phosphorylation of S6K [
96
]. As UV represents the most important environmental risk factor for cSCC [
39
], it would be important to define the specific contribution of PI3Ks-dependent pathways, and in particular of the selective PI3K isoforms, on UV-driven cSCC carcinogenesis.
6. PI3Ks-Dependent Pathways in cSCC
7. Targeting PI3Ks-Dependent Pathways in cSCC
8. Conclusions
Despite several data indicating that PI3Ks-dependent signalling pathways are important in cSCC much still needs to be understood about the contribution of these enzymes and, in particular, the selective contribution of each of the distinct PI3K isoforms to the disease. Currently, the lack of strong evidence indicating either specific mutations or selective activation of specific PI3K isoform(s) during cSCC carcinogenesis, in particular during progression to metastatic cSCC, makes it difficult to envisage which selective PI3K inhibitor(s) or which specific drugs combination(s) could be beneficial in this context. Additional investigations, including a better characterisation of the role of distinct PI3Ks, are needed to determine whether targeting selective PI3Ks could represent a useful strategy to counteract this disease, in particular for metastatic cSCC.
Acknowledgments
Work in our laboratory is supported by British Skin Foundation.
Author Contributions
Joanna M. Janus and Tania Maffucci wrote the paper, and Ryan F. L. O'Shaughnessy and Catherine A. Harwood contributed to the manuscript.
Conflicts of Interest
The authors declare no conflict of interest. The funding sponsors had no role in the design of the study; in the collection, analyses, or interpretation of data; in the writing of the manuscript, and in the decision to publish the results.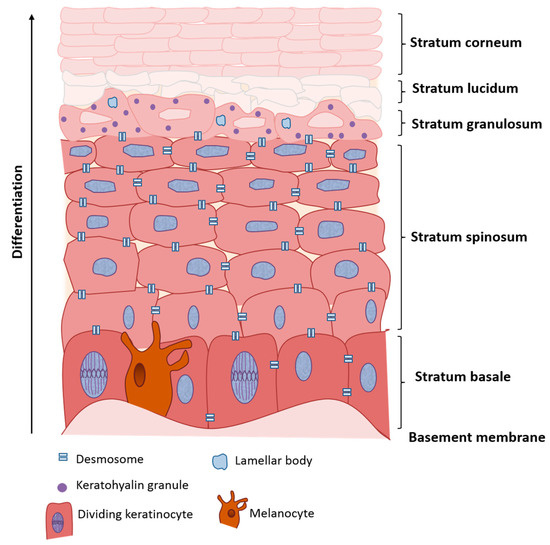 Figure 1. Representative diagram of the epidermis. The basement membrane, separating the dermis from the epidermis, and the distinct strata are indicated.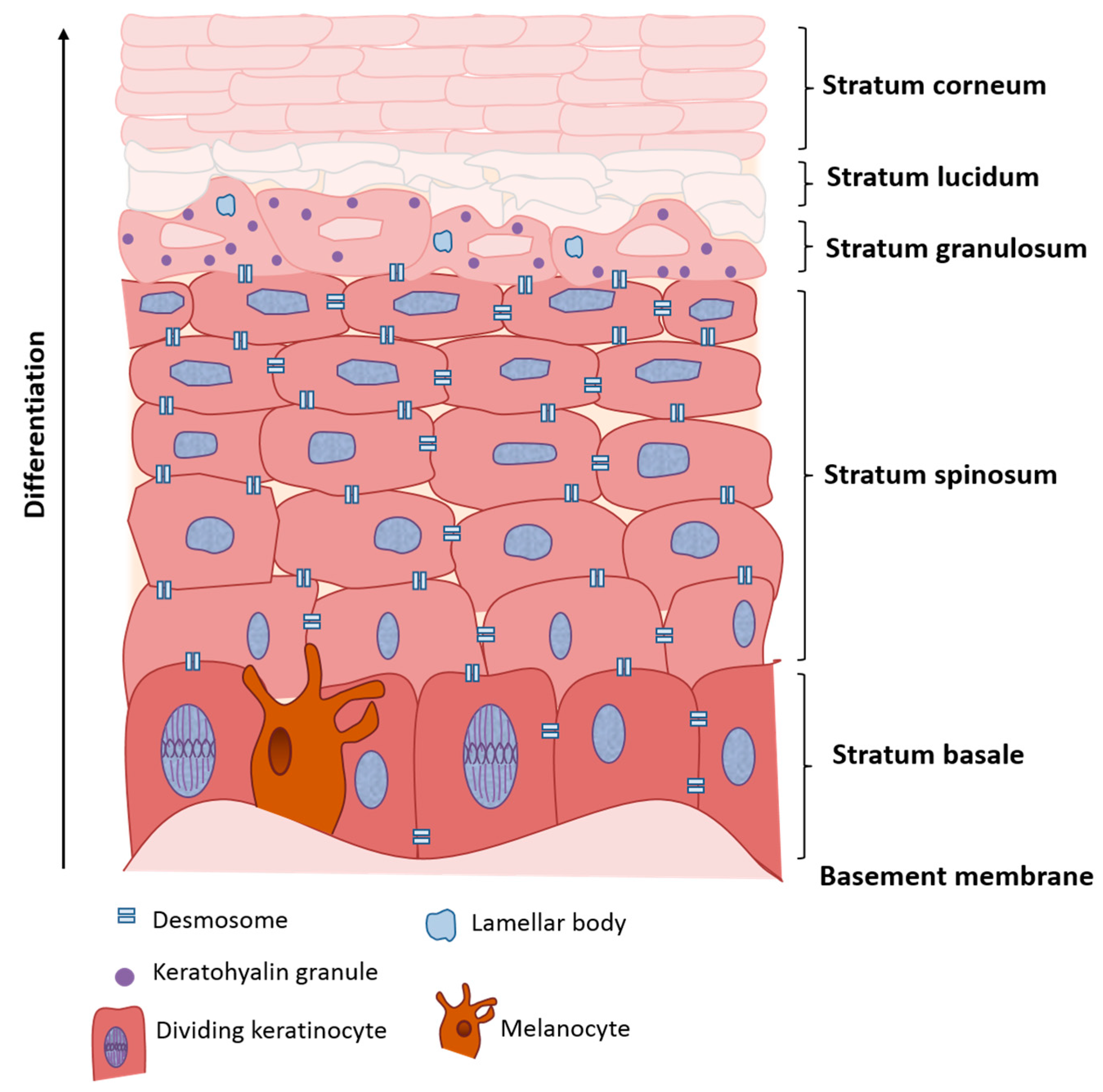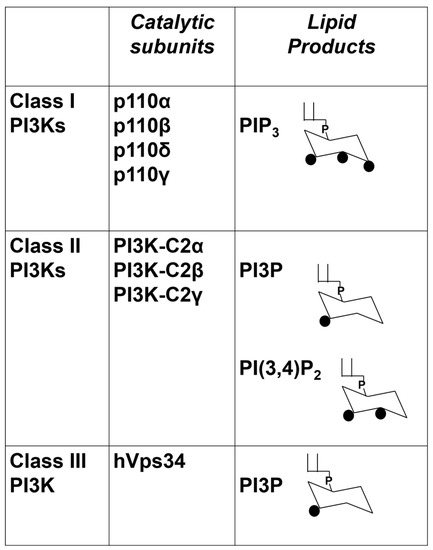 Figure 2. List of the eight mammalian PI3K isoforms and their classification into three distinct classes. For class I PI3Ks only the four catalytic subunits are shown. Their main lipid products are also indicated.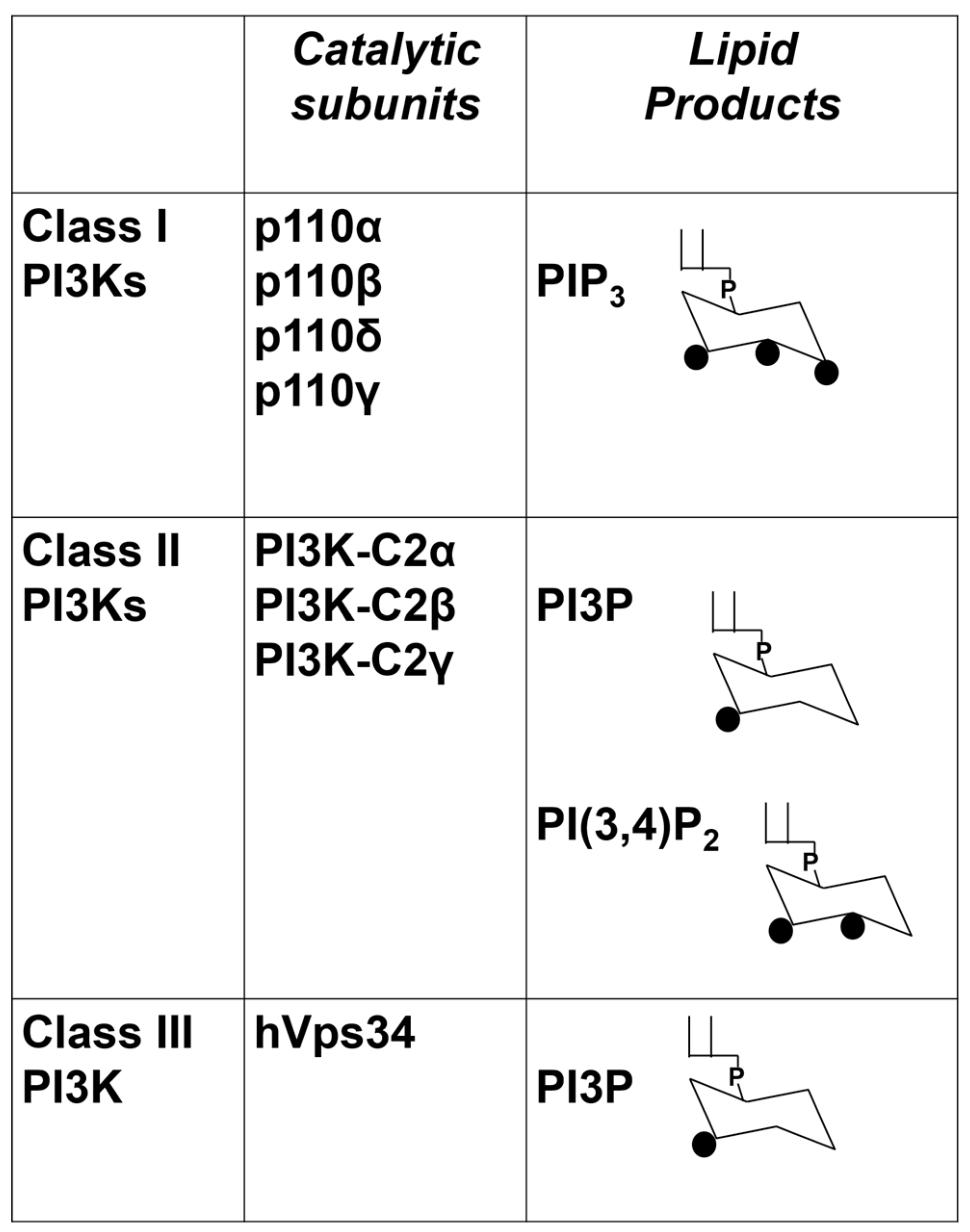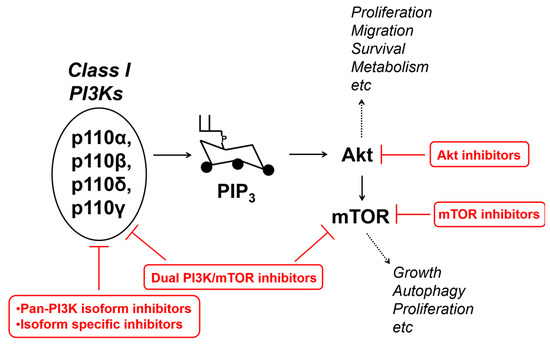 Figure 3. Schematic and simplified representation of the class I PI3Ks/Akt/mTOR pathway, some of the main cellular functions regulated by it, and the main family of inhibitors targeting it.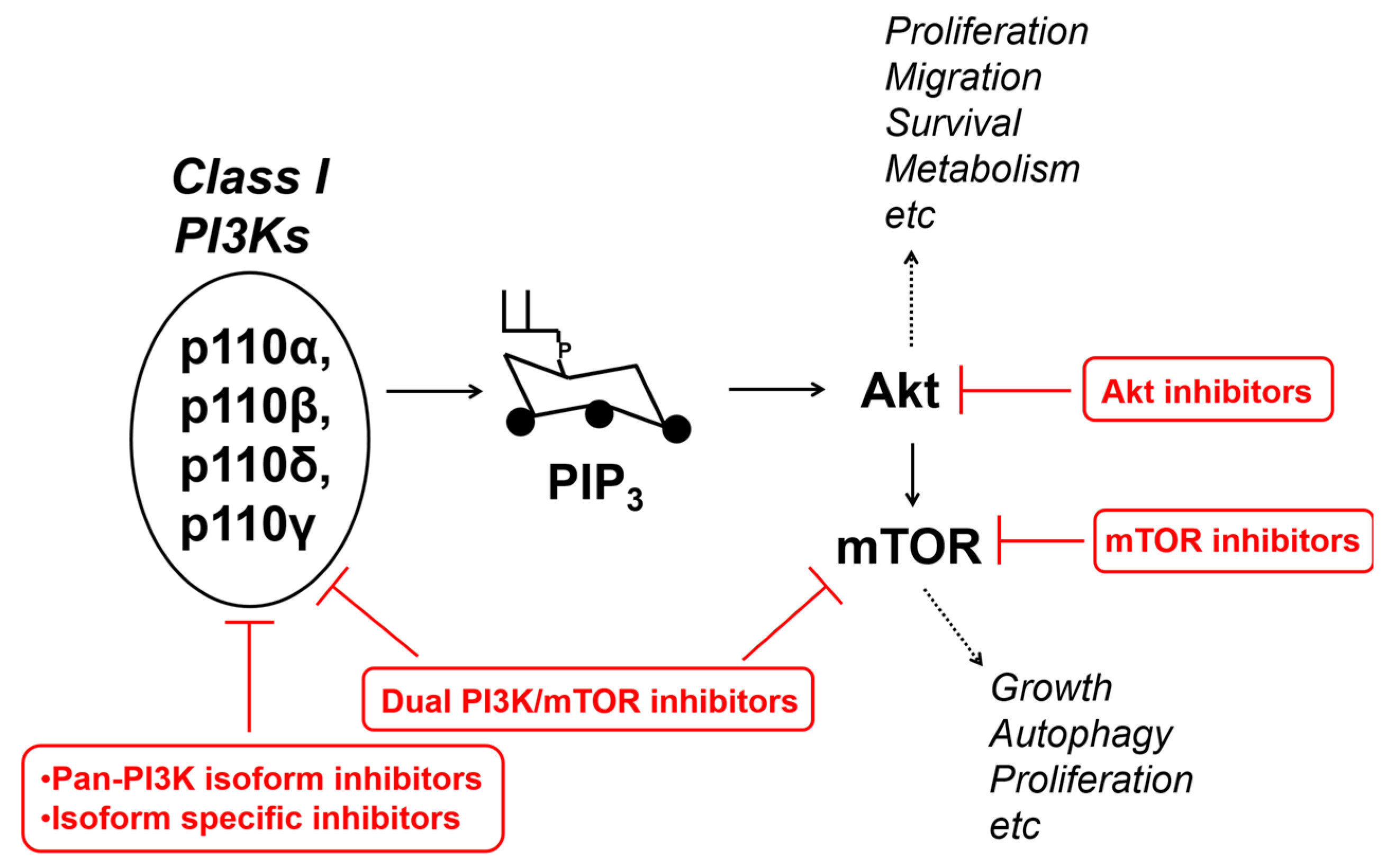 © 2017 by the authors. Licensee MDPI, Basel, Switzerland. This article is an open access article distributed under the terms and conditions of the Creative Commons Attribution (CC BY) license (http://creativecommons.org/licenses/by/4.0/).