Open Access This article is
freely available
re-usable
Review
Pleiotropic Roles of Non-Coding RNAs in TGF-β-Mediated Epithelial-Mesenchymal Transition and Their Functions in Tumor Progression
1
Department of Biochemistry and Molecular Biology, MUSC, Charleston, SC 29425, USA
2
Laboratory of tRNA Biology, Department of Biology, College of Charleston, Charleston, SC 29424, USA
*
Authors to whom correspondence should be addressed.
Academic Editor: Joëlle Roche
Received: 22 May 2017 / Accepted: 30 June 2017 / Published: 1 July 2017
Abstract
:
Epithelial-mesenchymal transition (EMT) is a spatially- and temporally-regulated process involved in physiological and pathological transformations, such as embryonic development and tumor progression. While the role of TGF-β as an EMT-inducer has been extensively documented, the molecular mechanisms regulating this transition and their implications in tumor metastasis are still subjects of intensive debates and investigations. TGF-β regulates EMT through both transcriptional and post-transcriptional mechanisms, and recent advances underline the critical roles of non-coding RNAs in these processes. Although microRNAs and lncRNAs have been clearly identified as effectors of TGF-β-mediated EMT, the contributions of other atypical non-coding RNA species, such as piRNAs, snRNAs, snoRNAs, circRNAs, and even housekeeping tRNAs, have only been suggested and remain largely elusive. This review discusses the current literature including the most recent reports emphasizing the regulatory functions of non-coding RNA in TGF-β-mediated EMT, provides original experimental evidence, and advocates in general for a broader approach in the quest of new regulatory RNAs.
Keywords:
epithelial-mesenchymal transition; tumor progression; metastasis; TGF-β; non-coding RNA; tRNA; post-transcriptional regulation
Acknowledgments
This research was supported by a SC INBRE grant from the National Institute of General Medical Science—NIH P20GM103499 to Renaud Geslain and grants CA555536 and CA154664 from National Cancer Institute to Philip H. Howe. We thank Jacob Goldmintz, Morgan Troiano, and Sophia Emetu for helpful discussion.
Conflicts of Interest
The authors declare no conflict of interest.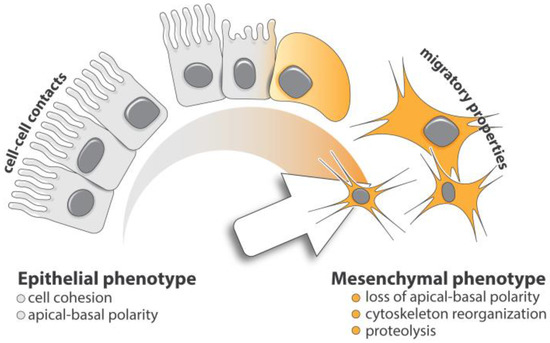 Figure 1. Cell plasticity in EMT. Epithelial-mesenchymal transition is a multistep process allowing epithelial cells to acquire mesenchymal phenotype. Upon TGF-β exposure, epithelial cells lose their apical-basal polarity and cellular junctions leading to a loss of cell-cell cohesion. Through a complex and regimented cellular and molecular program, these cells progressively gain mesenchymal features, including cytoskeleton reorganization and proteolytic capacity favoring efficient cell motility.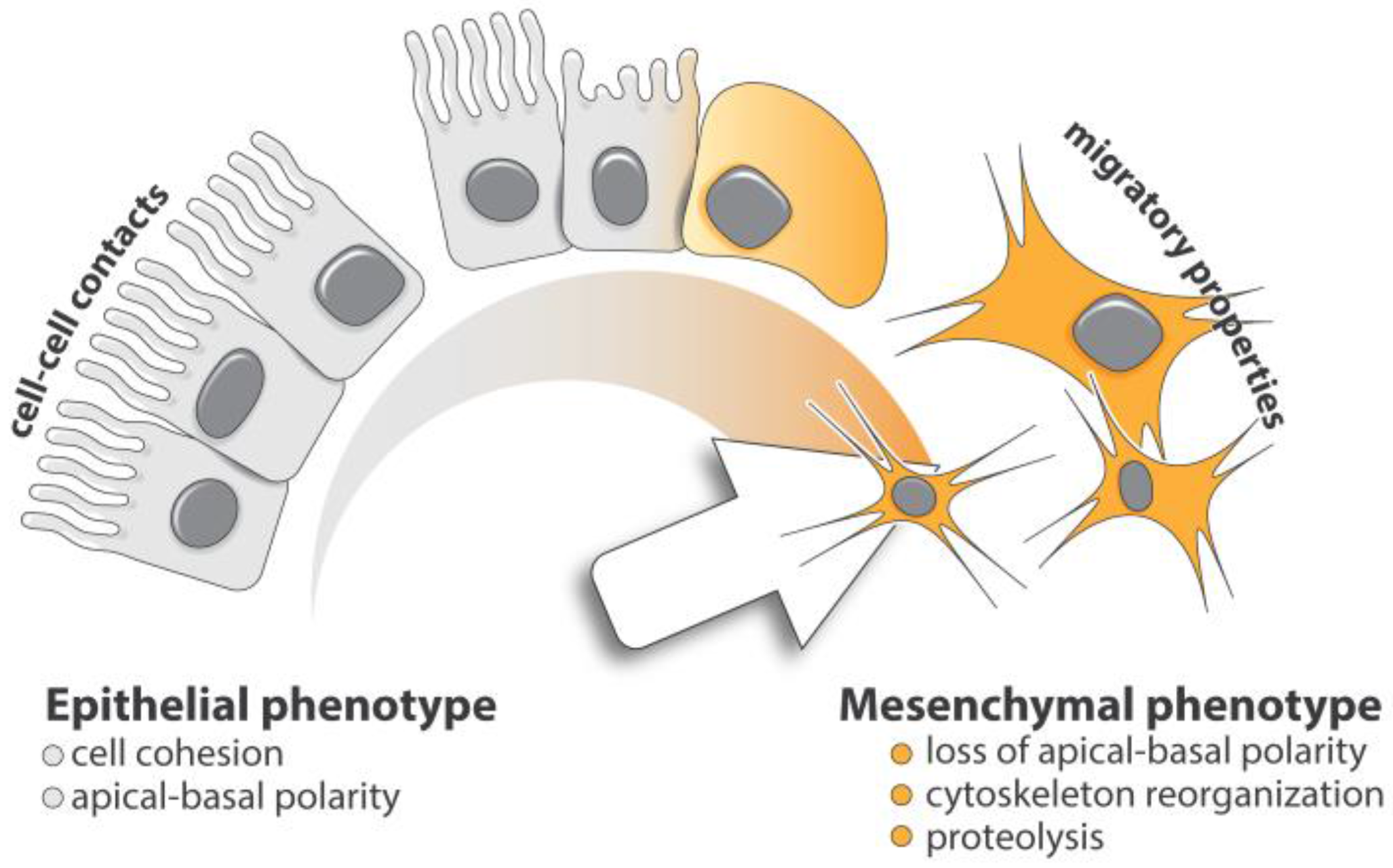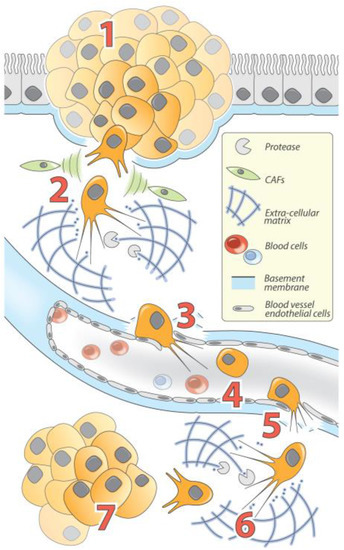 Figure 2. The Role of EMT and MET in carcinomas progression. (1) Following carcinogenesis, epithelial tumor cells proliferate to develop primary tumors called carcinoma in situ. In response to acquired mutations and/or exogenous stimuli, tumor cells gain invasive properties allowing them to break the basement membrane. Tumor cells then (2) invade and spread to surrounding tissues and structures and interact with numerous TME factors including cytokine-secreting CAFs, which reinforce EMT and invasion processes (cytoskeleton reorganization and increased proteolytic activity allow cells to degrade and invade the extracellular matrix (ECM)); (3) penetrate the vascular system (intravasation); (4) circulate throughout the body; (5) leave the vascular system to invade distant tissues (extravasation); (6) colonize distant sites through ECM degradation and invasion; and (7) reacquire epithelial phenotypes through MET and proliferate to ultimately form a metastasis.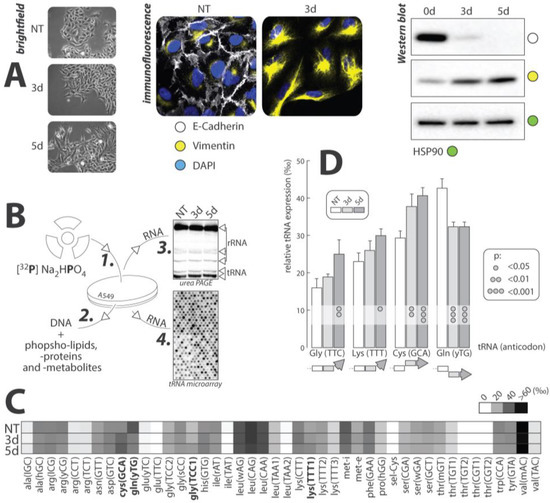 Figure 3. (A) Cell morphology and expression of EMT markers: A549 cells pictured after no-treatment (NT), three days of TGFβ treatment (3d), and 5d of TGFβ treatment. Cells begin with a slightly mesenchymal phenotype in the NT, but display a completely mesenchymal phenotype after prolonged exposure to TGFβ. E-cadherin (white) is the epithelial cell marker and vimentin (yellow) is the mesenchymal cell marker. DAPI (blue) is the counterstain used to stain nuclei. HSP90 was used as a loading control. (B) Overview of the experimental Procedure: 1. Radioactive orthophosphate was added to cell cultures at onset of experiment. 2. Total RNAs were Trizol extracted and all other labeled molecules were removed from sample. 3. Labeling of tRNA molecules was confirmed via gel electrophoresis. 4. Samples were hybridized to tRNA microarrays and analyzed. (C) Average tRNA expression: The heat map shows the average number of each tRNA (per thousand) that is present across the three conditions. tRNA abundances range from close to 0 to over 60‰. (D) Statistically significant results: The relative tRNA expression, per thousand, of the four tRNA that displayed significant changes in tRNA expression throughout EMT are shown along with standard error bars. Both 3d and 5d were compared to the NT and the statistical significance of those changes can be seen from the dot on the bars. The overall trend of expression for each tRNA is shown below the graph.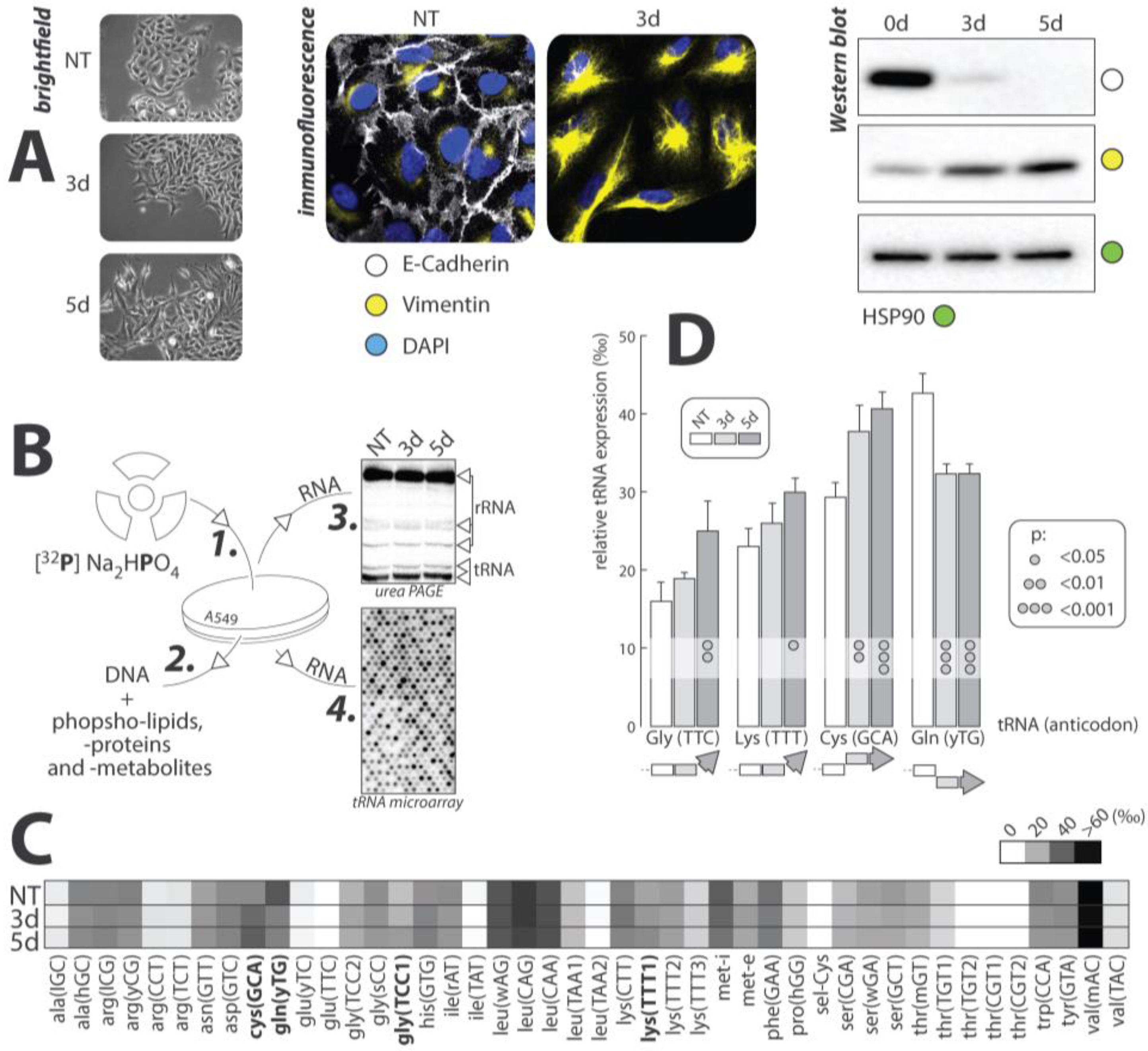 Table 1. Non-Coding RNA involved in EMT.
Non-Coding RNA
Relevant Examples
Specific Function
Most Described Targets
Related Cancers
References
miRNAs
miR-1 *
miR-200 family *
miR-205 *
miR-203 *
Epithelial maintenance
ZEB1/2↓ Slug↓ Bmi1↓
Breast Lung Prostate
[5,35,37,39,40]
LncRNAs
LncRNA-ATB †
MALAT1 †
lncRNA-ZEB2NAT †
HOTAIR †
lncRNA-HIT
Tumor cell invasion; Organ colonization; Proliferation; Cancer Stem Cells
ZEB1/2↑ IL-11↑ miR-200↓ miR-205↓ E-cadherin↓
Prostate Lung Breast Kidney Pancreas Liver Colon Uterus
[44,45,46,47,49,51,52,53,54,55,57,58,59,61]
MEG3 *
TGF-β pathway regulation
TGFBR1↑ TGFB2↑ SMAD2↑
Breast
[62,63]
circRNAs
CDR1as/ciRS-7 *
miRNA sponge
miRNA-7↓
Colon
[66,67,69]
piRNAs
Pir-932 †
Stemness properties
Latexin↓
Breast
[74]
snoRNAs
snRNAs
7SK snRNA *
Tumor cell invasion
Slug↓ FOXC2↓ ZEB2↓ Twist1↓
Breast
[77]
tRNAs
tRNAGluUUC †
Tumor progression
EXOSC2↓ GRIPAP1↓
Breast
[80]
MicroRNA-720 †
Tumor cell motility
Rab35↓
Uterus
[94]
* Epithelial non-coding RNAs; † Mesenchymal non-coding RNAs.
© 2017 by the authors. Licensee MDPI, Basel, Switzerland. This article is an open access article distributed under the terms and conditions of the Creative Commons Attribution (CC BY) license (http://creativecommons.org/licenses/by/4.0/).