Open Access This article is
freely available
re-usable
Review
Phenotypic Plasticity and Cell Fate Decisions in Cancer: Insights from Dynamical Systems Theory
1
Center for Theoretical Biological Physics, Rice University, Houston, TX 77005, USA
2
Graduate Program in Systems, Synthetic and Physical Biology, Rice University, Houston, TX 77005, USA
3
Institute for Bioscience and Biotechnology Research, University of Maryland, Rockville, MD 20850, USA
4
Department of Bioengineering, Rice University, Houston, TX 77005, USA
5
Department of Physics and Astronomy, Rice University, Houston, TX 77005, USA
6
Department of Biosciences, Rice University, Houston, TX 77005, USA
*
Author to whom correspondence should be addressed.
Academic Editor: Joëlle Roche
Received: 15 May 2017 / Accepted: 13 June 2017 / Published: 22 June 2017
Abstract
:
Waddington's epigenetic landscape, a famous metaphor in developmental biology, depicts how a stem cell progresses from an undifferentiated phenotype to a differentiated one. The concept of "landscape" in the context of dynamical systems theory represents a high-dimensional space, in which each cell phenotype is considered as an "attractor" that is determined by interactions between multiple molecular players, and is buffered against environmental fluctuations. In addition, biological noise is thought to play an important role during these cell-fate decisions and in fact controls transitions between different phenotypes. Here, we discuss the phenotypic transitions in cancer from a dynamical systems perspective and invoke the concept of "cancer attractors"—hidden stable states of the underlying regulatory network that are not occupied by normal cells. Phenotypic transitions in cancer occur at varying levels depending on the context. Using epithelial-to-mesenchymal transition (EMT), cancer stem-like properties, metabolic reprogramming and the emergence of therapy resistance as examples, we illustrate how phenotypic plasticity in cancer cells enables them to acquire hybrid phenotypes (such as hybrid epithelial/mesenchymal and hybrid metabolic phenotypes) that tend to be more aggressive and notoriously resilient to therapies such as chemotherapy and androgen-deprivation therapy. Furthermore, we highlight multiple factors that may give rise to phenotypic plasticity in cancer cells, such as (a) multi-stability or oscillatory behaviors governed by underlying regulatory networks involved in cell-fate decisions in cancer cells, and (b) network rewiring due to conformational dynamics of intrinsically disordered proteins (IDPs) that are highly enriched in cancer cells. We conclude by discussing why a therapeutic approach that promotes "recanalization", i.e., the exit from "cancer attractors" and re-entry into "normal attractors", is more likely to succeed rather than a conventional approach that targets individual molecules/pathways.
Keywords:
cell fate decision; cancer attractors; gene network dynamics; EMT; therapy resistance; intrinsically disordered proteins
1. Introduction
"The woods are lovely, dark and deep, but I have promises to keep, and miles to go before I sleep, and miles to go before I sleep."
In this review, we invoke the concept of "cancer attractors" and discuss the phenotypic plasticity of cancer cells from a dynamical systems perspective. Using epithelial-to-mesenchymal transition (EMT) and the acquisition of stem-like properties, metabolic reprogramming and the emergence of drug/hormone resistance in cancer as examples, we illustrate how non-genetic heterogeneity regulates phenotypic plasticity of cancer cells that enables them to acquire phenotypes that are notoriously aggressive and resilient to drug/hormone treatment. With enhanced plasticity, cancer cells can potentially rewire the regulatory network to access latent "attractors" suggesting that cancer initiation and progression may, at least in part, be due to a "de-canalization" of normal cell fates. Finally, we highlight the potential role of intrinsically disordered proteins (IDPs) that comprise a vast majority of the proteins over-expressed in cancer, and how biological noise due to IDP conformational dynamics may further enhance phenotypic plasticity of cancer cells. Since the perspective is intended to encourage cross pollination of ideas between biologists, especially cancer biologists, and physicists interested in exploring the physics of biology, technical jargon is limited to its minimum and equations are omitted.
2. Cancer Cell States: The Hidden "Attractors"
Cell phenotypes manifested during embryonic development are governed by specific gene regulatory networks (GRNs) (
Figure 1
B). The GRNs give rise to an epigenetic landscape consisting of multiple stable gene expression patterns (
Figure 1
C) characterizing various "attractors", i.e., "stable states" or "phenotypes" [
16
,
17
]. The "attractors" are usually self-stabilized and robust to local perturbations [
18
]. However, certain transitions between "attractors", i.e., phenotypic switching, can be triggered by regulatory signals, such as cytokines and noise due to gene expression as well as IDP conformational dynamics in addition to mutational events [
19
,
20
].
Cancer cells are viewed as abnormal cell types that are characterized by hallmarks such as sustained proliferation, invasion and metabolic reprogramming [
21
]. Extensive inherent heterogeneity of cancer cells has been shown at both the genetic level due to genomic instability [
22
], and the non-genetic level, resulting from cellular plasticity, i.e., the ability of cells to switch between phenotypes [
23
,
24
]. The examples of non-genetic heterogeneity in cancer include, but are not restricted to, epithelial-to-mesenchymal transition (EMT) [
25
], acquiring "stem-like" properties [
26
], and metabolic plasticity [
27
,
28
]. In certain cases, these processes have been shown to be coupled. For instance, cells undergoing EMT can acquire stem-like properties [
29
], stem-like properties associate with metabolic changes [
30
], and metabolic programming involves changes in EMT [
27
,
31
,
32
].
This extensive plasticity of cancer cells may enable the occupancy of the "attractors" that are unpopulated or inaccessible during embryonic development, or equivalently, acquire phenotypes not usually observed during development or homeostasis. The concept of "cancer attractors" representing abnormal cell types was first proposed by Stuart Kauffman in 1971 [
33
] and recently revisited by Huang, Ao and colleagues [
34
,
35
]. In the following sections, we will review progress in elucidating the phenotypic plasticity of cancer cells from the dynamical systems perspective, namely, by viewing cancer cell phenotypes as different "cancer attractors" in the state space determined by the underlying regulatory networks.
3. Cell Fate Decision-Making during Epithelial-to-Mesenchymal Transition
4. EMT and Stemness
Cancer cells undergoing EMT can acquire stemness, i.e., stem-like properties or tumor-initiation potential [
29
], and thus behave operationally as Cancer Stem Cells (CSCs) as observed in multiple solid tumors [
62
]. The coupling between EMT and stemness is finely regulated. On the one hand, EMT promotes the acquirement of stemness in breast [
29
,
63
] hepatocellular [
64
], pancreatic [
65
] and colorectal [
66
] carcinomas; on the other hand, repression of EMT is required for tumor initiation and metastatic colonization [
67
,
68
,
69
].
As the first step to understand the coupled decision-making of EMT and stemness, Jolly et al. [
70
] formulated a mathematical model to analyze the dynamics of the coupled decision-making circuits of EMT-ZEB/miR-200 and stemness-LIN28/let-7 [
71
]. It suggests that the "stemness window" is most likely to lie at an intermediate position on the "EMT axis" with E and M phenotypes as the two ends. Further, this positioning of "stemness window" can be adjusted and the phenotypic stability factors such as OVOL promote the association of a hybrid E/M phenotype with stemness, a prediction that has been supported by recent experimental work. For instance, HMLER breast cancer cells co-expressing both epithelial and mesenchymal genes, thus being characterized as hybrid E/M cells, exhibited highest mammosphere formation potential compared with epithelial and mesenchymal HMLER cells [
72
]. Besides, Cancer Stem Cell (CSC)-enriched population resides in a hybrid E/M phenotype of triple-negative breast cancer cells [
73
]. Last but not least, a subpopulation of normal mammary cells, accompanied by both epithelial-like and mesenchymal-like characteristics, i.e., hybrid E/M phenotype, displays the highest mammosphere-formation capacity [
74
]. Thus, a biphasic relationship between stemness and EMT—stemness increases initially during EMT progression, but then subsides as cells complete EMT—seems to be the emerging notion [
43
,
75
,
76
].
CSCs have also been observed to display enriched drug resistance [
77
]. For example, a hybrid E/M phenotype has been reported to be resistant to paclitaxel and salinomycin [
78
]. Moreover, adaptive drug resistance involves transitioning to a CD24
high
CD44
high
state [
79
]—a proposed signature for hybrid E/M phenotype [
72
]. Future work on quantifying the landscape [
80
] for the coupled circuits of EMT and stemness, along with a better mechanistic understanding of drug resistance pathways, are required to generate valuable insights into the EMT-stemness interplay.
5. Metabolic Reprogramming and EMT
6. EMT and Therapy Resistance
EMT has been associated with both
de novo
and acquired resistance.
De novo
resistance implies intrinsic refractory response of patients, whereas acquired resistance refers to cases where patients first respond to therapy but later relapse. A relationship between EMT and
de novo
resistance has been well studied in cases of targeted therapy. For instance, increased levels of E-cadherin were associated with sensitivity to EGFR kinase inhibitors such as gefitinib in non-small-cell lung cancer (NSCLC) cell lines, and pre-treatment of resistant cell lines to induce E-cadherin levels improved their sensitivity [
101
]. Similarly, knockdown of the levels of SLUG, an EMT-TF, in
de novo
trastuzumab-resistant HER2+ breast cancer cells can drive them to being sensitive to trastuzumab [
102
]. Besides, recent in vivo reports that questioned an indispensable role of EMT in metastasis only strengthened a potential causal role of EMT in driving chemoresistance. For example, knocking down TWIST or SNAIL sensitized tumors to gemcitabine in pancreatic cancer mouse models [
103
], and miR-200 overexpression abrogated resistance to cyclophosphamide, a drug commonly used in breast cancer [
104
]. Taken together, these studies suggest that cellular plasticity mediated by EMT can act as a switch enabling cells to "enter" and "exit" a drug-resistant cell state dynamically. Recent mathematical modeling attempts that investigate the crosstalk among signaling players have highlighted that non-genetic heterogeneity can drive this dynamic "entry" into and "exit" from a stem-like therapy-resistant state [
70
,
71
,
80
,
105
,
106
].
This dynamic "entry" and "exit" may also underlie acquired or adaptive drug resistance, where different therapies may induce cells to access the "cancer attractors" which are relatively inaccessible otherwise, but can be used to play "hide-and-seek" with different therapies. For instance, in ovarian cancer, treatment with chemotherapeutic drugs such as cisplatin, doxorubicin, and paclitaxel can reversibly increase a small population of CXCR4
high
cells that is drug-resistant, mesenchymal-like, and has enhanced tumor-initiation potential [
107
]. Other examples of adaptive resistance include melanoma cells switching to a NGFR
high
state upon exposure to RAF/MEK inhibitors [
108
], NSCLC cells upregulating ZEB1 on prolonged exposure to increasing concentrations of erlotinib [
109
], vemurafenib driving epigenetic reprogramming to a drug-resistant state in melanoma [
110
] and chemotherapy enriching a CD24
high
CD4
high
drug-resistant population in breast cancer cells [
79
].
Mechanism-based mathematical models have helped tease out that this adaptive enrichment of a drug-resistant cancer subpopulation can result from phenotypic plasticity, for instance, the emergence of a drug-resistant CD24
high
/CD44
high
state [
79
]. The CD24
high
/CD44
high
state was also suggested to associate with an elevated Notch-Jagged signaling, a prediction that has been validated experimentally at least preliminarily [
60
]. Similarly, in an attempt to understand the experimentally observed correlation between EMT and immune evasion, a mathematical model involving the transcription factors STAT1, STAT3, and the microRNA miR-200 predicted and guided the experimental design for how inhibiting STAT3 activation altered the levels of a set of immune-evasion mediators PSMB8 and PSMB9 in the mesenchymal NSCLC cells [
111
]. Therefore, mathematical models can be valuable tools in elucidating the principles of phenotypic plasticity governing both
de novo
and acquired resistance to various therapies.
7. Role of Intrinsically Disordered Proteins in Phenotypic Plasticity
8. Conclusions and Future Vision
Waddington's epigenetic landscape initially depicting the differentiation process of stem cells now have been used to understand the phenotypic plasticity in cancer cells. The regulatory network underlying the landscape can give rise to various "attractors", i.e., "stable states" corresponding to different cell phenotypes, each of which is characterized by a unique gene expression pattern. Emerging insights demonstrate that cancer cells are often behaving as "moving targets" and often find new adaptive ways to resist therapeutic attacks. This search for "cancer attractors" that increase their fitness and/or survival likelihood can be considered akin to "de-canalization". "Canalization" refers to buffering of biological noise during development, such that cellular phenotypes are stabilized against genetic and/or environmental perturbations, and their variability is decreased [
135
]. Thus, "de-canalization" would imply supraphysiological plasticity that can make the "valleys" in Waddington's landscape more shallow (by decreasing the height of the ridge between "valleys") [
136
], thereby enabling stochastic sampling of the landscape by cells, hence disrupting the stable cellular phenotypes obtained and maintained in specific niches.
"De-canalization" into "cancer attractors" can be facilitated by gene mutations that rewires the underlying regulatory network. For example, both gain-of-function mutations in proto-oncogenes RAS and MYC and loss-of-function mutations in tumor suppressor genes TP53 and BRCA1 can trigger abnormal cell growth and provoke cancer formation [
12
]. Once cells enter "cancer attractors", they acquire high cellular plasticity that allows phenotypic transitions to adjust to the microenvironment. The high plasticity in cancer can be promoted by (a) increased biological noise due to the intrinsic variability in gene expression [
137
] and the conformational dynamics of intrinsically disordered proteins, such as oncoproteins, reprogramming TFs and EMT-TFs in cancer cells [
20
,
112
,
113
,
114
]; (b) the changed physiological parameters for cancer cells due to the modified microenvironment [
138
]. For example, cancer cells usually face hypoxia condition due to their rapid proliferation and the hypoxia condition stabilizes HIF-1. This can then promote cancer cells to acquire a hybrid OXPHOS/glycolysis phenotype that has been shown to be associated with higher metastatic potential as compared with only OXPHOS or glycolysis phenotypes [
91
]. The high phenotypic plasticity of cancer cells can contribute to metastasis and therapeutic failure.
Recent studies have also highlighted that phenotypic transitions do not have to be cell-autonomous events. Instead, the microenvironment of a cell can often modulate such phenotypic switching, for instance, (a) the lineage commitment of naïve mesenchymal stem cells can be directed by the matrix elasticity and soft matrices generate nerve-like cells, stiff matrices generate muscle-like cells and rigid matrices generate bone-like cells [
139
], (b) simulated microgravity can dramatically alter the cytoskeletal architecture of MDA-MB-231 cells with consequent effects on proliferation and apoptosis [
140
], (c) parallel microgrooves on the surface of cell-adhesive substrates can mechanically modulate a cell's epigenetic state and induce an MET, thereby increasing the efficiency of cellular reprogramming [
141
], and (d) signals from mammary microenvironment can overrule the 'terminal commitment' of a stem cell belonging to a "foreign" tissue [
142
]. Together, these studies highlight the need to revisit whether a cell is ever "terminally differentiated", and how much cell-autonomy there is in a cell-fate [
143
].
9. Therapeutic Approach That Promotes "Re-canalization"
Can cells transition from "cancer attractors" back to "normal attractors", i.e., "re-canalization"? The answer seems to be yes based on some existing data. First, inactivation of the oncogene MYC in hepatocellular carcinoma cells leads to the formation of normal hepatic structures [
144
]. Second, decreasing the intracellular levels of TCTP (transcriptionally controlled tumor protein) is sufficient to revert the malignancy of MCF7 or T47D cells (breast cancer), U937 cells (histiocytic lymphoma) [
145
] and v-Src-transformed NIH3T3 cells (fibroblasts) [
146
], partially through recovering the function of the P53/MDM2 axis [
147
]. Third, replacement of mitochondria in metastatic triple negative breast cancer cells SUM159 with mitochondria from benign breast cancer cells MCF10A or A1N4 abolish cell migration potential and in vivo tumor formation potential [
90
]. Forth, modification of the surface integrins of human breast cancer cells in 3-dimensional culture results in a reversion to a normal cell phenotype both morphologically and functionally despite the malignant genome [
148
]. Therefore, we believe that targeting the sources for phenotypic plasticity in cancer cells, for instance, deactivation of oncoproteins and/or modification of tumor microenvironment can contribute to the "re-canalization".
Even though it may be difficult to revert cancer cells directly to normal cells, we can still help cancers cells transition out from highly aggressive "attractors". One possible approach is to perturb factors that help maintain the aggressive "cancer attractors". For example, knockdown of the phenotypic stability factors OVOL and GRHL2 in H1975 cells can destabilize the hybrid E/M phenotype [
54
], the "primary bad actors" of metastasis [
43
,
44
,
46
]. Therefore, instead of targeting individual signaling pathways with insufficient knowledge of how they impinge on the epigenetic landscape for each cell, future therapeutic approaches might consider a stepwise approach from the dynamical systems perspective, start with the destabilization of the "cancer attractors", followed by transitions into "normal attractors", then deepening the basin of attraction of "normal attractor" to prevent future tumor relapse. As attractive as it may seem, the proposed approach remains to be clarified on the basis of combined modeling and experimental work.
Acknowledgments
We would like to thank Xuefei Li (Center for Theoretical Biological Physics, Rice University, Houston, TX 77005, USA) and Min-Yeh Tsai (Center for Theoretical Biological Physics, Rice University, Houston, TX 77005, USA) for a critical reading and helpful discussion of the manuscript. Herbert Levine was supported by the Physics Frontiers Center National Science Foundation (NSF) grant PHY-1427654 and the NSF grants DMS-1361411 and PHY-1605817. Herbert Levine was also supported by the Cancer Prevention and Research Institute of Texas (CPRIT) grants R1111. Mohit Kumar Jolly has a training fellowship from the Keck Center for Interdisciplinary Bioscience Training of the Gulf Coast Consortia (CPRIT Grant RP170593). Prakash Kulkarni would like to dedicate this article to Prof. Vidyanand Nanjundiah on the occasion of his 70th birthday.
Conflicts of Interest
The authors declare that they have no conflict of interest.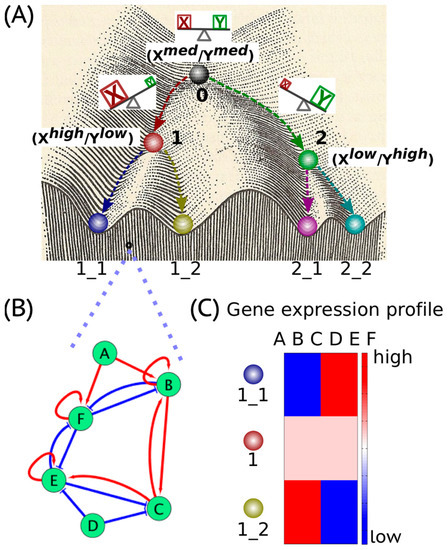 Figure 1.
Schematic illustration of Waddington's epigenetic landscape. (
A
) Waddington's epigenetic landscape (adopted and revised from [
1
]). The balls with different colors on the landscape represent different cell phenotypes, each settles steadily in one of the sub-valleys at the foot of the hill. X and Y are the master regulators driving a cell to attain the phenotypes "1" and "2" respectively. The phenotype "0", characterized by the co-expression of both X and Y at a medium level X
med
/Y
med
, represents the progenitor state of the two differentiated states "1" and "2" which are characterized by X
high
/Y
low
and X
low
/Y
high
respectively. Due to inherent stochasticity in the progenitor cell "0", the level of X (Y) becomes higher than that of Y (X). This asymmetry can trigger a cascade of events where the levels of X (Y) continually increase and those of Y (X) continually decrease, because X (Y) can progressively repress its repressor Y (X) strongly, rendering its own inhibition by Y (X) ineffective. Consequently, the cell attains the differentiated state X
high
/Y
low
(X
low
/Y
high
). (
B
) Schematic illustration of a gene regulatory network (GRN) governing the differentiation of "1" to two lineages "1_1" and "1_2". The nodes A–F represent different genes whose regulatory behaviors usually can be approximated by the interplay between two master regulators X and Y as aforementioned. Various kinds of regulation can be found in the GRN, such as transcriptional activation, represented by red arrows, transcriptional inhibition, represented by blue bar-headed arrows, and self-activation, represented by circled arrows. (
C
) Schematic illustration of a heatmap that depicts the gene expression patterns of different cell phenotypes. The two sister lineages "1_1" and "1_2" are characterized by different gene expression patterns, i.e., relatively high expression of one gene set and low of another. The progenitor of "1_1" and "1_2", i.e., "1", usually co-expresses both sets of genes at some intermediate level.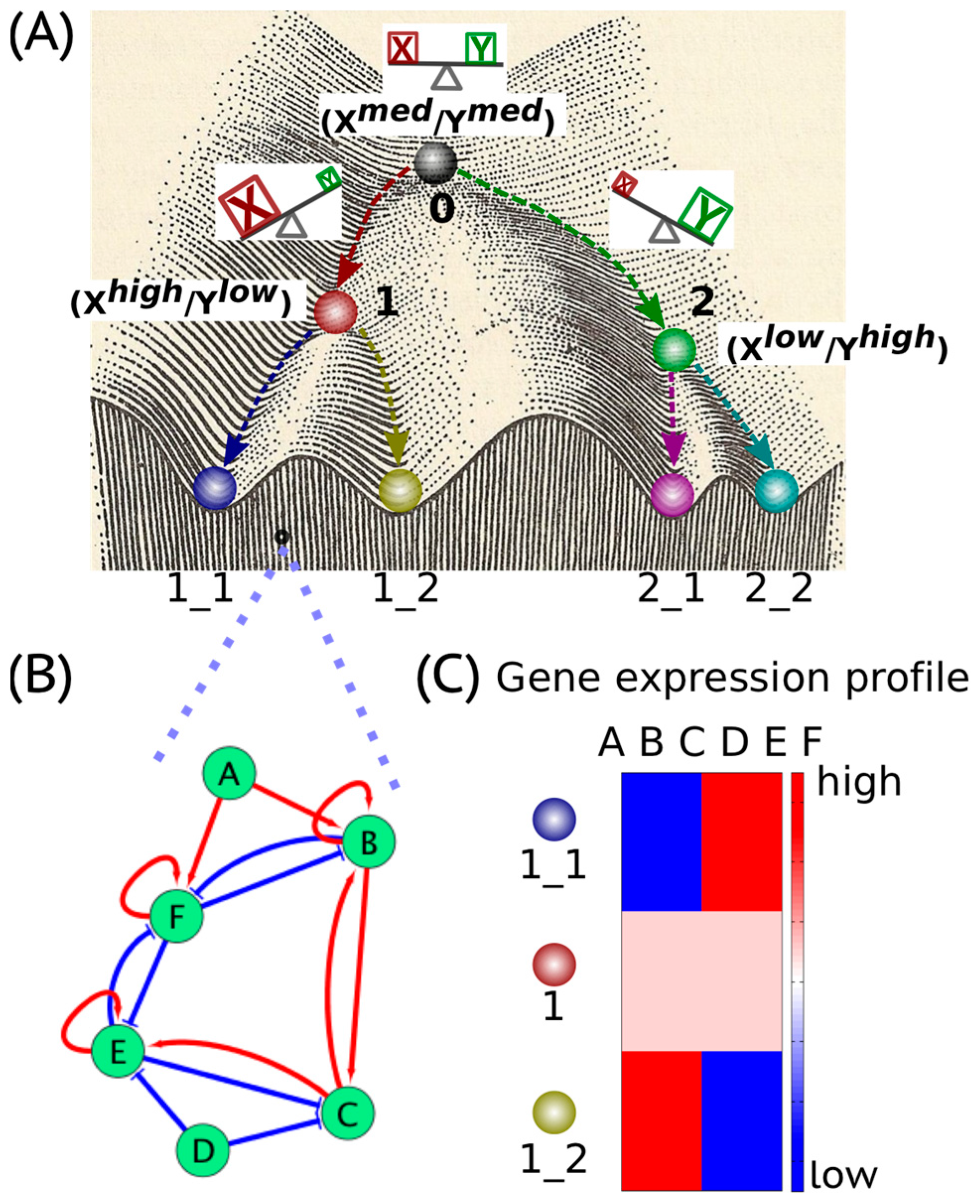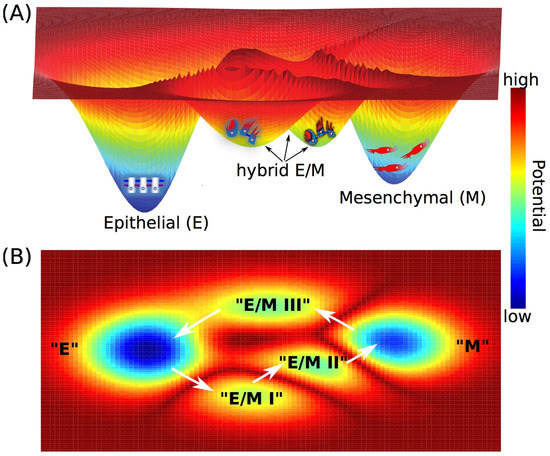 Figure 2. Schematic illustration of the quasi-potential landscape for epithelial-to-mesenchymal transition (EMT) in 3-dimensional space (A) and 2-dimensional projection (B). In (A), the basins of attraction depicting the attractors "E", "E/M" and "M" are labeled respectively along with the cartoons representing the epithelial (tight cell-cell adhesion, cobblestone shaped), hybrid E/M (some cell-cell adhesion and invasive) and mesenchymal (no cell-cell adhesion, invasive and spindle-shaped) phenotypes. The quasi-potential of "attractors", i.e., stability of "attractors", is derived from the probability of finding cells in that "attractors". Lower potential here represents more stable "attractor" in the landscape. The "potential well" depicted here is an analog of "valleys" in Waddington epigenetic landscape.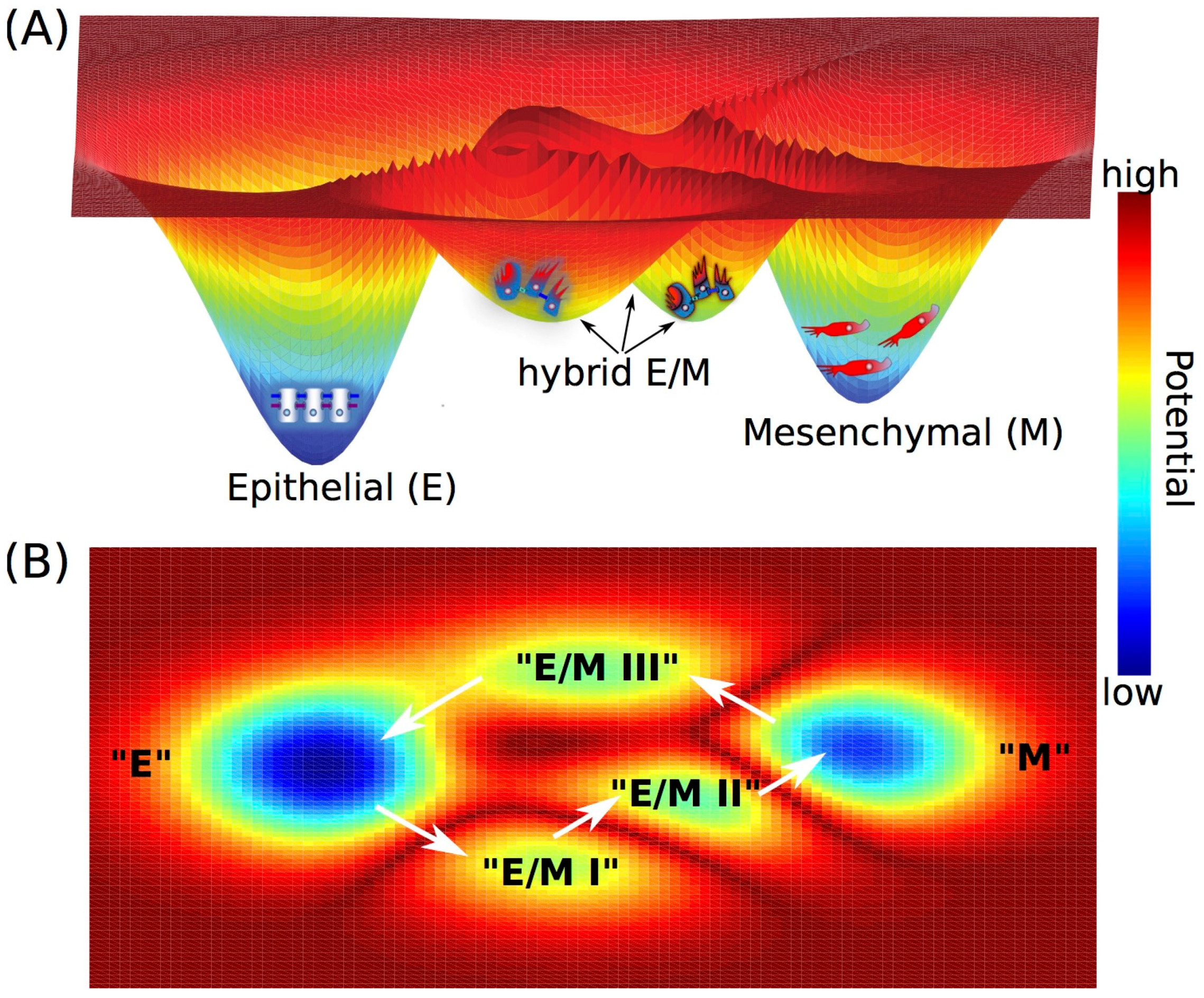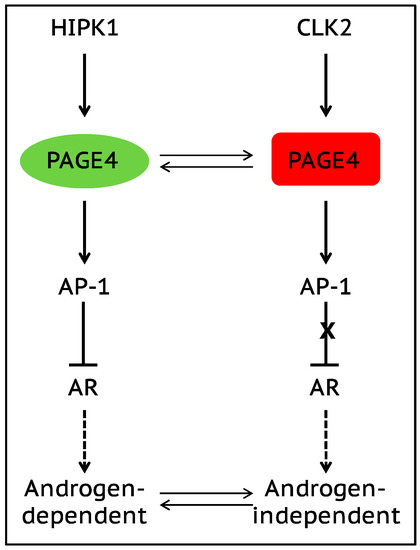 Figure 3.
IDP conformational dynamics and phenotypic heterogeneity in prostate cancer cells. The stress-response kinase HIPK1 phosphorylates the IDP PAGE4 resulting in a relatively compact PAGE4 ensemble (HIPK1-PAGE4) that can potentiate AP-1 in androgen-dependent cells. In contrast, the dual-specificity kinase CLK2 hyperphosphorylates PAGE4 leading to a more random-like PAGE4 ensemble (CLK2-PAGE4) that attenuates AP-1 function. Mathematical modeling suggests that the oscillatory dynamics of HIPK1-PAGE4, CLK2-PAGE4, and CLK2 in the circuit enable the cells to transition from an androgen-dependent to an androgen-independent phenotype. This prediction is supported by the experimentally observed heterogeneity in a population of isogenic PCa cells (see [
106
] for details).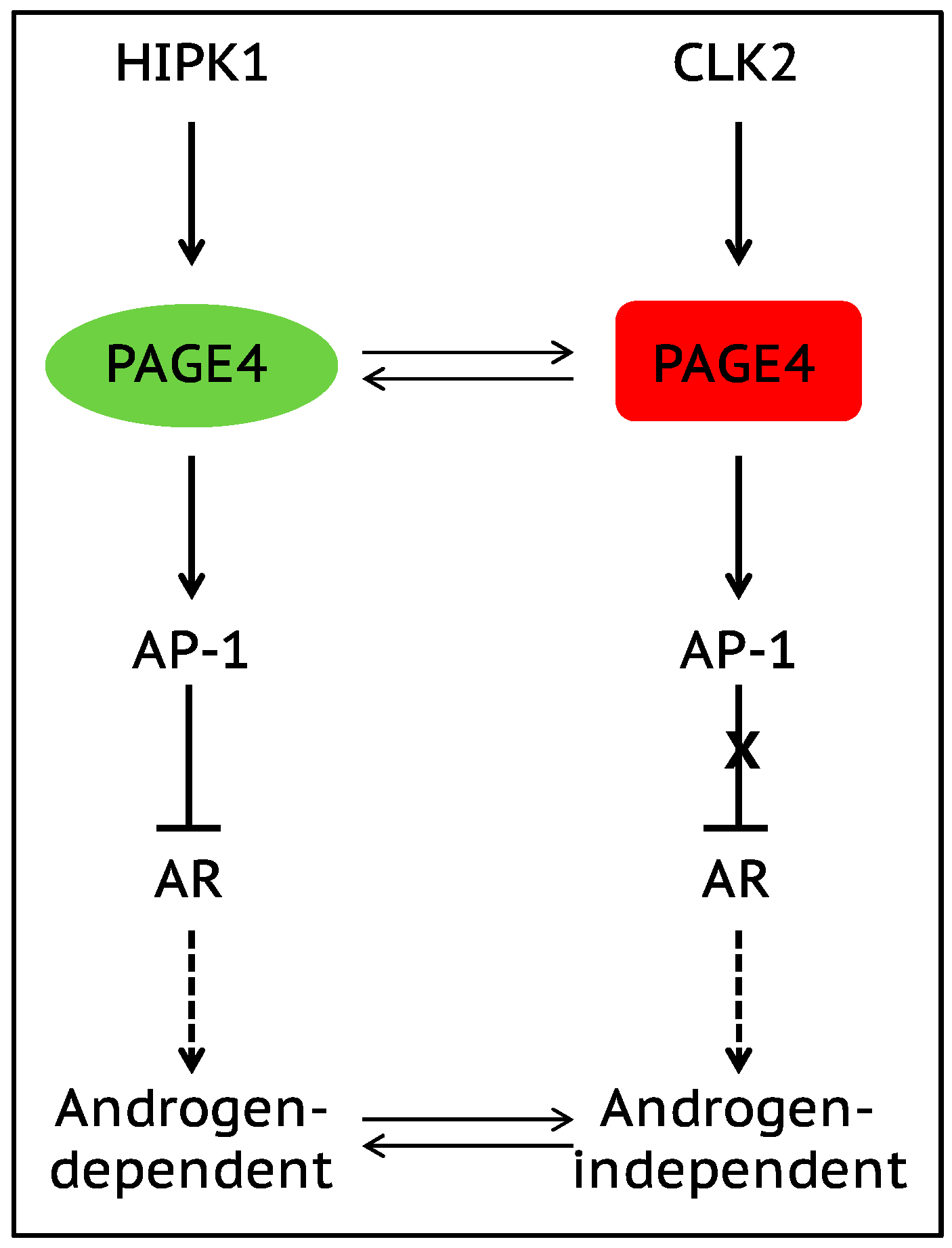 © 2017 by the authors. Licensee MDPI, Basel, Switzerland. This article is an open access article distributed under the terms and conditions of the Creative Commons Attribution (CC BY) license (http://creativecommons.org/licenses/by/4.0/).