Epstein-Barr Virus in Gastric Carcinoma
1
Department of Gastroenterology and Hepatology, Yamaguchi University Graduate School of Medicine, Minami-Kogushi 1-1-1, Ube, Yamaguchi 755-8505, Japan
2
Department of Microbiology, Shimane University Faculty of Medicine, 89-1 Enyacho, Izumo City, Shimane 693-8501, Japan
3
Department of Oncology and Laboratory Medicine, Yamaguchi University Graduate School of Medicine, Minami-Kogushi 1-1-1, Ube, Yamaguchi 755-8505, Japan
4
Department of Pathology, Yamaguchi University Graduate School of Medicine, Minami-Kogushi 1-1-1, Ube, Yamaguchi 755-8505, Japan
5
Department of Clinical Research, National Hospital Organization Kanmon Medical Center, 1-1 Sotoura, Chofu, Shimonoseki, Yamaguchi 752-8510, Japan
*
Author to whom correspondence should be addressed.
Received: 28 May 2014 / Revised: 27 September 2014 / Accepted: 28 October 2014 / Published: 7 November 2014
Abstract
The Epstein-Barr virus (EBV) is detected in about 10% of gastric carcinoma cases throughout the world. In EBV-associated gastric carcinoma, all tumor cells harbor the clonal EBV genome. Gastric carcinoma associated with EBV has distinct clinicopathological features, occurs predominately in men and in younger-aged individuals, and presents a generally diffuse histological type. Most cases of EBV-associated gastric carcinoma exhibit a histology rich in lymphocyte infiltration. The immunological reactiveness in the host may represent a relatively preferable prognosis in EBV-positive cases. This fact highlights the important role of EBV in the development of EBV-associated gastric carcinoma. We have clearly proved direct infection of human gastric epithelialcells by EBV. The infection was achieved by using a recombinant EBV. Promotion of growth by EBV infection was observed in the cells. Considerable data suggest that EBV may directly contribute to the development of EBV-associated GC. This tumor-promoting effect seems to involve multiple mechanisms, because EBV affects several host proteins and pathways that normally promote apoptosis and regulate cell proliferation.
View Full-Text
►

▼

Figures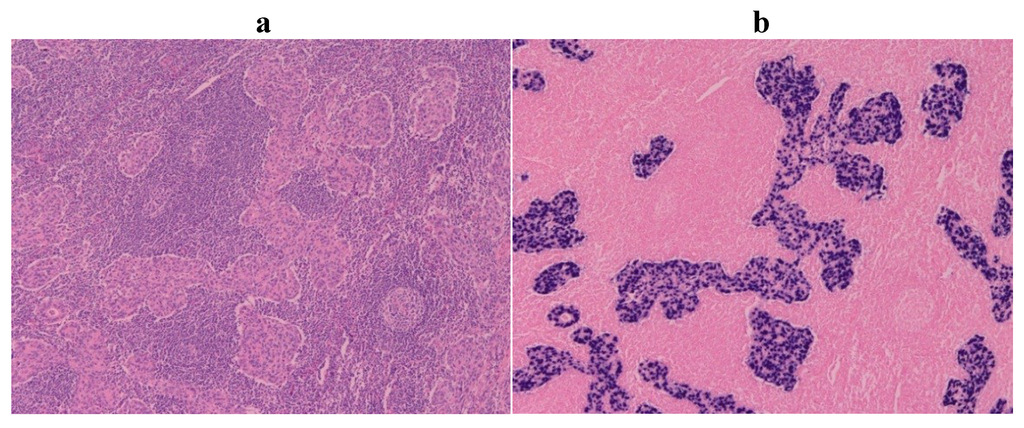 Figure 1
This is an open access article distributed under the
Creative Commons Attribution License
which permits unrestricted use, distribution, and reproduction in any medium, provided the original work is properly cited (CC BY 4.0).

Share & Cite This Article
MDPI and ACS Style
Nishikawa, J.; Yoshiyama, H.; Iizasa, H.; Kanehiro, Y.; Nakamura, M.; Nishimura, J.; Saito, M.; Okamoto, T.; Sakai, K.; Suehiro, Y.; Yamasaki, T.; Oga, A.; Yanai, H.; Sakaida, I. Epstein-Barr Virus in Gastric Carcinoma. Cancers 2014, 6, 2259-2274.
Related Articles
Comments
[Return to top]