Isolation of Circulating Tumor Cells by Dielectrophoresis
1
Department of Imaging Physics Research, The University of Texas M.D. Anderson Cancer Center Unit 951, 1515 Holcombe Boulevard, Houston, TX 77030, USA
2
Department of Biomedical Engineering, The University of Texas at Austin, 1 University Station, C0800, Austin, TX 78712, USA
*
Author to whom correspondence should be addressed.
†
Present address: Micro & Nanotechnology Laboratory, University of Illinois at Urbana-Champaign, Urbana, 208 North Wright Street, Urbana, IL 61801, USA
Received: 18 October 2013 / Revised: 12 February 2014 / Accepted: 20 February 2014 / Published: 12 March 2014
Abstract
Dielectrophoresis (DEP) is an electrokinetic method that allows intrinsic dielectric properties of suspended cells to be exploited for discrimination and separation. It has emerged as a promising method for isolating circulation tumor cells (CTCs) from blood. DEP-isolation of CTCs is independent of cell surface markers. Furthermore, isolated CTCs are viable and can be maintained in culture, suggesting that DEP methods should be more generally applicable than antibody-based approaches. The aim of this article is to review and synthesize for both oncologists and biomedical engineers interested in CTC isolation the pertinent characteristics of DEP and CTCs. The aim is to promote an understanding of the factors involved in realizing DEP-based instruments having both sufficient discrimination and throughput to allow routine analysis of CTCs in clinical practice. The article brings together: (a) the principles of DEP; (b) the biological basis for the dielectric differences between CTCs and blood cells; (c) why such differences are expected to be present for all types of tumors; and (d) instrumentation requirements to process 10 mL blood specimens in less than 1 h to enable routine clinical analysis. The force equilibrium method of dielectrophoretic field-flow fractionation (DEP-FFF) is shown to offer higher discrimination and throughput than earlier DEP trapping methods and to be applicable to clinical studies.
View Full-Text
►

▼

Figures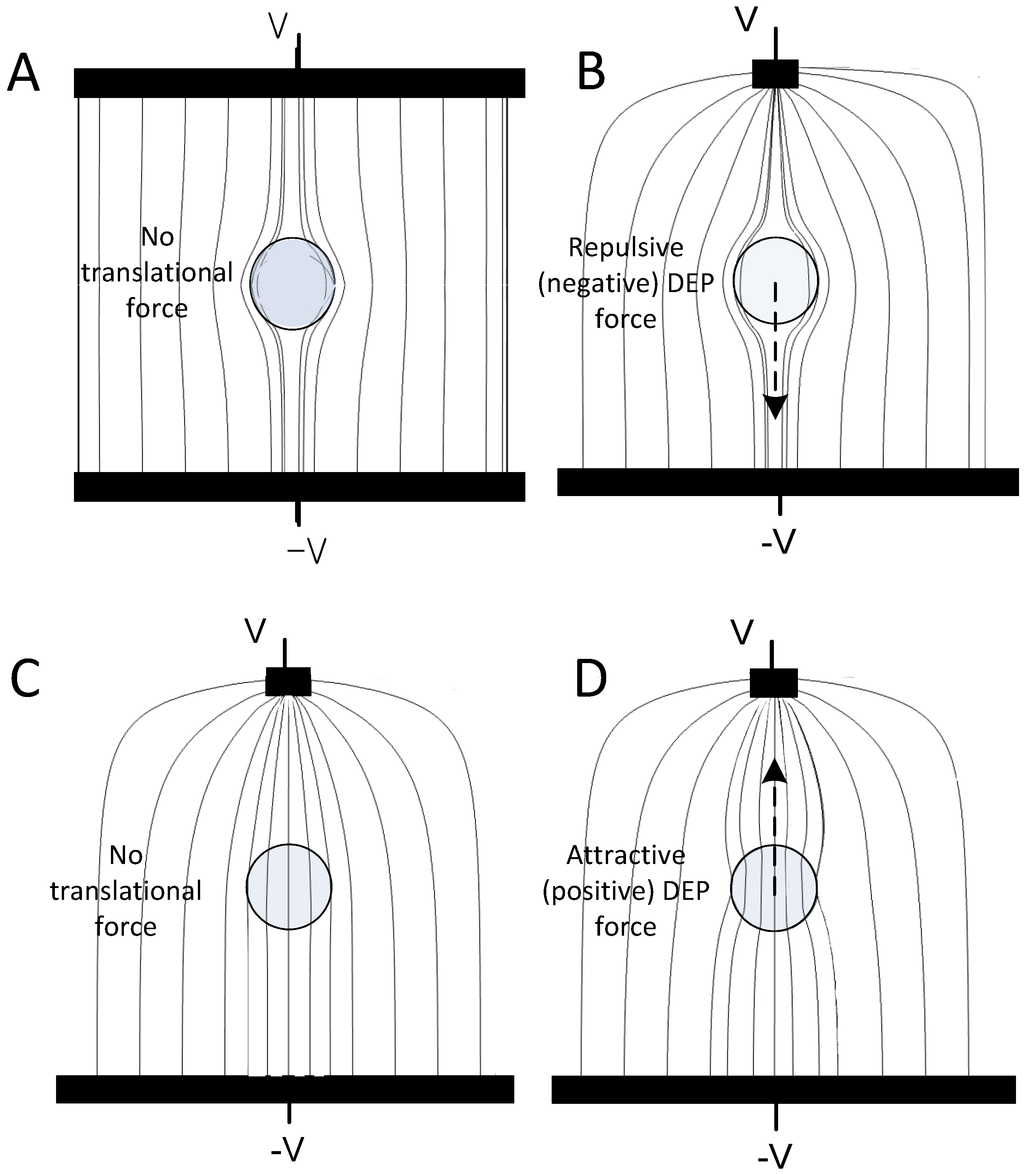 Figure 1

Share & Cite This Article
MDPI and ACS Style
Gascoyne, P.R.C.; Shim, S. Isolation of Circulating Tumor Cells by Dielectrophoresis. Cancers 2014, 6, 545-579.
Related Articles
Comments
[Return to top]