Open Access This article is
freely available
re-usable
Review
Is Glioblastoma an Epigenetic Malignancy?
Laboratory of Molecular Neurobiology, Neurobiology Center, The Nencki Institute of Experimental Biology, 3 Pasteur Str., Warsaw 02-093, Poland
*
Author to whom correspondence should be addressed.
Received: 15 July 2013; in revised form: 13 August 2013 / Accepted: 19 August 2013 / Published: 3 September 2013
Abstract
:
Epigenetic modifications control gene expression by regulating the access of nuclear proteins to their target DNA and have been implicated in both normal cell differentiation and oncogenic transformation. Epigenetic abnormalities can occur both as a cause and as a consequence of cancer. Oncogenic transformation can deeply alter the epigenetic information enclosed in the pattern of DNA methylation or histone modifications. In addition, in some cancers epigenetic dysfunctions can drive oncogenic transformation. Growing evidence emphasizes the interplay between metabolic disturbances, epigenomic changes and cancer,
i.e.
, mutations in the metabolic enzymes SDH, FH, and IDH may contribute to cancer development. Epigenetic-based mechanisms are reversible and the possibility of "resetting" the abnormal cancer epigenome by applying pharmacological or genetic strategies is an attractive, novel approach. Gliomas are incurable with all current therapeutic approaches and new strategies are urgently needed. Increasing evidence suggests the role of epigenetic events in development and/or progression of gliomas. In this review, we summarize current data on the occurrence and significance of mutations in the epigenetic and metabolic enzymes in pathobiology of gliomas. We discuss emerging therapies targeting specific epigenetic modifications or chromatin modifying enzymes either alone or in combination with other treatment regimens.
Keywords:
epigenetics; methylator phenotype; histone modifying enzymes; inhibitors and glioblastoma
1. Nature of Epigenetic Modifications
The extent of chromatin condensation at each locus plays an important role in regulating the access of nuclear proteins to their target sites in DNA and hence directly influences cell functions [
1
]. The state of chromatin at a particular gene was found to be crucial for cell-fate decision making processes and has been implicated in both normal cell differentiation and oncogenic transformation. Remodeling of chromatin can be achieved in several, interconnected ways, including covalent modifications of histones and DNA methylation. Covalent modifications in DNA and chromatin structure constitute an "epigenetic code" [
2
] which is superimposed upon the genetic information contained within DNA and serves to regulate gene activity both during development and in a number of pathological situations, including cancer.
1.1. Role of Histone Modifications in Gene Regulation
Numerous covalent histone modifications at active or inactive loci, such as acetylation, methylation, phosphorylation and ubiquitination, notably at the
N
-terminal tails, have been described. For example, acetylation of
N
-terminal lysine residues of histones H3 and H4 is associated with active chromatin, while methylation of lysines 9 and 27 of histone H3 appears to be the hallmark of condensed chromatin at silent loci [
2
,
3
,
4
] (
Figure 1
). Histone modifications exert their effects via two main mechanisms. The first involves the modification(s) directly influencing the overall structure of chromatin. Histone acetylation and phosphorylation effectively reduce the positive charge of histones, and this has the potential to disrupt electrostatic interactions between histones and DNA. Notably, acetylation occurs on numerous histone tail lysines, including H3K9, H3K14, H3K18, H4K5, H4K8 and H4K12 [
5
]. Also single-site modifications (
i.e.
, H4K16ac) could be associated with gross structural chromatin changes [
6
]. Histone phosphorylation tends to be very site-specific and there are far fewer sites compared with acetylated sites. For instance, phosphorylation of H3S10 occurs genome-wide during mitosis and is associated with chromatin condensation [
7
]. Unlike acetylation and phosphorylation, methylation does not alter the overall charge of the molecule [
8
] but regulates (either positively or negatively) binding of effector molecules. Current evidence indicates that these modifications recruit transcription factors, chromatin remodelers or chromatin structure proteins involved in chromatin condensation or decondensation and contribute to the formation and maintenance of active or repressive chromatin states [
9
]. Numerous chromatin-associated factors can specifically interact with modified histones via many distinct domains such as bromodomain (
i.e.
, pCAF, BET proteins), chromodomain (
i.e.
, HP1, Suv39h1 and PcG proteins), MBT domain (
i.e.
, SFMBT), Tudor domain (
i.e.
, JMJD2A, SETDB1) or PhD finger (
i.e.
, HAT3, JARID1C) and others. However, histone modifications do not only function by providing dynamic binding platforms for various factors.
Histone modifications are regulated by action of pairs of opposing enzymes (
Figure 1
). Acetylation of lysines is regulated by histone acetyltransferases (HATs) and deacetylases (HDACs). HDAC enzymes oppose the effects of HATs and reverse lysine acetylation that restores the positive charge of the lysine and stabilizes the local chromatin architecture. HDACs are predominantly transcriptional repressors. There are 18 such enzymes identified, and these are subdivided into four major classes, depending on sequence homology. HDACs class I (HDAC 1–3 and HDAC8), class II (HDAC 4–7 and HDAC 9–10) and class IV (HDAC 11) share a related catalytic mechanism that requires a zinc ion. In contrast, class III HDACs (sirtuin 1–7) employ a distinct catalytic mechanism that is NAD
+
-dependent [
10
]. In general, HDACs have relatively low substrate specificity and the enzymes are typically present in multiple distinct complexes, often with other HDAC family members.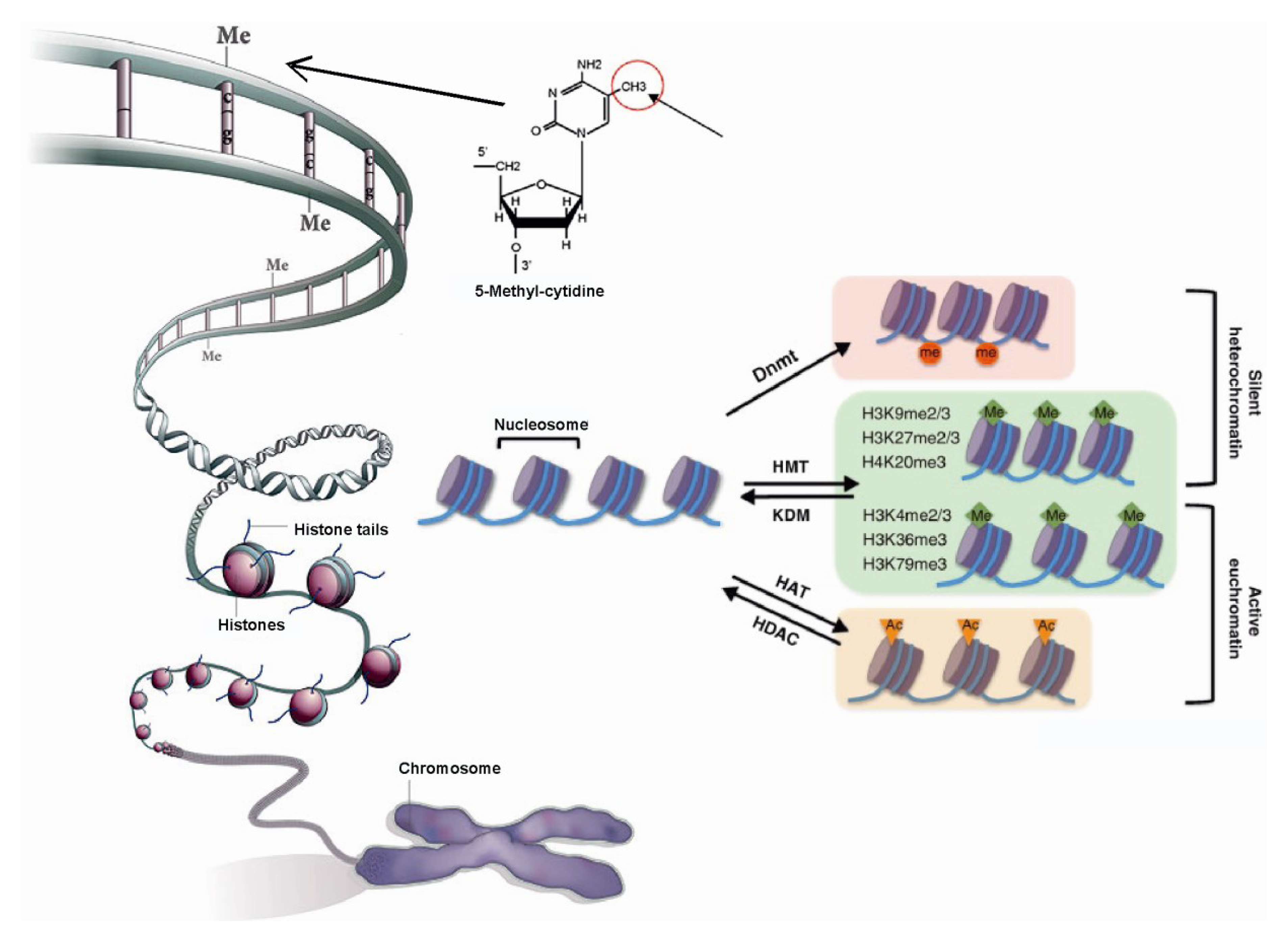 The best-characterized sites of histone methylation are those that occur on lysine residues. Lysines may be mono-, di- or tri-methylated. Although many lysine residues on the various histones are methylated, the best studied are H3K4, H3K9, H3K27, H3K36, H3K79, and H4K20 [
5
]. The first histone lysine methyltransferase (HKMT) to be identified was SUV39H1 that targets H3K9 [
11
]. Numerous HKMTs have since been identified, the vast majority of which methylate lysines within the
N
-terminal tails. HKMTs tend to be relatively specific enzymes (for example SUV39H targets H3K9 and MLL targets H3K4). Furthermore, HKMT enzymes also modify the appropriate lysine to a specific degree (
i.e.
, mono-, di- and/or tri-methyl state) (
i.e.
, SUV39H only di- and tri-methylates H3K9, and other enzyme G9a is responsible for H3K9 monomethylation) [
12
]. Nevertheless, all of the HKMTs that methylate
N
-terminal lysines contain a conserved SET domain that harbors the enzymatic activity. The only exception to this is hDOT1L, the enzyme that methylates H3K79 within the histone globular core. In any case, all HKMTs catalyse the transfer of a methyl group from
S
-adenosylmethionine (SAM) to a lysine's ε-amino group [
13
].
The first lysine demethylase LSD1 was identified in 2004 [
14
]. LSD1 catalyses the removal of methyl groups from H3K4me1/2 using FAD as co-factor. Two years later another lysine demethylase JMJD2 that demethylates H3K9me3 and H3K36me3 was discovered [
15
]. The enzymatic activity of JMJD2 resides within a JmjC jumonji domain. Many histone lysine demethylases are now known and, except for LSD1, they all possess a catalytic Jumonji domain [
12
]. As with the lysine methyltransferases, the demethylases exhibit high substrate specificity with respect to their target lysine. They are also sensitive to the degree of lysine methylation; for instance, some of the enzymes are only capable of demethylating mono- and di-methyl substrates, whereas others can demethylate all three states of the methylated lysine.
1.2. Role of DNA Methylation in Gene Regulation
Methylation of DNA at cytosine residues within CpG dinucleotides occurs in genomes of most higher eukaryotes and is strongly correlated with transcriptional repression of imprinted genes as well as silencing of certain tissue-specific genes in mammals [
16
] (
Figure 1
). The genome-wide DNA methylation pattern in all cells of the body is basically bimodal. Centromeric and pericentromeric regions, as well as other repetitive elements are heavily methylated. Many genic regions also show high degrees of methylation. In contrast, CpG islands are largely unmethylated (<10%). Once set up, the basic bimodal methylation pattern is maintained through every cell division and serves as a global repression mechanism. Adjustments are made through targeted
de novo
methylation and demethylation [
17
].
DNA methylation status is dynamically regulated by DNA methylation and demethylation reactions. There are three active DNA methyltransferases in mammals: DNMT1, DNMT3A, and DNMT3B. DNMT1 maintains DNA methylation at hemi-methylated DNA after DNA replication during cell divisions, whereas DNMT3A and DNMT3B are responsible for establishing
de novo
DNA methylation [
18
]. A third member of the DNMT3 family, DNMT3-like (DNMT3L), which has no catalytic activity, functions as a regulator of DNMT3A and DNMT3B [
19
,
20
]. Mammalian DNMT2 is a tRNA methyltransferase rather than a DNA methyltransferase and has been renamed tRNA aspartic acid methyltransferase 1 [
21
]. Much of the repressive potential of methylated DNA is elicited by methyl-DNA binding proteins. These proteins bind methylated DNA via a conserved methyl-CpG binding domain (MBD1, MBD2, MBD3, MeCP2 and MBD4) or zinc finger domain (Kaiso, ZBTB4 and ZBTB38) [
22
], and can recruit remodeling factors such as histone deacetylases and histone H3 lysine 9 methylases which further contribute to repressive chromatin state [
16
].
The mechanisms underlying active DNA demethylation are less understood. Methyl-CpG-binding domain protein 2 (MBD2) was the first reported protein to carry out enzymatic removal of the methyl group of 5meC. Another model of DNA demethylation proposes modification of 5mC through deamination or hydroxymethylation, reactions catalyzed by Aid, APOBEC or Tet enzymes, respectively. Modified bases are subsequently removed by glycosylases, which generate apyrimidinic acid that is subsequently removed by base excision repair pathway and replaced with cytosine [
17
].
2. Deregulation of the Epigenetic Landscape in Cancerogenesis
2.1. Activation or Inactivation of Epigenetic Enzymes in Cancer
Deregulation of the epigenetic landscape can also occur due to activation or inactivation of the enzymes that maintain and modify the epigenome. Epigenetics enzymes are frequent targets for mutation [
23
]. DNA methyltransferases have been found to be genetically altered,
i.e.
, DNMT3A in acute monocytic leukemia [
24
,
25
,
26
]. It has been suggested that the R882 DNMT3A mutations may alter functions of DNMT3A such as its ability to bind other proteins involved in transcriptional regulation and localization to chromatin regions containing methylated DNA [
26
]. Ten-Eleven-Translocation 2 (TET2) is an enzyme which catalyzes the conversion of 5-methylcytosine into 5-hydroxymethylcytosine (5-hmC) and thereby influences the epigenetic state of DNA. Loss-of-function TET2 mutations were also identified in 20%–30% myeloid neoplasms [
27
,
28
].
Cytogenetic studies, as well as next generation sequencing of various cancer genomes, have demonstrated recurrent translocations and/or coding mutations in a large number of lysine methyltransferases, including MMSET, EZH2, and MLL family members. Follicular lymphomas contain recurrent mutations of the histone methyltransferase MLL2 in close to 90% of cases [
29
]. The oncogenic effects exerted by the MLL fusions have been extensively studied [
30
]. Mutations affecting the Polycomb repressive complex (PRC) components, such as EZH2, can also affect histone modifications and have recently been reported. EZH2 is the enzymatic component of the PRC2 complex and is a H3K27 methyltransferase. Overexpression of EZH2 has been reported in prostate [
31
] and breast [
32
] cancers, and in several types of leukemia [
33
,
34
]. Gene silencing caused by overexpression of EZH2 has been linked to the progression of breast, bladder and prostate cancers [
31
,
32
,
35
]. Recurrent coding mutations have also been noted in histone demethylases KDM5A (JARID1A), KDM5C (JARID1C), and KDM6A (UTX). Mutations in UTX, in particular, are prevalent in a large number of solid and hematological cancers [
36
].
Although somatic mutations in HDACs do not appear to be prominent in cancer, the expression levels or activities of various HDACs are altered in numerous malignancies. Chimeric fusion proteins occurring in leukemia, such as PML-RARa, PLZF-RARa and AML1-ETO, have been shown to recruit HDACs to mediate aberrant gene silencing that contributes to leukemogenesis [
37
]. HDACs can also interact with oncogenic proteins such as BCL6, whose repressive activity is controlled by dynamic acetylation [
38
].
2.2. Metabolic Disturbances as a Source of Epigenetic Deregulation
Several recent findings emphasize the interplay between the Krebs cycle, epigenomic changes and cancer [
39
]. In contrast to normal cells which rely on mitochondrial oxidative phosphorylation to produce energy from glucose, cancer cells prefer to metabolize glucose by glycolysis, resulting in increased glucose consumption and lactate production [
40
]. Otto Warburg observation, known as the Warburg effect or aerobic glycolysis, has become the basis of
18
FDG-PET imaging in current clinical practice [
41
]. Interestingly, mutations in the genes coding for metabolic enzymes such as succinate dehydrogenase (SDH), fumarate hydratase (FH), isocitrate dehydrogenases 1/2 (IDH1/2) and phosphoglycerate dehydrogenase (PHGDH) have been reported in various tumors: paraganglioma [
42
], renal cancer [
43
] and glioblastoma multiforme [
44
,
45
,
46
]. Mutations in
IDH1
and
IDH2
are also noted as recurrent mutations in a range of myeloid malignancies, most notably AML [
47
]. Mutations in
RET
,
NF1
(neurofibromatosis 1),
VHL
(the von Hippel-Lindau) and
SDH
genes are frequent in paragangliomas which are neuroendocrine tumors. Methylome analysis of a large paraganglioma cohort identified three stable clusters, associated with distinct clinical features and mutational status. SDH-related tumors displayed a hypermethylator phenotype, associated with down-regulation of key genes involved in neuroendocrine differentiation. Succinate accumulation in SDH-deficient mouse chromaffin cells led to DNA hypermethylation by inhibition of 2-OG-dependent histone and DNA demethylases and was associated with a migratory phenotype. Epigenetic silencing was particularly severe in SDHB-mutated tumors, potentially explaining their malignancy [
48
]. Together these findings indicate that the metabolic switches are not just byproducts of cancer development, but major contributors to it.
3. Epigenetic Modifications in Glioblastomas
4. Epigenetic Inhibitors as Potential Anti-Glioblastoma Therapeutics
5. Conclusions
Occurrence of somatic mutations in genes encoding the replication-independent histone H3 variant H3.3 and the canonical histone H3.1, the presence of mutant IDH1 protein in spatially and temporally restricted neural precursors, deregulated expression/activity of epigenetic enzymes may lead to aberrant histone modification and DNA methylation profiles which are intimately linked to glioma pathology. Growing evidence demonstrates a variety of mechanisms, all of which lead to global deregulation in the epigenetic landscape in glioblastomas and support an idea of glioblastoma being an epigenetic malignancy. The high frequency (>80%) of
IDH1/2
mutations in secondary glioblastomas which have progressed from low-grade gliomas, suggests that these tumors share a common progenitor cell population which through sequential molecular evolution gives rise to the IDH1 mutant glioblastoma. The observed patterns of DNA changes, DNA methylation and copy number alterations suggest molecular evolution in which the appearance of mutant IDH1 protein in spatially and temporally restricted neural precursors is an initial event, followed by production of TP53 mutant protein, and finally by copy number alterations of
PTEN
and
EGFR
[
80
]. It suggests a causative role of epigenetic deregulation in pathobiology of glioblastomas.
Unlike DNA mutations, changes in the epigenome associated with cancer are potentially reversible, which opens up the possibility that "epigenetic drugs" may have a powerful impact within the treatment regiments of various cancers. Though, there are a few studies testing the impact of epigenetic inhibitors on glioblastomas, some of them show promising results and undoubtedly will lead to further preclinical and clinical studies of those compounds in glioblastoma therapy.
Acknowledgments
Studies were supported by HOMING PLUS/2011-3/7 from Foundation for Polish Science (MM) and the N N301 786240 grant from the National Science Center (BK).
Conflicts of Interest
The authors declare no conflict of interest.
© 2013 by the authors; licensee MDPI, Basel, Switzerland. This article is an open access article distributed under the terms and conditions of the Creative Commons Attribution license (http://creativecommons.org/licenses/by/3.0/).