Glioblastoma-Initiating Cells: Relationship with Neural Stem Cells and the Micro-Environment
1
Laboratory of Developmental Neurobiology, GIGA-Neurosciences Research Center, University of Liège, Liège 4000, Belgium
2
Human Genetics, CHU and University of Liège, Liège 4000, Belgium
3
The T&P Bohnenn Laboratory for Neuro-Oncology, Department of Neurology and Neurosurgery, UMC Utrecht, Utrecht 3556, The Netherlands
4
Department of Neurology, CHU and University of Liège, Liège 4000, Belgium
5
GIGA-Development, Stem Cells and Regenerative Medicine, University of Liège, Liège 4000, Belgium
*
Author to whom correspondence should be addressed.
†
These authors contributed equally to this work.
Received: 26 June 2013 / Revised: 29 July 2013 / Accepted: 1 August 2013 / Published: 14 August 2013
Abstract
Glioblastoma multiforme (GBM, WHO grade IV) is the most common and lethal subtype of primary brain tumor with a median overall survival of 15 months from the time of diagnosis. The presence in GBM of a cancer population displaying neural stem cell (NSC) properties as well as tumor-initiating abilities and resistance to current therapies suggests that these glioblastoma-initiating cells (GICs) play a central role in tumor development and are closely related to NSCs. However, it is nowadays still unclear whether GICs derive from NSCs, neural progenitor cells or differentiated cells such as astrocytes or oligodendrocytes. On the other hand, NSCs are located in specific regions of the adult brain called neurogenic niches that have been shown to control critical stem cell properties, to nourish NSCs and to support their self-renewal. This "seed-and-soil" relationship has also been adapted to cancer stem cell research as GICs also require a specific micro-environment to maintain their "stem cell" properties. In this review, we will discuss the controversies surrounding the origin and the identification of GBM stem cells and highlight the micro-environment impact on their biology.
View Full-Text
►

▼

Figures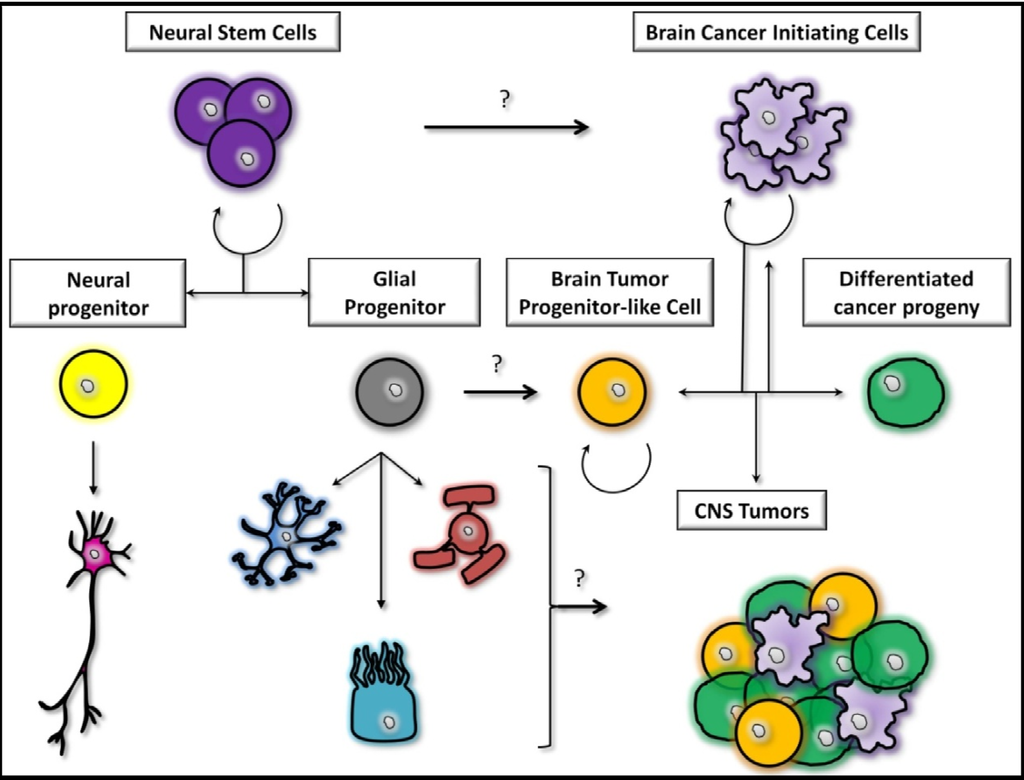 Figure 1

Share & Cite This Article
MDPI and ACS Style
Goffart, N.; Kroonen, J.; Rogister, B. Glioblastoma-Initiating Cells: Relationship with Neural Stem Cells and the Micro-Environment. Cancers 2013, 5, 1049-1071.
Related Articles
Comments
[Return to top]