Ras and Rheb Signaling in Survival and Cell Death
1
Molecular Neurobiochemistry, Ruhr University of Bochum, 44780 Bochum, Germany
2
Department of Physical Chemistry1, Protein Interaction, Ruhr University of Bochum, 44780 Bochum, Germany
3
Biomolecular NMR, Ruhr University of Bochum, 44780 Bochum, Germany
*
Author to whom correspondence should be addressed.
Received: 1 April 2013 / Revised: 8 May 2013 / Accepted: 17 May 2013 / Published: 28 May 2013
Abstract
One of the most obvious hallmarks of cancer is uncontrolled proliferation of cells partly due to independence of growth factor supply. A major component of mitogenic signaling is Ras, a small GTPase. It was the first identified human protooncogene and is known since more than three decades to promote cellular proliferation and growth. Ras was shown to support growth factor-independent survival during development and to protect from chemical or mechanical lesion-induced neuronal degeneration in postmitotic neurons. In contrast, for specific patho-physiological cases and cellular systems it has been shown that Ras may also promote cell death. Proteins from the Ras association family (Rassf, especially Rassf1 and Rassf5) are tumor suppressors that are activated by Ras-GTP, triggering apoptosis via e.g., activation of mammalian sterile 20-like (MST1) kinase. In contrast to Ras, their expression is suppressed in many types of tumours, which makes Rassf proteins an exciting model for understanding the divergent effects of Ras activity. It seems likely that the outcome of Ras signaling depends on the balance between the activation of its various downstream effectors, thus determining cellular fate towards either proliferation or apoptosis. Ras homologue enriched in brain (Rheb) is a protein from the Ras superfamily that is also known to promote proliferation, growth, and regeneration through the mammalian target of rapamycin (mTor) pathway. However, recent evidences indicate that the Rheb-mTor pathway may switch its function from a pro-growth into a cell death pathway, depending on the cellular situation. In contrast to Ras signaling, for Rheb, the cellular context is likely to modulate the whole Rheb-mTor pathway towards cellular death or survival, respectively.
View Full-Text
►

▼

Figures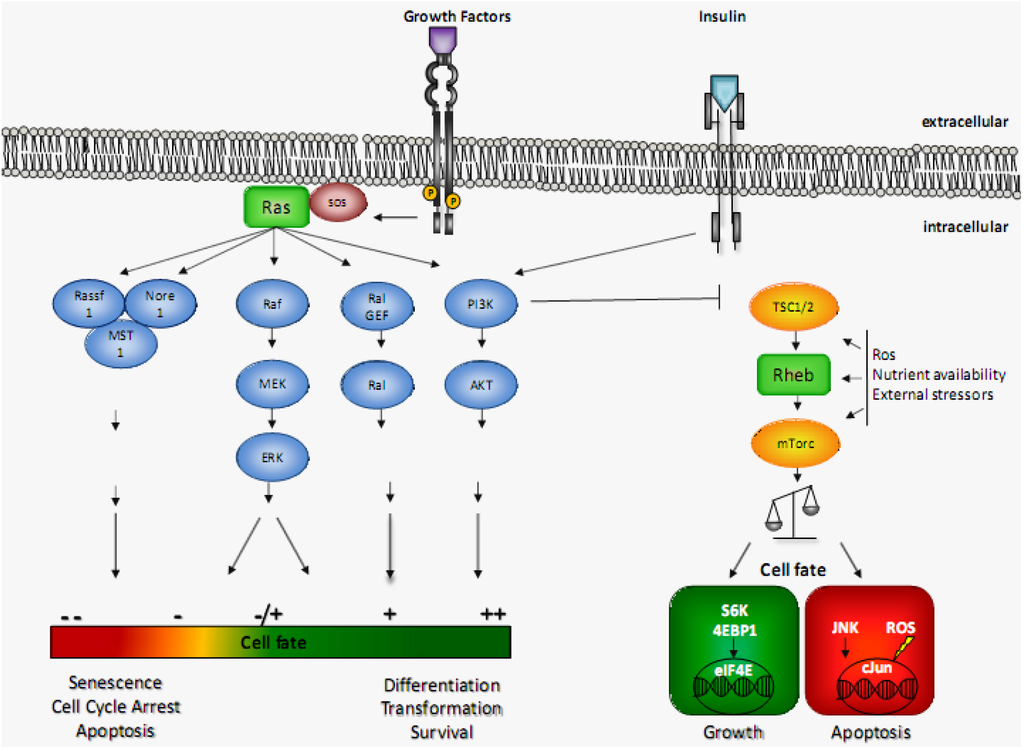 Figure 1

Share & Cite This Article
MDPI and ACS Style
Ehrkamp, A.; Herrmann, C.; Stoll, R.; Heumann, R. Ras and Rheb Signaling in Survival and Cell Death. Cancers 2013, 5, 639-661.
Related Articles
Comments
[Return to top]