Chimeric DNA Vaccines against ErbB2+ Carcinomas: From Mice to Humans
1
Molecular Biotechnology Center, Department of Clinical and Biological Sciences, University of Turin, 10126 Turin, Italy
2
Department of Molecular Cellular and Animal Biology, University of Camerino, 62032 Camerino, Italy
*
Author to whom correspondence should be addressed.
Received: 7 July 2011 / Revised: 2 August 2011 / Accepted: 3 August 2011 / Published: 10 August 2011
Abstract
DNA vaccination exploits a relatively simple and flexible technique to generate an immune response against microbial and tumor-associated antigens (TAAs). Its effectiveness is enhanced by the application of an electrical shock in the area of plasmid injection (electroporation). In our studies we exploited a sophisticated electroporation device approved for clinical use (Cliniporator, IGEA, Carpi, Italy). As the target antigen is an additional factor that dramatically modulates the efficacy of a vaccine, we selected ErbB2 receptor as a target since it is an ideal oncoantigen. It is overexpressed on the cell membrane by several carcinomas for which it plays an essential role in driving their progression. Most oncoantigens are self-tolerated molecules. To circumvent immune tolerance we generated two plasmids (RHuT and HuRT) coding for chimeric rat/human ErbB2 proteins. Their immunogenicity was compared in wild type mice naturally tolerant for mouse ErbB2, and in transgenic mice that are also tolerant for rat or human ErbB2. In several of these mice, RHuT and HuRT elicited a stronger anti-tumor response than plasmids coding for fully human or fully rat ErbB2. The ability of heterologous moiety to blunt immune tolerance could be exploited to elicit a significant immune response in patients. A clinical trial to delay the recurrence of ErbB2
+
carcinomas of the oral cavity, oropharynx and hypopharynx is awaiting the approval of the Italian authorities.
View Full-Text
►

▼

Figures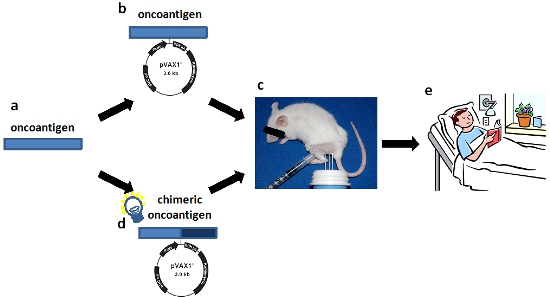 Graphical abstract

Share & Cite This Article
MDPI and ACS Style
Quaglino, E.; Riccardo, F.; Macagno, M.; Bandini, S.; Cojoca, R.; Ercole, E.; Amici, A.; Cavallo, F. Chimeric DNA Vaccines against ErbB2+ Carcinomas: From Mice to Humans. Cancers 2011, 3, 3225-3241.
Related Articles
Comments
[Return to top]