Evaluation of Somatic Mutations in Solid Metastatic Pan-Cancer Patients
1
School of Pharmacy, Chapman University, Irvine, CA 92618, USA
2
Department of Medical Oncology & Therapeutics Research, City of Hope, Duarte, CA 91010, USA
3
Applied AI and Data Science, City of Hope, Duarte, CA 91010, USA
4
Department of Biochemistry and Molecular Biology, University of Nebraska Medical Center, Omaha, NE 68198, USA
5
Department of Biostatistics, University of Nebraska Medical Center, Omaha, NE 68198, USA
6
Cedars-Sinai Medical Center, Department of Medicine, Division of Medical Oncology, Los Angeles, CA 90048, USA
7
Department of Pathology, City of Hope, Duarte, CA 91010, USA
*
Authors to whom correspondence should be addressed.
†
These authors contributed equally to this work and should be considered co-first authors.
‡
These authors should be considered co-senior authors.
Academic Editor: Sophie Martin
Received: 15 April 2021
/
Revised: 27 May 2021
/
Accepted: 28 May 2021
/
Published: 3 June 2021
Simple Summary
Cancer metastasis significantly contributes to cancer-related mortality. Our retrospective cohort study aimed to evaluate the mutational landscape of seven solid metastatic tumors and mutational effects on survival using a single molecular testing panel. Additionally, we assessed the treatments used in advanced cancer. We identified somatic mutations that were mutually exclusive in seven gene pairs. Among them, somatic mutations in APC and CDKN2A showed an opposite effect on overall survival (OS). Longer OS was associated with metastatic cases diagnosed post-2015. Progression-free survival was associated with the use of targeted treatments. Our results highlight complex interactions of mutational landscape with a single molecular test, time of metastatic diagnosis, and the impact of targeted therapy usage on survival using a pan-cancer cohort.
Metastasis continues to be the primary cause of all cancer-related deaths despite the recent advancements in cancer treatments. To evaluate the role of mutations in overall survival (OS) and treatment outcomes, we analyzed 957 metastatic patients with seven major cancer types who had available molecular testing results with a FoundationOne CDx
®
panel. The most prevalent genes with somatic mutations were
TP53
,
KRAS
,
APC
, and
LRP1B
. In this analysis, these genes had mutation frequencies higher than in publicly available datasets. We identified that the somatic mutations were seven mutually exclusive gene pairs and an additional fifty-two co-occurring gene pairs. Mutations in the mutually exclusive gene pair
APC
and
CDKN2A
showed an opposite effect on the overall survival. However, patients with
CDKN2A
mutations showed significantly shorter OS (HR: 1.72, 95% CI: 1.34–2.21,
p
< 0.001) after adjusting for cancer type, age at diagnosis, and sex. Five-year post metastatic diagnosis survival analysis showed a significant improvement in OS (median survival 28 and 43 months in pre-2015 and post-2015 metastatic diagnosis, respectively,
p
= 0.00021) based on the year of metastatic diagnosis. Although the use of targeted therapies after metastatic diagnosis prolonged OS, the benefit was not statistically significant. However, longer five-year progression-free survival (PFS) was significantly associated with targeted therapy use (median 10.9 months (CI: 9.7–11.9 months) compared to 9.1 months (CI: 8.1–10.1 months) for non-targeted therapy, respectively,
p
= 0.0029). Our results provide a clinically relevant overview of the complex molecular landscape and survival mechanisms in metastatic solid cancers.
View Full-Text
►

▼

Show Figures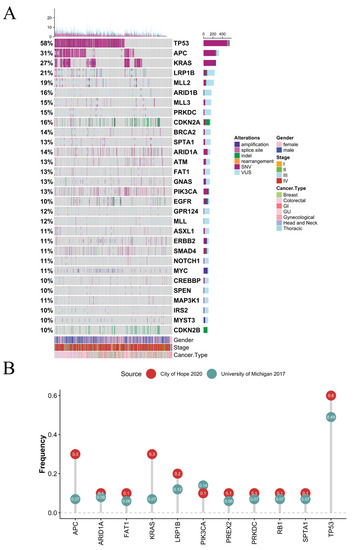 Figure 1
This is an open access article distributed under the
Creative Commons Attribution License
which permits unrestricted use, distribution, and reproduction in any medium, provided the original work is properly cited.

MDPI and ACS Style
Roosan, M.R.; Mambetsariev, I.; Pharaon, R.; Fricke, J.; Baroz, A.R.; Chao, J.; Chen, C.; Nasser, M.W.; Chirravuri-Venkata, R.; Jain, M.; Smith, L.; Yost, S.E.; Reckamp, K.L.; Pillai, R.; Arvanitis, L.; Afkhami, M.; Wang, E.W.; Chung, V.; Cristea, M.; Fakih, M.; Koczywas, M.; Massarelli, E.; Mortimer, J.; Yuan, Y.; Batra, S.K.; Pal, S.; Salgia, R. Evaluation of Somatic Mutations in Solid Metastatic Pan-Cancer Patients. Cancers 2021, 13, 2776. https://doi.org/10.3390/cancers13112776
AMA Style
Roosan MR, Mambetsariev I, Pharaon R, Fricke J, Baroz AR, Chao J, Chen C, Nasser MW, Chirravuri-Venkata R, Jain M, Smith L, Yost SE, Reckamp KL, Pillai R, Arvanitis L, Afkhami M, Wang EW, Chung V, Cristea M, Fakih M, Koczywas M, Massarelli E, Mortimer J, Yuan Y, Batra SK, Pal S, Salgia R. Evaluation of Somatic Mutations in Solid Metastatic Pan-Cancer Patients. Cancers. 2021; 13(11):2776. https://doi.org/10.3390/cancers13112776
Chicago/Turabian Style
Roosan, Moom R., Isa Mambetsariev, Rebecca Pharaon, Jeremy Fricke, Angel R. Baroz, Joseph Chao, Chen Chen, Mohd W. Nasser, Ramakanth Chirravuri-Venkata, Maneesh Jain, Lynette Smith, Susan E. Yost, Karen L. Reckamp, Raju Pillai, Leonidas Arvanitis, Michelle Afkhami, Edward W. Wang, Vincent Chung, Mihaela Cristea, Marwan Fakih, Marianna Koczywas, Erminia Massarelli, Joanne Mortimer, Yuan Yuan, Surinder K. Batra, Sumanta Pal, and Ravi Salgia. 2021. "Evaluation of Somatic Mutations in Solid Metastatic Pan-Cancer Patients" Cancers 13, no. 11: 2776. https://doi.org/10.3390/cancers13112776
Note that from the first issue of 2016, MDPI journals use article numbers instead of page numbers. See further details
here
.