Is Emodin with Anticancer Effects Completely Innocent? Two Sides of the Coin
1
Department of Pharmacognosy, Faculty of Pharmacy, Gazi University, Ankara 06330, Turkey
2
Department of Pharmaceutical Botany, Faculty of Pharmacy, Hacettepe University, Ankara 06100, Turkey
3
Department of Pharmacognosy, Faculty of Pharmacy, Erciyes University, Kayseri 38039, Turkey
4
Department of Pharmacognosy, Faculty of Pharmacy, Süleyman Demirel University, Isparta 32200, Turkey
5
Department of Pharmaceutical Technology, Faculty of Pharmacy, Erciyes University, Kayseri 38039, Turkey
6
Instituto de Investigación y Postgrado, Facultad de Ciencias de la Salud, Universidad Central de Chile, Santiago 8330507, Chile
7
Department of Organic Chemistry, Faculty of Pharmacy, University of Santiago de Compostela, 15782 Santiago de Compostela, Spain
8
Department of Agricultural Sciences, University of Naples Federico II, Via Università 100, 80055 Portici, Italy
*
Authors to whom correspondence should be addressed.
Academic Editor: Samuel C. Mok
Received: 7 May 2021
/
Revised: 25 May 2021
/
Accepted: 28 May 2021
/
Published: 31 May 2021
Simple Summary
For cancer treatment, which is one of the most common and serious diseases of our day, miraculous secondary compounds of natural resources, which cannot be obtained even in the best chemical synthesis laboratories, are at the forefront. For this purpose, the anticancer activity of emodin, a natural anthraquinone derivative, on different cancer cell lines with different mechanisms of action is presented in pre-clinical studies. However, the activities of its synthetic derivatives were also evaluated due to their structural similarity to anthracyclines in general. In addition to its biological activity, qualitative and quantitative analyzes and information on high purification have been provided, and studies on the use of emodin in appropriate doses without causing side effects and toxicity have contributed to an impact on the scientific research community.
Many anticancer active compounds are known to have the capacity to destroy pathologically proliferating cancer cells in the body, as well as to destroy rapidly proliferating normal cells. Despite remarkable advances in cancer research over the past few decades, the inclusion of natural compounds in researches as potential drug candidates is becoming increasingly important. However, the perception that the natural is reliable is an issue that needs to be clarified. Among the various chemical classes of natural products, anthraquinones have many biological activities and have also been proven to exhibit a unique anticancer activity. Emodin, an anthraquinone derivative, is a natural compound found in the roots and rhizomes of many plants. The anticancer property of emodin, a broad-spectrum inhibitory agent of cancer cells, has been detailed in many biological pathways. In cancer cells, these molecular mechanisms consist of suppressing cell growth and proliferation through the attenuation of oncogenic growth signaling, such as protein kinase B (AKT), mitogen-activated protein kinase (MAPK), HER-2 tyrosine kinase, Wnt/-catenin, and phosphatidylinositol 3-kinase (PI3K). However, it is known that emodin, which shows toxicity to cancer cells, may cause kidney toxicity, hepatotoxicity, and reproductive toxicity especially at high doses and long-term use. At the same time, studies of emodin, which has poor oral bioavailability, to transform this disadvantage into an advantage with nano-carrier systems reveal that natural compounds are not always directly usable compounds. Consequently, this review aimed to shed light on the anti-proliferative and anti-carcinogenic properties of emodin, as well as its potential toxicities and the advantages of drug delivery systems on bioavailability.
View Full-Text
►

▼

Show Figures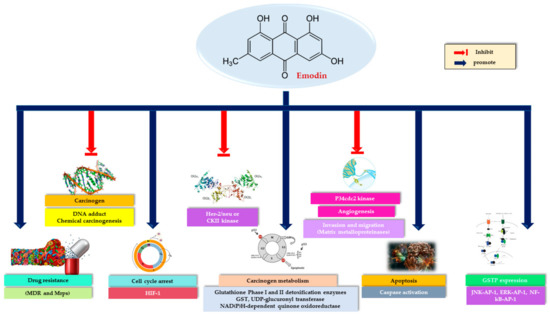 Figure 1
This is an open access article distributed under the
Creative Commons Attribution License
which permits unrestricted use, distribution, and reproduction in any medium, provided the original work is properly cited

MDPI and ACS Style
Akkol, E.K.; Tatlı, I.I.; Karatoprak, G.Ş.; Ağar, O.T.; Yücel, Ç.; Sobarzo-Sánchez, E.; Capasso, R. Is Emodin with Anticancer Effects Completely Innocent? Two Sides of the Coin. Cancers 2021, 13, 2733. https://doi.org/10.3390/cancers13112733
AMA Style
Akkol EK, Tatlı II, Karatoprak GŞ, Ağar OT, Yücel Ç, Sobarzo-Sánchez E, Capasso R. Is Emodin with Anticancer Effects Completely Innocent? Two Sides of the Coin. Cancers. 2021; 13(11):2733. https://doi.org/10.3390/cancers13112733
Chicago/Turabian Style
Akkol, Esra K., Iffet I. Tatlı, Gökçe Ş. Karatoprak, Osman T. Ağar, Çiğdem Yücel, Eduardo Sobarzo-Sánchez, and Raffaele Capasso. 2021. "Is Emodin with Anticancer Effects Completely Innocent? Two Sides of the Coin" Cancers 13, no. 11: 2733. https://doi.org/10.3390/cancers13112733
Note that from the first issue of 2016, MDPI journals use article numbers instead of page numbers. See further details
here
.