Acute Radiation Colitis after Preoperative Short-Course Radiotherapy for Rectal Cancer: A Morphological, Immunohistochemical and Genetic Study
1
Pathology Unit, Azienda Unità Sanitaria Locale-IRCCS di Reggio Emilia, 42122 Reggio Emilia, Italy
2
Laboratory of Translational Research, Azienda Unità Sanitaria Locale-IRCCS di Reggio Emilia, 42122 Reggio Emilia, Italy
3
Dianon Pathology, Shelton, CT 06484, USA
4
Surgical Oncology Unit, Azienda Unità Sanitaria Locale-IRCCS di Reggio Emilia, 42122 Reggio Emilia, Italy
5
Clinical and Experimental Medicine PhD Program, University of Modena and Reggio Emilia, 41121 Modena, Italy
6
Scientific Director, Azienda Unità Sanitaria Locale-IRCCS di Reggio Emilia, 42122 Reggio Emilia, Italy
7
Laboratory of Molecular Biology, Azienda Unità Sanitaria Locale-IRCCS di Reggio Emilia, 42122 Reggio Emilia, Italy
8
Radiotherapy Unit, Azienda Unità Sanitaria Locale-IRCCS di Reggio Emilia, 42122 Reggio Emilia, Italy
9
Pathology Unit, Azienda Ospedaliero-Universitaria-Ospedali Riuniti di Foggia, 71122 Foggia, Italy
10
Pathology Unit, Azienda Ospedaliera S. Maria di Terni, University of Perugia, 05100 Terni, Italy
*
Author to whom correspondence should be addressed.
Received: 19 July 2020 / Revised: 4 September 2020 / Accepted: 8 September 2020 / Published: 9 September 2020
Simple Summary
Radiotherapy is the standard treatment for locally advanced rectal cancer with a high risk of local recurrence, if treated with surgery alone. The two regimens accepted are preoperative long-course radiotherapy with concomitant chemotherapy and preoperative short-course radiotherapy. The aim of our retrospective study is to provide a comprehensive morphological description of radiation-induced changes in rectal cancer specimens. We compared 2 groups of 95 rectal cancer patients treated preoperatively with either short-course (45 patients) or long-course radiotherapy (50 patients). Interestingly, in the non-neoplastic mucosa we identified features closely mimicking dysplasia/pre-neoplasia only in the group treated with short-course radiotherapy. Pathologists awareness of radiation-induced abnormalities is essential, as the misinterpretation may lead to patient's overtreatment. In our study, next generation sequencing analysis supported the morphological concept that short-course radiotherapy-induced abnormalities do not represent true dysplasia, as somatic mutations were not identified in "dysplastic-like" tissues.
Preoperative radiotherapy is a widely accepted treatment procedure in rectal cancer. Radiation-induced changes in the tumor are well described, whereas less attention has been given to the non-neoplastic mucosa. Our aim is to provide a detailed analysis of the morphological features present in non-neoplastic mucosa that pathologists need to be familiar with, in order to avoid misdiagnosis, when evaluating rectal cancer specimens of patients preoperatively treated with radiotherapy, especially with short-course regimen. We compared 2 groups of 95 rectal cancer patients treated preoperatively with either short-course (45 patients) or long-course radiotherapy (50 patients). Depending on the type of protocol, different histopathological features, in terms of inflammation, glandular abnormalities and endocrine differentiation were seen in the non-neoplastic mucosa within the irradiated volume. Of note, features mimicking dysplasia, such as crypt distortion, nuclear and cytoplasmic atypia of glandular epithelium, were identified only in the short-course group. DNA mutation analysis, using a panel of 56 genes frequently mutated in cancer, and p53 immunostaining were performed on both tumor and radiation-damaged mucosa in a subset of short course cases. Somatic mutations were identified only in tumors, supporting the concept that tissues with radiation-induced "dysplastic-like" features are not genetically transformed. Pathologists should be aware of the characteristic morphological changes induced by radiation. The presence of features simulating dysplasia in the group treated with short-course radiotherapy may lead to serious diagnostic mistakes, if erroneously interpreted. Next generation sequencing (NGS) analysis further validated the morphological concept that radiation-induced abnormalities do not represent pre-neoplastic lesions.
View Full-Text
►

▼

Show Figures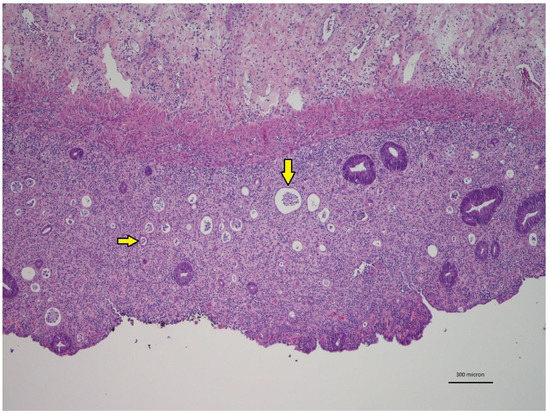 Figure 1
This is an open access article distributed under the
Creative Commons Attribution License
which permits unrestricted use, distribution, and reproduction in any medium, provided the original work is properly cited

MDPI and ACS Style
Zanelli, M.; Ciarrocchi, A.; De Petris, G.; Zizzo, M.; Costantini, M.; Bisagni, A.; Torricelli, F.; Nicoli, D.; Ramundo, D.; Ricci, S.; Palicelli, A.; Sanguedolce, F.; Ascani, S.; Castro Ruiz, C.; Annessi, V.; Zamponi, R.; Bortesi, M.; Martino, V.; Marchetti, M.; De Marco, L. Acute Radiation Colitis after Preoperative Short-Course Radiotherapy for Rectal Cancer: A Morphological, Immunohistochemical and Genetic Study. Cancers 2020, 12, 2571.
Show more citation formats
Show less citations formats
Note that from the first issue of 2016, MDPI journals use article numbers instead of page numbers. See further details
here
.