Flavokawain B and Doxorubicin Work Synergistically to Impede the Propagation of Gastric Cancer Cells via ROS-Mediated Apoptosis and Autophagy Pathways
1
Department of Cosmeceutics, College of Pharmacy, China Medical University, Taichung 40402, Taiwan
2
Department of Health and Nutrition Biotechnology, Asia University, Taichung 41354, Taiwan
3
Chinese Medicine Research Center, China Medical University, Taichung 40402, Taiwan
4
Research Center of Chinese Herbal Medicine, China Medical University, Taichung 40402, Taiwan
5
Institute of Nutrition, China Medical University, Taichung 40402, Taiwan
6
Department of Medical Research, Chi Mei Medical Center, Tainan 71004, Taiwan
7
Department of Biotechnology, Chia Nan University of Pharmacy and Science, Tainan 71004, Taiwan
8
Graduate Institute of Veterinary Pathology, National Chung-Hsing University, Taichung 402, Taiwan
*
Authors to whom correspondence should be addressed.
Received: 23 July 2020 / Revised: 26 August 2020 / Accepted: 28 August 2020 / Published: 1 September 2020
Simple Summary
Among various kinds of treatment strategies for cancers, combination therapy has attracted significant attention due to its beneficial effects than the individual effects of the same compounds. Based on this idea, this study has investigated the synergistic effects of combination treatment of a natural anti-cancer agent flavokawain B (FKB) and a chemotherapeutic agent Doxorubicin on human gastric cancer cells and the underlying molecular mechanisms were deciphered through in vitro and in vivo approaches. Experimental data obtained in this study provided promising application prospects of FKB + Doxrubicin combination treatment in human gastric cancer cells.
Chalcone flavokawain B (FKB) possesses a chemopreventive and anti-cancer activity. Doxorubicin is a chemotherapeutic DNA intercalating agent widely used in malignancy treatment. The present study investigated whether synergistic effects exist between the combination of FKB (1.25–5 µg/mL) and doxorubicin (0.5 µg/mL) on the apoptosis and autophagy in human gastric cancer (AGS) cells, and the possible in vitro and in vivo mechanisms. The MTT assay measured cell viability. Various apoptotic-, autophagy-associated protein expression was determined by the Western blot technique. FKB+doxorubicin synergy was estimated by the Chou-Talalay combination index (CI) method. In vivo studies were performed on BALB/
c
mice. Results showed that compared to FKB/doxorubicin treatments, low doses of FKB+doxorubicin suppressed AGS cell growth. FKB potentiated doxorubicin-induced DNA fragmentation, apoptotic cell death, and enhanced doxorubicin-mediated mitochondrial, death receptor pathways. FKB+doxorubicin activated increased LC3-II accumulation, p62/SQSTM1 expression, and AVO formation as compared to the FKB/doxorubicin alone treatments indicating autophagy in these cells. The death mechanism in FKB+doxorubicin-treated AGS cells is due to the activation of autophagy. FKB+doxorubicin-mediated dysregulated Bax/Bcl-2, Beclin-1/Bcl-2 ratios suggested apoptosis, autophagy induction in AGS cells. FKB+doxorubicin-induced LC3-II/AVOs downregulation was suppressed due to an apoptotic inhibitor Z-VAD-FMK. Whereas, 3-methyladenine/chloroquine weakened FKB+doxorubicin-induced apoptosis (decreased DNA fragmentation/caspase-3). Activation of ERK/JNK may be involved in FKB+doxorubicin-induced apoptosis and autophagy. FKB+doxorubicin-triggered ROS generation, but NAC attenuated FKB+doxorubicin-induced autophagic (LC3 accumulation) and apoptotic (caspase-3 activation and PARP cleavage) cell death. FKB+doxorubicin blocked gastric cancer cell xenografts in nude mice in vivo as compared to FKB/doxorubicin alone treatments. FKB and doxorubicin wielded synergistic anti-tumor effects in gastric cancer cells and is a promising therapeutic approach.
View Full-Text
►

▼

Show Figures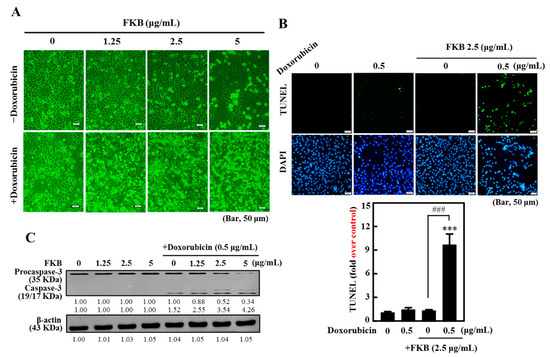 Figure 1
This is an open access article distributed under the
Creative Commons Attribution License
which permits unrestricted use, distribution, and reproduction in any medium, provided the original work is properly cited

MDPI and ACS Style
Hseu, Y.-C.; Lin, R.-W.; Shen, Y.-C.; Lin, K.-Y.; Liao, J.-W.; Thiyagarajan, V.; Yang, H.-L. Flavokawain B and Doxorubicin Work Synergistically to Impede the Propagation of Gastric Cancer Cells via ROS-Mediated Apoptosis and Autophagy Pathways. Cancers 2020, 12, 2475.
Show more citation formats
Show less citations formats
Note that from the first issue of 2016, MDPI journals use article numbers instead of page numbers. See further details
here
.