Clinical Studies Applying Cytokine-Induced Killer Cells for the Treatment of Renal Cell Carcinoma
1
Department of Integrated Oncology, CIO Bonn, University Hospital Bonn, Venusberg-Campus 1, D 53127 Bonn, Germany
2
Department of Urology, University Hospital Bonn, Venusberg-Campus 1, D 53127 Bonn, Germany
*
Author to whom correspondence should be addressed.
Received: 4 August 2020 / Revised: 28 August 2020 / Accepted: 28 August 2020 / Published: 1 September 2020
Simple Summary
Cytokine-induced killer (CIK) cells are a heterogeneous population of polyclonal T effector cells expanded ex vivo. Here, we updated our last review published in 2012 and provided a synopsis of current 15 clinical studies, including 382 patients with renal cell carcinoma (RCC) enrolled in CIK cell immunotherapy. CIK cells exhibited promising synergistic anti-tumor effects when combined with conventional therapies and showed mild adverse effects in patients with RCC. Preclinical researches also identified potential molecular targets that augmented CIK cell cytotoxicity against renal carcinoma cells. In future, large randomized clinical trials should be organized to further evaluate the clinical efficacy and optimize the treatment modality of CIK cells in RCC.
There is growing interest in cytokine-induced killer (CIK) cells on the integrated therapy of patients with RCC, especially those in the late stage or refractory to conventional chemotherapy and radiotherapy. In this review, a total of 15 clinical studies including 681 patients enrolled in CIK cell immunotherapy were outlined. Three-hundred-and-eighty-two patients with RCC were treated with CIK cells alone or in combination with DC vaccination, targeted agents sunitinib or sorafenib, and the PD-1 inhibitor pembrolizumab. Significantly improved 3-year overall survival rate was reported in four trials, whereas remarkably longer median progression-free survival was observed in three studies. Adverse reactions were mild and usually controllable fever and fatigue. Besides, preclinical research progresses were reviewed to increase our understanding about the underlying mechanisms of CIK cell cytotoxicity and identify potential targets to enhance their anti-tumor activity. These studies suggest that CIK cell-based immunotherapy has potential clinical benefits with a good safety profile and could become a promising approach in the combined therapies of RCC patients. However, further large-scale studies are required to evaluate the clinical efficacy of CIK cells and more efforts should be performed to identify the optimal CIK cell-based therapeutic regimen for RCC patients.
View Full-Text
►

▼

Show Figures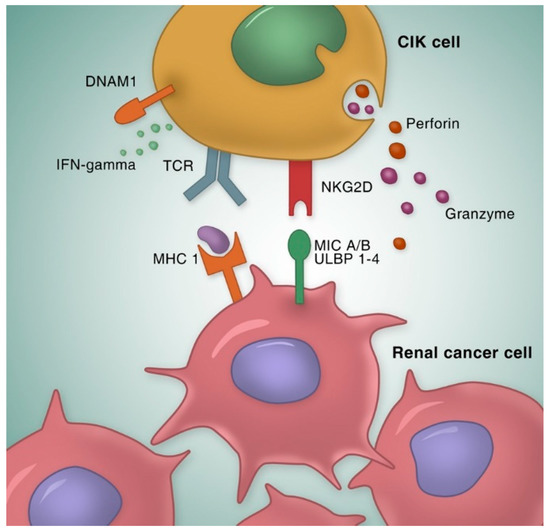 Figure 1
This is an open access article distributed under the
Creative Commons Attribution License
which permits unrestricted use, distribution, and reproduction in any medium, provided the original work is properly cited

Note that from the first issue of 2016, MDPI journals use article numbers instead of page numbers. See further details
here
.