Cryopreserved Human Natural Killer Cells Exhibit Potent Antitumor Efficacy against Orthotopic Pancreatic Cancer through Efficient Tumor-Homing and Cytolytic Ability (Running Title: Cryopreserved NK Cells Exhibit Antitumor Effect)
1
Department of Bioengineering, College of Engineering, Hanyang University, 222 Wangsimni-ro, Seongdong-gu, Seoul 04763, Korea
2
GeneMedicine Co., Ltd., Seoul 04763, Korea
3
GC LabCell 107, Ihyeon-ro 30beon-gil, Giheung-gu, Yongin-si, Gyeonggi-do 16924, Korea
4
Institute of Nano Science and Technology (INST), Hanyang University, 222 Wangsimni-ro, Seongdong-gu, Seoul 04763, Korea
*
Authors to whom correspondence should be addressed.
†
These authors have contributed equally to this work.
Received: 11 May 2019 / Revised: 4 July 2019 / Accepted: 5 July 2019 / Published: 9 July 2019
Abstract
Pancreatic cancer is known to be highly aggressive, and desmoplasia-induced accumulation of extracellular matrix (ECM), which is a hallmark of many pancreatic cancers, severely restricts the therapeutic efficacy of both immunotherapeutics and conventional chemotherapeutics due to the ECM functioning as a major physical barrier against permeation and penetration. In the case of cell-based immunotherapeutics, there are several other bottlenecks preventing translation into clinical use due to their biological nature; for example, poor availability of cell therapeutic in a readily usable form due to difficulties in production, handling, shipping, and storage. To address these challenges, we have isolated allogeneic natural killer (NK) cells from healthy donors and expanded them
in vitro
to generate cryopreserved stocks. These cryopreserved NK cells were thawed to evaluate their therapeutic efficacy against desmoplastic pancreatic tumors, ultimately aiming to develop a readily accessible and mass-producible off-the-shelf cell-based immunotherapeutic. The cultured NK cells post-thawing retained highly pure populations of activated NK cells that expressed various activating receptors and a chemokine receptor. Furthermore, systemic administration of NK cells induced greater
in vivo
tumor growth suppression when compared with gemcitabine, which is the standard chemotherapeutic used for pancreatic cancer treatment. The potent antitumor effect of NK cells was mediated by efficient tumor-homing ability and infiltration into desmoplastic tumor tissues. Moreover, the infiltration of NK cells led to strong induction of apoptosis, elevated expression of the antitumor cytokine interferon (IFN)-γ, and inhibited expression of the immunosuppressive transforming growth factor (TGF)-β in tumor tissues. Expanded and cryopreserved NK cells are strong candidates for future cell-mediated systemic immunotherapy against pancreatic cancer.
View Full-Text
►

▼

Figures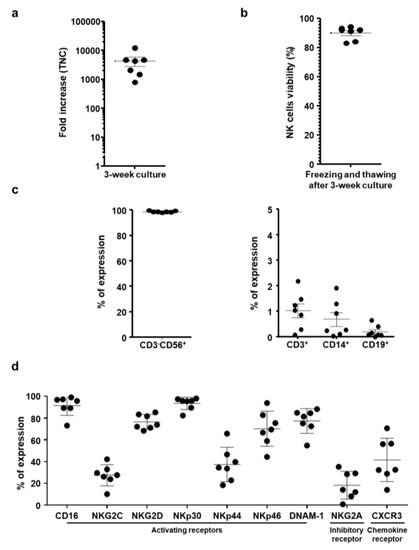 Figure 1
This is an open access article distributed under the
Creative Commons Attribution License
which permits unrestricted use, distribution, and reproduction in any medium, provided the original work is properly cited (CC BY 4.0).

Share & Cite This Article
MDPI and ACS Style
Oh, E.; Min, B.; Li, Y.; Lian, C.; Hong, J.; Park, G.-M.; Yang, B.; Cho, S.Y.; Hwang, Y.K.; Yun, C.-O. Cryopreserved Human Natural Killer Cells Exhibit Potent Antitumor Efficacy against Orthotopic Pancreatic Cancer through Efficient Tumor-Homing and Cytolytic Ability (Running Title: Cryopreserved NK Cells Exhibit Antitumor Effect). Cancers 2019, 11, 966.
Note that from the first issue of 2016, MDPI journals use article numbers instead of page numbers. See further details here.
Related Articles
Comments
[Return to top]