6-Thioguanine and Its Analogs Promote Apoptosis of Castration-Resistant Prostate Cancer Cells in a BRCA2-Dependent Manner
1
Institute of Biomembranes, Bioenergetics and Molecular Biotechnologies, National Research Council, Via Amendola 122/O, 70126 Bari, Italy
2
Department of Biosciences, Biotechnology and Biopharmaceutics, University of Bari, Via Orabona 4, 70125 Bari, Italy
*
Author to whom correspondence should be addressed.
†
These authors contributed equally to this work.
Received: 24 June 2019 / Accepted: 3 July 2019 / Published: 5 July 2019
Abstract
Background
: Mutations in the oncosuppressor gene
BReast CAncer susceptibility gene 2
(
BRCA2
) predispose to aggressive forms of prostate cancer which show poor response to taxane-based therapy, the standard treatment for castration-resistant, aggressive prostate cancer. Herein, we addressed the question whether changes in BRCA2 expression, a potential surrogate marker for BRCA2 activity, may affect the response of castration-resistant prostate cancer cells to 6-thioguanine (6-TG), a thiopurine used in the treatment of haematological malignancies.
Methods
: Yeast, normal prostate cells and castration-resistant prostate cancer cells were treated with 6-TG or its analogues, in presence or absence of paclitaxel, or with olaparib, a poly-(ADP-ribose) polymerase (PARP) inhibitor currently in clinical trials for treatment of metastatic castration-resistant prostate cancer, and cell proliferation, apoptosis and androgen receptor (AR) levels were measured.
Results
: 6-TG inhibited cell proliferation in yeast, normal and castration-resistant prostate cancer cells but promoted apoptosis only in cancer cells. Suppression of BRCA2 expression by siRNA or shRNA increased the sensitivity to 6-TG- and olaparib-induced apoptosis but did not affect cancer cell response to taxane. Intriguingly, 6-TG reduced AR expression levels independently on BRCA2 expression. Instead, olaparib decreased AR levels only in BRCA2-knockdown prostate cancer cells. Notably, overexpression of BRCA2 resulted in resistance of castration-resistant prostate cancer cells to 6-TG-, taxane- and olaparib-based treatment but promoted sensitivity to apoptosis induced by 2-amino-6-bromopurine and 2,6–dithiopurine, two 6-TG analogues.
Conclusions
: Our results provide a pre-clinical rationale for the use of 6-TG in the treatment of BRCA2-deficient castration-resistant prostate cancers, and of certain 6-TG analogues for treatment of BRCA2-proficient prostate cancers.
View Full-Text
►

▼

Figures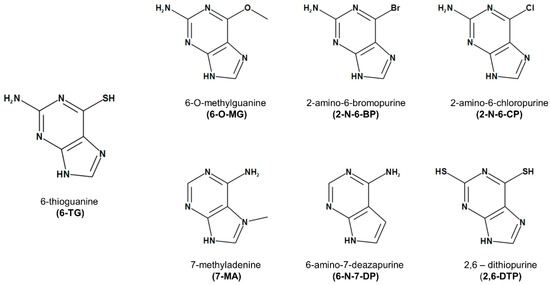 Figure 1
This is an open access article distributed under the
Creative Commons Attribution License
which permits unrestricted use, distribution, and reproduction in any medium, provided the original work is properly cited (CC BY 4.0).

Share & Cite This Article
MDPI and ACS Style
Laera, L.; Guaragnella, N.; Giannattasio, S.; Moro, L. 6-Thioguanine and Its Analogs Promote Apoptosis of Castration-Resistant Prostate Cancer Cells in a BRCA2-Dependent Manner. Cancers 2019, 11, 945.
Note that from the first issue of 2016, MDPI journals use article numbers instead of page numbers. See further details here.
Related Articles
Comments
[Return to top]