In Vivo Assessment of VCAM-1 Expression by SPECT/CT Imaging in Mice Models of Human Triple Negative Breast Cancer
1
Laboratory of Bioclinical Radiopharmaceutics, Universite Grenoble Alpes, Inserm, CHU Grenoble Alpes, LRB, 38000 Grenoble, France
2
Advanced Accelator Applications, 01630 Saint-Genis-Pouilly, France
3
Natural Barriers and Infectiosity, Universite Grenoble Alpes, CNRS, CHU Grenoble Alpes, TIMC-IMAG, 38000 Grenoble, France
4
Biomedical Department, Centre Scientifique de Monaco, 980000 Monaco, Monaco
5
Institute for Research on Cancer and Aging of Nice, Universite Cote d'Azur, CNRS UMR 7284, INSERM U1081, Centre Antoine Lacassagne, 061489 Nice, France
6
Laboratory of In Vivo Cellular and Molecular Imaging, ICMI-BEFY, Vrije Universiteit Brussel, Laarbeeklan 103, B-1090 Brussels, Belgium
*
Author to whom correspondence should be addressed.
†
Contributed equally to this work.
Received: 5 June 2019 / Revised: 18 July 2019 / Accepted: 19 July 2019 / Published: 23 July 2019
Abstract
Recent progress in breast cancer research has led to the identification of Vascular Cell Adhesion Molecule-1 (VCAM-1) as a key actor of metastatic colonization. VCAM-1 promotes lung-metastases and is associated with clinical early recurrence and poor outcome in triple negative breast cancer (TNBC). Our objective was to perform the in vivo imaging of VCAM-1 in mice models of TNBC. The Cancer Genomic Atlas (TCGA) database was analyzed to evaluate the prognostic role of VCAM-1 in TNBC. MDA-MB-231 (VCAM-1+) and control HCC70 (VCAM-1-) TNBC cells were subcutaneously xenografted in mice and VCAM-1 expression was assessed in vivo by single-photon emission computed tomography (SPECT) imaging using
99m
Tc-cAbVCAM1-5. Then, MDA-MB-231 cells were intravenously injected in mice and VCAM-1 expression in lung metastasis was assessed by SPECT imaging after 8 weeks. TCGA analysis showed that VCAM-1 is associated with a poor prognosis in TNBC patients. In subcutaneous tumor models,
99m
Tc-cAbVCAM1-5 uptake was 2-fold higher in MDA-MB-231 than in HCC70 (
p
< 0.01), and 4-fold higher than that of the irrelevant control (
p
< 0.01). Moreover,
99m
Tc-cAbVCAM1-5 uptake in MDA-MB-231 lung metastases was also higher than that of
99m
Tc-Ctl (
p
< 0.05).
99m
Tc-cAbVCAM1-5 is therefore a suitable tool to evaluate the role of VCAM-1 as a marker of tumor aggressiveness of TNBC.
View Full-Text
►

▼

Figures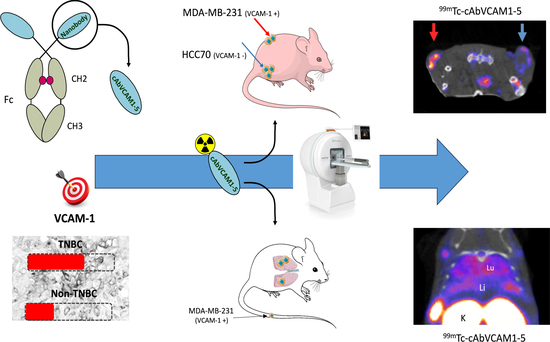 Graphical abstract
This is an open access article distributed under the
Creative Commons Attribution License
which permits unrestricted use, distribution, and reproduction in any medium, provided the original work is properly cited (CC BY 4.0).

Share & Cite This Article
MDPI and ACS Style
Montemagno, C.; Dumas, L.; Cavaillès, P.; Ahmadi, M.; Bacot, S.; Debiossat, M.; Soubies, A.; Djaïleb, L.; Leenhardt, J.; De Leiris, N.; Dufies, M.; Pagès, G.; Hernot, S.; Devoogdt, N.; Perret, P.; Riou, L.; Fagret, D.; Ghezzi, C.; Broisat, A. In Vivo Assessment of VCAM-1 Expression by SPECT/CT Imaging in Mice Models of Human Triple Negative Breast Cancer. Cancers 2019, 11, 1039.
Note that from the first issue of 2016, MDPI journals use article numbers instead of page numbers. See further details here.
Related Articles
Comments
[Return to top]