Targeting Cyclooxygenase-2 in Pheochromocytoma and Paraganglioma: Focus on Genetic Background
1
Department of Radiopharmaceutical and Chemical Biology, Helmholtz-Zentrum Dresden-Rossendorf, Institute of Radiopharmaceutical Cancer Research, 01328 Dresden, Germany
2
Institute of Clinical Chemistry and Laboratory Medicine, University Hospital Carl Gustav Carus at the Technische Universität Dresden, 01307 Dresden, Germany
3
Faculty of Medicine Carl Gustav Carus, School of Medicine, Technische Universität Dresden, 01307 Dresden, Germany
4
Human Cancer Genetics Programme, Hereditary Endocrine Cancer Group, Spanish National Cancer Research Centre, 28029 Madrid, Spain
5
Department of Internal Medicine; Sections of Endocrinology and Vascular Medicine, Radboud University Medical Centre, 6525 GA Nijmegen, The Netherlands
6
Department of Medicine III, University Hospital Carl Gustav Carus at the TU Dresden, 01307 Dresden, Germany
7
Centro de Investigación Biomédica en Red de Enfermedades Raras, 28029 Madrid, Spain
8
Faculty of Chemistry and Food Chemistry, School of Science, Technische Universität Dresden, 01069 Dresden, Germany
*
Authors to whom correspondence should be addressed.
Received: 30 April 2019 / Revised: 22 May 2019 / Accepted: 24 May 2019 / Published: 28 May 2019
Abstract
Cyclooxygenase 2 (COX-2) is a key enzyme of the tumorigenesis-inflammation interface and can be induced by hypoxia. A pseudohypoxic transcriptional signature characterizes pheochromocytomas and paragangliomas (PPGLs) of the cluster I, mainly represented by tumors with mutations in von Hippel–Lindau (
VHL
), endothelial PAS domain-containing protein 1 (
EPAS1
), or succinate dehydrogenase (
SDH
) subunit genes. The aim of this study was to investigate a possible association between underlying tumor driver mutations and COX-2 in PPGLs.
COX-2
gene expression and immunoreactivity were examined in clinical specimens with documented mutations, as well as in spheroids and allografts derived from mouse pheochromocytoma (MPC) cells. COX-2 in vivo imaging was performed in allograft mice. We observed significantly higher
COX-2
expression in cluster I, especially in
VHL
-mutant PPGLs, however, no specific association between
COX-2
mRNA levels and a hypoxia-related transcriptional signature was found. COX-2 immunoreactivity was present in about 60% of clinical specimens as well as in MPC spheroids and allografts. A selective COX-2 tracer specifically accumulated in MPC allografts. This study demonstrates that, although pseudohypoxia is not the major determinant for high COX-2 levels in PPGLs, COX-2 is a relevant molecular target. This potentially allows for employing selective COX-2 inhibitors as targeted chemotherapeutic agents and radiosensitizers. Moreover, available models are suitable for preclinical testing of these treatments.
View Full-Text
►

▼

Figures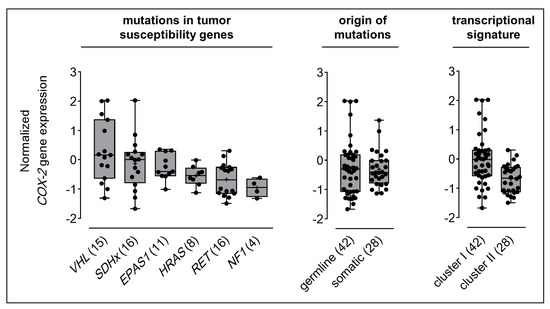 Figure 1
This is an open access article distributed under the
Creative Commons Attribution License
which permits unrestricted use, distribution, and reproduction in any medium, provided the original work is properly cited (CC BY 4.0).

Share & Cite This Article
MDPI and ACS Style
Ullrich, M.; Richter, S.; Seifert, V.; Hauser, S.; Calsina, B.; Martínez-Montes, Á.M.; ter Laak, M.; Ziegler, C.G.; Timmers, H.; Eisenhofer, G.; Robledo, M.; Pietzsch, J. Targeting Cyclooxygenase-2 in Pheochromocytoma and Paraganglioma: Focus on Genetic Background. Cancers 2019, 11, 743.
Note that from the first issue of 2016, MDPI journals use article numbers instead of page numbers. See further details here.
Related Articles
Comments
[Return to top]