Functional Effects of
let-7g

Expression in Colon Cancer Metastasis

1

Master Program for Clinical Pharmacogenomics and Pharmacoproteomics, School of Pharmacy, Taipei Medical University, Taipei 110, Taiwan

2

Department of Clinical Pharmacy, School of Pharmacy, Taipei Medical University, Taipei 110, Taiwan

3

Ph.D. for Medical Biotechnology Program, College of Medical Science and Technology, Taipei Medical University, Taipei 110, Taiwan

4

Department of Surgery, School of Medicine, College of Medicine, Taipei Medical University, Taipei 110, Taiwan

5

Division of General Surgery, Department of Surgery, Shuang Ho Hospital, Taipei Medical University, Taipei 235, Taiwan

6

Research Organization for Nano & Life Innovation, Waseda University, Tokyo 162-8480, Japan

7

Emerging Compounds Research Center, Department of Environmental Science and Engineering, College of Engineering, National Pingtung University of Science and Technology, Pingtung 91201, Taiwan

8

Department of Medical Research, E-DA Hospital, I-Shou University, Kaohsiung 84001, Taiwan

9

Division of Colorectal Surgery, Department of Surgery, Kaohsiung Medical University Hospital, Kaohsiung Medical University, Kaohsiung 807, Taiwan

10

Department of Medical Genetics, College of Medicine, Kaohsiung Medical University, Kaohsiung 807, Taiwan

11

Department of Pharmacology, College of Medicine, National Cheng Kung University, Tainan 701, Taiwan

12

Department of Medical Pathology and Laboratory Medicine, University of California, Davis, Sacramento, CA 95817, USA

13

Department of Surgery, Faculty of Medicine, College of Medicine, Kaohsiung Medical University, Kaohsiung 807, Taiwan

14

Graduate Institute of Medicine, College of Medicine, Kaohsiung Medical University, Kaohsiung 807, Taiwan

15

Graduate Institute of Clinical Medicine, College of Medicine, Kaohsiung Medical University, Kaohsiung 807, Taiwan

16

Department of Pharmacy, Taipei Medical University-Wanfang Hospital, Taipei 116, Taiwan

17

Department of Medicine Research, Taipei Medical University-Shuang Ho Hospital, New Taipei City 235, Taiwan

*

Authors to whom correspondence should be addressed.

†

These authors contributed equally to this work.

Received: 17 January 2019 / Revised: 25 March 2019 / Accepted: 28 March 2019 / Published: 6 April 2019
Abstract
MicroRNA regulation is crucial for gene expression and cell functions. It has been linked to tumorigenesis, development and metastasis in colorectal cancer (CRC). Recently, the
let-7
family has been identified as a tumor suppressor in different types of cancers. However, the function of the
let-7
family in CRC metastasis has not been fully investigated. Here, we focused on analyzing the role of
let-7g
in CRC. The Cancer Genome Atlas (TCGA) genomic datasets of CRC and detailed data from a Taiwanese CRC cohort were applied to study the expression pattern of
let-7g
. In addition, in vitro as well as in vivo studies have been performed to uncover the effects of
let-7g
on CRC. We found that the expression of
let-7g
was significantly lower in CRC specimens. Our results further supported the inhibitory effects of
let-7g
on CRC cell migration, invasion and extracellular calcium influx through store-operated calcium channels. We report a critical role for
let-7g
in the pathogenesis of CRC and suggest
let-7g
as a potential therapeutic target for CRC treatment.
View Full-Text
►

▼

Figures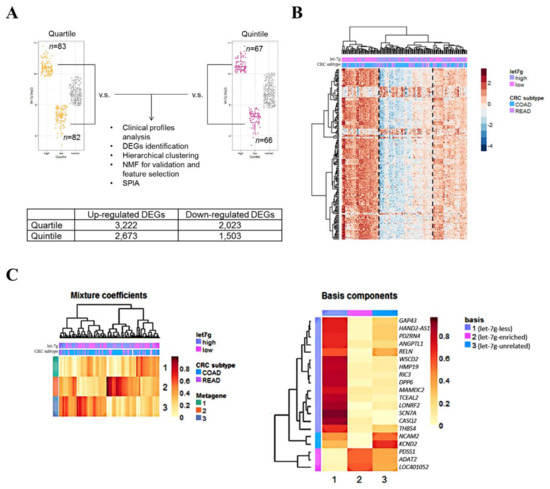 Figure 1
This is an open access article distributed under the
Creative Commons Attribution License
which permits unrestricted use, distribution, and reproduction in any medium, provided the original work is properly cited (CC BY 4.0).

Share & Cite This Article
MDPI and ACS Style
Chang, C.-M.; Wong, H. .-C.; Huang, C.-Y.; Hsu, W.-L.; Maio, Z.-F.; Chiu, S.-J.; Tsai, Y.-T.; Chen, B.-K.; Wan, Y.-J.Y.; Wang, J.-Y.; Chang, W.-C. Functional Effects of let-7g Expression in Colon Cancer Metastasis. Cancers 2019, 11, 489.
Note that from the first issue of 2016, MDPI journals use article numbers instead of page numbers. See further details here.
Related Articles
Comments
[Return to top]