Open Access This article is
freely available
re-usable
Review
A Review on Lattice Defects in Graphene: Types, Generation, Effects and Regulation
School of Electro-Mechanical Engineering, Xidian University, Number 2 Taibai South Road, Xi'an 710071, China
*
Author to whom correspondence should be addressed.
Academic Editor: Ha Duong Ngo
Received: 31 March 2017 / Accepted: 12 May 2017 / Published: 18 May 2017
Abstract
:
Graphene, having a perfect two-dimensional crystal structure, has many excellent features such as a high specific surface area, and extraordinary electrical, thermal and mechanical properties. However, during the production process, lattice defects will inevitably be produced. Therefore, the performance of graphene with various defects is much lower than its theoretical value. We summarize the major advances of research into graphene defects in engineering in this paper. Firstly, the main types and causes of defects in graphene are introduced. Secondly, the influence of different defects in graphene on the chemical, electronic, magnetic and mechanical properties is discussed. Also, the control methods of graphene defects are reviewed. Finally, we propose the future challenges and prospects for the study of the defects of graphene and other nano-carbon materials.
Keywords:
graphene; lattice defects; vacancies; control method
1. Introduction
In this review, we summarize the major advances in the study of graphene defects in engineering, including the main types of graphene defects, the generation and regulation of graphene defects, and the effect of lattice defects on the properties of graphene.
2. Types of Defects in Graphene
Structural defects in carbon nanotubes [
18
,
19
,
20
,
21
,
22
] and graphite [
23
,
24
,
25
,
26
,
27
] are investigated in some early studies. As a result, it is not difficult to imagine that graphene should also be defective at the atomic level. In fact, it is difficult to identify accurately and quantitatively the types of structural defects contained in graphene. However, the new high-resolution transmission electron microscope (TEM) [
28
] provides the capability to resolve every single atom in the graphene lattice, even for suspended single-layer graphene. In addition, the scanning electron microscope (SEM) [
29
,
30
] and atomic force microscope (AFM) are widely used experimental devices for characterizing nano-materials. Therefore, theoretically predicted configurations can be directly imaged.
In general, defects in graphene can be categorized into two different groups: the first one is intrinsic defects, which is composed of non-sp
2
orbital hybrid carbon atoms in graphene. These defects are usually caused by the existence of non-hexagonal rings surrounded by hexagonal rings; the second defects are extrinsic defects. The crystalline order is perturbed with non-carbon atoms in graphene [
31
].
In addition, based on previous studies on the migration of bulk crystal defects [
32
,
33
], in particular the study of the structural remodeling of carbon nanotubes under external energy disturbances [
34
], it is reasonable to assume that defects can be not always random and stationary, migrating with a certain mobility governed by the activation barrier and temperature [
35
].
2.1. Intrinsic Defects in Graphene
The intrinsic defects of graphene can be divided into five categories: Stone-Wales defects, single vacancy defects, multiple vacancy defects, line defects and carbon adatoms.
2.2. The Introduction of Defects in Graphene
The introduced defects of graphene can be divided into two categories: foreign adatoms and substitutional impurities. These two types of defects are described below.
2.3. Double Graphene Structure Defects
When constructed in a layered manner, the graphene forms a graphite-like structure. If the graphene itself is free of defects, there will be no chemically bonded carbon atoms between the layers. However, since there are intrinsic defects (holes, dangling bonds or carbon atoms in the migrating state) in the graphene, even if only two layers of graphene are laminated, the defective graphene sheet layers will form new chemical bonds with adjacent carbon atoms [
59
].
If the stacking process involves more layers of graphene, the structural defects will be more complex. These complex defects are then likely to ultimately affect the macrostructure of the building material. In addition, it will affect the physical and chemical properties of the material. Monolithic graphene and graphene nanosheets are not infinitely large in space scale, so graphene in different stacking regions must involve concurrent domain processes in the construction of the graphite structure. If the domain processes are not good, it will result in a lack of long-range order in the material. This will also cause material defects [
60
].
3. Preparation of Graphene and Generation of Defects
The preparation method of graphene has a significant relationship with the formation of defects. Generally speaking, the introduction of defects in graphene cannot be avoided in the preparation process, due to the preparation method, temperature, environment and so on. The main defects are morphological and chemical-doped defects. The most common methods of preparation can be divided into two categories: CVD and graphene exfoliation. In addition, different preparation methods introduce various defects. For CVD methods, topological defects are often introduced, mainly because the dissolution technique is not mature enough. During the separation process, the structure of graphene will sustain damage, such as regional overlapping or rupture. Furthermore, the choice of substrate also has a certain impact on graphene defects. Commonly used substrates are Cu, Si and Ni substrate. These defects will have a great impact on the performance of graphene, so that its performance in reality is far below its theoretical value. However, CVD can produce a large area of graphene, so it has a certain industrial and engineering value.
In the previous section, we discussed the defect structure of graphene, and also analyzed some causes of these defects. In this section, generation of these defects will be categorized. In summary, there are three mechanisms which can lead to nonequilibrium defects in graphene: irradiation with particles, chemical treatment and crystal growth.
4. Effect of Defects on Properties of Graphene
It is well known that graphene has many unique physical and chemical properties because of its perfect and unique hexagonal single-layer carbon atom flake structure. So when it comes to lattice defects, it is very easy to think of its negative impact. For example, the actual conductivity of prepared graphene is usually lower than the theoretical calculation value. The result of this is that the existence of defects destroys the geometric symmetry and perfection of the graphene nanobelt. On one hand, lattice defects break the integrity and symmetry of graphene crystals and accordingly influence electronic transmission. On the other hand, the gap formed by the defect opens the ion transport path. Also, it enhances interaction between atoms and graphene. It contributes to the application of graphene-based composites. In the following, we will give an objective and comprehensive review of the effects of various lattice defects on the macroscopic properties of graphene.
5. Regulation of Graphene Defects
Graphene defects are closely related to their properties. In order to let graphene have better characteristics and achieve specific purposes, we need to regulate and control graphene defects. In the control methods, some aim to increase the graphene activity or to tailor graphene to manufacture micro-nano devices. Others aim to improve the ordering of graphene crystal structure.
5.1. Defects Manufacturing
Compared with intrinsic defects, extrinsic defects are more convenient to be produced experimentally. The introduction of extrinsic defects can be brought about through chemical reactions. As long as the chemical reagents are active enough under certain conditions, other heteroatoms can be introduced into the graphene. The most typical method is the introduction of an oxygen-containing functional group into the graphene, i.e., the preparation of graphene oxide [
90
]. Moreover, nitrogen-doped defects can be introduced into graphene by a plasma atmosphere [
57
]. Boron-doped defects can be introduced into graphene through chemical reactions between the graphene and compound containing boron under high temperatures [
58
].
Of course, the study of the manufacture of intrinsic defects in graphene is also developing. There are two main approaches. One is the use of high-energy particle beam bombardment. This can be used on the graphene surface, which gives carbon atoms enough energy to escape from lattice sites. For example, the use of an argon ion beam can tailor vacancy defects on graphene. This method has good prospects in constructing graphene nanodevices [
91
]. The other is through the use of chemical methods. First, catalytic metal atoms should be loaded onto the graphene surface. Then, the metal atoms catalyze the carbon atoms on the graphene. They make carbon atoms spill from graphene in the gas phase. Thereby, intrinsic defects will be created. For example, platinum atoms are loaded on the graphene, and are then heated to 1000 °C in a hydrogen atmosphere [
92
]. The platinum-catalyzed carbon atoms react with hydrogen to form methane. The graphene obtained by this method displays high adsorption activity because of the presence of dangling bonds in the defects domain. This is expected to be used as a carbon dioxide storage material [
93
].
5.2. Defects Reduction
The reduction of defects in graphene can be considered from two perspectives. One is to use the appropriate preparation method to decrease defect concentration; the other is to repair graphene that contains defects.
Nowadays, graphene with few defects can be prepared by crystal growth on the metal surface. For this method, metals that can be used include Co [
94
], Ru [
95
], Pt [
96
,
97
], Ir [
41
], Cu [
92
], Ni [
98
] and so on. A gaseous hydrocarbon such as methane, ethylene, acetylene or a mixture of the above-mentioned gasses and hydrogen is generally selected as the carbon source. Previously, application of this method was limited because the carbon source could only be gas. In 2010, the use of solid carbon sources on the Cu surface for preparation was reported [
99
]. This provided new ideas for practicality. The specific operation includes the following steps: first, coat polymethyl methacrylate on the surface of Cu, and then leave in an atmosphere composed of H-Ar mixed gas at 800–1000 °C for 10 min. Graphene can then grow on the metal surface. Therefore, graphene prepared by this method exhibits a very low defect peak intensity in the Raman spectrum. This is a very promising graphene defect control program. However, identifying how to strip the graphene film from the metal surface without damage is a big challenge. In addition, recent studies have found that the use of ultrasound techniques in the liquid phase of peeling graphite can obtain low-defective graphene. With the development of the research in this area, the production of graphene by this method is increasing. Also, it is expected to produce low defect graphene in large quantities.
Although the above methods can reduce the defects of oxygen extrinsic atoms, the removal of external defects is often accompanied by the loss of carbon atoms. This will result in intrinsic defects. In Raman spectroscopy, the ratio of
I
D
(the peak intensity of the defective structure) to
I
G
(the peak intensity of the regular graphene structure) does not change or even increase. A recent study solves this problem by placing the graphene oxide into plasma methane [
100
]. This is a method for producing large-scale graphene in the future. As a result, there are a variety of repair methods that are worth exploring.
6. Conclusions
Due to its excellent physicochemical properties, graphene plays a significant role in today's nanoscience. A variety of defects, including vacancies, interstitials, topological defects and line defects are unavoidable in experiments. The defects of graphene have a direct impact on the properties of the graphene. Although a large number of experiments or theoretical simulations have been carried out for the defects of graphene, based on the wide application prospect of graphene materials, the study of its defect characteristics needs further enrichment.
Acknowledgments
The work is supported by Research Program supported by National Science Foundation of China (61176130) and National Science Foundation of Ningbo (2016A610030).
Author Contributions
Wenchao Tian conducted the review and guide on the content. Wenhua Li wrote the manuscript. Wenbo Yu edited and revised it critically. Xiaohan Liu contributed in discussion and helped searching the literatures.
Conflicts of Interest
The authors declare no conflict of interest.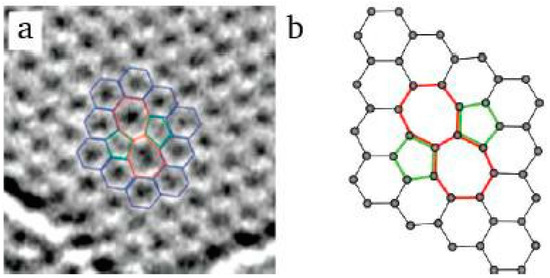 Figure 1.
Stone-Wales defects in graphene (
a
) experimental TEM image. Reprinted with permission from [
37
]; copyright (2008) American Chemical Society; (
b
) atomic structure as obtained from density functional theory (DFT) calculations. Reprinted with permission from [
38
]; copyright (2010) American Chemical Society.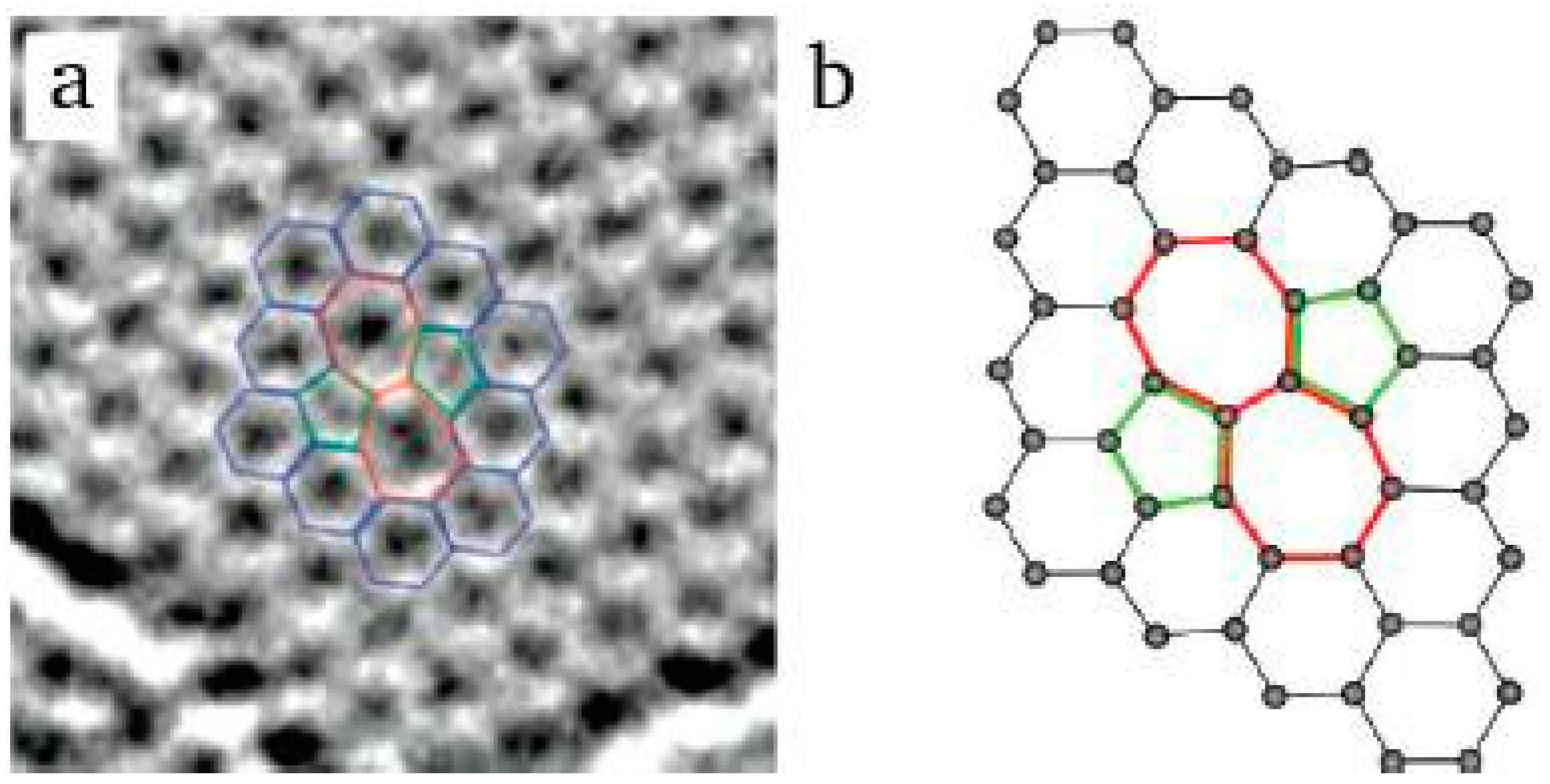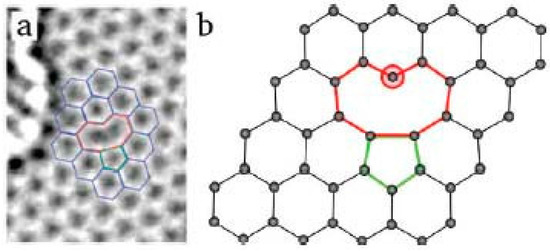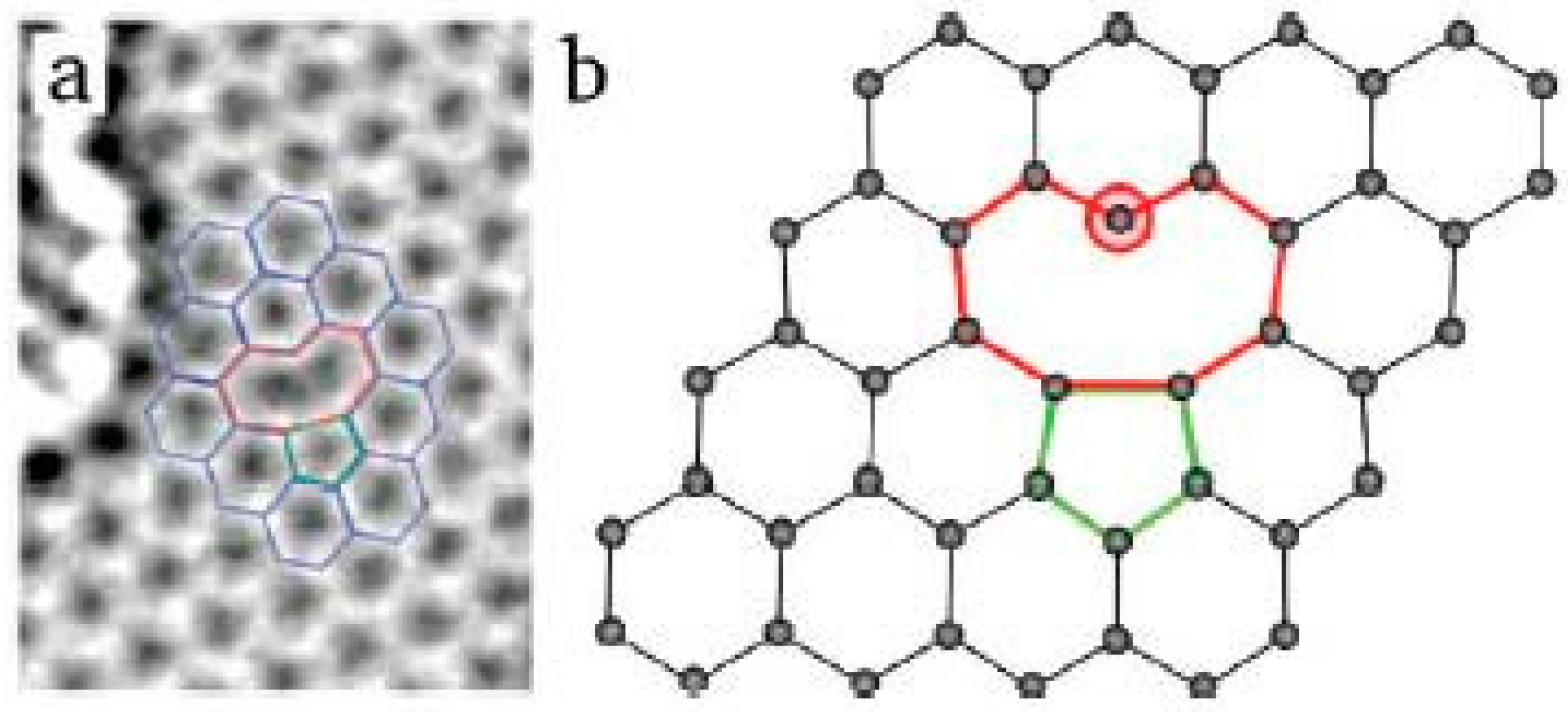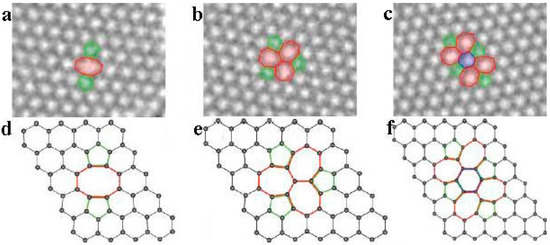 Figure 3.
Multiply vacancy defects in graphene: (
a
–
c
) experimental TEM images (
d
–
f
) atomic structures as obtained from DFT calculations. Reprinted with permission from [
38
]; copyright (2010) American Chemical Society.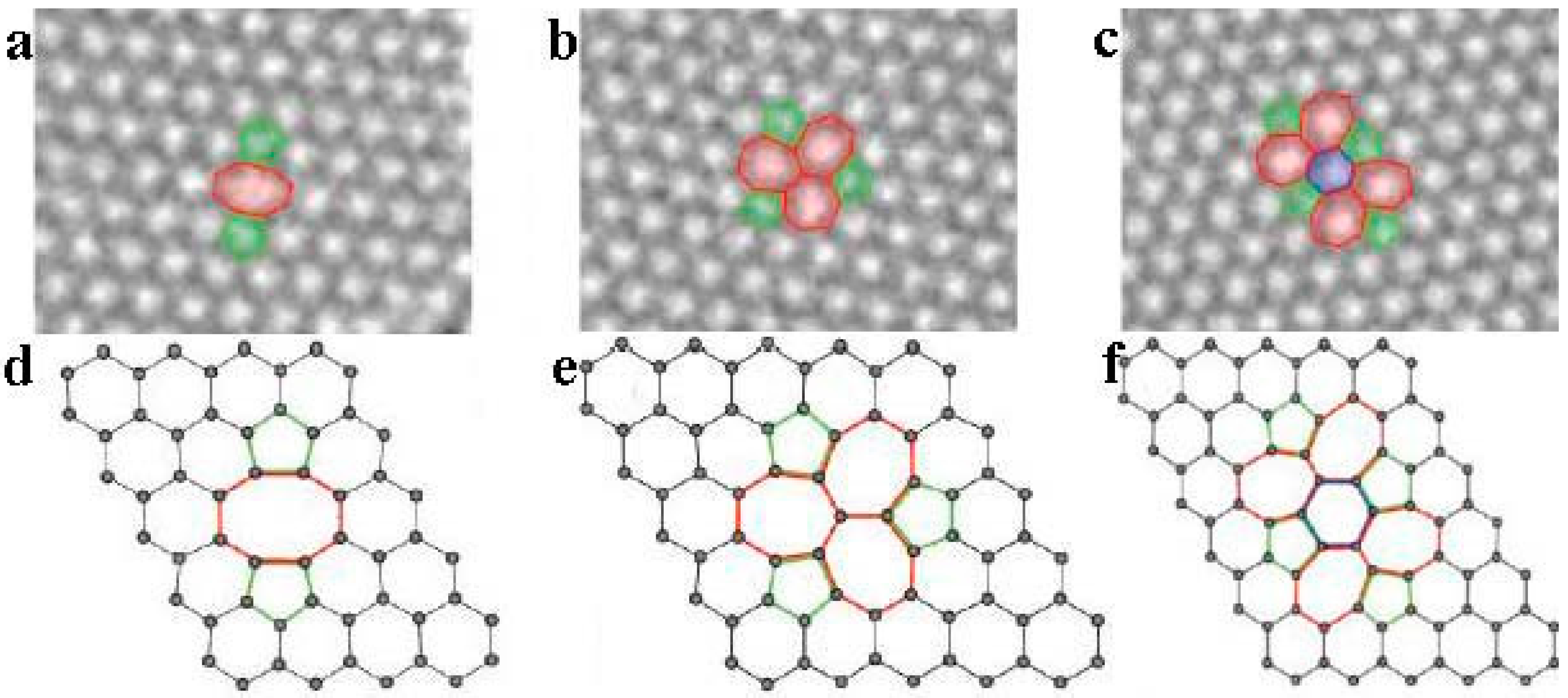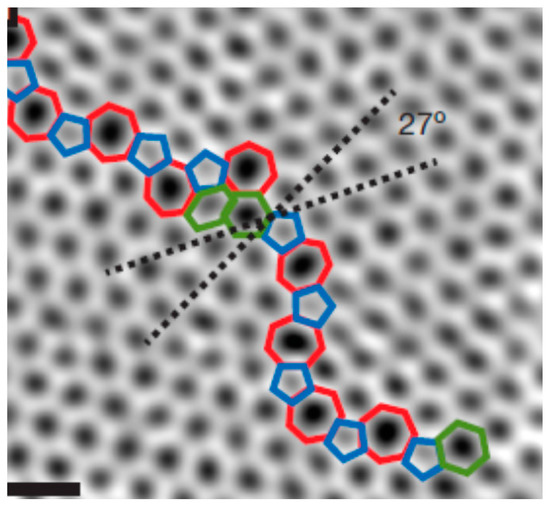 Figure 4.
Aberration-corrected annular dark-field scanning transmission electron microscopy (ADF-STEM) of line defects in graphene; scale bars: 5 Å. Reprinted with permission from [
40
]; copyright (2010) Nature Publishing Group.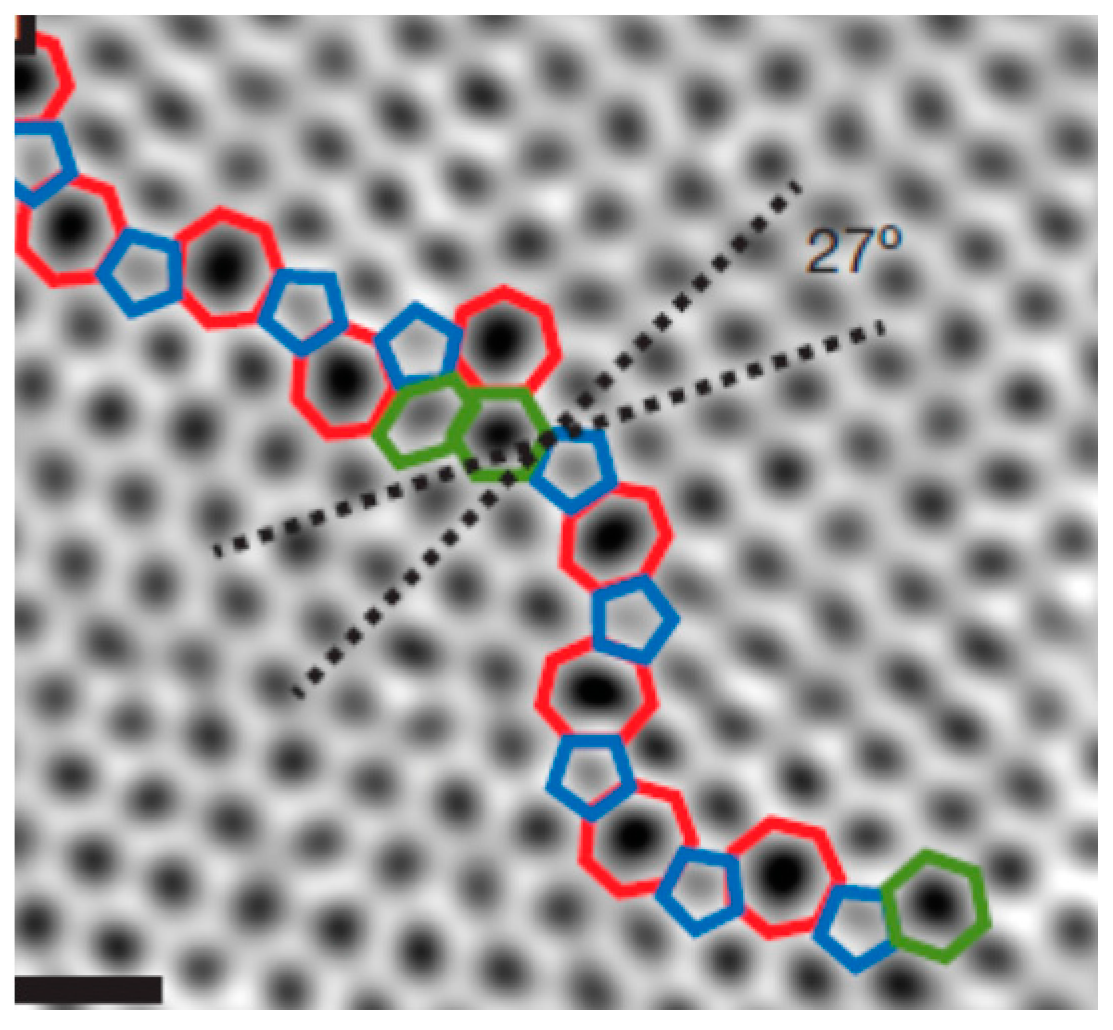 Figure 5.
The introduction of defects to the outside surface of carbon atoms in graphene: (
a
–
c
) space structure (
d
–
f
) the location of the introduced carbon atom. Reprinted with permission from [
38
]; copyright (2010) American Chemical Society.

Figure 6.
Graphene in-plane heteroatom substitution defect model: (
a
) nitrogen defects (
b
) boron defects. Reprinted with permission from [
56
]; copyright (2010) American Chemical Society.


© 2017 by the authors. Licensee MDPI, Basel, Switzerland. This article is an open access article distributed under the terms and conditions of the Creative Commons Attribution (CC BY) license (http://creativecommons.org/licenses/by/4.0/).