The Ameliorative Effects of a Tocotrienol-Rich Fraction on the AGE-RAGE Axis and Hypertension in High-Fat-Diet-Fed Rats with Metabolic Syndrome
1
School of Science, Monash University Malaysia, Bandar Sunway, Selangor 46150, Malaysia
2
School of Medicine and Health Sciences, Monash University Malaysia, Bandar Sunway, Selangor 46150, Malaysia
*
Author to whom correspondence should be addressed.
Received: 4 August 2017 / Revised: 1 September 2017 / Accepted: 1 September 2017 / Published: 7 September 2017
Abstract
The clinical value of tocotrienols is increasingly appreciated because of the unique therapeutic effects that are not shared by tocopherols. However, their effect on metabolic syndrome is not well-established. This study aimed to investigate the effects of a tocotrienol-rich fraction (TRF) from palm oil in high-fat-diet-treated rats. Male, post-weaning Sprague Dawley rats were provided high-fat (60% kcal) diet for eight weeks followed by a TRF (60 mg/kg) treatment for another four weeks. Physical, metabolic, and histological changes were compared to those on control and high-fat diets respectively. High-fat feeding for eight weeks induced all hallmarks of metabolic syndrome. The TRF reversed systolic and diastolic hypertension, hypercholesterolemia, hepatic steatosis, impaired antioxidant defense, and myeloperoxidase hyperactivity triggered by the high-fat diet. It also conferred an inhibitory effect on protein glycation to reduce glycated hemoglobin A1c and advanced glycation end products (AGE). This was accompanied by the suppression of the receptor for advanced glycation end product (RAGE) expression in the liver. The treatment effects on visceral adiposity, glycemic control, triglyceride level, as well as peroxisome proliferator-activated receptor α and γ expression were negligible. To conclude, treatment with a TRF exhibited protective effects on the cardiovascular and liver health in addition to the amelioration of plasma redox imbalance and AGE-RAGE activation. Further investigation as a therapy for metabolic syndrome is therefore worthwhile.
View Full-Text
►

▼

Figures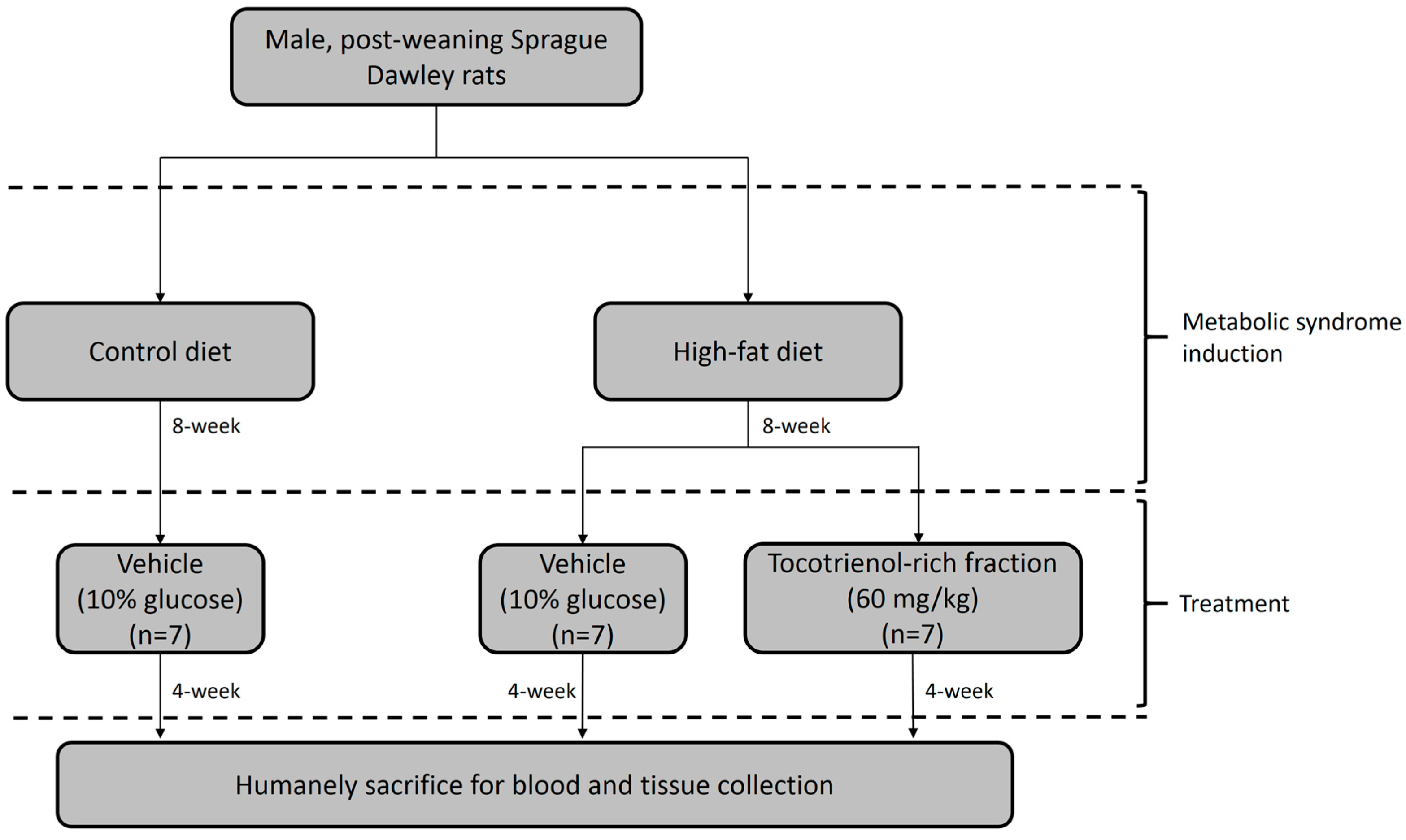 Figure 1
This is an open access article distributed under the
Creative Commons Attribution License
which permits unrestricted use, distribution, and reproduction in any medium, provided the original work is properly cited (CC BY 4.0).

Share & Cite This Article
MDPI and ACS Style
Cheng, H.S.; Ton, S.H.; Tan, J.B.L.; Abdul Kadir, K. The Ameliorative Effects of a Tocotrienol-Rich Fraction on the AGE-RAGE Axis and Hypertension in High-Fat-Diet-Fed Rats with Metabolic Syndrome. Nutrients 2017, 9, 984.
Note that from the first issue of 2016, MDPI journals use article numbers instead of page numbers. See further details here.
Related Articles
Comments
[Return to top]