Endurance Exercise Increases Intestinal Uptake of the Peanut Allergen Ara h 6 after Peanut Consumption in Humans
1
Wageningen Food and Biobased Research, Wageningen University and Research, P.O. Box 17, 6700 AA Wageningen, The Netherlands
2
Nutrition and Pharmacology, Wageningen University and Research, P.O. Box 17, 6700 AA Wageningen, The Netherlands
3
Human and Animal Physiology, Wageningen University and Research, P.O. Box 17, 6700 AA Wageningen, The Netherlands
4
Nutricia Research, P.O. Box 80141, 3508 TC Utrecht, The Netherlands
5
Food Allergy Research and Resource Program, Food Science and Technology, University of Nebraska-Lincoln, Rm 279 Food Innovation Center, P.O. Box 886207, Lincoln, NE 68588-6207, USA
6
Maastricht University Medical Centre, Department of Surgery, NUTRIM School of Nutrition and Translational Research in Metabolism, P.O. Box 616, 6200 MD Maastricht, The Netherlands
*
Author to whom correspondence should be addressed.
Received: 8 November 2016 / Revised: 16 January 2017 / Accepted: 17 January 2017 / Published: 21 January 2017
Abstract
Controlled studies on the effect of exercise on intestinal uptake of protein are scarce and underlying mechanisms largely unclear. We studied the uptake of the major allergen Ara h 6 following peanut consumption in an exercise model and compared this with changes in markers of intestinal permeability and integrity. Ten overnight-fasted healthy non-allergic men (
n
= 4) and women (
n
= 6) (23 ± 4 years) ingested 100 g of peanuts together with a lactulose/rhamnose (L/R) solution, followed by rest or by 60 min cycling at 70% of their maximal workload. Significantly higher, though variable, levels of Ara h 6 in serum were found during exercise compared to rest (Peak
p
= 0.03; area under the curve
p
= 0.006), with individual fold changes ranging from no increase to an increase of over 150-fold in the uptake of Ara h 6. Similarly, uptake of lactulose (2–18 fold change,
p
= 0.0009) and L/R ratios (0.4–7.9 fold change,
p
= 0.04) were significantly increased which indicates an increase in intestinal permeability. Intestinal permeability and uptake of Ara h 6 were strongly correlated (
r
= 0.77,
p
< 0.0001 for lactulose and Ara h 6). Endurance exercise after consumption may lead to increased paracellular intestinal uptake of food proteins.
View Full-Text
►

▼

Figures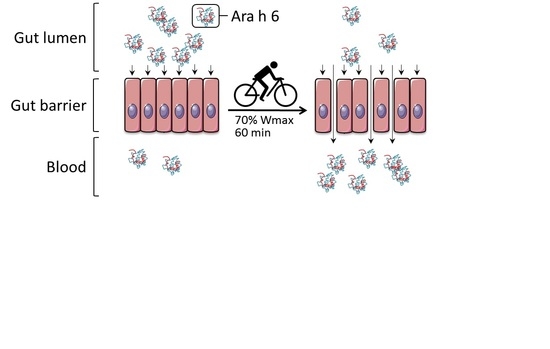 Graphical abstract
This is an open access article distributed under the
Creative Commons Attribution License
which permits unrestricted use, distribution, and reproduction in any medium, provided the original work is properly cited (CC BY 4.0).

Share & Cite This Article
MDPI and ACS Style
JanssenDuijghuijsen, L.M.; Van Norren, K.; Grefte, S.; Koppelman, S.J.; Lenaerts, K.; Keijer, J.; Witkamp, R.F.; Wichers, H.J. Endurance Exercise Increases Intestinal Uptake of the Peanut Allergen Ara h 6 after Peanut Consumption in Humans. Nutrients 2017, 9, 84.
Note that from the first issue of 2016, MDPI journals use article numbers instead of page numbers. See further details here.
Related Articles
Comments
[Return to top]