Soil Moisture Estimation over Vegetated Agricultural Areas: Tigris Basin, Turkey from Radarsat-2 Data by Polarimetric Decomposition Models and a Generalized Regression Neural Network
1
Department of Electrical & Electronics Engineering, Faculty of Engineering, Dicle University, 21280 Diyarbakır, Turkey
2
Department of Electrical & Electronics Engineering, Faculty of Engineering and Architecture, Batman University, 72060 Batman, Turkey
3
Department of Field Crops, Faculty of Agriculture, Dicle University, 21280 Diyarbakır, Turkey
*
Author to whom correspondence should be addressed.
Academic Editors: Nicolas Baghdadi and Prasad S. Thenkabail
Received: 8 March 2017 / Revised: 8 April 2017 / Accepted: 19 April 2017 / Published: 23 April 2017
Abstract
Determining the soil moisture in agricultural fields is a significant parameter to use irrigation systems efficiently. In contrast to standard soil moisture measurements, good results might be acquired in a shorter time over large areas by remote sensing tools. In order to estimate the soil moisture over vegetated agricultural areas, a relationship between Radarsat-2 data and measured ground soil moistures was established by polarimetric decomposition models and a generalized regression neural network (GRNN). The experiments were executed over two agricultural sites on the Tigris Basin, Turkey. The study consists of four phases. In the first stage, Radarsat-2 data were acquired on different dates and in situ measurements were implemented simultaneously. In the second phase, the Radarsat-2 data were pre-processed and the GPS coordinates of the soil sample points were imported to this data. Then the standard sigma backscattering coefficients with the Freeman–Durden and H/A/α polarimetric decomposition models were employed for feature extraction and a feature vector with four sigma backscattering coefficients (σhh, σhv, σvh, and σvv) and six polarimetric decomposition parameters (entropy, anisotropy, alpha angle, volume scattering, odd bounce, and double bounce) were generated for each pattern. In the last stage, GRNN was used to estimate the regional soil moisture with the aid of feature vectors. The results indicated that radar is a strong remote sensing tool for soil moisture estimation, with mean absolute errors around 2.31 vol %, 2.11 vol %, and 2.10 vol % for Datasets 1–3, respectively; and 2.46 vol %, 2.70 vol %, 7.09 vol %, and 5.70 vol % on Datasets 1 & 2, 2 & 3, 1 & 3, and 1 & 2 & 3, respectively.
View Full-Text
►

▼

Figures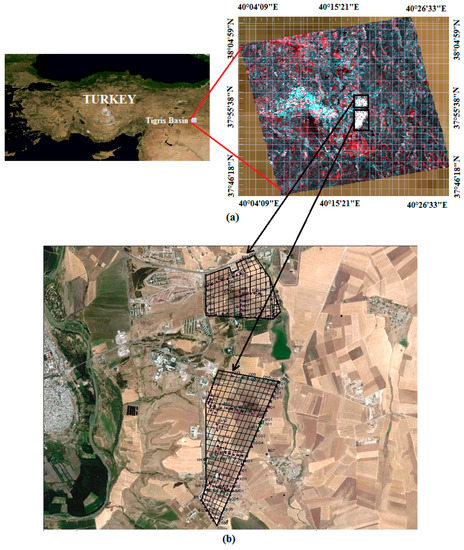 Figure 1
This is an open access article distributed under the
Creative Commons Attribution License
which permits unrestricted use, distribution, and reproduction in any medium, provided the original work is properly cited (CC BY 4.0).

Share & Cite This Article
MDPI and ACS Style
Özerdem, M.S.; Acar, E.; Ekinci, R. Soil Moisture Estimation over Vegetated Agricultural Areas: Tigris Basin, Turkey from Radarsat-2 Data by Polarimetric Decomposition Models and a Generalized Regression Neural Network. Remote Sens. 2017, 9, 395.
Note that from the first issue of 2016, MDPI journals use article numbers instead of page numbers. See further details here.
Related Articles
Comments
[Return to top]