A New Equation for Deriving Vegetation Phenophase from Time Series of Leaf Area Index (LAI) Data
1
State Key Laboratory of Resources and Environmental Information System, Institute of Geographical Sciences and Natural Resources Research (IGSNRR), Chinese Academy of Sciences (CAS), Beijing 100101, China
2
University of Chinese Academy of Sciences, Beijing 100049, China
3
School of Environment Science and Spatial Informatics, China University of Mining and Technology, Xuzhou 221116, China
*
Authors to whom correspondence should be addressed.
Received: 6 March 2014 / Revised: 6 June 2014 / Accepted: 9 June 2014 / Published: 17 June 2014
Abstract
Accurately modeling the land surface phenology based on satellite data is very important to the study of vegetation ecological dynamics and the related ecosystem process. In this study, we developed a Sigmoid curve (S-curve) function by integrating an asymmetric Gaussian function and a logistic function to fit the leaf area index (LAI) curve. We applied the resulting asymptotic lines and the curvature extrema to derive the vegetation phenophases of germination, green-up, maturity, senescence, defoliation and dormancy. The new proposed S-curve function has been tested in a specific area (Shangdong Province, China), characterized by a specific pattern in leaf area index (LAI) time course due to the dominant presence of crops. The function has not yet received any global testing. The identified phenophases were validated against measurement stations in Shandong Province. (i) From the site-scale comparison, we find that the detected phenophases using the S-curve (SC) algorithm are more consistent with the observations than using the logistic (LC) algorithm and the asymmetric Gaussian (AG) algorithm, especially for the germination and dormancy. The phenological recognition rates (PRRs) of the SC algorithm are obviously higher than those of two other algorithms. The S-curve function fits the LAI curve much better than the logistic function and asymmetric Gaussian function; (ii) The retrieval results of the SC algorithm are reliable and in close proximity to the green-up observed data whether using the AVHRR LAI or the improved MODIS LAI. Three inversion algorithms shows the retrieval results based on AVHRR LAI are all later than based on improved MODIS LAI. The bias statistics reveal that the retrieval results based on the AVHRR LAI datasets are more reasonable than based on the improved MODIS LAI datasets. Overall, the S-curve algorithm has the advantage of deriving vegetation phenophases across time and space as compared to the LC algorithm and the AG algorithm. With the SC algorithm, the vegetation phenophases can be extracted more effectively.
View Full-Text
►

▼

Figures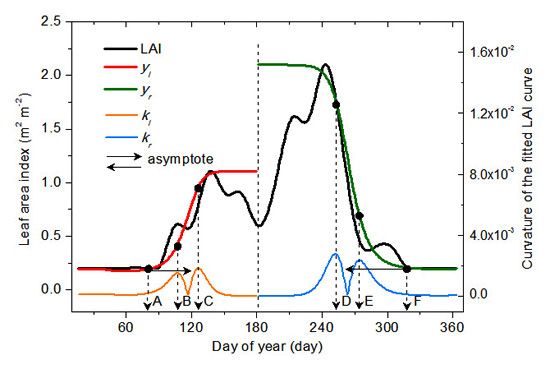 Graphical abstract

Share & Cite This Article
MDPI and ACS Style
Che, M.; Chen, B.; Zhang, H.; Fang, S.; Xu, G.; Lin, X.; Wang, Y. A New Equation for Deriving Vegetation Phenophase from Time Series of Leaf Area Index (LAI) Data. Remote Sens. 2014, 6, 5650-5670.
Related Articles
Comments
[Return to top]