Open Access This article is
freely available
re-usable
Article
Roads as Drivers of Change: Trajectories across the Tri-National Frontier in MAP, the Southwestern Amazon
1
Department of Geography and Land Use and Environmental Change Institute, University of Florida, Gainesville, FL 32611, USA
2
The Natural Capital Project, NOAA Northwest Fisheries Science Center, Seattle, WA 98112, USA
3
Department of Sociology and Criminology & Law, University of Florida, Gainesville, FL 32611, USA
4
Percy Fitzpatrick Institute, DST/NRF Centre of Excellence, University of Cape Town, Cape Town 7701, South Africa
5
Center for International Forestry Research, Rio de Janeiro, Brazil
6
Geomatics, School of Forest Resources and Conservation, University of Florida, Gainesville, FL 32611, USA
*
Author to whom correspondence should be addressed; Tel.: +1-352-392-0494; Fax: +1-352 392-8855.
Received: 14 April 2011; in revised form: 12 May 2011 / Accepted: 13 May 2011 / Published: 24 May 2011
Abstract
:
Regional studies of land cover change are often limited by available data and in terms of comparability across regions, by the transferability of methods. This research addresses the role of roads and infrastructure improvements across a tri-national frontier region with similar climatic and biophysical conditions but very different trajectories of forest clearing. The standardization of methodologies and the extensive spatial and temporal framework of the analysis are exciting as they allow us to monitor a dynamic region with global significance as it enters an era of increased road connectivity and massive potential forest loss. Our study region is the "MAP" frontier, which covers
M
adre de Dios in Peru,
A
cre in Brazil, and
P
ando in Bolivia. This tri-national frontier is being integrated into the global economy via the paving of the Inter-Oceanic Highway which links the region to ports in the Atlantic and Pacific, constituting a major infrastructure change within just the last decade. Notably, there are differences in the extent of road paving among the three sides of the tri-national frontier, with paving complete in Acre, underway in Madre de Dios, and incipient in Pando. Through a multi-temporal analysis of land cover in the MAP region from 1986 to 2005, we found that rates of deforestation differ across the MAP frontier, with higher rates in Acre, followed by Madre de Dios and the lowest rates in Pando, although the dominant land cover across the region is still stable forest cover (89% overall). For all dates in the study period, deforestation rates drop with distance from major roads although the distance before this drop off appears to relate to development, with Acre influencing forests up to around 45 km out, Madre de Dios to about 18 km out and less of a discernable effect or distance value in Pando. As development occurs, the converted forest areas saturate close to roads, resulting in increasing rates of deforestation at further distances and patch consolidation of clearings over time. We can use this trend as a basis for future change predictions, with Acre providing a guide to likely future development for Madre de Dios, and in time potentially for Pando. Given the correspondence of road paving to deforestation, our findings imply that as road paving increases connectivity, flows of people and goods will accelerate across this landscape, increasing the likelihood of dramatic future changes on all sides of the tri‑national frontier.
Keywords:
MAP; deforestation; connectivity; infrastructure; roads
1. Introduction
This research addresses the tri-national frontier region of Bolivia, Brazil, and Peru. The area comprising eight Landsat scenes per date, across five time periods, giving a total of 40 images analyzed. By exploring trends in the same biophysical environment but in three different countries, each with different policies and levels of infrastructure, we were able to test and compare the generality of different hypotheses about road impacts. Specifically, we (a) evaluated infrastructure impacts on land cover by comparing deforestation on each side of the tri-national frontier from 1986 to 2005 at five time-steps; (b) evaluated the dominant land cover trajectories and time periods of intense change on each side of the tri-national frontier; and (c) examined the relationship among land cover change trajectories, especially deforestation, and the development of the road network across the region.
The dominant research hypothesis linked to these research questions is that road access and connectivity, together with location along a gradient of travel time, cost, and proximity to cities, determine the extent of deforestation via the provision of links between markets and source pools of cultivators, loggers, and other actors who remove forest cover. Paved roads offer greater access and hence should facilitate forest conversion to pasture and agriculture. We tested the broad-scale validity of this hypothesis by contrasting levels of infrastructure and land cover trajectories across the three different countries in our study. We also predicted that consolidated frontier clearing should dominate in Acre, due to the time since paving of the Inter-Oceanic Highway in Brazil. Finally, we used our data to explore the implications of continuing and future road development within the region, using comparisons between countries as proxies for the different time periods or stages of infrastructural development.
2. Study Area
Our study area is the "MAP" region of the southwestern Amazon, a tri-national frontier named after the three states that constitute the area:
M
adre de Dios in Peru,
A
cre in Brazil, and
P
ando in Bolivia (see
Figure 1
). This tri-national frontier was historically covered by humid tropical forest, and remains roughly 90% forested. It is home to the world's highest levels of terrestrial biodiversity and is considered a global biodiversity "hotspot" [
26
,
27
]. However, MAP is a relatively remote area in all three countries, and is characterized by a combination of rich natural resources and low incomes. Such circumstances in the MAP frontier and elsewhere in South America prompted presidents of several countries to constitute the Initiative for Integration of Regional Infrastructure in South America (IIRSA). IIRSA prioritizes cross-border infrastructure projects such as road paving as a means of economic integration and economic development [
28
,
29
].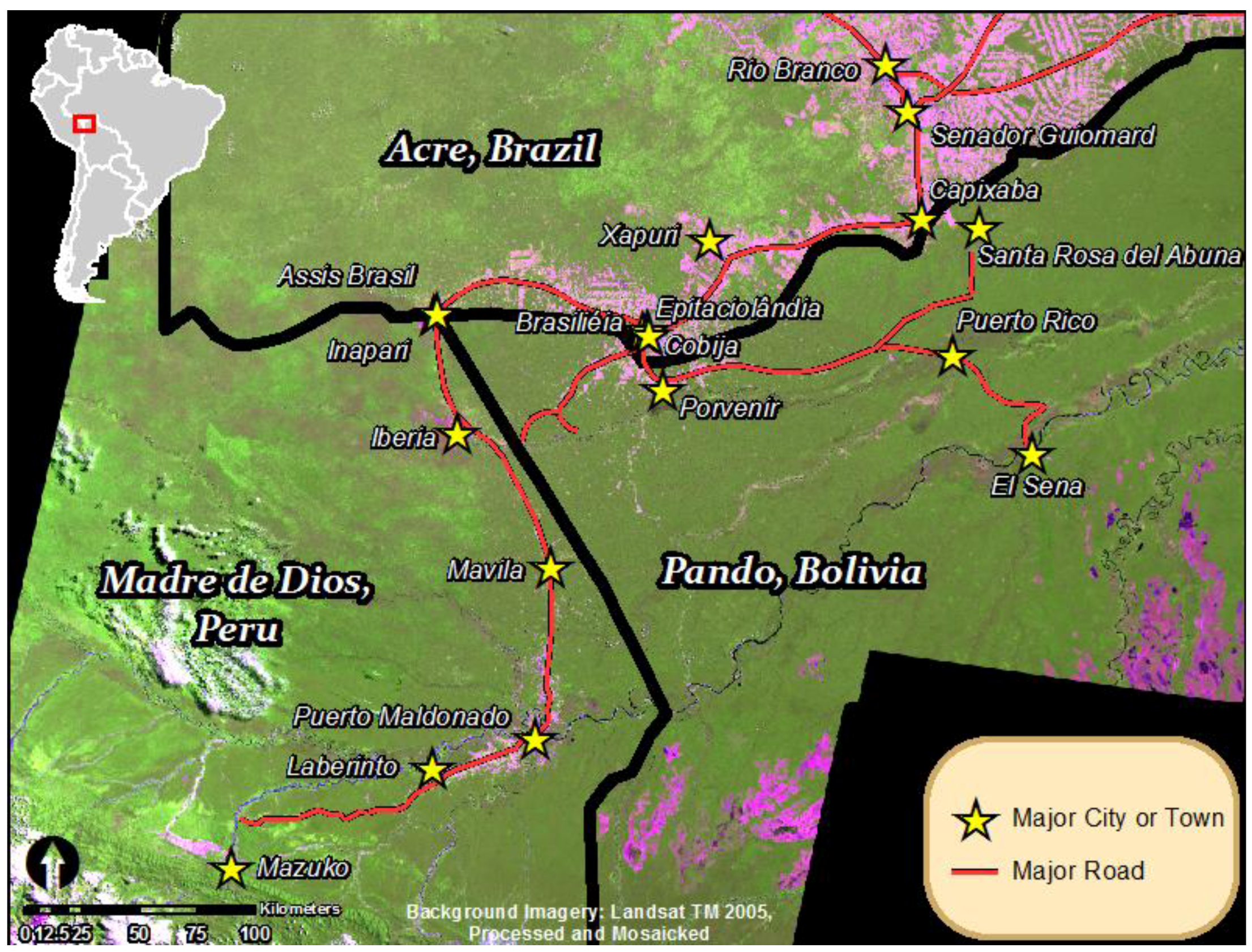 The MAP frontier is among the first wave of IIRSA projects, and is currently being integrated via paving of the Inter-Oceanic highway [
28
,
29
]. Once the paving is completed in Peru (currently predicted to occur in 2011), MAP frontier will be linked to Atlantic ports of Southern Brazil as well as Pacific ports in Peru. Paving of the Inter-Oceanic Highway thus constitutes a potentially very significant change to this region [
25
]. Road paving under IIRSA is likely to bring rapid changes in land use and livelihoods, with the potential prospect of substantial forest and biodiversity loss, changes in land tenure (such as from extractive forest reserves to private agricultural holdings), and unsustainable livelihoods [
30
]. This is a crucial historical moment at which to obtain estimates of past and present land cover change in order to see how the MAP social-ecological system responds to external shocks brought by migration, investment and new technologies in the wake of infrastructure upgrades [
31
,
32
,
33
]. Given the tri-national differences within the region (the Brazilian side being more developed than the others, followed by Peru and lastly Bolivia) there is considerable spatial variability in land cover changes. This in turn presents opportunities to compare land cover change in areas within MAP that have road paving to those that still lack paving, as a means of evaluating potential land cover change in the future should road paving expand, as governments sharing the tri-national frontier are planning.
Figure 2. Before and after road development for the different regions in (a) Acre in 2002; before and after paving of the Inter-Oceanic Highway; (b) Madre de Dios in 2006–2007 with paving of the Inter-Oceanic underway; and (c) the main road in Pando in 2008, not yet paved, both photographs show the unpaved roads within this region.
Notable among the differences among the sides of the tri-national frontier are the differing levels of infrastructure. Given the importance of accessibility for land cover change, differences in road paving across MAP permit a tri-national comparison to evaluate the impact of new infrastructure on land cover change. The Inter-Oceanic Highway is the major road across the Brazil and Peru regions and, in addition, its paving is a long-awaited and heavily anticipated project between Brazil and Peru. In Acre, Brazil the paving was completed by 2002 and has been underway in Madre de Dios, Peru since 2006, whereas in Pando, Bolivia, paving is very limited, though the Bolivian government has announced plans to pave roads in Pando (
Figure 2
). Given these differences in the presence of the main road and then the extent of paving, we should expect greater land cover change in Acre than Madre de Dios and little change in Pando. Pando is almost a 'null model' or control, with no paving completed or even underway. In addition to the presence of this main paved road, the presence of secondary dirt roads also differs across the national borders, although this analysis will only consider the main roads (
Figure 1
). In the MAP frontier, Acre has the most extensive network of secondary roads, followed by Madre de Dios and then Pando. It is also likely that differences in secondary roads play a role in deforestation, but due to their size, seasonal impassability, and predominantly dense canopy cover (which make them difficult to detect consistently), secondary roads are not included in this analysis. Here we evaluate only the role of the main roads across the regions, and the impact of paving of these roads (as shown in
Figure 1
), on deforestation. While only Acre was paved during our time period of study, the positive propaganda in Madre de Dios has been a huge deal, leading to significant migration from the Andean highlands to the lowlands of Madre de Dios which we expect to have some significant impact on the potential land cover change, even in advance of the road paving.
2. Methods
2.2. GIS Analysis
Spatial analysis of road effects on forest/non-forest trajectory change was conducted using a GIS-based model. Instead of using a vector-based buffer analysis to create fixed interval multiple-ring buffer zones, a raster layer of distance to road network was generated and reclassified to distance zones based on a dynamic distance parameter. The classified distance zone was then used in a GIS zonal statistics analysis where the forest/non-forest trajectory image with 32 possible change classes is the value layer. After parameter calibration and sensitivity analysis, distance zones from 1 km to 75 km in 1 km increments were chosen. With the function of Tabulate Area in ArcGIS, a matrix of cross-tabulated area between the distance and the change trajectory was created. This technique allows for a more continuous interpretation of the impact of distance from roads and for the evaluation of differences across countries by not imposing one set of distance buffers on all landscapes.
3. Results
3.1. Land Cover Change Trajectories
Across the entire landscape, the overwhelming land cover trajectory is that of stable forest, representing approximately 89% of the study region (
Table 1
). Of the other 11%, 5% relates to areas which have been deforested and remained clear, with the rate of clearing increasing over time from 0.6% by 1991, 0.8% by 1996, 1% by 2000 and increasing to 2.3% by 2005. Beyond clearing, 1% of the landscape is in land which was cleared before 1986 and remained cleared since. The remaining 4% is represented by rotational agricultural covers which rotate between clearings and secondary successional forest regrowth with no changes in pattern over time. Finally, 1% of the landscape has undergone reforestation and remained in this final forest cover class. This class also shows an inverse pattern to that of deforestation over time, with decreasing reforestation from 0.7% in 1991, to 0.2% in 1990, 0.03% by 2000 and 0.05% by 2005.
Despite this overall regional trend there are some startling differences when we look separately at each country (
Table 1
(b),
Figure 3
). Acre, Brazil has the lowest overall rates of stable forest, with approximately 82% area and about 1.3% in permanent clearings. Over 10% of the landscape has been deforested with this increment increasing over time from 1.7% in 1991, 1.9% in 1990, 2.2% in 2000 and finally jumping to 4.7% of the landscape undergoing deforestation by 2005. Just over 6% of the landscape is within the rotational agriculture and forest regrowth class and less than 0.3% is tending towards reforestation.
Figure 3
clearly illustrates a traditional fishbone pattern of forest clearing along roads with expansion outward from roads as time has progressed. Thus, initial clearings along roads were followed later by clearing of plots farther out as available land along road frontages was already in agricultural plots.
Figure 3. Land Cover Trajectory for Acre from 1986–1991–1996–2000–2005. White areas represent areas of cloud or no data on any one date which were then removed from the analysis.
In Madre De Dios, Peru (
Table 1
(b)), about 94% of the landscape is under stable forest cover and less than 0.06% is in permanent clearings. Areas tending towards deforestation were 0.07% in 1991, 0.1% in 1996, 0.2% in 2000 and then increases to 1.1% by 2005. Approximately 1.7% of the landscape was tending towards reforestation but most of this occurred in 1991, with 1.3%, then 0.3% in 1996, down to 0.01% in 2000 and 0.03% in 2005. Reforestation patterns for Madre de Dios are interesting due to their early peak, which resulted from the failed 1980s settlement projects and the closing of the Agrarian Bank, which in turn resulted in land abandonment and reforestation [
39
]. This was a temporary feature on this landscape, however, as forest clearing and agricultural development were reinitiated in the late 1990s and 2000s. Almost 3% of the landscape is in rotational agriculture (
Table 1
(a)). Viewed spatially (
Figure 4
), much less of Madre de Dios has been cleared than Acre. While a single linear feature—the Inter-Oceanic Highway—and clumped clearings radiating out from towns are evident, the more developed fishbone pattern is lacking. We note that the bare soils seen in the lower left of Madre de Dios are the Andean highlands, and not Amazon forest clearings.
Figure 4. Land Cover Trajectory for Madre de Dios from 1986–1991–1996–2000–2005. White areas represent areas of cloud or no data on any one date which were then removed from the analysis.
Finally, Pando, Bolivia shows the area with the least change as over 97% of the landscape is found in stable forest cover and less than 0.15% is in permanent clearings (
Table 1
(b)). Approximately 1.4% of the landscape has been deforested, with over half of this (0.76%) occurring in 2005, 0.4% by 2000, 0.13% by 1996 and 0.12% by 1991. About 1% of the landscape is in the rotational agriculture class (
Table 1
(a)). Spatially (
Figure 5
), Pando shows very little in terms of deforestation and what has occurred appears to be spillover from the Brazilian border area in the northern portion of Pando around its capital Cobija. Pando does exhibit deforestation along two roads extending from Cobija across Pando, and in selected areas along major rivers where there are agro-extractive communities.
Figure 5. Land Cover Trajectory for Pando from 1986–1991–1996–2000–2005. White areas represent areas of cloud or no data on any one date which were then removed from the analysis.
Overall then, from
Table 1
, extent of deforestation can be linked to road paving as deforestation was highest in Acre, where paving was complete, followed by Madre de Dios, where paving was underway, followed by Pando, which lack paving. Further, from
Figure 3
,
Figure 4
and
Figure 5
, much deforestation exhibits linear patterns in all three sides of the MAP frontier, and these features appear to dominate when looking at the locations of forest clearing and the acceleration of clearings over the more recent dates.
Given these findings, we can also assess the expansion of forest clearing as a function of increasing distance from the Inter-Oceanic Highway and other primary roads in the MAP frontier (
Figure 1
). We therefore calculated deforestation percentages by distance from primary roads (
Figure 1
) for each side of the tri-national frontier (
Figure 6
). A key finding is that all distance-deforestation curves show similar patterns with most deforestation occurring closer to the main roads. In Pando, most deforestation occurs in areas close to the Inter-Oceanic Highway and other primary road. Thus, all three sides of the MAP frontier are clearly impacted by road development, and the role of roads as a dominant driver of deforestation is hard to dispute.
Figure 6. Land Cover Trajectory of Deforestation across time periods for (a) Acre, (b) Madre de Dios and (c) Pando. [Note the y-axes scales differ for each graph in order to most clearly show the trends across each region].
While the total amount of forest cleared is highest in Acre, followed by Madre de Dios and then lastly Pando with less than 1% of its forest cover being lost from 2000 to 2005 (which is the highest rate throughout the time period studied) all three follow similar patterns. The most rapid rate of clearing occurs within the first 10 km back from the road, although this is simply the highest rate and beyond this initial distance the patterns and rates vary quite significantly by region. This pattern is especially true for Acre and Madre de Dios (
Figure 6
(a,b)) where road paving is relatively advanced. This is somewhat less the case for Pando where forests along the dirt roads are beginning to be cleared but the area cleared is quite minor, and distance from road appears to be somewhat less significant (
Figure 6
(c)). This result is as expected given the seasonal impassability of this road and its lack of development, connectivity or paving and so it is much less likely to exert a significant driving force across this landscape. For Madre de Dios, where development is still underway as main roads were present in 2005 (
Figure 1
) but were not yet paved (paving began in 2006–2007 but there was much development in advance of this paving and along the dirt main roads) and, as such, the distance to road is still a dominant variable, in part due to forest road frontage still being available for clearing, in comparison to Acre where all frontage roads were already cleared. As such, in Madre de Dios the strong influence of deforestation occurs within 18 km of the roads and beyond this distance the rate and amount of clearings drops off significantly (
Figure 6
(b)) and this is all along the unpaved main roads, and can only be expected to increase with paving. In comparison, the role of the roads in Acre has a large influence up to around 45 km until the rate and amount of deforestation drop off (
Figure 6
(a)), and again these roads have been paved since 2002, although patterns of clearing were also apparent here along the unpaved roads pre-2002, in advance of the paving, but along the main roads. Again, Pando has very little clearing overall and also is the least impacted by distance from the road due to the few unpaved roads in country, none of which are main roads studied in this analysis and its distance to the Inter Oceanic Highway, not just in terms of kilometers, but also including a national border. Overall, the presence of the main roads (
Figure 1
) does lead to clearing forest cover, and this rate of clearing appears to increase as the roads are paved.
4. Discussion
In Madre de Dios, the road is a HUGE deal and has been showered with positive propaganda by the national government and the participating construction firms. It is one of several reasons why migration from the Andean highlands to the lowlands in Madre de Dios has (again) accelerated. The latest Peruvian census shows rapid growth in Madre de Dios. So forest clearing proceeded in part due to the attention and the migration. Another key factor was a change in Peru's agrarian law that unworked land could be expropriated, which also stimulated forest clearing to establish clear tenure, something seen in previous decades in Brazil. Madre de Dios also saw especially rapid deforestation due to national economic growth, the onset of road paving itself, and the rise of gold prices. All of these trends have since continued and we have more recent images that confirm an expansion of deforestation since 2005. We are working to quantify the extent and render new estimates comparable to our existing data.
Rather than offer lists on the multiple causal factors of forest clearing, it is probably more useful to focus on a few factors important on all three sides. We have already discussed road paving. Another issue is the relative importance of cattle. In Acre, the cattle herd is very large and ranching demands large cleared areas. By comparison, the herds in Madre de Dios and Pando are small. Hence the much greater overall area cleared in Acre than elsewhere. A third factor is land tenure. Whereas tenure is largely settled in Acre now, there remain lands with ambiguous tenure security in Madre de Dios and especially in Pando. This encourages new land settlement in those areas, something that accelerated as road paving accelerated, especially after 2000. This helps account for the rapid rise in deforestation, especially in Madre de Dios (in relative terms).
5. Conclusions
We explored the hypothesis that road access determines the extent and spatial configuration of deforestation. Evaluation of the different trajectories across the three countries revealed clearly that roads are the dominant, though clearly not the only, driver of deforestation. Main roads and paved roads offer greater accessibility, facilitating greater clearing to pasture and agriculture, as seen clearly in Brazil. The process of road building is underway in Peru and not really initiated yet in Bolivia. The spatially contiguous nature of the analysis allows for control of the biophysical conditions across the study region; the methodologies for land cover analysis are identical due to the large spatial extent and the longer time scale, and the 5-year repeat interval really allows for a time series approach. We can see and evaluate the consolidated frontier clearing which dominates in Acre (Brazil), due to its longer access to the paved BR-317 (Inter-Oceanic highway), the initiation of clearing in Peru which accelerates in the final time step of the analysis along this main road as paving is about to initiate, and for both of these locations the clearing occurring along the roads and then inwards from cleared areas along these roads back into the intact forest cover. Finally, for Bolivia there is no real change in forest cover or pattern of clearing as the roads in this region are not main roads, nor are they paved. Any plans to expand them or pave them are still under discussion at this time. The research presented here corroborated the expectation that roads are a significant driver of deforestation and that the paving of the road network will increase the amount and rate of clearing seen across the entire region. In addition the creation of a spatially and temporally extensive database is really just the beginning of the trajectory analysis—so we can now continue to monitor and understand this important region of the world as the changes to infrastructure and connectivity continue to accelerate.
Acknowledgements
The research presented here was funded as part of an NSF Human and Social Dynamics Program (FY2005) project, entitled "Agents of Change: Infrastructure Change, Human Agency, and Resilience in Social-Ecological Systems" #0527511. We acknowledge Daniel Rojas (Amazonian University of Pando), Veronica Passos (Federal University of Acre), Bertha Ikeda and Omar Burga (National Amazonian University of Madre de Dios) for in-country institutional support, and Americo Quevedo and Gabriel Alarcon (National Amazonian University of Madre de Dios), Floridia Saavedra (Amazonian University of Pando), Andrea Chavez (University of Florida) for contributing to field data collection.
© 2011 by the authors; licensee MDPI, Basel, Switzerland. This article is an open access article distributed under the terms and conditions of the Creative Commons Attribution license (http://creativecommons.org/licenses/by/3.0/).