Geostatistics for Mapping Leaf Area Index over a Cropland Landscape: Efficiency Sampling Assessment
1
Departament de Física de la Terra i Termodinàmica, University of Valencia, Dr. Moliner, 50, 46100, Valencia, Spain
2
Grupo de Hidrogeología, Departamento de Ingeniería Hidráulica y Medio Ambiente, Universidad Politécnica de Valencia, Camino de Vera, s/n, 46022, Valencia, Spain
3
Earth Observation Laboratory (EOLAB), Parc Científic Universitat de València, C/Catedràtic José Beltrán, 2, 46980 Paterna, Valencia, Spain
*
Author to whom correspondence should be addressed.
Received: 30 September 2010 / Revised: 15 November 2010 / Accepted: 16 November 2010 / Published: 23 November 2010
Abstract
This paper evaluates the performance of spatial methods to estimate leaf area index (LAI) fields from ground-based measurements at high-spatial resolution over a cropland landscape. Three geostatistical model variants of the kriging technique, the ordinary kriging (OK), the collocated cokriging (CKC) and kriging with an external drift (KED) are used. The study focused on the influence of the spatial sampling protocol, auxiliary information, and spatial resolution in the estimates. The main advantage of these models lies in the possibility of considering the spatial dependence of the data and, in the case of the KED and CKC, the auxiliary information for each location used for prediction purposes. A high-resolution NDVI image computed from SPOT TOA reflectance data is used as an auxiliary variable in LAI predictions. The CKC and KED predictions have proven the relevance of the auxiliary information to reproduce the spatial pattern at local scales, proving the KED model to be the best estimator when a non-stationary trend is observed. Advantages and limitations of the methods in LAI field predictions for two systematic and two stratified spatial samplings are discussed for high (20 m), medium (300 m) and coarse (1 km) spatial scales. The KED has exhibited the best observed local accuracy for all the spatial samplings. Meanwhile, the OK model provides comparable results when a well stratified sampling scheme is considered by land cover.
View Full-Text
►

▼

Figures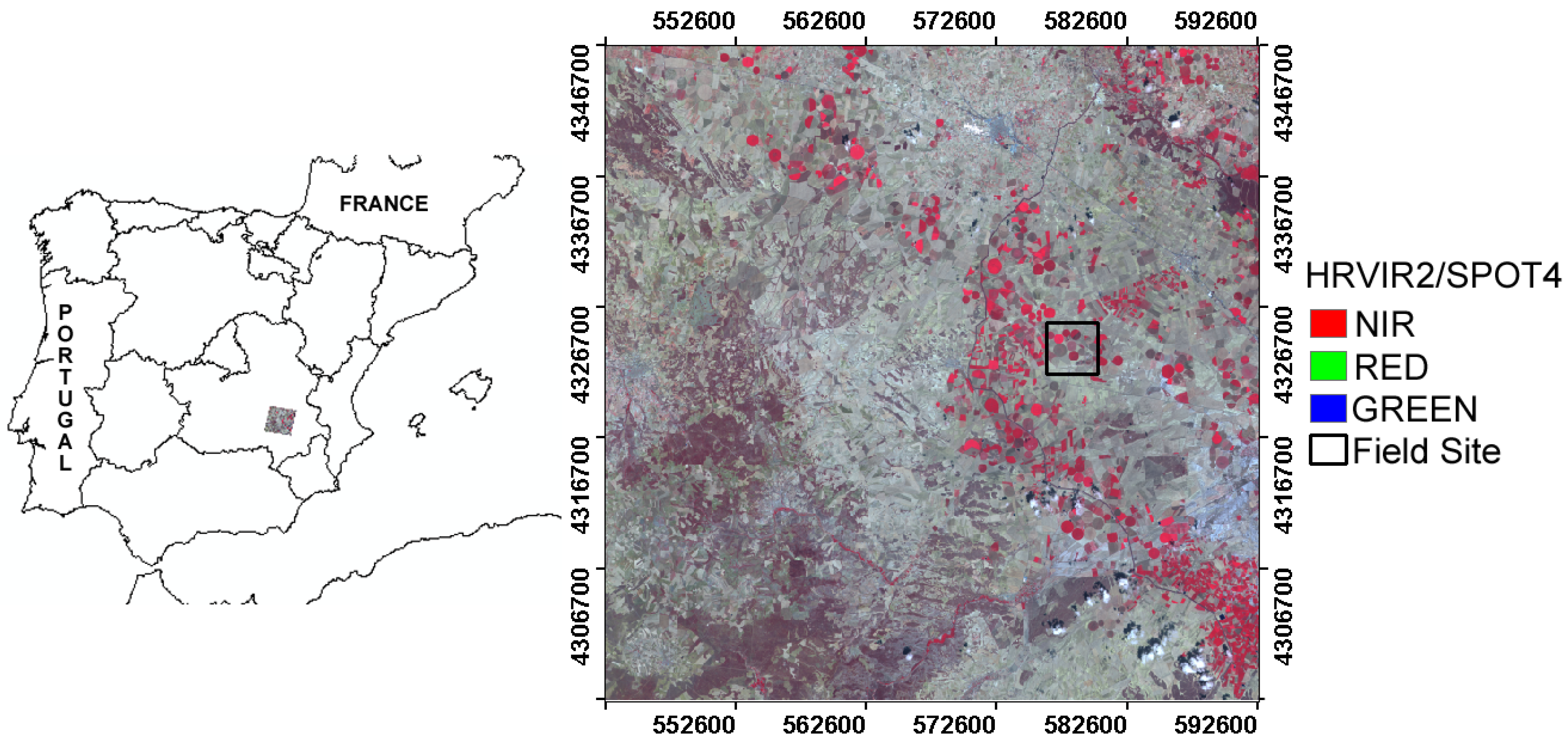 Figure 1

Share & Cite This Article
MDPI and ACS Style
Martinez, B.; Cassiraga, E.; Camacho, F.; Garcia-Haro, J. Geostatistics for Mapping Leaf Area Index over a Cropland Landscape: Efficiency Sampling Assessment. Remote Sens. 2010, 2, 2584-2606.
Related Articles
Comments
[Return to top]