Evaluating the Spatial Representativeness of the MODerate Resolution Image Spectroradiometer Albedo Product (MCD43) at AmeriFlux Sites
1
The State Key Laboratory of Remote Sensing Science, Institute of Remote Sensing Science and Engineering, Faculty of Geographical Science, Beijing Normal University, Beijing 100875, China
2
Beijing Engineering Research Center for Global Land Remote Sensing Products, Beijing Normal University, Beijing 100875, China
3
Department of Geographical Sciences, University of Maryland, College Park, MD 20742, USA
4
School of Remote Sensing and Information Engineering, Wuhan University, Wuhan 430079, China
*
Author to whom correspondence should be addressed.
Received: 11 February 2019 / Revised: 25 February 2019 / Accepted: 28 February 2019 / Published: 6 March 2019
Abstract
Land surface albedo is a key parameter in regulating surface radiation budgets. The gridded remote sensing albedo product often represents information concerning an area larger than the nominal spatial resolution because of the large viewing angles of the observations. It is essential to quantify the spatial representativeness of remote sensing products to better guide the sampling strategy in field experiments and match products from different sources. This study quantifies the spatial representativeness of the MODerate Resolution Image Spectroradiometer (MODIS) (collection V006) 500 m daily albedo product (MCD43A3) using the high-resolution product as intermediate data for different land cover types. A total of 1820 paired high-resolution Landsat Thematic Mapper (TM) and coarse-resolution (MODIS) albedo data from five land cover types were used. The TM albedo data was used as the spatial-complete high resolution data to evaluate the spatial representativeness of the MODIS albedo product. Semivarioagrams were estimated from 30 m Landsat data at different spatial scales. Surface heterogeneity was evaluated with sill value and relative coefficient of variation. The 30 m Landsat albedo data was aggregated to 450 m–1800 m using two different methods and compared with MODIS albedo product. The spatial representativeness of MODIS albedo product was determined according to the surface heterogeneity and the consistency of MODIS data and the aggregated TM value. Results indicated that for evergreen broadleaf forests, deciduous broadleaf forests, open shrub lands, woody savannas and grasslands, the MODIS 500 m daily albedo product represents a spatial scale of approximately 630 m. For mixed forests and croplands, the representative spatial scale was approximately 690 m. The difference obtained was primarily because of the complexity of the landscape structure. For mixed forests and croplands, the structure of the landscape was relatively complex due to the presence of different forest and plant types in the pixel area, whereas the other landscape structures were considerably simpler.
View Full-Text
►

▼

Figures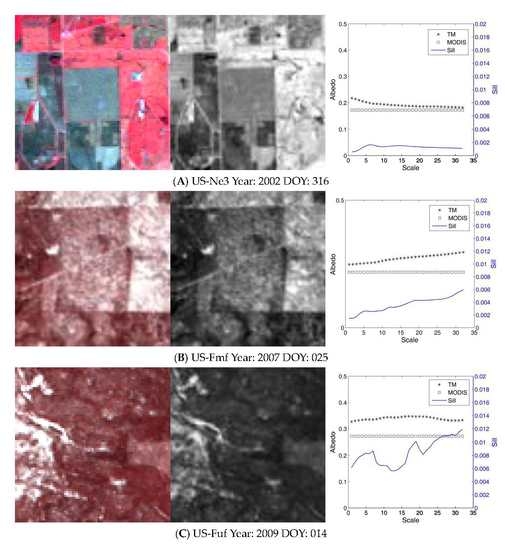 Graphical abstract
This is an open access article distributed under the
Creative Commons Attribution License
which permits unrestricted use, distribution, and reproduction in any medium, provided the original work is properly cited (CC BY 4.0).

Share & Cite This Article
MDPI and ACS Style
Zhou, H.; Liang, S.; He, T.; Wang, J.; Bo, Y.; Wang, D. Evaluating the Spatial Representativeness of the MODerate Resolution Image Spectroradiometer Albedo Product (MCD43) at AmeriFlux Sites. Remote Sens. 2019, 11, 547.
Note that from the first issue of 2016, MDPI journals use article numbers instead of page numbers. See further details here.
Related Articles
Comments
[Return to top]