Study of the Seasonal Effect of Building Shadows on Urban Land Surface Temperatures Based on Remote Sensing Data
1
State Key Laboratory of Earth Surface Processes and Resource Ecology, Faculty of Geographical Science, Beijing Normal University, Beijing 100875, China
2
Beijing Key Laboratory of Environmental Remote Sensing and Digital Cities, Beijing Normal University, Beijing 100875, China
3
Beijing Advanced Innovation Center for Future Urban Design, Beijing University of Civil Engineering and Architecture, Beijing 100044, China
*
Author to whom correspondence should be addressed.
Received: 17 January 2019 / Revised: 22 February 2019 / Accepted: 25 February 2019 / Published: 1 March 2019
Abstract
Building shadows (BSs) frequently occur in urban areas, and their area and distribution display strong seasonal variations that significantly influence the urban land surface temperature (LST). However, it remains unclear how BSs affect the LST at the city scale because it is difficult to extract the shaded area at the subpixel scale and to connect such areas with the LST at the pixel scale. In this study, we combined the sun angle, building height, building footprint and building occlusion to extract the seasonal spatial distribution of BSs in the central area of Beijing. The effect of BSs on the LST was analyzed using LST retrieved from Landsat-8 thermal infrared sensor data. First, the relationship between the LST patch fragmentation and proportion of BSs in the sample areas was modeled without vegetation. Then, we quantitatively studied the mitigated intensity of the LST in pure impervious surfaces (IS) and vegetation pixels covered by BSs; next, we analyzed the LST sensitivity of these pixels to BSs. The results showed that the existence of BSs influences the fragmentation of the low LST patches strongly from summer to winter. On the other hand, pure IS pixels totally covered by BSs experienced a greater cooling effect, with 3.16 K on 10 July, and the lowest cooling occurred between 14 and 25 December, with a mean of 1.24 K. Without considering the relationship in winter, the LST is nonlinearly correlated to the building shadows ratio (BSR) in pixels, and an approximate 10% increase in the BSR resulted in decreases in the LST of approximately 0.33 K (mean of 16 April and 10 May), 0.37 K (10 July) and 0.24 K (28 September) for pure IS pixels, and 0.18 K, 0.20 K and 0.15 K, respectively, for pure vegetation pixels. Further analysis indicates that the LST of pure IS pixels is more sensitive to BSs than that of vegetation because the self-regulation mechanism of vegetation reduces the cooling effect of BSs. These findings can help urban planners understand the cooling characteristics of BSs and design suitable urban forms to resist urban heat islands (UHIs).
View Full-Text
►

▼

Figures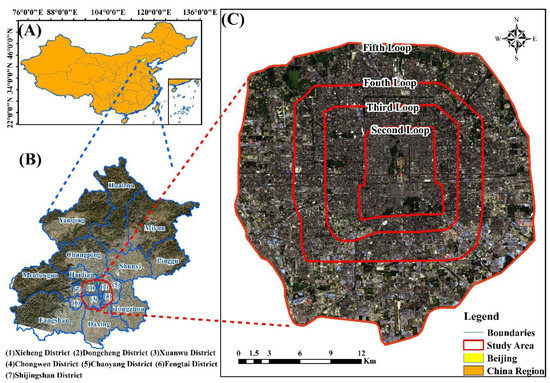 Figure 1
This is an open access article distributed under the
Creative Commons Attribution License
which permits unrestricted use, distribution, and reproduction in any medium, provided the original work is properly cited (CC BY 4.0).

Share & Cite This Article
MDPI and ACS Style
Yu, K.; Chen, Y.; Wang, D.; Chen, Z.; Gong, A.; Li, J. Study of the Seasonal Effect of Building Shadows on Urban Land Surface Temperatures Based on Remote Sensing Data. Remote Sens. 2019, 11, 497.
Note that from the first issue of 2016, MDPI journals use article numbers instead of page numbers. See further details here.
Related Articles
Comments
[Return to top]